The summer is about to get a whole lot hotter and it seems there is no escape from the blasting sun. Even if your vacation seems far off, luckily Macau is full of resorts and experiences to help you unwind and pretend you're on vacation. Best yet, you don't even have to check into most hotels to take advantage of their generous and tempting offers, with dining, pool and gym facilities often open to outside guests for a small fee. So get your sunscreen, bathers, and sunnies ready–it's time to dive in! Here are the best Macau pool deals this summer.
Family Fun
A pool day is one of the best ways to spend a weekend with your loved ones. A splash of fun, sun, and yummy food always makes for an ideal family day by the water.

GRAND RESORT DECK AT GALAXY MACAU 
Whenever Galaxy does something, they always do it big and grandiose, like their name. Take their Grand Resort Deck for example, which is a whole aquatic wonderworld where even a full day will seem not enough. Arrive early to get a spot at their white sandy beach and let the waves caress you in the huge wave pool. Or if you're looking for a burst of adrenaline try a ride on their 9-meter tall waterslides. If you feel like being active, get lazy on the world's longest Skytop Aquatic Adventure River Ride. There is also the verdant Skytop Gardens, a tranquil and chill oasis on the Grand Resort Deck.
Take a lunch break in one of the poolside restaurants, which offer plenty of attractive dining options. Or you can leave your kids in the safe, shallow and monitored children aquatic zone while you get yourself a nice cocktail from a Surf Bar. 
Opening hours: 9:00am–6:00pm; Summer special:  June 15–September 1:  9:00am–6:30pm
Price: MOP $468 per day (one adult & one kid), Family day pass: MOP $888 (2 adults and 2 kids)
Galaxy Macau Estrada da Baía da Nossa Senhora da Esperança, s/n, Cotai, Macau, www.galaxymacau.com

AQUA WORLD AT THE PARISIAN MACAO
How cool would it be to take your kids for some water adventure fun with slides and water guns in the shadow of an Eiffel Tower? We bet you wouldn't even have imagined this was possible in Macau. The Parisian also gives the little ones a chance to get wet aboard a pirate ship anchored amongst classic French landmarks. Meanwhile, you can order a drink and lounge on a sunbed admiring the views – or join your children, because who said adults can't be pirates too?
You can get a day-pass ticket for Aqua World or you could treat yourself and get a package ticket with entrance to the Qube Kingdom as well.
Opening hours: 10:00am–6:00pm
Price: MOP $160 per person. Family package (Buy 3 get 1 free): MOP $480 per day. Fun Pass promo for children: Aqua World + Qube kingdom MOP $200 within 24 hours
The Parisian Macao Estrada do Istmo, Lote 3, Macau, +853 8111 2300, www.parisianmacao.com

STUDIO CITY MACAU
This is another aquatic attraction the whole family can enjoy and explore. RiverScape is the highlight and offers three routes to choose from. There is a children's play pool area, three slides, and splash pools. You can also enjoy a floating journey through waterfalls, passing by alligators, temples, water-spitting monkeys and mysterious Aztec-like heads on the way. If you need a moment to relax head to the peaceful sandy beach near the main outdoor pool. 
Opening hours: Outdoor pool: 8:00am–7:00pm, RiverScape: 9:30am–6:30pm
Price: Adult, MOP $330; Kids, MOP $130 per day; 6-months membership: MOP $20,000; 1-year membership: MOP $30,000
Studio City Macau Estrada do Istmo, Cotai, www.studiocity-macau.com

GRAND LAPA MACAU
This pool will make you feel like you're in a Hollywood movie because it is absolutely fabulous. However, this is far from the only perk at Grand Lapa Macau. This is one of Macau's most exquisite pool. Opened for kids, loving couples, or tanning addicts, this is the place our minds go to when thinking of relaxing vibes and times. Also, they have great restaurants nearby such as Thai Naam, and serve drinks and food by the pool.
Opening hours: 6:30am–10:00pm
Price: The Resort Day Pass (no food included) is MOP $350 + 10% service & 5% government tourism tax. Original children's day pass (aged three to 17) is available at MOP $290.
There is also a Grand Lapa summer membership available from July 1 to August 31, 2019. It includes one month membership at MOP $3,400 with 20% off individual Spa treatments (Monday–Thursday) and 10% off individual spa treatments (Friday–Sunday and public holidays); 20% discount at all hotel food and beverage outlets; one-hour free tennis, basketball and football court rental; free Exercise Studio classes (Aerobics, Belly Dance, Tai Chi, Yoga, Meditation and Tabata) and much more.
Grand Lapa Macau Avenida de Amizade, Macau, +853 2856 7888, www.grandlapa.com

GRAND COLOANE RESORT 
This is the only hotel pool where you can meditate to the sound of real waves in Macau. It's located on the beautiful Hác-Sa beach, surrounded by sea and the gorgeous Coloane hills. Grand Coloane Resort is a perfect getaway from the busy city–you will feel like you're on a real retreat.
Sometimes family time can be slow and chill too – it does always mean games and entertainment. Grand Coloane is the place to be for this.
Opening hours: 7:00am–11:30pm
Price: MOP $500 for adults, MOP $250 per child (kids under three years old have free entry)
Grand Coloane Resort 1918 Estrada de Hac Sa, Coloane, +853 8899 1127, www.grandcoloane.com
URBAN ESCAPE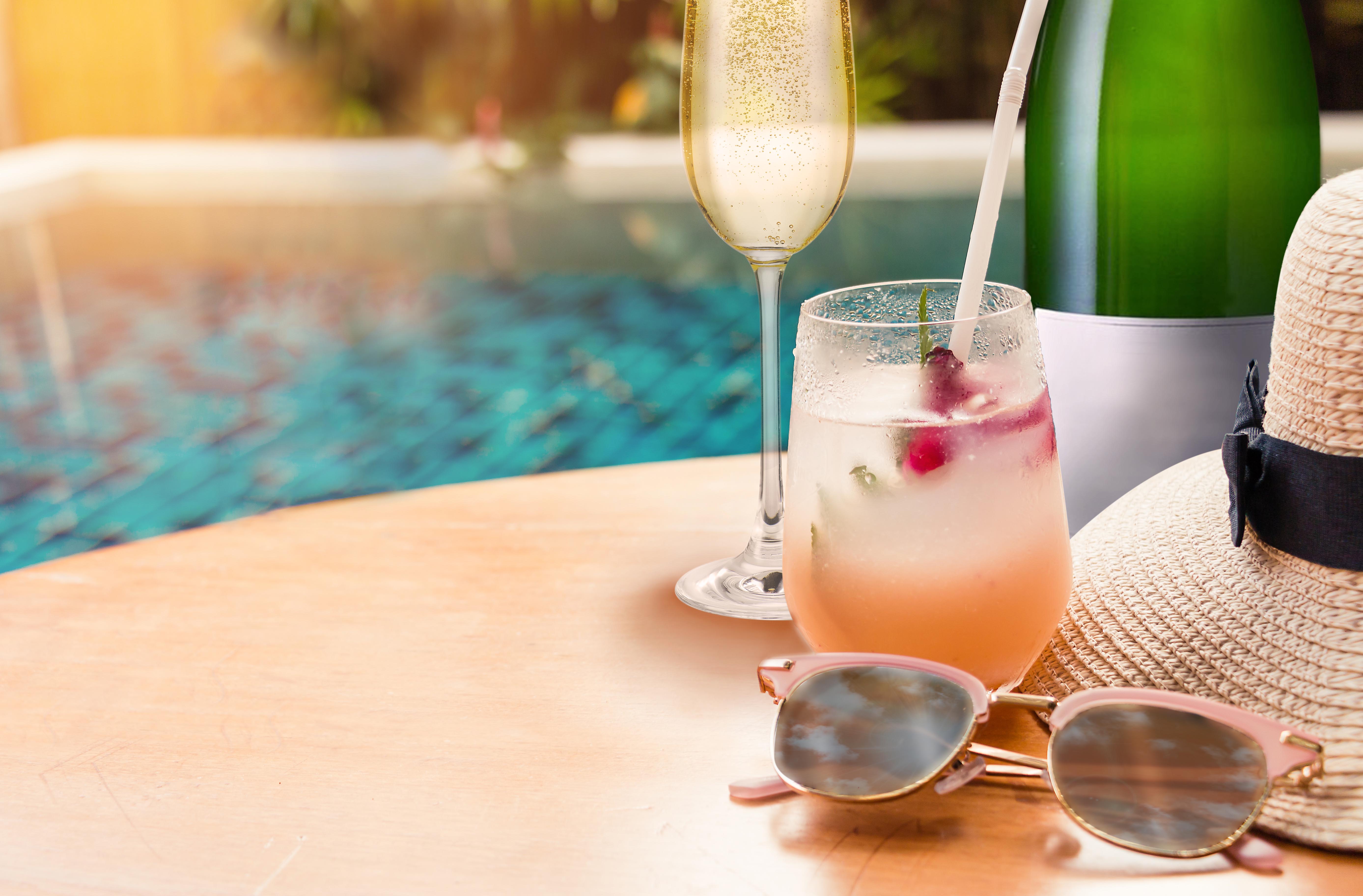 THE ST. REGIS MACAO AT SANDS COTAI CENTRAL
Lavish with an astonishing view of Cotai buildings, sun beds for power naps, and a pool with just the right temperature might just be the perfect combination you were looking to take friends and family. Have a great and relaxing day without loud music or people crowding and focus on having fun. Their cabanas allow the privacy one deserves when you want to get your tan on. There are also meals served by the pool side so you won't even have to get up! They now have a summer promo offering champagne and other drinks, along with some snacks including grilled satay, wagyu burger and more, on offer until 6:00pm.
Opening hours: 7:00am–8:00pm
Price: 100% Summer menu (including drinks and snacks) on weekends – MOP $188 per person
Summer promo on a cabana for two (with a bottle of champagne) – MOP $888 per cabana
All-day access athletic club and swimming pool (weekdays) – MOP $238 (adults), MOP $88 (children)
All-day access athletic club and swimming pool (weekends) – MOP $338 (adults), MOP $188 (children)
The St. Regis Macao, Cotai Central 8/F, Estrada Do Istmo, S/N, Cotai, +853 2882 8898, www.sandscotaicentral.com/hotels/st-regis-macao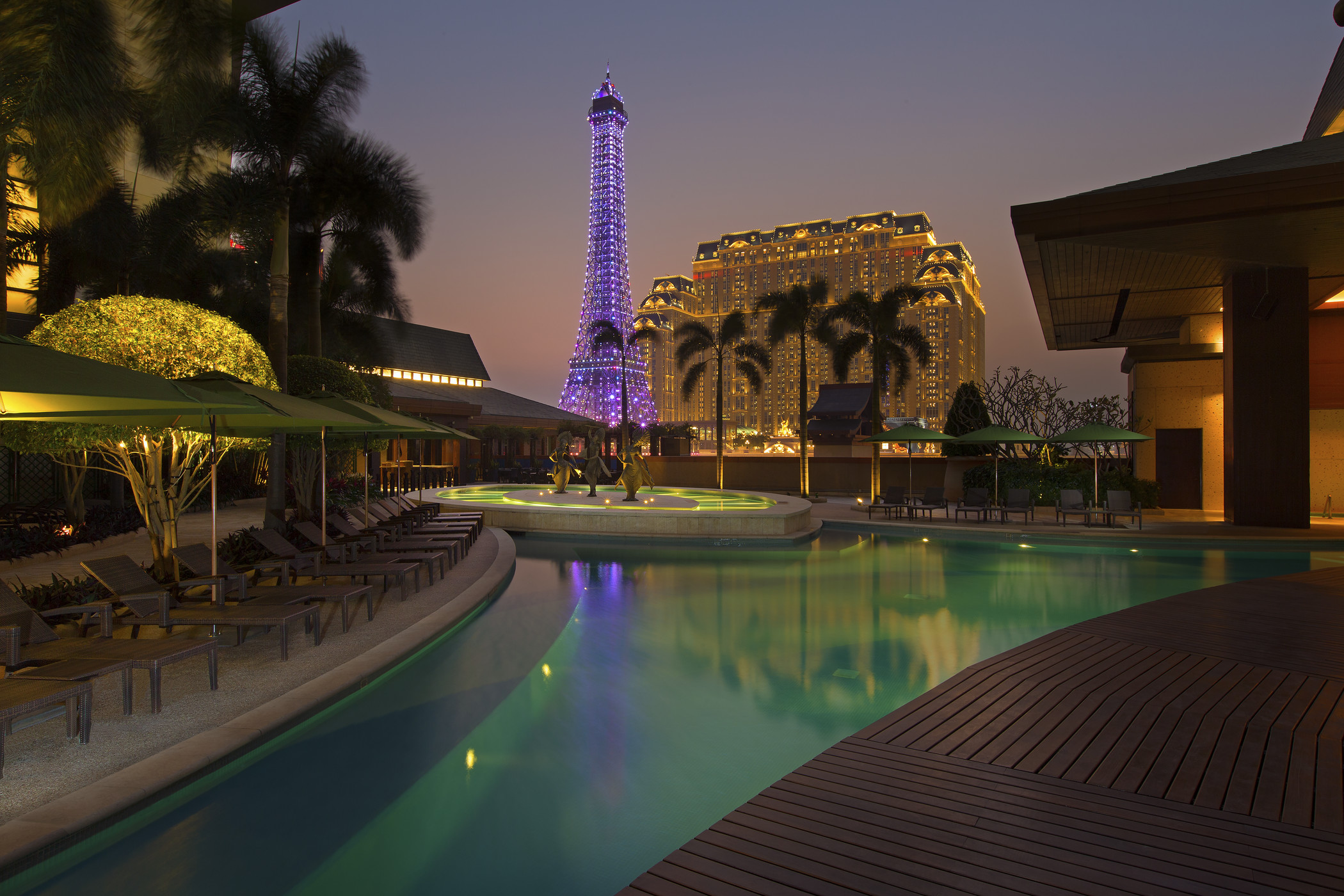 SHERATON GRAND MACAO HOTEL, COTAI CENTRAL
Sheraton Grand Macao Hotel, Cotai Central is the place to be if you are looking for a classy, decadent evening by the pool with friends, family or perhaps your better half. An evening swim in the pool and dinner at the poolside cafe enjoying the view of the Eiffel Tower–can it get more romantic than that? Looking French enough? Head there and experience the ultimate pool dive with an international view! They also have an incredible summer promo: by booking a cabana for up to eight guests, one also gets coconuts or champagne, if that's the mood.
Opening hours: Pool, 7:00am–8:30pm
Coco cabana and champagne promos – daily, 10:00am–8:00pm
Price: Weekday (Monday–Friday) – MOP $150 (adults) and MOP $75 (children)
Weekend (Saturday and Sunday) – MOP $200 (adults) and MOP $150 (children)
Coco cabana rental (including four coconuts) – MOP $388 per cabana
Chill out with champagne cabana rental (including a bottle of champagne) – MOP $880 per cabana
Sheraton Grand Macao Hotel Estrada do Istmo. s/n, Cotai, www.sheratongrandmacao.com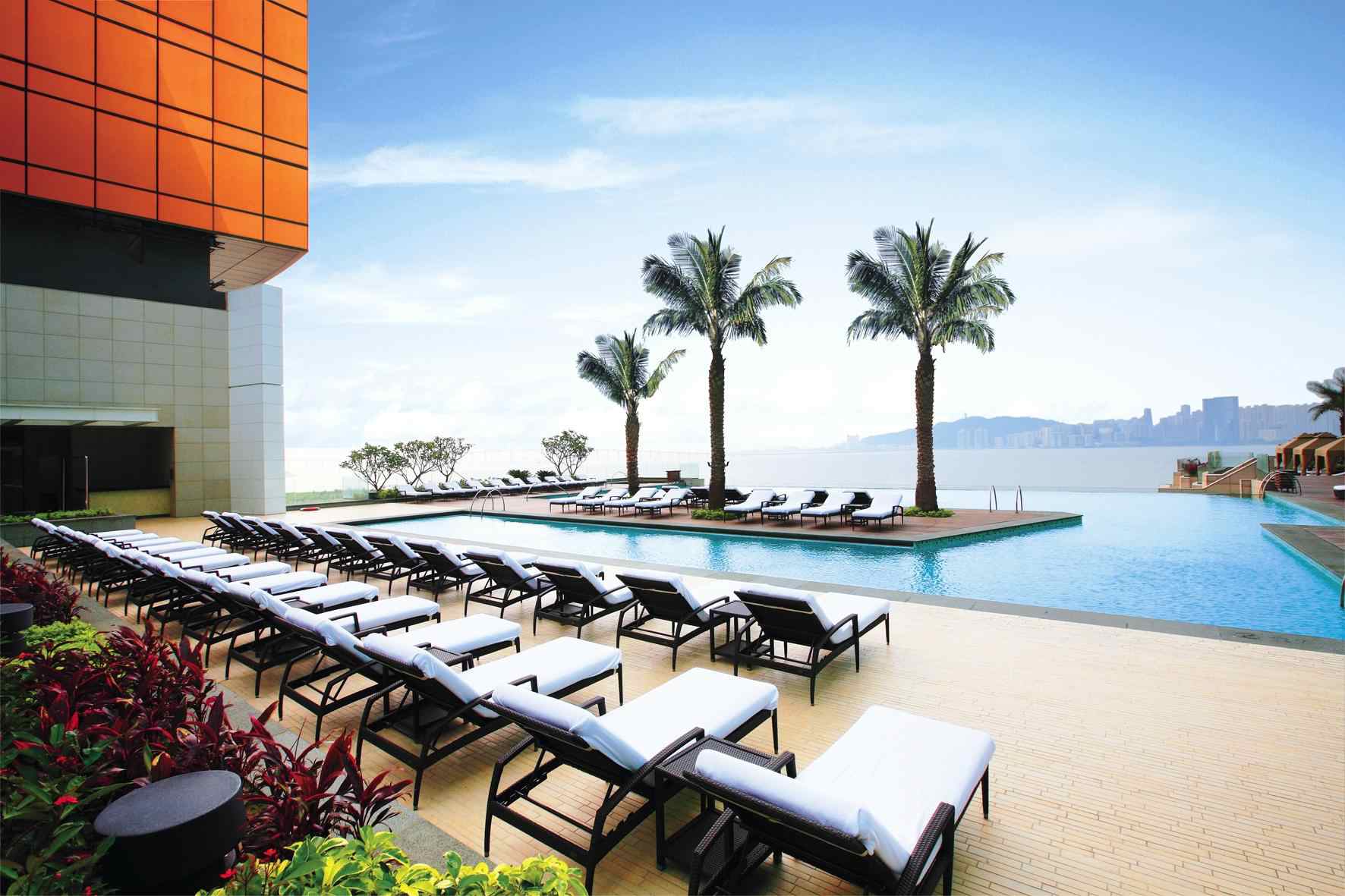 MGM MACAU
MGM Macau's pool, at Vista, now has a summer discount you will not want to miss! With a view like few, this clear blue and relaxing pool frames a great side of the city, which makes you feel disconnected from the lights and noise for the day. With restaurants a few minutes away inside the hotel, you can order food, cocktails and other beverages to enjoy on a sun bed by the side of the water. Clear your mind, put your swimsuit on and have a blast on this relaxing and fresh environment. With friends or family, there's no way a sunny day can go wrong here!
Opening hours: Pool, 9:00am–7:00pm
Price: Package for four people – MOP $788 (including MOP $500 F&B voucher or Tria Spa voucher)
Package for two people: MOP $588 (including MOP $300 F&B voucher or Tria Spa voucher)
Additional ticket: MOP $200 each
MGM Macau Vista, Avenida Dr. Sun Yat Sen, NAPE, www.mgm.mo/en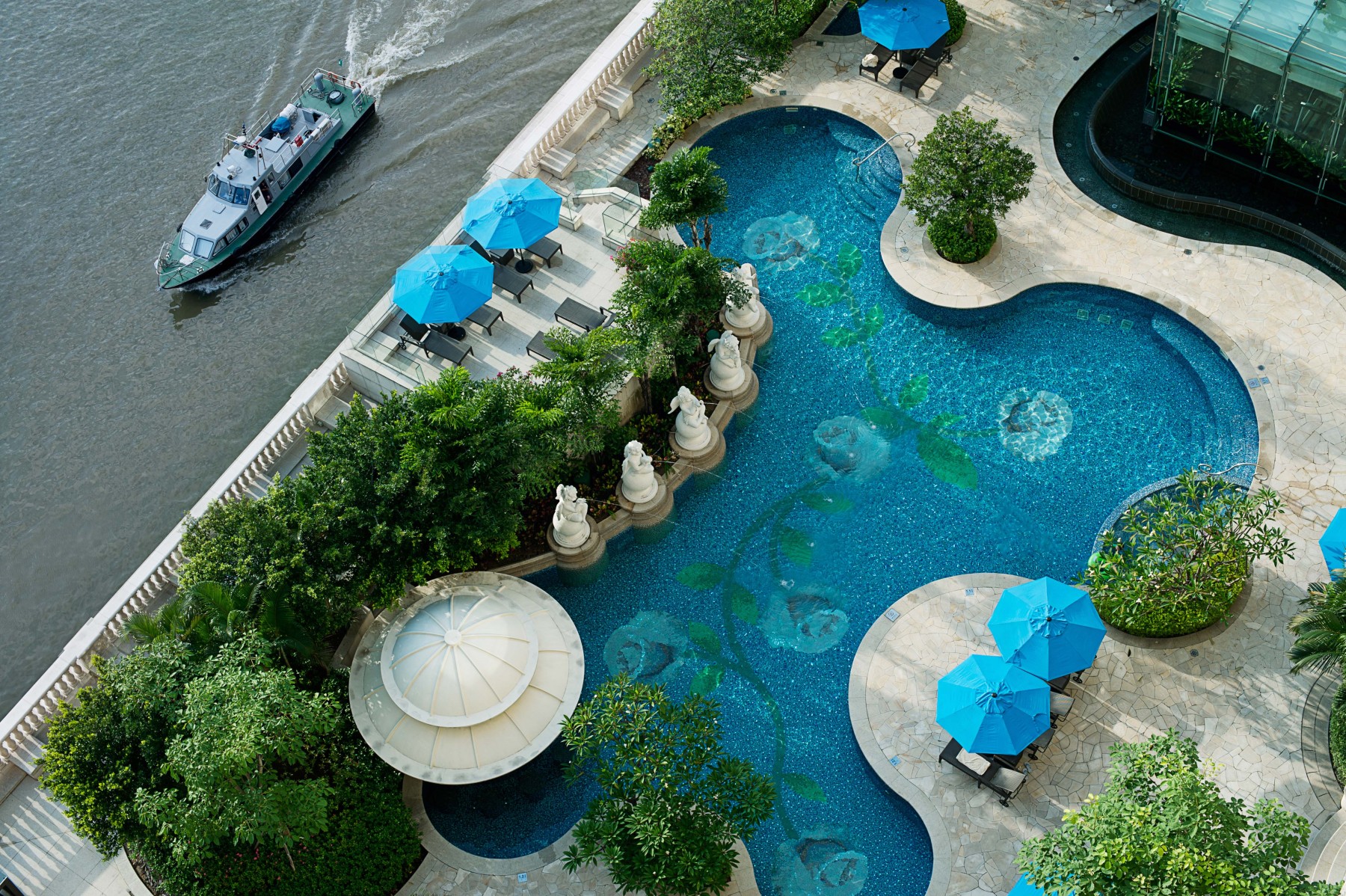 SOFITEL MACAU AT PONTE 16
Isn't it amazing that for just MOP $300 you can access both the pool and the gym? Combine both with SO FIT day-pass at Sofitel Macau At Ponte 16 and have a blast with friends or family while overlooking China just on the other side of the river. Mistral restaurant serves food and drink at the pool side, so why not stay there for the whole day and have a swim after exercising? You can even do it the other way around, however you'd like because it's your day to enjoy!
Opening hours: Pool & gym, 6:00am–10:00pm. Gym is opened 24 hours for hotel guests
Price: MOP $300 for a day-pass
Sofitel Macau At Ponte 16 Rua do Visconde Paço de Arcos, Macau
Staycation with your squad
While it's often tricky to gather all your buddies together in one particular place at a particular time, this sometimes becomes a bit easier if there is a pool in the picture. Trust us, everybody will manage to find an empty window in their busy schedules–or at least the ones that matter will–for a splashing good time.

FOUR SEASONS HOTEL MACAO, COTAI STRIP
Whether celebrating something extra special or simply seizing the chance to spend a sunny day with a group of friends, Four Seasons Hotel Macao will undoubtedly make it memorable. Be prepared to experience excellent service in outstanding surroundings. Chill in a pool with a margarita, sway to the tunes of your choice in a private cabana or take selfies in the waterfall pool. You can count on the helpful and competent staff to discreetly make delicious snacks and drinks magically appear on your table. Book a cabana for six in advance to not miss out. Feel like staying on after the aquatic relaxation? Stop by Splash, their poolside restaurant, for dinner and a couple of after-sunset cocktails.
Opening hours: 10:00am–6:00pm
Price: The Cabana Package is MOP $1,000 +10% on weekdays and MOP $1,500+10% on weekends, for up to six guests. This includes equal credit for food and beverage purchases, as well as access to the private pool experience. 
Four Seasons Hotel Macao, Cotai Strip Estrada da Baía de N. Senhora da Esperança, Taipa, www.fourseasons.com
BANYAN TREE MACAU
(See featured image above)
Banyan Tree's alluring package includes luxurious full-service cabana for four to six people, MOP $1,000 food and beverage credit, a bottle of fine champagne and access to all the facilities of Galaxy Macau's Grand Resort Deck. Starting the day off with a glass of sparkling wine is a wonderful sign that your day will go nice and smooth. Enjoy the exceptional service that Banyan Tree Macau is famous for and the extra variety of attractions will help make your day that much better too.
Opening hours: 11:00am–6:00pm
Price: MOP $1,800 for a cabana of 4-6 persons. Price is subject to 10% service charge.
Banyan Tree Macau Galaxy Macau, Estrada da Baia de Nossa da Esperança, Cotai, +853 8883 6688, www.banyantree.com
Feast and Splash
Swimming is a great form of cardio and we're sure after an afternoon of splashing in the pool, your tummy might start to rumble. So how handy is it that many Macau hotels have awesome packages where guests can enjoy both the pool and a fine meal?

THE COUNTDOWN HOTEL AT CITY OF DREAMS 
Take advantage of The Countdown Hotel's Sun & Sand day pass that gives you access not only to the guitar-shaped pool but to their well-equipped gym as well. So you could start the day with an intense workout or a volleyball game on their sandy site, then dive into the cool pool water and indulge yourself with a tasty lunch at the poolside Wave bar right after. You can also indulge in the Wave BBQ buffet which includes unlimited freshly shucked oysters and more. As a bonus, it offers great views onto Macau's new architectural star, Morpheus.
Opening hours: 8:00am–8:00pm
Price: Adult, MOP $220, Junior (kids of 1.4m and under), MOP $120. Group of 10 or more MOP $180 per person. Family weekend pass (valid for two months) two adults + two juniors MOP $2,400 (Saturday and Sunday only). Monthly membership: MOP $1,300. Three-months membership: MOP $3,600
Wave Poolside BBQ Buffet package: Adult MOP $398, kids (aged 6-12) MOP $208, food + pool access.
The Countdown Hotel City of Dreams, Estrada do Istmo, Cotai, Macau, +853 8868 6688, www.cityofdreamsmacau.com

PORTOFINO AT THE VENETIAN MACAO
David Beckham and Korean rapper Psy have been guests at this pool, so you know that it must be awesome! You can also turn your Saturday into an Italian feast with the Portofino Brunch Extravaganza, which includes fresh seafood on ice, Italian delicacies, wines and so much more. If you pay a little extra you will get exclusive access to the Venetian outdoor pool for after-brunch laps or some fun splashing time with your brunch buddies.
Opening hours: Brunch, 11:30am–3:30pm
Price: MOP $488 per adult, MOP $245 per child aged three to 12 (extra MOP $100 per adult for free-flow of selected wine package and extra MOP $50 per child for free-flow juices and soft drinks)
Pool Day Pass is available when adding MOP $100 per person to enjoy swimming pool access (free for children under 12 when accompanied by an adult).
Qube Kids' Zone pass is also available when adding MOP $100 per child, allowing two-hour Qube access, including one adult
Portofino at The Venetian Macao Casino Level 1, Shop 1309, +853 8118 9950, [email protected]
Tags