Cashmere in the winter season is not necessarily groundbreaking, like florals in spring, as said by Miranda Priestly in The Devil Wears Prada. But what makes this fabric worthy of a feature is the charm and comfort it brings to any fashionable items. From tops, coats, and trousers to accessories like hats, scarves and even bags, cashmere is definitely a winter staple for every fashion lover's wardrobe.
Cashmere is named after the mountainous region Kashmir on the border of India, Pakistan, and China. The southern valley on the west end of the Himalayas was named after the region. Capra hircus in Latin, the cashmere goat spread all across the world from here, and the rest was history. Arguably popularised by pop culture classics such as in movies of Audrey Hepburn, cashmere has a unique harmony with the human body. It doesn't itch or overheat; it's anti-allergic. It regulates body temperature and maintains ideal heat with its whorled texture. Wearing a cashmere sweater during the winter days that lack sunlight feels like a warm hug–it's cozy, soft and makes you feel special.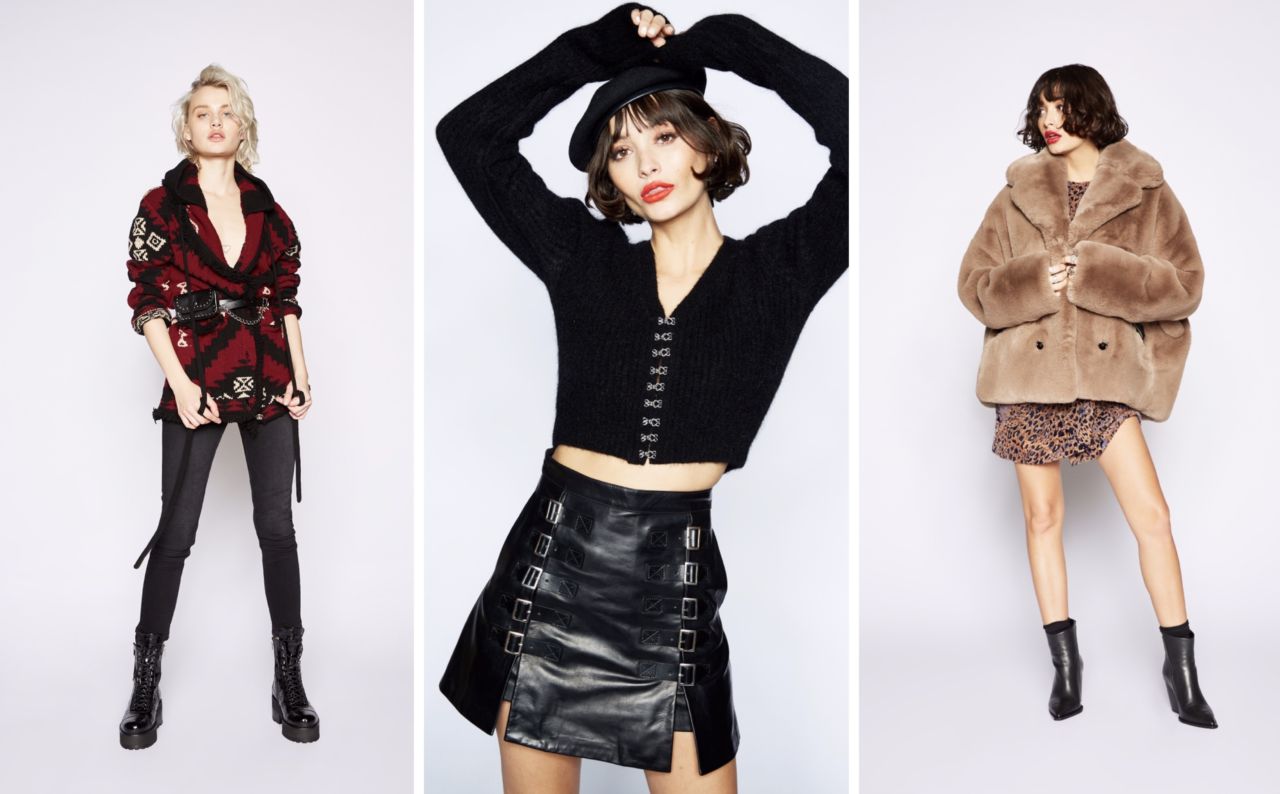 THE KOOPLES
The majority of the cashmere pieces from The Kooples fall/winter 2019 collection is focused on tops and coats. The juxtaposition of different textures in one look celebrates women in strength, sensuality, and independence as described by the brand. For the back-to-work moment, The Kooples delivers high-fashion, sleek office wear, with printed silk blouses, showing the brand's trademark femininity. The rock 'n' roll edge this autumn comes from fierce animal print dresses and a classic cropped leather biker that produce an androgynous effect. An oversized, boxy trench puts an offbeat spin on Parisian chic, styled with bare legs and ankle boots. The collection's tactile outerwear also includes a camel coat with Wild West fringing.
The Kooples Shop 149, Pacific Place, Admiralty, Hong Kong, +852 2874 5033, www.thekooples.com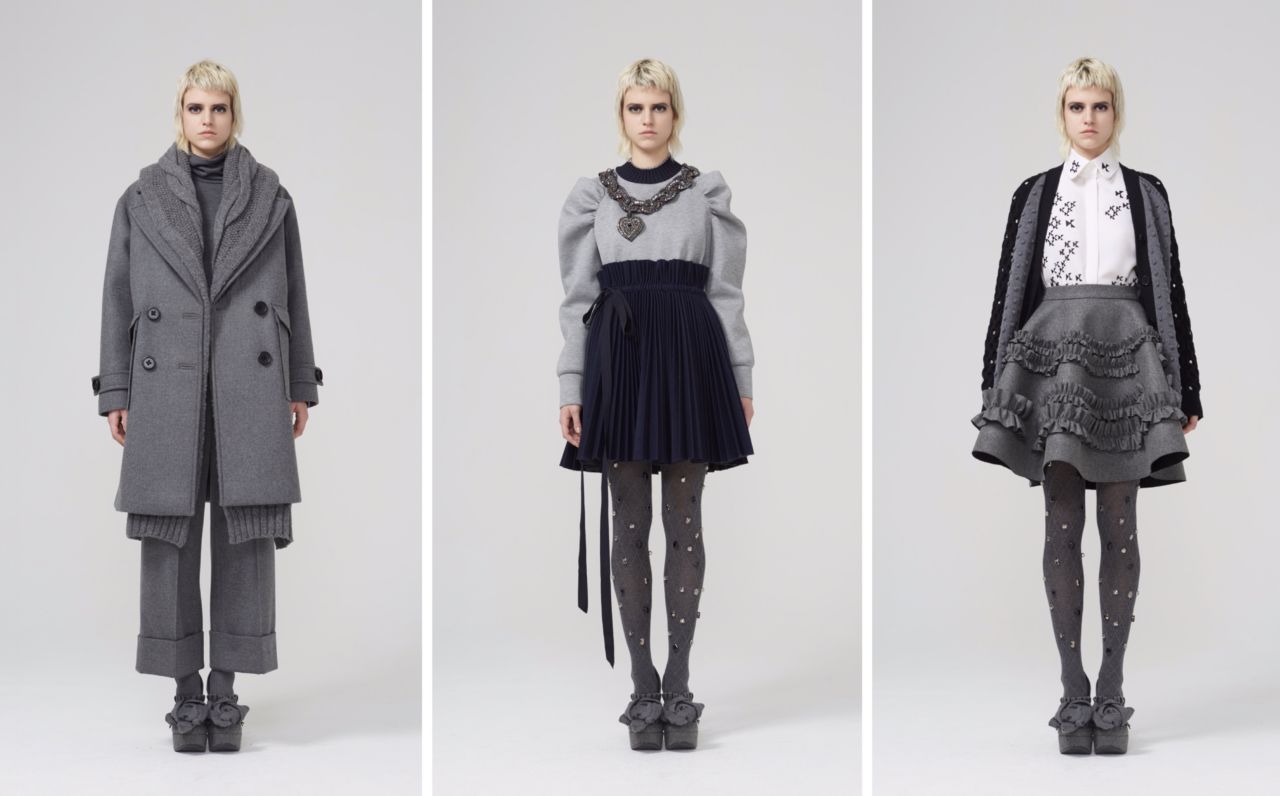 DICE KAYEK
For its take on cashmere, Dice Kayek transforms the winter staple to shirts adorned with three-dimensional flowers and coats with structured shoulders, drawing inspiration from her archives between 1992 and 2002 and proposes a new concept with the new Dice Kayek fall/winter 2019 collection. Coats and shirts with the iconic Dice Kayek silhouettes replace plain collars with layered polygonal ones, complemented with three-dimensional floral details. Another highlight is a belt with two pockets that serves well as a fashionable and practical accessory to store personal items. Jackets stand out with a draped collar and cuffs, while the curvy tassels on the chest give the sporty look a refined and dynamic twist. Crystal embellishments are a signature of every Dice Kayek collection. For the fall/winter 2019 collection, the designer took reference from luxury jewelry and adorned the collar with a detachable Swarovski crystal necklace. Architectural lines and structural silhouettes add a unique take on classical fitting techniques, which exude originality. The creations are exceedingly unique and surpass the expected fashionable details, putting the brand ahead of its time. With contrasting couture materials, volume and folding with a myriad of handmade embroidery, Dice Kayek creates a timeless and ageless "new couture" identity at affordable prices.
Dice Kayek Lane Crawford, 3 Canton Road, Tsim She Tsui, Hong Kong, +852 2118 2288, www.lanecrawford.com.hk, dicekayek.com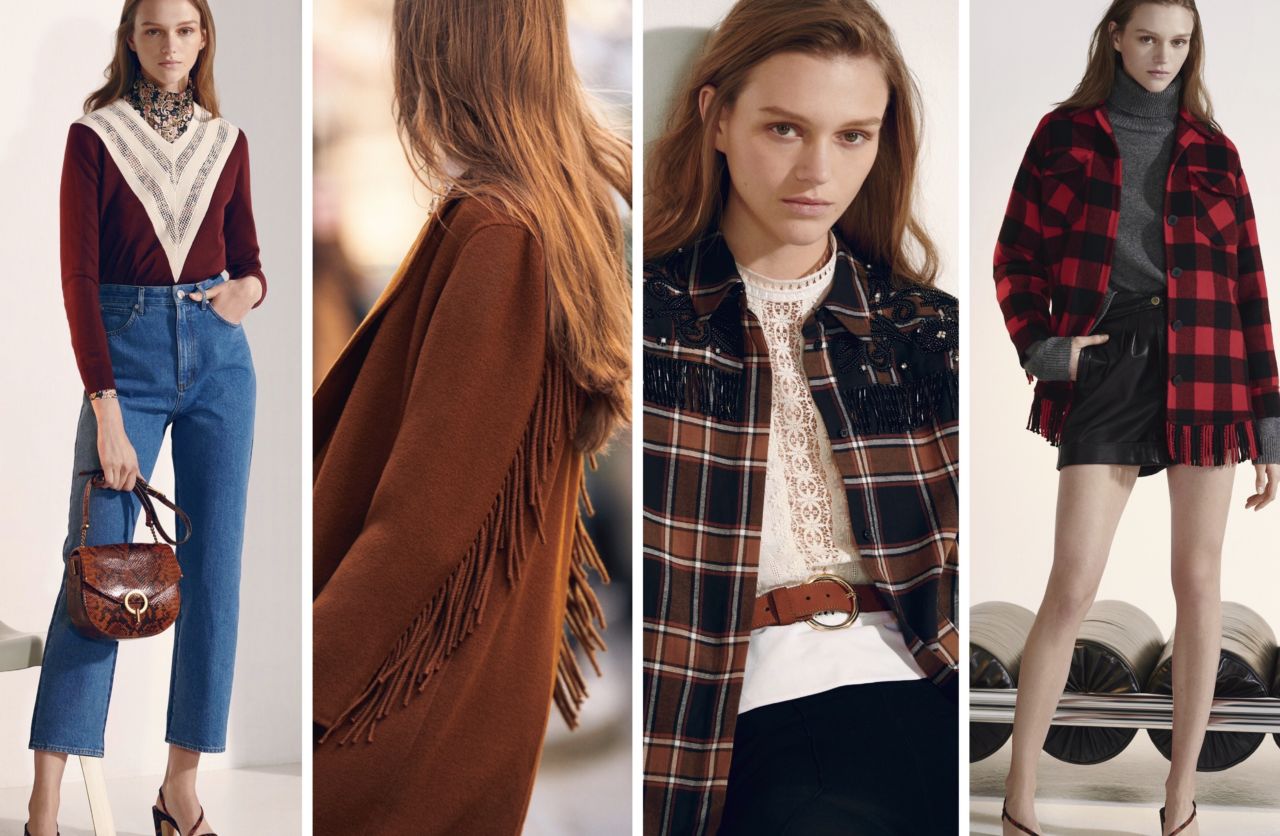 SANDRO
For the fall/winter 2019 collection, the Sandro design studio is playing with the concept of a sophisticated woman from a distant place, somewhere between the streets of Paris and Dallas in the 80s. The theme revolves around the elegant energy of the 80s showing off an Auteuil-reminiscent wardrobe, adapting it to one's personal style. True to the saying that opposites attract, the collection adds a few Texan touches to spice up the allure of what tan uptown lady looks like these days, with the use of cashmere. A sure stand out from this collection is the reversible coat that is embellished with twisted fringe.
Sandro Shoppes at Parisian, Shop 353b, Rue du Faubourg Saint Honoré, Level 3, Cotai, Macau, +853 2877 0102, www.sandro-paris.com.hk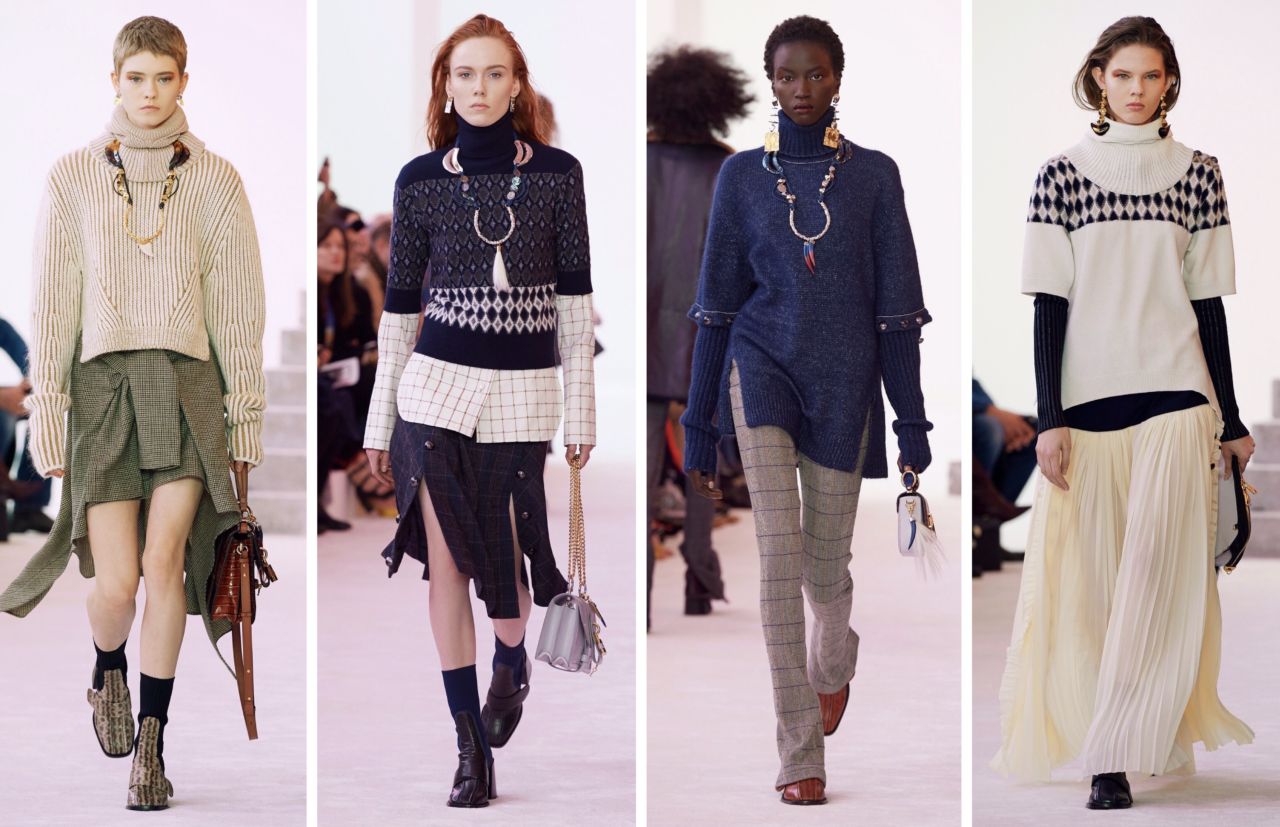 Chloé
Chloé's fall/winter 2019 collection uses cashmere in very wearable but fashionable pieces that are both comfortable and edgy with palettes leaning both hot and cold in shades of navy and petrol, indigo, umber, dusty pink, and cornflower blue. Through deconstructed archetypes and brass button finery, outerwear is paired with redingote or cape shapes, open kilt skirts and slim high-waisted trousers. Long-sleeved ruffled blouses with "C" lace cuffs are layered with raw denim. Bias-cut shirt dresses appear in wallpaper jacquards and lurex argyle knitwear and wrap skirts are knotted in spontaneous volumes, all completed with square-toe ankle boots on a stacked heel made with ribbed knit.
Chloé Shop 366, Pacific Place, Admiralty, Hong Kong, +852 2918 1686, www.chloe.com/hk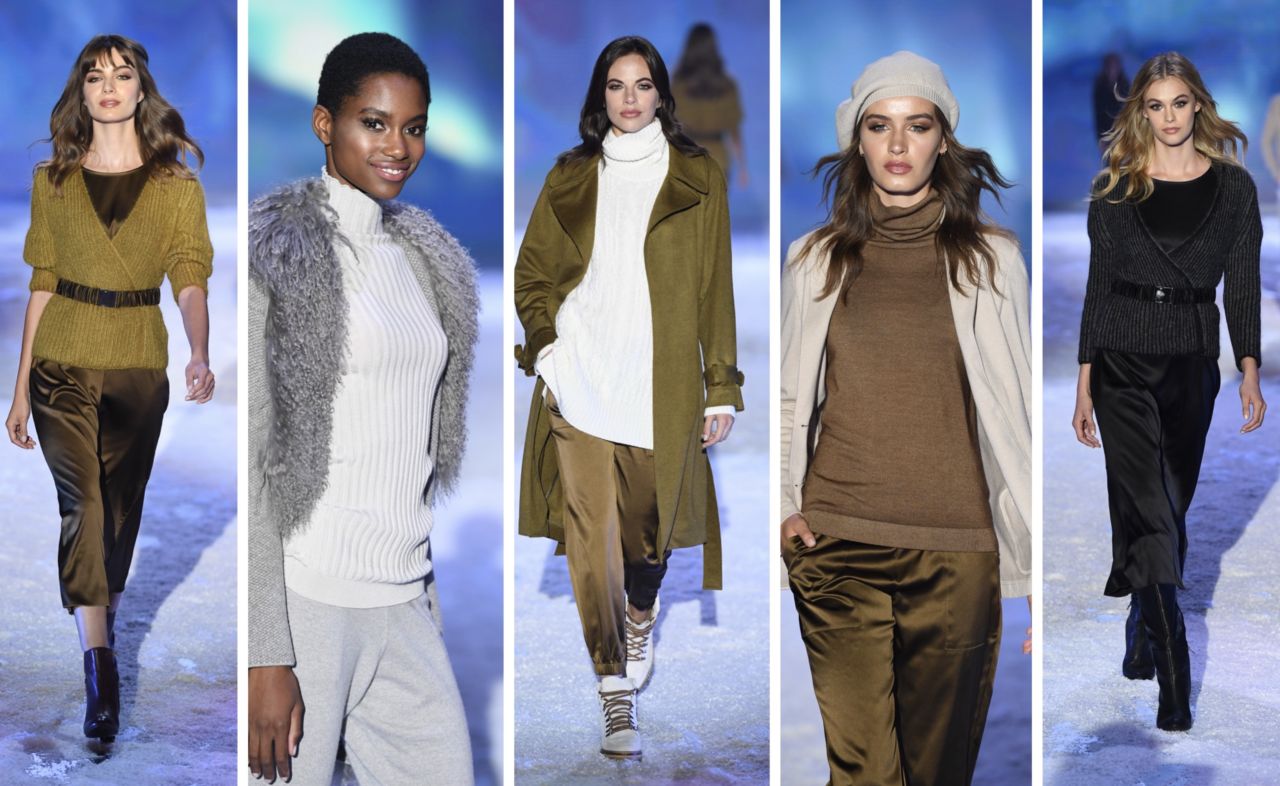 FALCONERI
Debuting in Hong Kong earlier in the third quarter of this year, Italian superior cashmere fashion brand, Falconeri, spans the seasons with its ultralight and extremely fine knitwear making it the ideal choice, whatever the weather. Particularly for this fashion brand, the natural yarn is produced from Falconeri's own goats in Inner Mongolia, where the brand controls each step of the making process. Through linear production, the brand has very high-quality control of cashmere which they can even identify the product is made from which goat. Once Falconeri has selected the highest grade cashmere possible, each garment is then hand made in its factory in Italy. Using yarn that has been combed and twisted, the natural fiber is durable yet evokes a weightless, soft, and velvety feel ensuring its timeless elegance can truly last a lifetime. Due to the material's natural thermoregulation properties, the cashmere is extremely lightweight and has an isolating power that is 10 times higher than wool making the clothes warm in winter yet cool in summer. With both Hong Kong and Macau's searing heat and colder climes, the collection can be worn all year round.
Falconeri G/F, Fortune Centre, 48 Yun Ping Road, Causeway Bay, Hong Kong, +853 2973 0097, hk.falconeri.com
Tags
Related Posts