After spending years in the corporate world surrounded by dull grays and boring blacks, Sarah Chessis felt the need to pep up the workwear wardrobe of the new-age empowered woman. So she created a professional wear, designed to take a woman straight from the boardroom to the cocktail bar. Combining Isabella Wren's signature clothing range with state-of-the-art technology, this new e-commerce platform makes finding unique and beautifully tailored clothing easily accessible.
Know more about what keeps her going.
Can you tell us about yourself and how you came to launch Isabella Wren?
Before successfully stepping into the world of fashion, I spent 18 years working with top financial institutions. During that time, I felt there was something missing in the business world for women. I discovered a need for empowered, fashionable and customizable women's wear. After gaining experience with an international clothing brand, I moved to Hong Kong and established Isabella Wren in 2014, naming it after my daughter.
At Isabella Wren, we aim to design beautiful professional wear to take a woman straight from the boardroom to an evening out. Combining Isabella Wren's signature clothing range with state-of-the-art technology, we created a new e-commerce platform that makes finding and purchasing unique and beautifully tailored custom clothing wonderfully simple. As the CEO and Founder of Isabella Wren, my goal is to make a woman feel confident and sexy, one customized outfit at a time.
Today, our creations are worn by CEOs, media personalities, business leaders and professionals all over the world. Looking ahead to the future, we have built a scalable business ready for expansion and we are working towards making Isabella Wren the number one ladies professional wear brand worldwide.
Can you describe how the customization process works for each piece?
After browsing through our selection of dresses, skirts, pants, jackets, blouses, and coats and choose an item you love, you will be ready for the customization process. 
Once you
've selected your garment, you'll use our state-of-the-art 3D custom
izer to transform the outfit into something special and personalized. 
We offer options to change necklines, sleeves and other fun accents like pockets, buttons, and trim. We have created a fun and easy to use fashion design tool. All the customizations are done with the click of a button and the 3D model will show you what the changed dress looks like in real time. Once you are satisfied with the customizations, you simply click buy to purchase your perfect fit personalized item.
How can our readers make a purchase?
They are welcome to come on down to our showroom and meet me in person or go through the collection at
www.isabellawren.com
where you can see our latest offerings. 
Isabella Wren has been described as Hong Kong's most tech-savvy fashion studio, what role does technology play in the business and how do you stay on top of the ever-changing updates?
We are tech-enabled fashion company so technology is everywhere. From sizing capture systems to smart patterns to predictive measuring solutions and technology-driven collection creation. 
We are never satisfied with how things are being done at Isabella Wren and are constantly seeking to find better ways of doing things. 
We are of the firm belief that within technology we can find the enabling solutions that will make our designs, operations and overall business more successful. 
It is important however to emphasize that we see technology as a collaborative agent meant to support the capabilities of our people. But it is the people that make what we do beautiful and the technology helps the people be even more amazing.

How would you describe the brand's style?
Beautiful clothes with just the right amount of personal edge. At Isabella Wren, we are creating clothes that are powerful with an individual bit of flair but retain the beauty that is part of the feminine ideal. We
 bring the modern professional woman a wardrobe of classic staples that can be dressed up or down and complement her multi-faceted life. It
's fashion that reflects
her status and her style. It's confident clothing and styling that makes her look and feel great.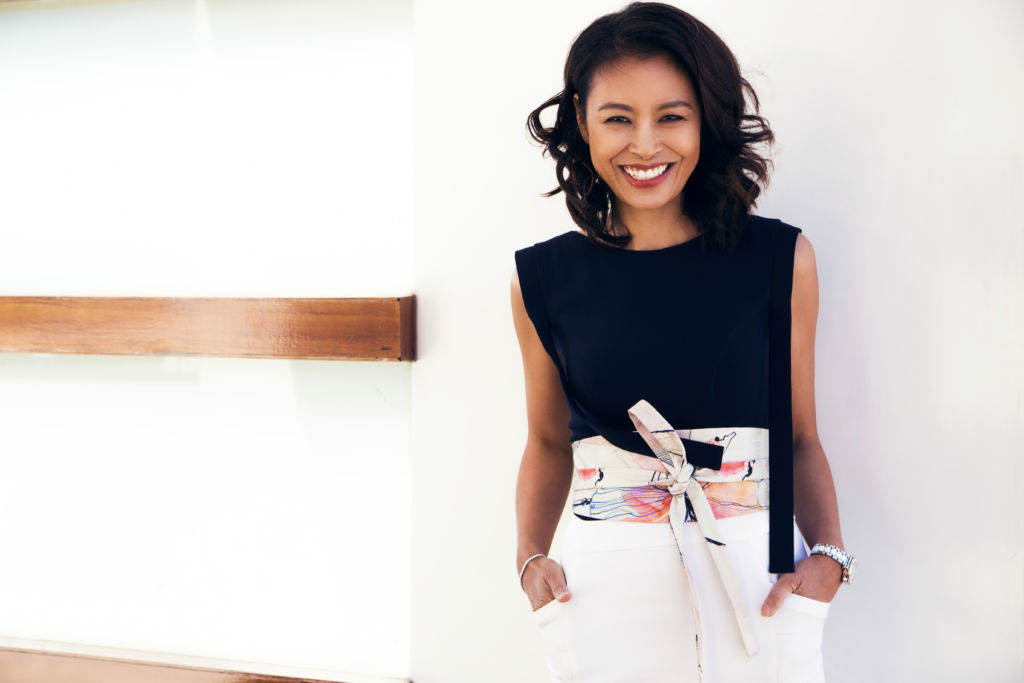 What can everyone expect from this collaboration with Angie Lau in regards to design and style?
Versatility is the new black is the main theme of the new collection with
Angie Lau
. It has been an unbelievable joy and thrill to work with Angie who is simply one of the kindest, intelligent and passionate person you will ever meet. Her positive energy infuses every aspect of the collection. In the clothing, you will see class, style, and grace with a great big dash of fun.
Who do you admire in the fashion world and why?
Right now I am loving the design team behind Moncler.  They have reinvented themselves so successfully. Their ski wear is untouchable. In terms of style icons currently Amal Clooney, Queen Letizia of Spain and Sheryl Sandberg come to mind for different reasons. Amal Clooney has a great bit of flair and can pull off wonderful colors. In Queen Letizia and Sheryl Sandberg, I see the confidence in their presence and outfits.  Locally in Hong Kong, I think
Cynthia & Xiao
is doing some interesting work.  The design aesthetic appeals to me as I really love bright colors and fabrics with texture.
What's next for Isabella Wren?
While for now, we are focusing Isabella Wren producing wonderful professional wear with an edge, it is most certainly my ambition to have us expand our horizons over time and work with some really innovative fabrics and designs.  Internally we sometimes make dresses, gowns, and jackets that are really out there just for fun and to experiment. We think it is important to try the dramatic even if the samples are worn only by myself or the models. Standout pieces and designs can often inspire wonderful collections that are great for the workplace. On the business front, 2018 is shaping a super exciting year for Isabella Wren, we are developing new partnerships that will enable us to greatly expand our business both in Hong Kong and internationally, in the coming months. I have never been so excited about what we are doing than what I am today and I am deeply grateful for all those who have supported us in our mission.
Do you have any advice for those wanting to switch careers and start their own business?
If it is really in you and you want to do something different then follow your dreams.  But you have to really want it. However, you must be practical in that you must have a clear idea of what you want to do and a vision of how you are going fund the business. When you are working for yourself you must be passionate, determined and relentlessly focused on finding the solution.  I believe so much that if you focus on the problem the problem gets bigger and when you focus on the solution the solution gets bigger. Life constantly throws up challenges and the key to happiness and being effective is to let go of the outcome and instead focus on what you are doing right here and now to fix the problem.  Invariably things will work out if you are willing to put in the effort.
Describe being an entrepreneur in three words?
Joy, Effort, Exhilaration.
---
Tags
Related Posts