May is all about the French fervor in the air. With the various film screenings and events happening in Hong Kong and Macau, we decided to speak to a few French expats themselves on their life, work and views on Asia.
Fanny Moizant brings some French flair and fashion to Hong Kong. A new resident of the oriental city, she has ditched her heels in favor of comfortable footwear to explore and experience the best of the city. The co-founder of global business Vestiaire Collective is breaking through the Asian market to the delight of fashion lovers in the region. The strong-willed working mom is an inspiration to many and is determined to tap the challenging market. Vestiare Collective is often described as "ebay-meets-net-a-porter" and with the effervescent age of digital and technology, the face of fashion continues to transform in every aspect and Fanny is at the center of it.
We caught up with chic madame for a fast talk about fashion and all things French.
Where you from originally and what brought you to Hong Kong? 
I am from South of France near the sea. I am one of the co-founders of Vestiaire Collective, an online shopping platform for pre-loved fashion pieces.
Tell us about Vestiaire Collective. 
We launched it nine years ago and now we have business offices all across Europe. From Paris, London, Milan, Berlin, to Spain and we also have a team in US. We already covered Europe so Asia was definitely the next step. We have seen and analyzed the market in Australia and Asia and we've decided it's time we took on the challenge. I arrived with my family to Hong Kong last September. We knew instantly that Hong Kong will be our hub for Asia and the Pacific. We've decided to penetrate Hong Kong and Singapore and soon Japan, Korea, and China when I am a bit more ready and fluent in Mandarin.
Tell us about your background how you got into fashion and business? 
My parents are entrepreneurs albeit small scale. But my mother used to have a fashion shop in the South of France. I was always helping out especially during holidays. I've been surrounded by boxes and clothes and now analyzing it all, that must have been my source of creativity and inspiration in the industry. I had a glimpse of the fashion and business side of things that I didn't initially realize.
I did my studies in Business Marketing. I worked as a marketer and stopped when I had my girls and then started Fashion School. I guess my priorities changed when I became a mom and I wanted to do something for myself and reconnect with my family roots by going back to fashion. I was passionate as a mother and in finding myself, I thought maybe the best way for me is to create that job. It started when fashion bloggers started to resell their fashion pieces so that they can purchase new ones. It was interesting to buy from another person but it is not scalable.
However, the idea held on and I thought adding services to one of those platforms that didn't exist at that time would be something great. I eventually met my co-founders and we made up a great team because each of us had a background in various areas that would make the business successful. And we shared common interest and passion.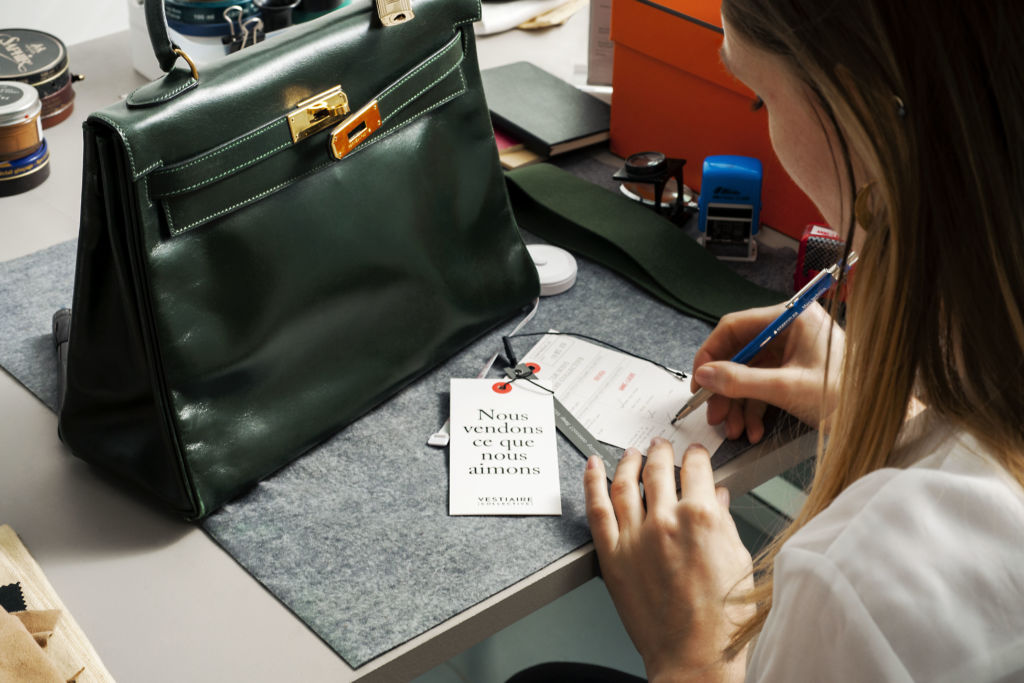 What is the Vestiaire Collective and how we can use it? 
The business is basically a platform online where you can buy or sell your pre-loved items. What sets us apart from other similar platforms is that we are curators in every sense of the word. We have experts in every facet of fashion to ensure authenticity and style and we take pride in that. We curate to inspire. You can sell and buy through a free account on our platform. Registering takes few minutes and you can access our catalog. In Asia, you cannot sell yet but in June we will have these services up too. You can buy in the meantime.
What kind of challenges you've faced while building the business? 
Personally, adapting to the demand with the kids in tow and finding the right balance to manage it took a hard time to find. Professionally, I think it was building and creating something new. We had to be inventive and creative as well keep the pace of growth of the company. We had to make sure the foundation is stable.
How would you describe your personal style? 
Two words and I call it, easy chic. I like to be very comfortable in what I wear.
Tell us about your favorite French brands and why you love it. 
Celine, I am focusing right now on this brand. I love stepping away from a bit of trend and stick with simple minimalist style.
What do you think of French stereotypes? Tell us about something that's true and false. 
French can be very negative and complaining. In London, I found everything on a positive scope and believed that the glass is always half full in London and half empty in Paris. For something that is untrue, I think we come across as quite lazy people and that's not true. We are passionate and hardworking people.
Living abroad, how do you stay French in Hong Kong? 
My Parisian messy hair and I've kept my French rules on food and quality of life. Cooking helps me keep the French connection going but sadly finding ingredients in Hong Kong can be hard.
Have you been to Macau? What are you looking to explore? 
10 years ago, my husband and I had an express day trip. We've visited the historical centers and one or two casinos. It was quick but inspiring to see the contrast and I can't wait to go back with my kids and explore the culture of Macau.
How can we bring some French style chic to our lives? 
Less is more! Quality is better than anything else. Eat your food and go for quality. That would be my rule for everything as well for interiors and everything in life.
---
Check out their collection of pre-loved goods at www.vestiairecollective.com
Tags
Related Posts