Set in the stunning sci-fi setting of Morpheus Hotel, we were honored to have been invited to the Roger Dubuis showroom celebrating two new versions of Roger Dubuis' Excalibur series. The esteemed brand has certainly made a mark in the world of haute horology despite being only conceived in 1995 compared to other luxury houses. What is truly mesmerizing is that compared to the current age of fast, compact and digital, the Roger Dubuis' DNA of big, bold and beautiful stands out from the other luxury timepieces in the watch industry. We delve deep into the many factors of why this intelligent and timeless brand should be your next investment piece.
One of a Kind
It takes an extremely talented team to create a single Roger Dubuis watch. Roger Dubuis calibers are made up of several hundred components finished by hand. Taking pride in small productions with a limited 88 pieces of the new Excalibur Huracán Performante to be exact, exclusivity is of prime importance to the brand and its creators. This innovative timepiece features a standout honeycomb motif, emphasized by the fierce beauty of its bold crimson exterior that offers unbeatable performance, incredible lightness, and world-renowned security that makes its namesake supercar such a world-beater of an automobile. Bearing the Performante Pirelli P Zero Trofeo R tyre-pattern design strap, the Excalibur Huracán Performante represents the unleashed creativity of Roger Dubuis at its finest: unconventional and individual in concept, high-tech and avant-garde in execution–a statement of unparalleled quality, precision, and sophistication.
Craft and Caliber
Roger Dubuis has collaborated with Lamborghini resulting in a watch inspired by the distinctive design and the materials of the Lamborghini cars. It also embarked on another collaboration with Pirelli producing timepieces that feature intricate rubber inlays from certified Pirelli winning tires. Similarly, the Roger Dubuis' Excalibur Huracán and Excalibur Huracán Performante represent the ongoing search for perfection that drives the incomparable maison to greater heights. A mesh of art, function, and sophistication, these two revolutionary timepieces are the latest expression in modern horology–clockwork designed to challenge the meaning of time itself in the future of today.
Geniuses Behind The Brand
Roger Dubuis is based in Geneva, Switzerland and was founded by Roger Dubuis and Carlos Dias in 1995. In 2008 the company was acquired by Richemont group and continues to be a groundbreaking brand that intertwines traditional watchmaking with state-of-the-art design. Its design evokes adventure while gearing towards the future. Every piece embodies substantial expertise expressed through the finest watchmaking mechanisms combined with powerful creativity. Boldness and extravagance are the brand's signatures, and determination as its driving force. The Roger Dubuis collections, Excalibur and Velvet, are distributed worldwide through an exclusive sales network and boutiques.
Leading The Way
Roger Dubuis' new CEO, Nicola Andreatta is no stranger to the world of watchmaking. Hailing from a family that has been involved in various aspects of watchmaking for three generations, his passion has been extremely significant in an illustrious career in luxury spanning more than two decades. Born in Italy to an Italian father and Swiss mother, multilingual Andreatta nurtures a deep-seated fascination for new technologies and innovation. He combines this with an extensive background in managing multi-national scenarios within culturally diversified environments around the globe. Like Roger Dubuis, Nicola Andreatta combines unleashed creativity and larger than life experiences. His leadership provides an insightful glimpse into what is usually a mechanical arena turned trendsetting and trailblazing by the Roger Dubois timepieces.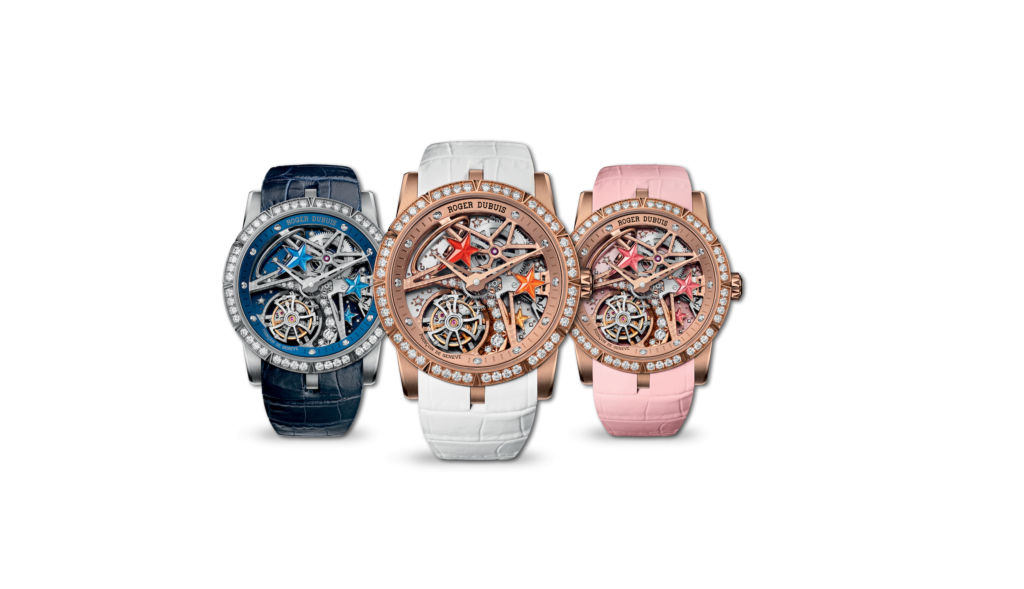 Coveted Pieces
More than the prestige and reputation, think of it as an investment when you hold a Roger Dubois timepiece in your hand. You'll discover that every Roger Dubuis timepiece bears the quality proof of the Poincon de Geneve or the Hallmark of Geneva and you'll certainly feel a sense of pride and inspiration in your daily life. There are several stores in Macau where you can waltz in and purchase one. Roger Dubois is available at the following locations.
---
For more details, visit www.rogerdubuis.com and www.facebook.com/RogerDubuisWatches
Roger Dubuis www.rogerdubuis.com
Tags
Related Posts