Name: Rhodine Lacson Pujol
Age: 30
Nationality: Filipino
Our special feature Macau Street Style to highlight Macau fashion—follow our Instagram @macaustreetstyle for daily inspiration!
What does the word "fashion" mean to you?
Fashion is self-expression, anything I'm wearing depends on my mood. My outfit of the day tells you how my day went!
How would you describe your personal style?
I like it simple but I always make sure that it rocks!
How do you get your daily dose of fashion information?
I like searching through social media ( Instagram, Facebook etc.) where I get my inspirations.
Does fashion allow people to express their individuality or does it force people to conform?
Fashion is your statement. It tells you who you are. It forces no one. It's you, your style, your rule, your life, and your money (if you have lots). It's your satisfaction and happiness.
How does Macau inspire the way you dress?
As I walk through the streets of Macau, there are a lot of places to go. This simply tells me what to wear. Mostly, I wear comfy outfits when I'm going on a walk in San Ma lo. I rock my outfits when I go in hotels or bars. It depends on what place here.
What do you think of Macau's fashion scene? How can it be improved?
Macau has variety when it comes to fashion. There is some "wow" and some not so. As a marketing graduate from my homeland Philippines, Macau street style, Macau lifestyle or any Social media pages related to fashion must come to an idea, to have some fashion shows or other fashion gatherings. In that, we can get some fashion ideas, exchanges of thoughts, more friends and of course, inspire each other since Macau has lots of nationalities.
What's your go-to outfit when you don't know what to wear?
Most of the time, (due to my work) I wear a pair of shorts and a tee and my very comfy adidas slide, and Im ready to go!
What is your favorite place to shop in Macau?
Do I need to mention that brand? [laughing] Some shop or store like in Venetian, Galaxy, Parisian. Shops on San Ma lo or where there are some sales.
Who takes photos of your outfits?
My close friend Kiwi and most of the time my wife.
How much attention do you pay to fashion in terms of trends in the way you dress?
I often look at my Instagram and Facebook accounts so most of the time, I also get lots of ideas on what are trends and hypes. From that, I can easily know what to wear the next time I go out.
Which social media platform are you most active on?
Facebook, Instagram—those two. My friends and my family have those accounts and I can easily connect with them. Well, they love fashion, too.
Which celebrities have the best style to you?
Jerry Lorenzo ( Fear of God), Eminem, Kanye West, Chris Brown, LeBron James, David Bekham—I forgot the others [laughs].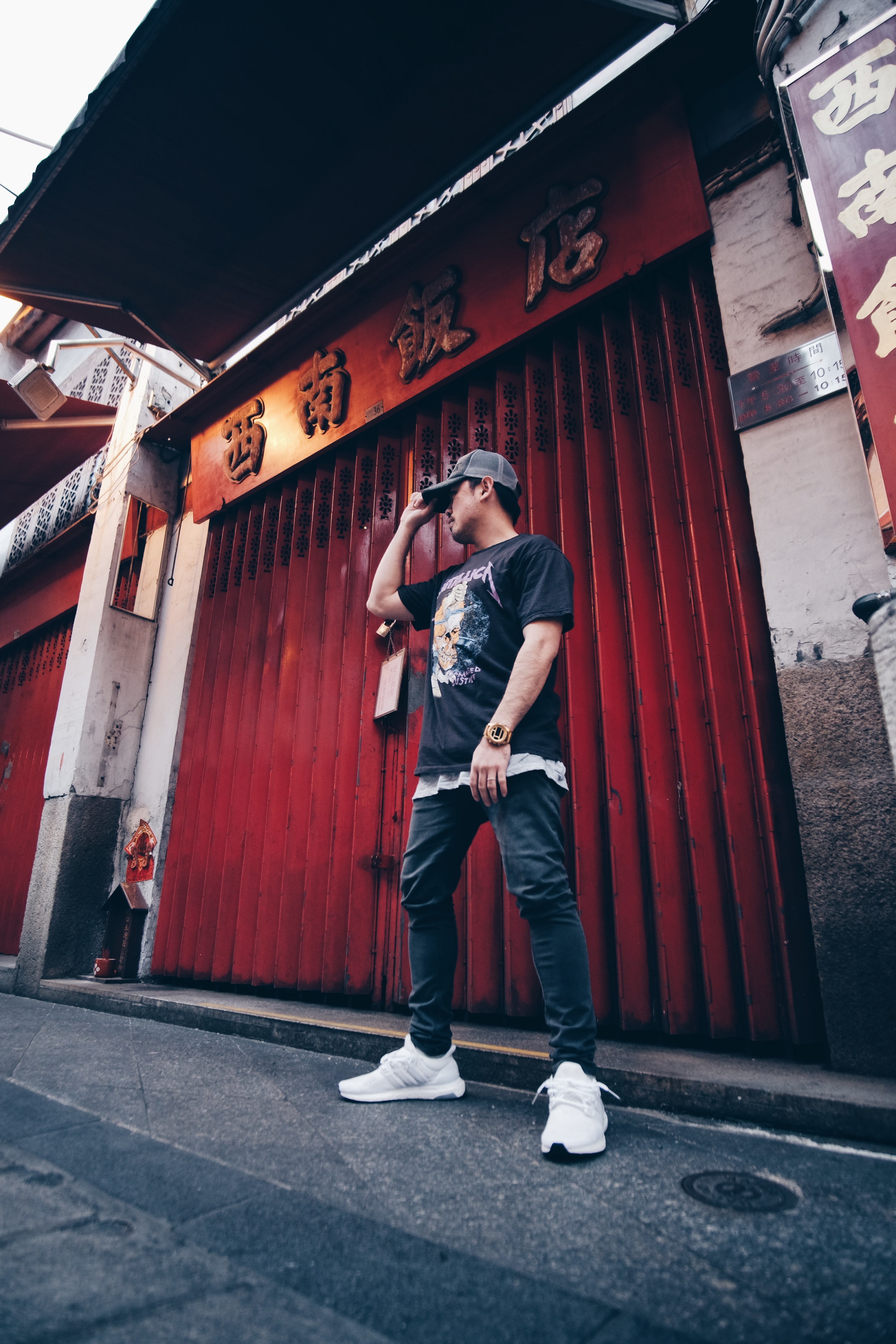 Tags