It's never too early to start thinking about Christmas presents for family and friends, and we've just discovered the perfect gift that stands out from whatever you'll find anywhere else. Tom Dixon has just launched the coolest collection of extraordinary accessories, gifts, and design objects. With a British heritage, the designer himself has creatively chosen each piece as a prized possession worthy of a place in your home. Tom Dixon opened its flagship store in Hong Kong back in June and for the homeware obsessed, this has become a new hunting ground. It's hard to miss the duplex building on Hollywood road. The beautiful big windows make it easy to spot some awesome pieces from outside before you even enter.
Being coffee-lovers, Macau Lifestyle team has often had meetings at their second floor and it's easy to see why the place is packed. One of our favorite picks is the Brew Cafetiere Giftset and it takes pride of place in our kitchen. We love this gift set in particular because of its sleek and stylish look along with its ability to produce delicious, café-quality coffee within your own comfort zone. The color black is the new black here, prevalent in Tom Dixon's latest collection and we are obsessed with it too. Dark and mysterious, it never goes out of style.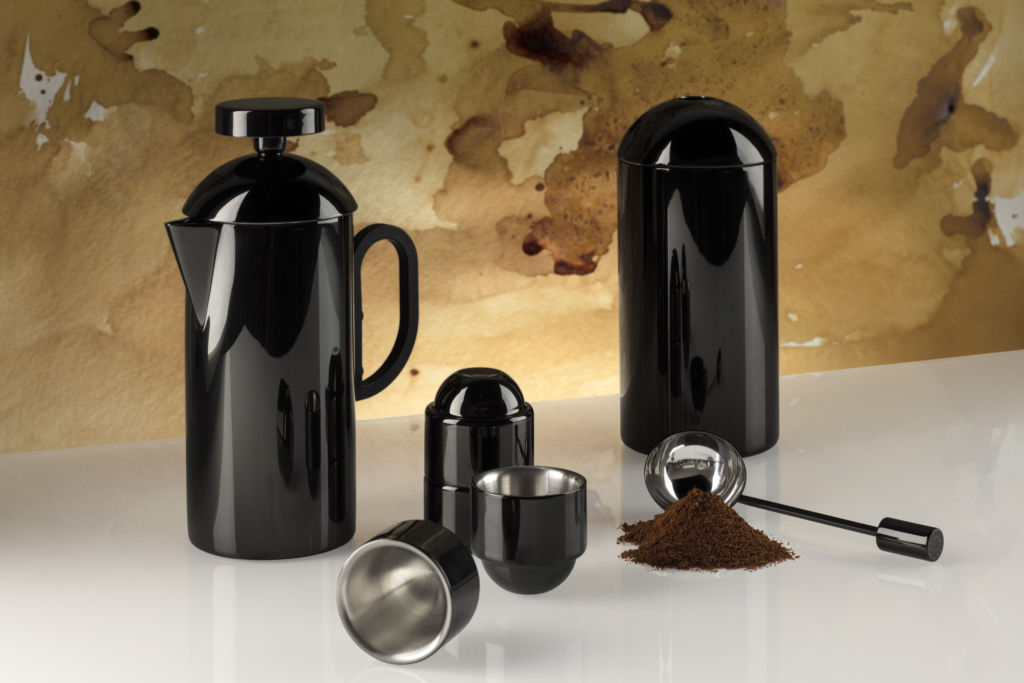 BREW
Reinvented in super sleek and hyper-reflective black, Brew is curated into three gift sets for the meticulous coffee connoisseur: The Cafetiere, The Stovetop, and The V60. These exclusive sets are a bold statement in the art of dripping, plunging and percolating. Rendered in mirror-black PVD with a brushed stainless-steel interior, Brew remains a tribute to the mysteries of the modern-day coffee ceremony. It's the perfect gift for your boss—or maybe just for yourself after all the overtime work you put in.
Brew Cafetiere Giftset—HKD $3,900, Brew Stove Top Giftset—HKD $2,600, Brew V60—HK $1,000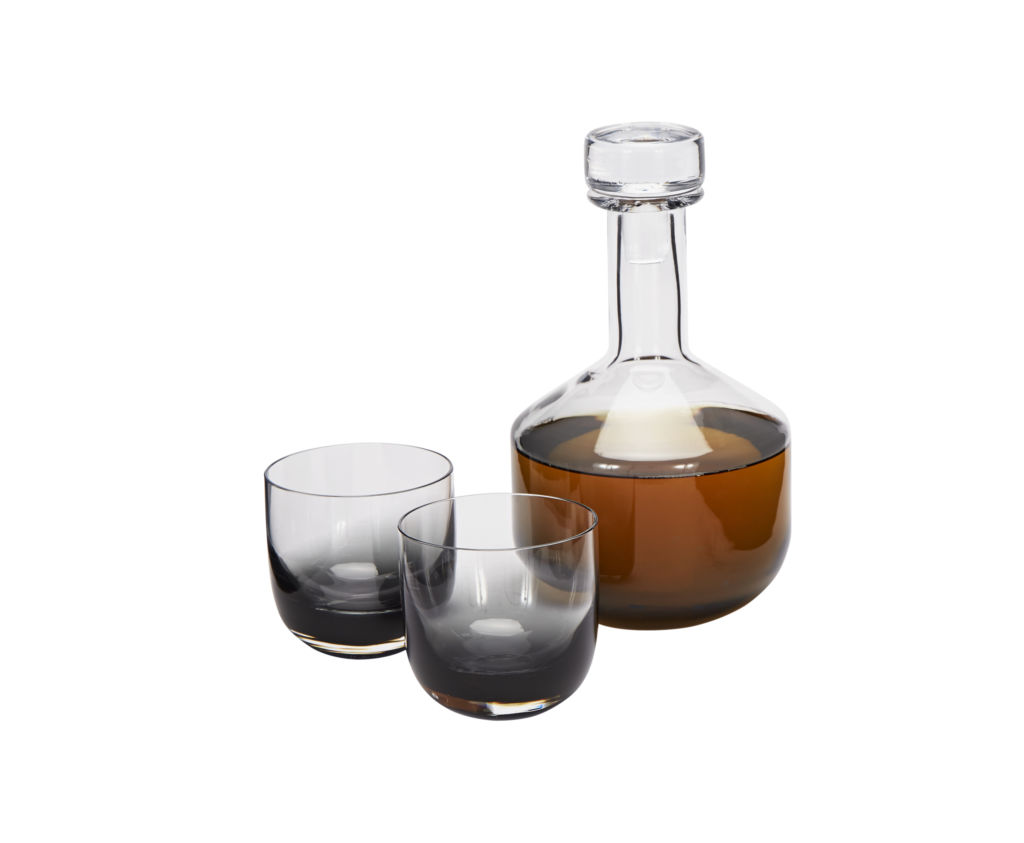 TANK
Gradations of black and smoky silhouettes define the latest look for Tank glassware. Created through a technically demanding fusion of clear and solid black glass, Tank is mouthblown into the graphic forms for timeless tabletop architecture. Offered as two exclusive gift sets, the Decanter and Whiskey collections are created for the purveyor of fine drinks. Buy these for your parents, friends, or colleagues.
Tank Decanter Set—HKD $1,500, Tank Whiskey Set—HKD $1,300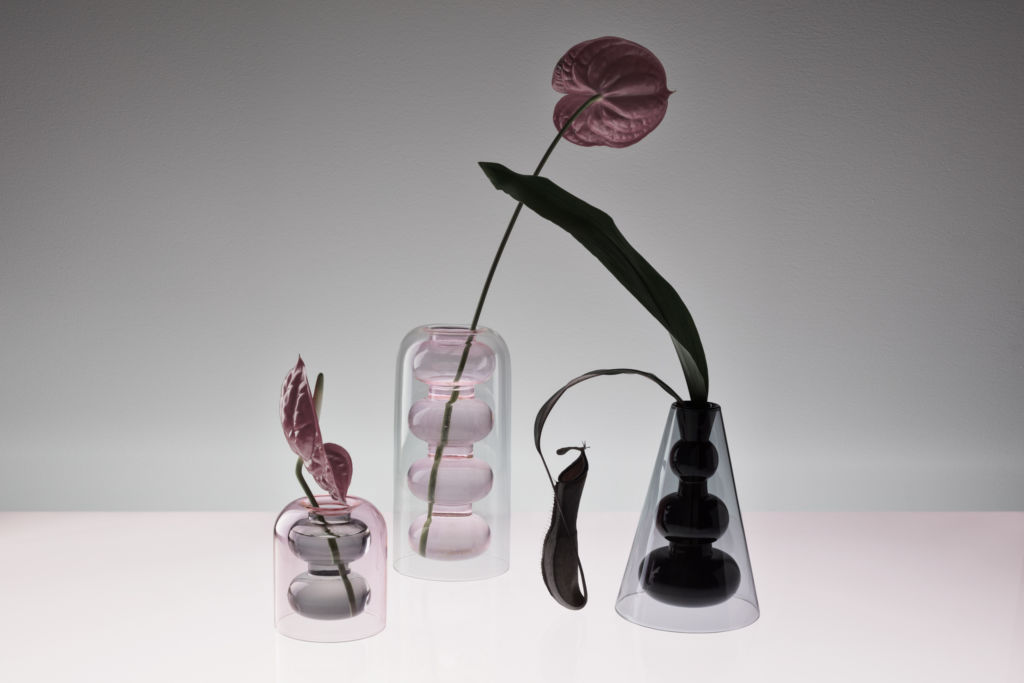 BUMP
Bump exudes sophistication from every angle with its conical, spherical, and tubular building blocks that Tom Dixon is known for. Mouthblown into on engineered graphite mold, Bump is made of borosilicate, heat-resistant glass familiarly found in science laboratories. Lightweight, durable, and able to withstand high temperatures, borosilicate glass is usually seen in a colorless and clear state, but here it is elevated by the rare translucent pinks and glossy black row material fused, blown, and manipulated into delicate shapes. Honor your home and place of rest with these beautiful investment pieces.
Bump Vase starts at HKD $700
All the new collections are showing for the first time at Maison & Objet Paris and will be available at Tom Dixon, 52 Hollywood Road, Hong Kong.
Tags
Related Posts