From labyrinths of clay walls in the Madina to the dusty desert planes that sweep across the horizon, there are few places on earth as unique as 'the red city' that is Marrakech. Although not Morocco's capital city, it is arguably one of the country's most important. As a former imperial city, it has a rich history of Berber, Moorish and French colonization all having an impact. With the bustling sounds of markets, colors of scarlet and saffron weaved in the goods and scented smoke rising from cooking stalls, the atmosphere alone is enough to satisfy that sense of wanderlust that's been keeping you up at night. We have rounded up a list of exceptional things to do and see, with just the right mix of local and luxe to give your trip that extra special edge. And if you haven't planned a trip to Marrakech already? Well, be careful, because after reading this you might just want to book one.
Where to stay
La Mamounia
(See featured image above)
La Mamounia has just been voted the 'No 1 Hotel in The World', 'No 1 Hotel in Africa' and 'Best Urban Hotel' 2018 by UK travel magazine Conde Nast Traveller's annual reader poll. With this impressive list of accomplishments, you can only expect the best from this palace-hotel. With corridors, walls and ceilings of beautiful ornate Zellige (a form of Arabic mosaic tile work that is crafted from individually chiseled geometric tiles) and scents of jasmine and orange blossom flowing from the rooms, this place is a delight for the senses. Perfect Moroccan hospitality is on display here – from the very moment you step foot in the door you are welcomed with traditional dates and almond milk and you will have your every need tendered to with a smile – La Mamounia is an oasis in the city.
La Mamounia Avenue Bab Jdid، Marrakech 40040, Morocco, 212 5243-88600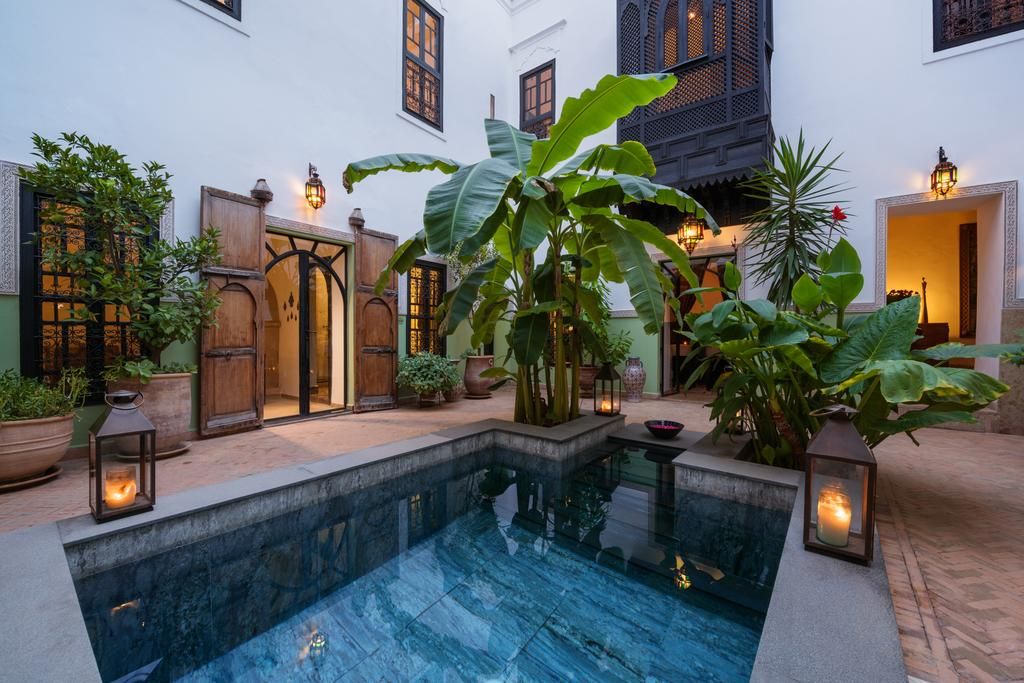 Riad Azzar
For a slight change of pace head to Riad Azzar – a place to feel at home. A hidden oasis behind an unmarked wooden door, this cozy riad sits in the heart of Marrakesh, with rooms adorned with traditional African arts and a warm and fuzzy fire to help you relax into the night. The courtyard and small jade pool, under the soft glow of Moroccan lanterns, are lovingly intimate, and if you're willing to pay that little bit extra you can rent out the whole riad to yourselves. What we love most about this traditional Marrakchi courtyard home, however, is their close links with an educational initiative providing schooling for Moroccan girls in rural areas – appealing to the heart as well as the senses!
Riad Azzar 94 Derb Moulay Abdul Kader, Marrakesh 40000, Morocco
Where to eat and drink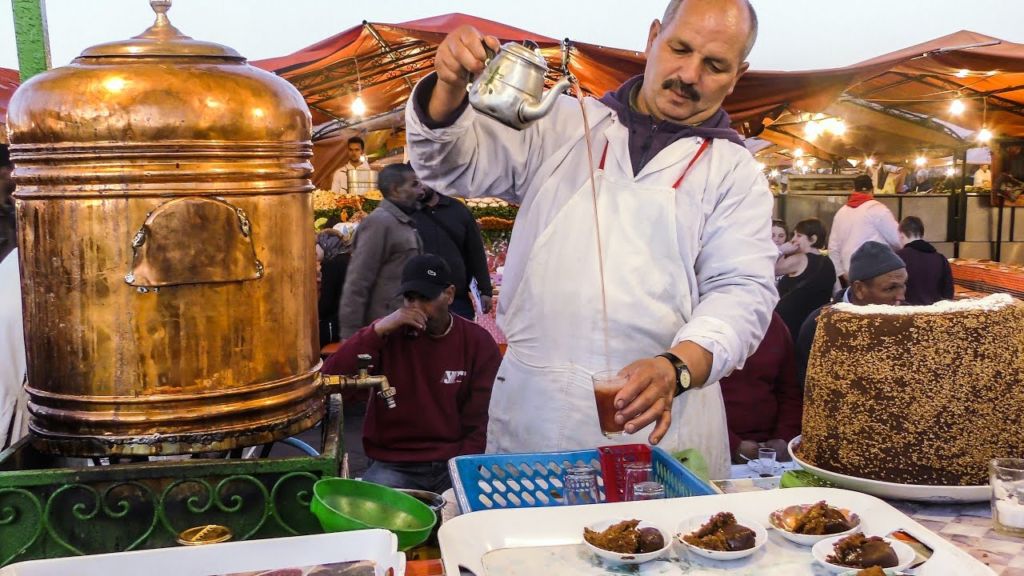 Local street food at Jemma el Fna Square
With Moroccan cuisine famous for its aromas, its impossible to visit Marrakech and walk past the street food without tasting some! While walking past, the sheep heads might be a delicacy only to be tried by the most adventurous of foodies, but there are also plenty of sweet savory dishes to try that are more familiar to satisfy your taste buds. For a sweet tooth, it is recommended that you try chebakia from the street food vendors at Jemma el Fna, a flower-shaped sesame cookie draped in syrup that just doesn't taste as good factory made versions. If you want to be a little experimental, try the local delicacy of snails – snail soup being a particular favorite – or harira a traditional soup that is rich with tomato and chickpeas and suitable for even the fussiest of eaters. All handmade by locals, incredibly cheap and served with that charmingly playful Moroccan hospitality, a feed at the square is not to be missed.
Jemma al Fna Square Place de Marché Animée Jemaa el-fna by a-maps, 40000, Morocco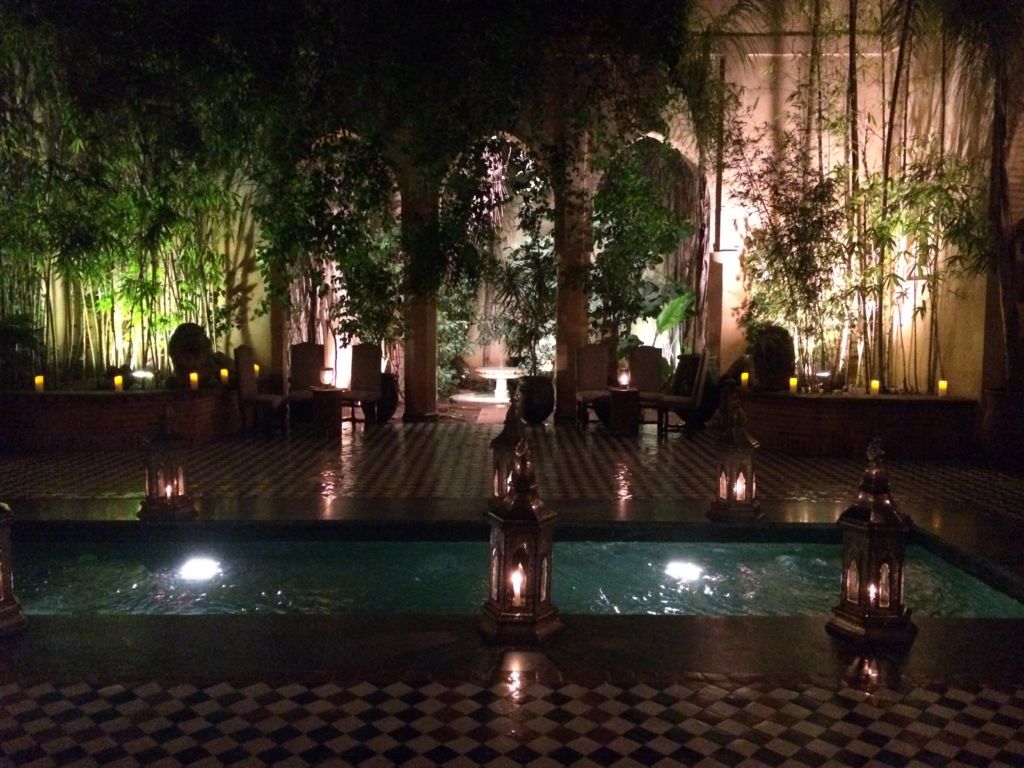 A Moroccan Meal at Dar Yacout
Arguably one of the first and classiest of restaurants in the Madina, a long weekend in Marrakech must include a meal at Dar Yacout. With enchanting decor that will take you back in time to ancient Morocco, this place also has private lounges and tables on the roof terrace offering breathtaking panoramic views over the Medina and Koutoubia Marrakech (the Mosque of Marrakesh which is considered as one of the most beautiful places in the world). With a traditional Moroccan menu cultivated by Mohamed Zkhiri, expect lots of fragrant, subtle spices mixed with sweetness, and of course the nations favorite dish – lamb!
Dar Yacout 79, Derb Sidi Ahmed Soussi, Bab Doukkala, Marrakech, Morocco

Tea Room Riad Yima
One of the country's most famous and well-loved beverages is mint tea. Everywhere in Marrakech, you will find this delicacy served in quaint silverware on silver trays. Locals drink it to pass the time to relax and enjoy. But, for a slightly different experience head to Tea Room Riad Yima, tucked away on a hidden street of the medina. Inside this traditional and opulent riad, you can settle into the comfy chairs and let the business of the city drift away, surrounded by the chic pop-art and fashion photography of local artist Hassan Hajjaj.
Tea Room Riad Yima 52 Derb Aarjane Rahba Lakdima Medina, Marrakech, Morocco
What to Do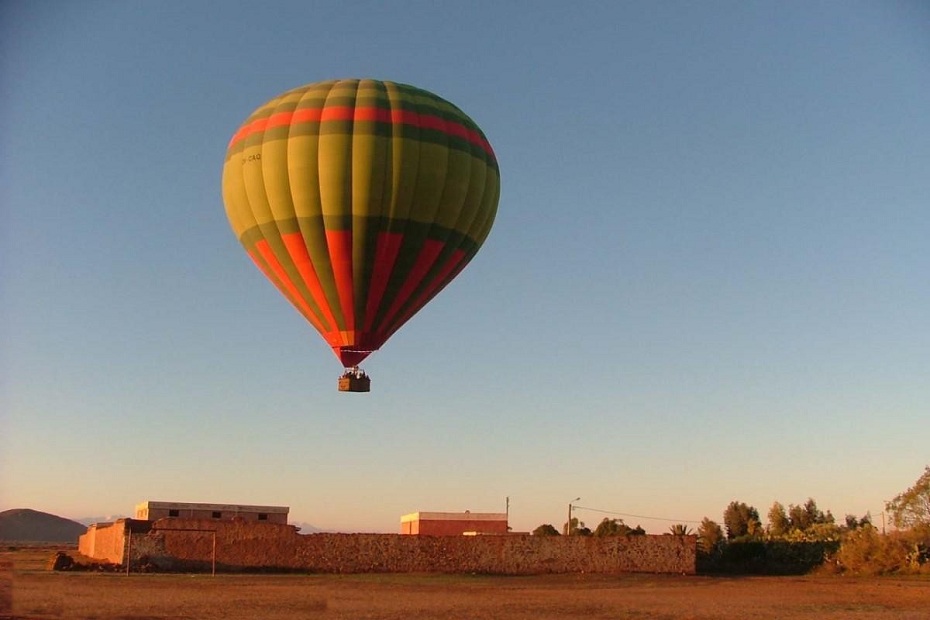 Luxury Desert Hot Air Balloon
While the city has many avenues and alleys to explore, the desert skies that inspired countless philosophers, scientists and astronomers just has to be crossed off your list while in Marrakesh. If camping isn't your thing opt instead for a Royal Hot Air Balloon ride over the desert. Leaving Marrakesh during the dead of dusk, the balloon lifts you parallel to the rising sun as you enjoy a traditional Moroccan breakfast with breathtaking views.
Marrakesh Hot Air Balloon +90 530 604 32 36, email them for bookings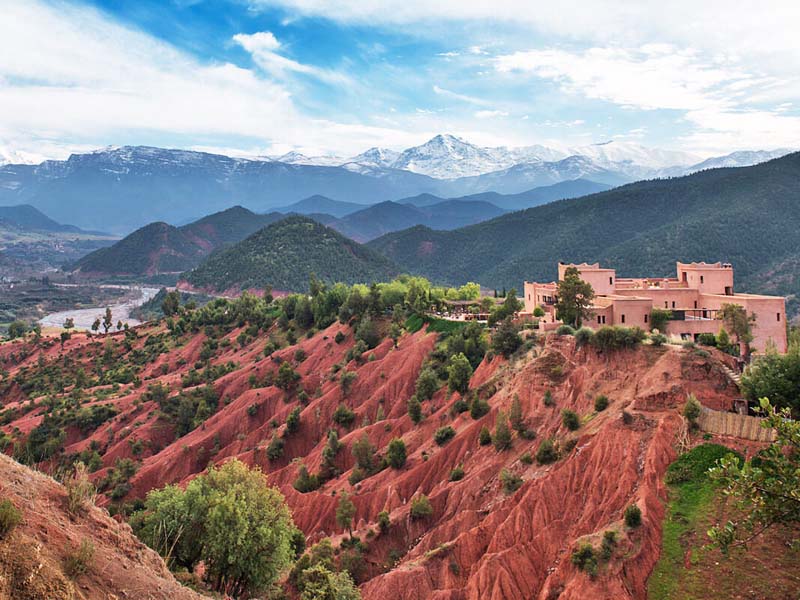 Local Berber Village Excursion
If you prefer to keep your feet firmly on the ground and get a look at a local, traditional way of life, head to a local Berber village in the Atlas Mountains – a day trip out of the hustle and bustle of the city. With most excursions picking you up from your hotel early morning, leave your hotel in comfy shoes and be driven to Moulay Brahim Gorges where you'll swap the wheels for a camel. Ride over the breathtaking scenery of the blue topped mountains, and you can also visit the small villages of Ait Souka or the even more remote hamlets of Ait Mizan, Targa, and Imoula. For an insight into the beauty of village life in Morocco, don't miss the opportunity to explore this usually hidden land.
Get Your Guide Atlas Mountain Excursion: Approx MOP $400 www.getyourguide.com
Practical Tips:
Fly Macau or Hong Kong to Marrakech with The Flight Centre for approx HKD $7000 – $8000 with one stop in Europe
Beware of pick-pockets while walking around the Medina
While there is no strict dress code in Morocco, it is advisable to respect the culture and wear loose fitting clothes, often covering the knees and shoulders if possible
Tags
Related Posts