Perched on the mountainous part of northern Thailand previously infamous for its lucrative opium trade, Anantara Golden Triangle Resort in Chiang Rai is where you'll be woken up by disgruntled elephant calves getting their morning showers. Draw open the drapes and be at awe at a backyard of rolling rice paddies and tea plantations that somehow divide Laos, Myanmar, and–where the hotel rested–Thailand.
A passion project that began in the late 2000s when William Heinecke's Minor Hotels group tasked environmentalist John Roberts–who's now director of conservation for the entire hospitality chain–to turn the 200-acre parcel of land into a five-star elephant camp, the 61-keyed Polynesian-style resort is now the group's most celebrated property for both sustainability and wildlife conservation. It's one of the few places in the country where you can ethically interact with elephants, by walking alongside them and their mahouts. Riding has been banned since last year to make PETA happy though in-house vet Dr. Nissa Mututanont, or Dr. Nissa for short, says their approach was totally safe.
Since inception, the resort has kept a strict policy–for the pachyderms that is–and guests must cater to them. Walks, for instance, are limited to two hours and must end before their dinner time at 3:00pm. None of the animals actually belonged to Anantara but are rather leased on a permanent basis to discourage locals from snaring another one. An elephant costs the hotel USD $18,000 per year, as each comes with its entourage of a mahout and his family, who live, work and attend school in a nearby community. They also have big appetites to fill–450 pounds daily to be exact–and includes a precise mix of bananas, vegetables, grass, sugar canes or pineapples. Like hotel guests, mahouts and their elephants are welcome to leave anytime, though Dr. Nissa says they rarely do.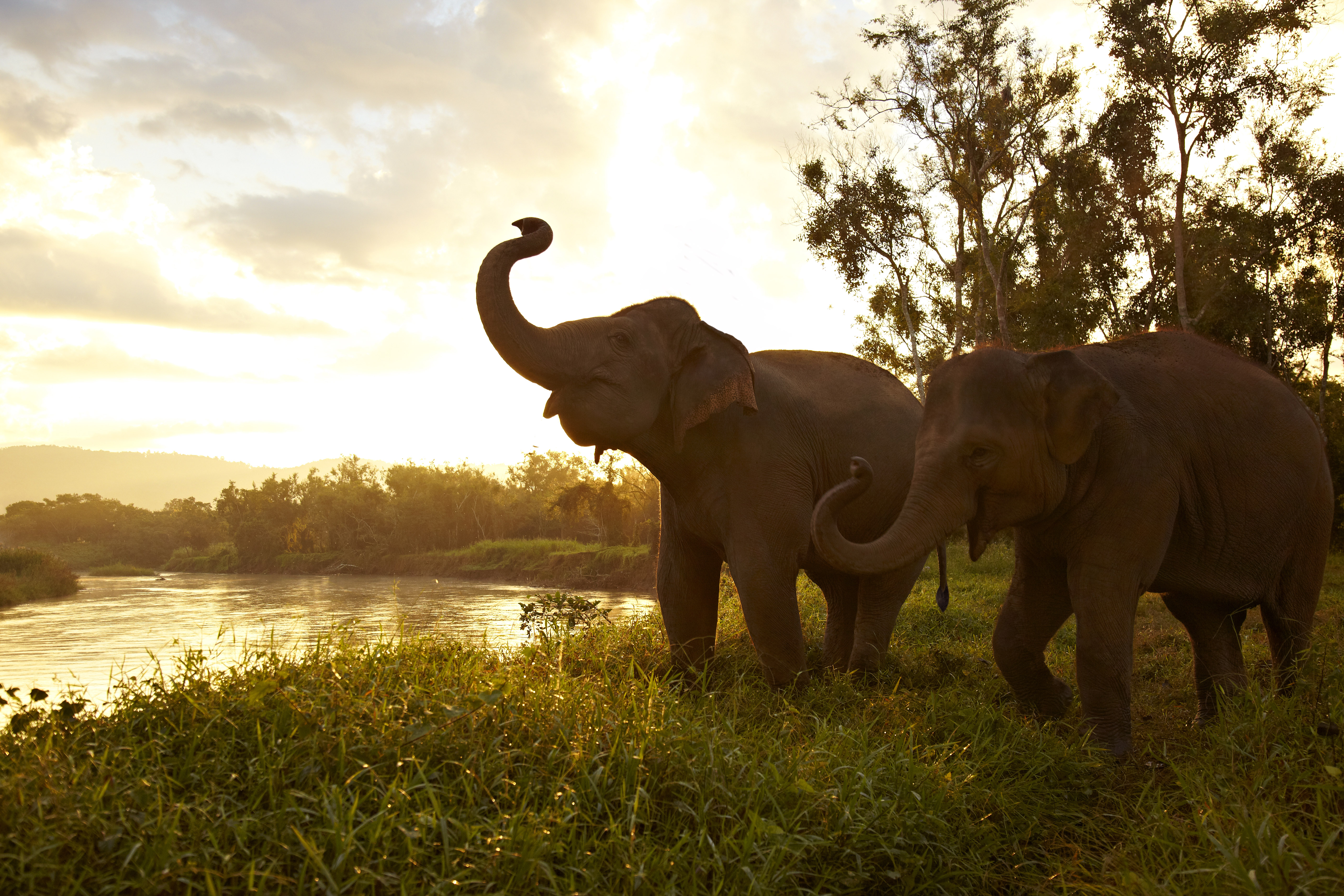 Compared to the elephants' need for 450 pounds of food, filling (much) smaller appetites, Sala Mae Nam, one of the resort's dining choices, impresses all the same with a regale of fruits and greens, an egg-and-bacon station, mix-your-own-yogurt corner, and all the milks and fresh juices you can think of–plant-based or not. After breakfast, time to explore with the elephants!
Summer was fast approaching the resort and the heat seemed a necessary accessory against the hum of reverberating cicadas and Dr. Nissa's hypnotic voice whilst she gave an introduction of the camp's main benefactor, the Minor Group-funded The Golden Triangle Asian Elephant Foundation. As she spoke, the three four-legged guides and their mahouts were ambling towards her to begin the walking tour–their majesty resplendent, until Bo (the lead elephant) got her trunk stuck in the shrubs.
As one of the oldest females on the camp, 40-year-old Bo is pack leader–one that Dr. Nissa says could single-handedly Pied-Piper the entire herd off campgrounds if she so desired. And she wasn't joking: during the walk if Bo ate off a certain branch, the entire chunk of bark would be stripped bare after the other two elephants were done with it; if she stopped to take photos with the guests, the pack would wait patiently nearby; if she ventured off to river Ruak–which resurfaces to Myanmar on the other side–all three mahouts would be left with no choice but to chase after three bobbling behinds, their shouts quickly escalating from demanding to desperation, as an exhilarated Dr. Nissa boisterously laughs at the back.
Coaxing the animals for selfies was relatively easy, as Dr. Nissa says their seven-year-old-equivalent intelligence allows them to recognize their own reflections, "My next step is to train them to press the button!"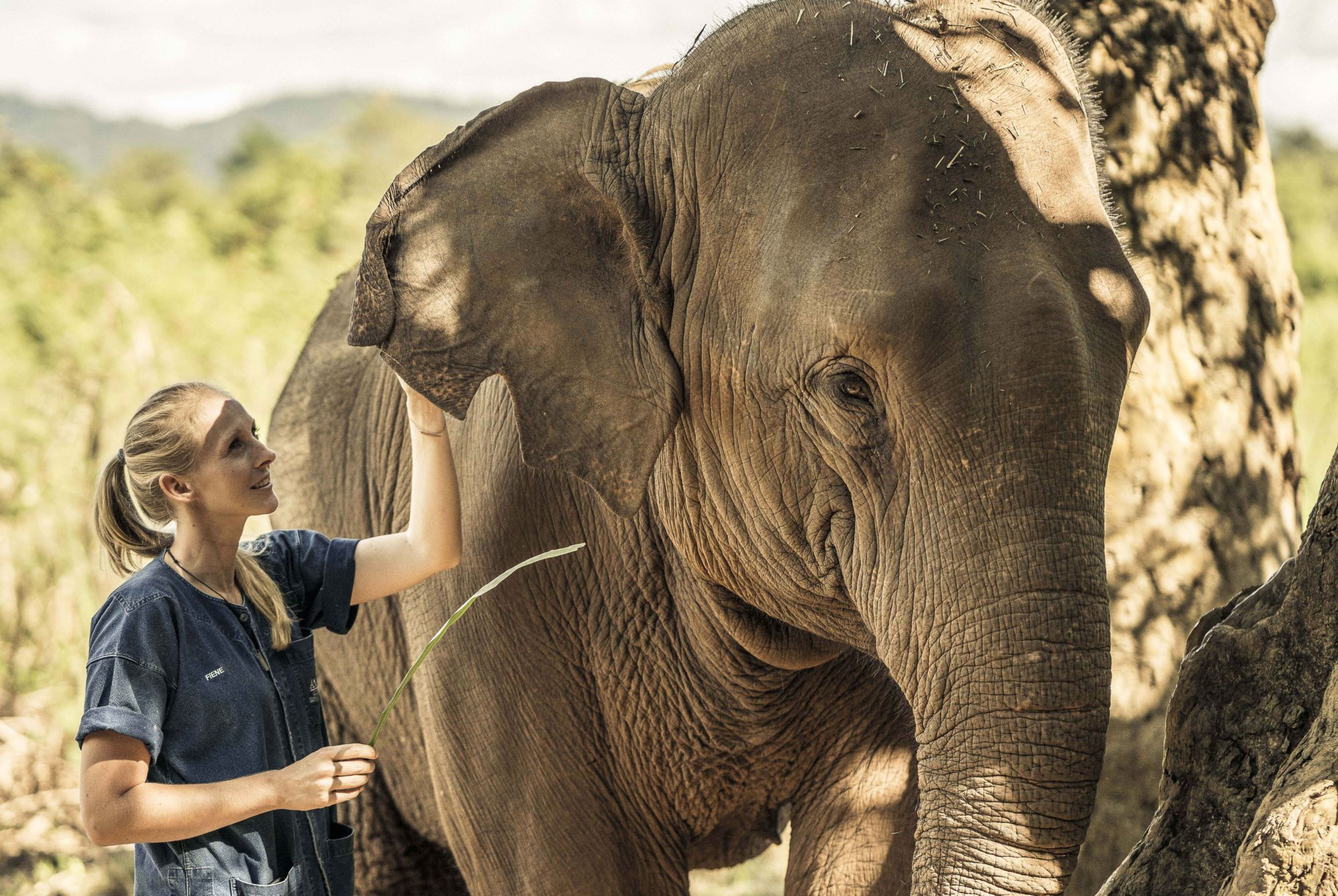 The journey was dotted with other elephants, some even more tattered with prudent wrinkles than the guiding trio. Most captive elephants today came from a line of warrior elephants dating back to the 1400s–1500s that later became work animals, mainly hauling timber for the furniture industry. When the Thai government banned forest exploitation, they and their mahouts became jobless, resorting to the circus or street performances and other ethically questionable jobs in tourism. Yet since they've been out of the wild for so long, rehabilitation is a solution only for a few fortunate ones.
"We don't like calling ourselves an 'elephant sanctuary' but we want to show the world what an ethical and fair elephant camp is like and to be the last place for them so there would be no more captive elephants," To date, Dr. Nissa says there are 3,700 captive elephants still living in the country.
Watching the elephants cool off in the Ruak called for a scrubbing, not in the river of course, but at Lanna Resort, Anantara's spa, where hanging hammocks, plush cushions and a mesmerizing cloud from burning aromatherapy oils in the lobby are enough to put anyone to sleep. But what awaited was the hour-long signature massage, a combination of eastern reflexology and western techniques to stimulate circulation, clear blockages and relax muscles in the deepest level, where stress from long hours of slouching over work station repugnantly lingers.
Anantara Chiang Mai Resort
A limousine showed up at the lobby to begin the four-hour ride to sister property Anantara Chiang Mai Resort. Though the driver was kind enough to fill the coolers with soft drinks and elephant-shaped butter cookies, it was far from a pleasant ride. Government-mandated construction chewed up most of the path to make more intercity roads to attract more tourists. So until they're done, well-heeled readers should splurge on the helicopter-transfer option.
However, upon arrival, the destination would sweep you off your feet just the same, and the car ride becomes a thing of the past. Nestled on the banks of the Ping River, Anantara Chiang Mai Resort–and its recent expansion of the adjacent Serviced Suites–have guests checking in a Lanna-style lobby that spills out to a pond with lily pads adrift. On the other end was a white double-decker colonial mansion that once belonged to the British Consulate. After days' worth of rolling flora and fauna, this was a welcome contrast.
The heat in the city was less forgiving than at the bucolic Golden Triangle Resort. So here to save the day was a 90-minute Anantara Chiang Mai Lanna Ritual. If the descent into the wood interiors of the spa doesn't settle your nerves, the view of the river through a fan of cattails from the waiting room should. Sink your feet into a welcome foot scrub and simply surrender. The treatment is designed to cleanse and reduce swelling thanks to a peculiar local plant called plai–a species in the ginger family and a relative to the galangal. Blending Thai, Burmese and Chinese techniques to enhance energy flow, strokes were long and hard as if to drive the demons from the body. What stood out was the pressure-point massage on the face, an area often neglected yet always active. As your physical being is reborn post-treatment, the therapists would instruct you to wash your hands in herbal and floral water to rinse away anymore lingering negative thoughts. With body and mind renewed, guests are to write down a wish on a gold Bodhi leaf, their current state of mental purity perhaps promising a likelier chance of it coming true.
And trust its potent powers! For what came after was private dinner on the terrace just above the spa. Behind a trail of tea candles was a table soon to be topped with the best gastronomic highlights both the hotel and Chiang Mai have to offer: the crispy kung sarong (prawn wrapped in egg noodle); the fragrant banana leaf salad; wok-fried leaves of the familiar mirliton squash; and a must-try even for keto-followers, steamed riceberry–a Thailand-patented rice variety in a beautiful plum shade. Mouth-feel is just the right balance of glutinous and grain rice with a palatable aftertaste; and eating more of it may just help reduce the chances of diabetes, cardiovascular diseases, and high blood cholesterol, which well goes to justify an extra helping of mango sticky rice for dessert.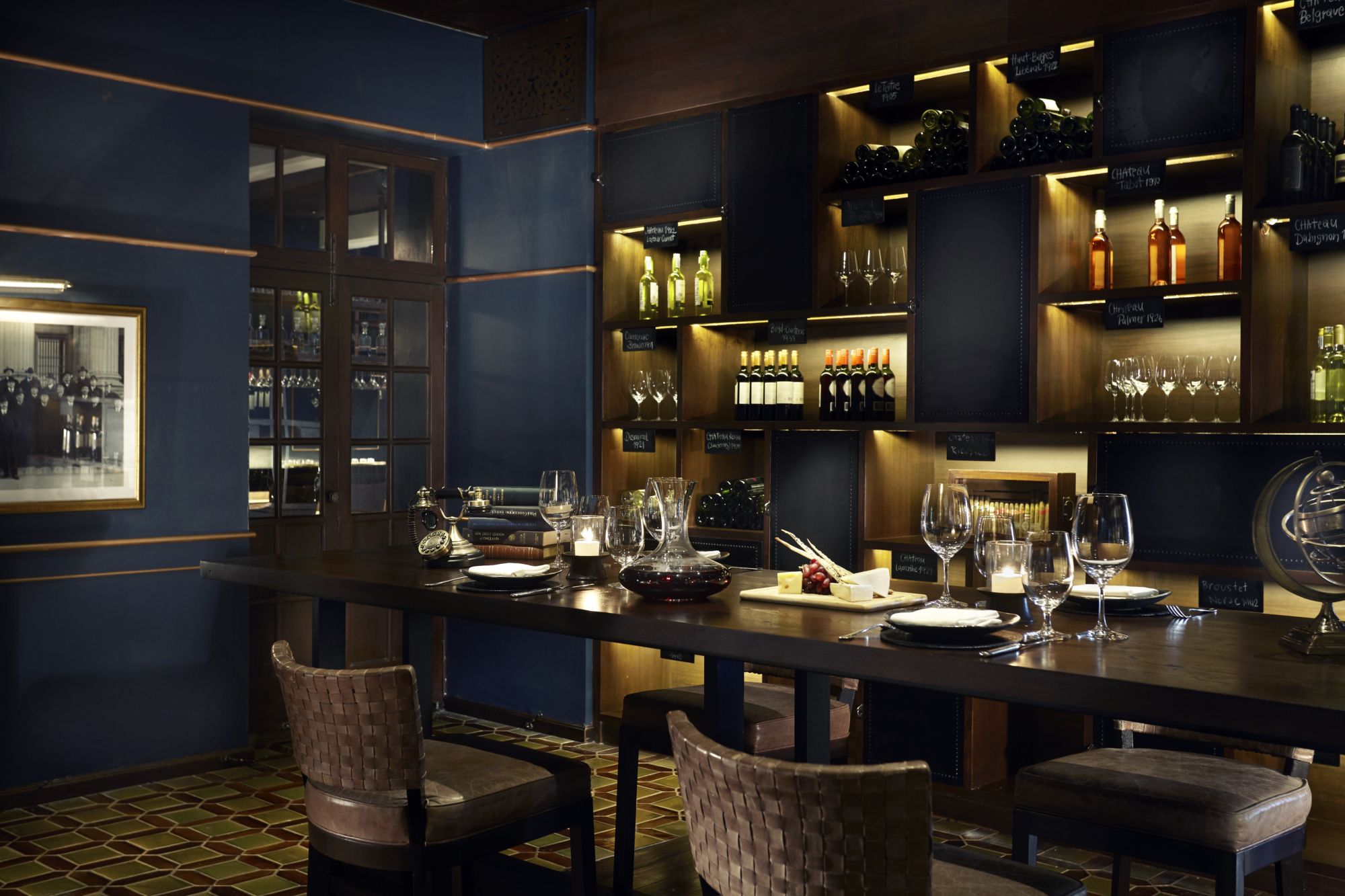 If dinner out in 30-degree weather is not your ideal way to spend evenings, a more private soiree can be arranged at The Service 1921 Restaurant & Bar located on the second floor of the ex-British Consulate building. Here, Thai, Sichuan and Vietnamese cuisine are washed down with contemporary cocktails and paired with cigars and exquisite tipples from the wine cellar… that is, so long as you can find your table. Designed to be the headquarters of British intelligence, the restaurant is everything you would imagine on the set of the Kingsman movies: hidden doors, keys disguised as books, walls lined antique swords and vintage maps. Smaller, intimate parties can even tuck themselves into the private room. Hint: it's behind a bookshelf.
Northern Thailand is full of undiscovered gems, with promises of more to come as paved roads permeate the country and luxury hotels raise bar after bar for what good hospitality means. This part of the country is more than just weekend markets and questionable fish spas, nor should it be a mere extension to your trip to Bangkok or Phuket for it's only in Northern Thailand could you learn what elephants are allergic to (unripe papaya), the telling difference between Burmese and Thai temples (the roof), and meet a hotel general manager who insists on giving you a pack of Riceberry as a souvenir.
---
For more information on elephant conservation, check this website
Anantara Golden Triangle Resort 229 Moo 1, Chiang Saen, Chiang Rai 57150, Thailand, +66 5378 4084, www.anantara.com
Anantara Chiang Mai Resort 123-123/1 Charoen Prathet Road, Changklan, Muang, Chiang Mai 50100, Thailand, +66 5325 3333, www.anantara.com
Tags
Related Posts