Staying at Hoshinoya Fuji on Lake Kawaguchiko is a unique experience. A place for real relaxation with unbeatable views of the famous Mount Fuji. The more we travel, the more we are looking for those moments, experiences, and places that can possibly change us or impact us in some way. Being in the nature of Japan, breathing in the fresh mountain air, gazing at the ancient site of Fujisan (Mount Fuji), Hoshinoya Fuji has managed to leave a lasting impression on us. The property has managed so beautifully to use its surroundings in the design of the hotel, where the landscape and nature come together to make you feel as though this property has always been here.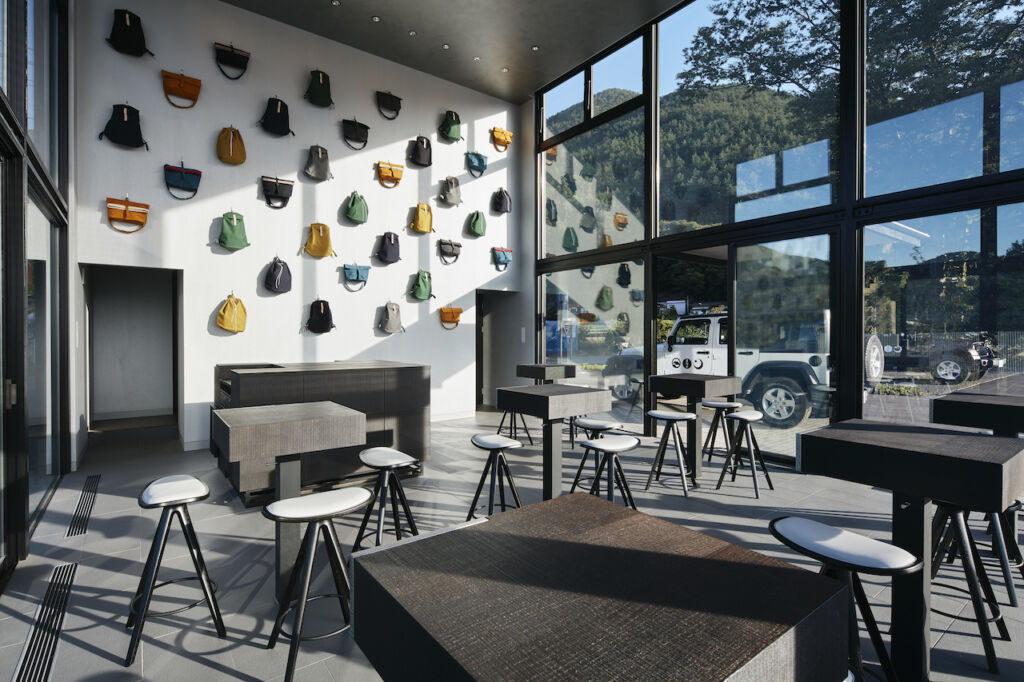 If you are driving to the property, there is parking at the arrivals or lobby building. But if you are taking the train or bus from Tokyo, as was the case with us, then you need to get a taxi from Kawaguchiko station that should cost around JPY ¥3,000 to the hotel and takes around 15 minutes. All taxis are familiar with the property, as there aren't many hotels in this area so it's highly unlikely that you will get lost. The train or bus journey from Tokyo is very comfortable and it's great to see the small residential areas on the drive out.
The check-in process happens in two stages, at the base of the hotel there is a lobby or check-in building which is where the taxi drops you off. You then check-in and each guest select a backpack from the wall which contains a water bottle to keep, biscotti, binoculars, small towel, and a bird whistle–you keep this bag with you for your stay. You are then collected by a very cool hotel jeep and driven up to the mountain to the hotel and dropped off at the closest drop off point to your room. There are 40 cabins located on the property surrounded by a forest of red pines. After a quick room introduction to let you know where everything is and to confirm meal times, that's it. Time to enjoy the beautiful room and take in these majestic views.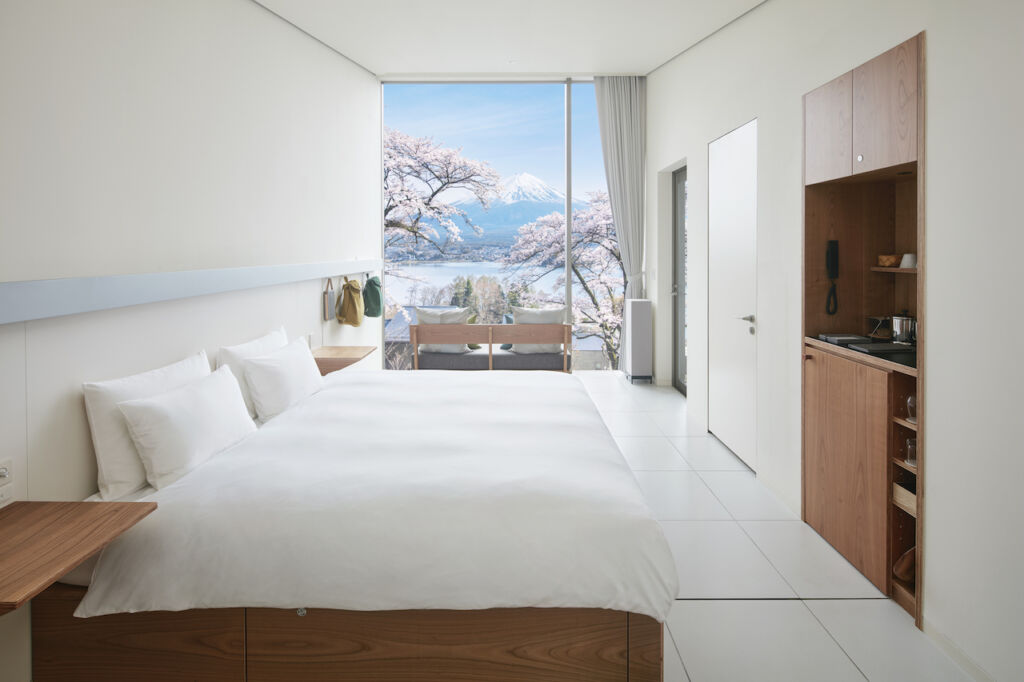 Rooms
The room has a somewhat cabin vibe to it as though you have arrived in the forest ready for a glamping experience. The rooms have been designed to sit out on the mountainside like they are on a slope allowing for uninterrupted views of Mount Fuji. It's decorated in white tones with a very minimalistic yet stylish feel to it. The main feature of the cabin is of course the stunning views from the foot of Mount Fuji and Lake Kawaguchiko which are mesmerizing. We never realized that we could stare at a mountain for so long. You can see Mount Fuji from anywhere in the room including the bathroom. The room is comfortable, spacious, immaculately kept, and equipped with an extra soft bed, pillows, and duvet that made our stay so cozy.
Each room has a balcony or outside terrace where you sit, enjoy some tea or coffee from your minibar area and take in the stunning views. However, the best part about sitting outside was the heated blanket attached to the table! If you haven't stayed in Japanese hotels or ryokan's before, you might not have seen this–they have tables with heated blankets under them. It is so cozy that we stayed under it for hours. There are no televisions in the rooms but they do have a speaker that you can play music through and free WiFi available throughout. We didn't use the speaker though as we spent all the time we could, sitting outside on our terrace and watching the clouds scudding by, the stars appear and listening to the sounds of nature.
In each room, there's "room wear' which is essentially pajamas that added an extra touch of comfort. They were so comfortable that we lounged around in ours while in the room. A brown coat is also provided for wearing when you leave the room, it was really warm and useful for going out especially since we weren't expecting it to be so cold in the evenings.
The best views of Mount Fuji over Lake Kawaguchiko are usually in the morning at sunrise which is why staying over is highly recommended compared to a day trip. We woke up to the most breathtakingly mesmerizing sunrise view of Mount Fuji from our bedroom window.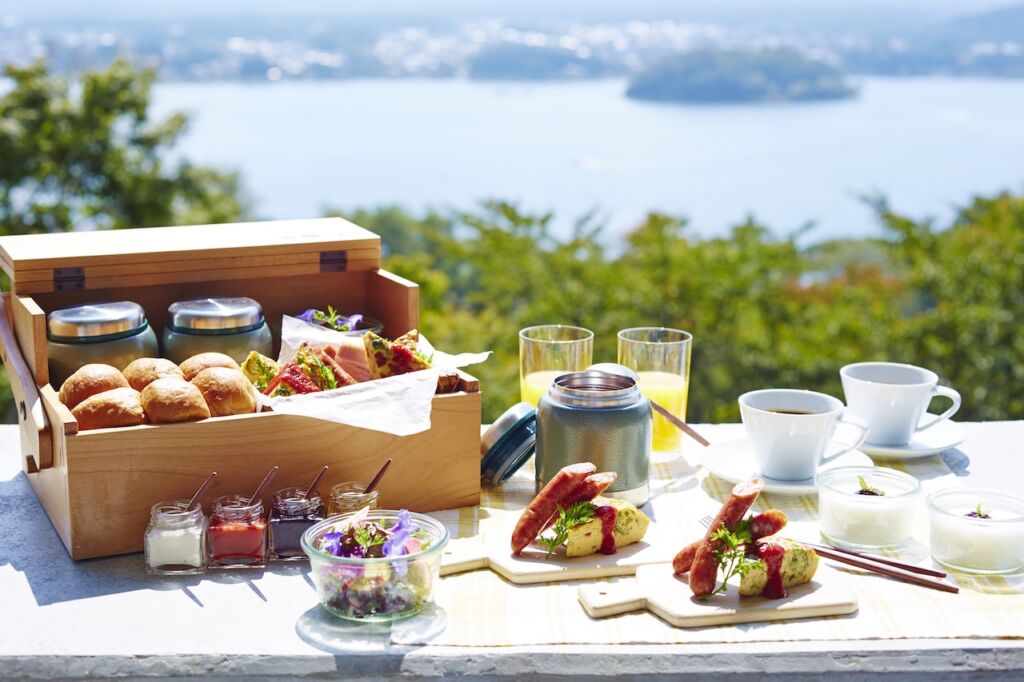 Dining
Dining at Hoshinoya Fuji is just like at any other Hoshinoya property–top class! And since there aren't many restaurants nearby, you will most likely have all your meals in house.
Breakfast is served in-room and delivered to your room in the same style as the "goriki" men who used to carry climbers luggage up Mount Fuji. It's nice to have this little part of history as your morning routine begins. Breakfast is carried in a wooden box, similar to a tackle box that would be used for fishing and opens by pulling a wooden stick and revealing your meal. There is a good selection of items for breakfast–both western and Japanese style–but if you have specific dietary requirements, its best to let them know in advance so that they can accommodate. Everything is fresh and tasty and with views out over Lake Kawaguchiko to enjoy your morning coffee and tea, it's hard to find a better breakfast setting. There is also cabin blend coffee in the room, which is easy to make and great to have alongside breakfast. You can have breakfast at the cloud terrace but we highly suggest only doing this if you are staying more than one night–the morning box ritual in your room is not to be missed.
Afternoon tea is served for all guests up at the Library cafe next to the Tabiki (bonfire) lounge. Traditional Japanese cake is served with condiments, a gin cocktail, coffee and tea, and marshmallows for roasting on the fire. There is plenty of chocolate snacks, nuts, and dried fruits as well. You can stay as long or as little as you like, but we recommend grabbing a seat by the bonfire; warm flames + marshmallows = winning combination!
For dinner time you have quite a few options from mountain shabu-shabu hotpot in your room (served outside on your terrace while under the warm table blankets), grill dinner in their main dining restaurant with wall to ceiling glass windows for stunning forest views or a Dutch over dinner in their forest kitchen. We went with the last option as we were excited to try a glamping cooking experience. Essentially you cook and prepare your meals with the help of the staff and enjoy it under a teepee-like set up with tables, chairs, and of course, the heated table blanket. The food was delicious, easy to cook and the setting was a fantastic idea–great concept. The dishes were created with the local area in mind which incorporated local ingredients and meat found in the area. The local game meat tastes different depending on the time of year and what the animals are eating locally. It was great to be able to try authentic local flavors and for those who want to know more, the staff are very knowledgeable in the area's history, people, and food. We also had our meal with a Japanese wine pairing and Japanese tea pairing. As we were lucky to visit during the Sakura season, we had some great dessert inspired by the flavors and colors of the beautiful flowers.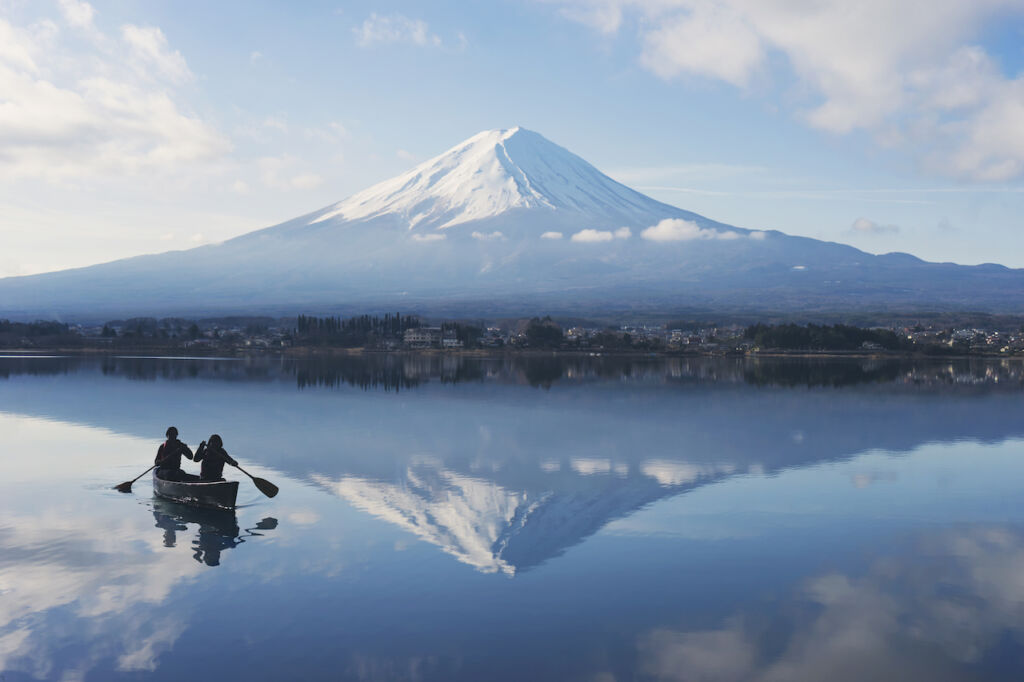 Activities
There are lots of activities you can take part in while staying at Hoshinoya Fuji and weather permitting, you will have the choice of trying all of them. One activity that must be booked in advance and has a small charge which we highly recommend is the 7:00am canoeing on Lake Kawaguchiko, this was truly a special experience. The only other sounds are those of your fellow canoers and the silence of being on Lake Kawaguchiko staring at a clear Mount Fuji (if the weather permits) was just breathtaking, the cool breeze off the lake, the nature sounds, we could have sat in our canoe for hours. We had couples, families with young kids and older kids join this activity. For those with longer stays and decent fitness levels, the mountain trekking with lunch included would be a great activity as you need to set aside five-plus hours for this. The aerial stretching is free of charge and a great morning activity if canoeing is too early for you.
The forest pizza workshop is available many times throughout the day and a great activities for kids and in case of rain, they have some great backups. From bird call craft, storytelling, treasure hunting, and herb tea ceremony, the hotel has you covered. There is a 24-hour front desk if you have any questions, dry cleaning services available, and a small gift shop. Guests can also rent a bicycle to explore the surroundings at no extra charge or put on your pair of rain boots from the room and head out on a forest walk with your hotel map. There are marked areas to walk, hammocks to lounge in and just generally walking in nature is so soothing for your soul. The property is very well organized that you never really feel like you are sharing your time at the hotel with other people. For an exceptional and memorable visit to Mount Fuji, staying at Hoshinoya Fuji is a must.
How to get there?
Hoshinoya Fuji is located almost 120 kilometers from Tokyo and the most direct and easy route by public transport is to get the Tokyo Eki bus from Tokyo Station which leaves hourly. It takes around two hours and only has three stops along the way. You'll arrive at Kawaguchiko station where you can then take a taxi to the hotel.
---
For travel inspiration and beautiful shots of the property, follow their Instagram @hoshinoya.official
Hoshinoya Fuji 1408 Oishi, Fujikawaguchiko, Minamitsuru District, Yamanashi 401-0305, Japan, +81 5 7007 3066, hoshinoya.com/fuji
Tags