Phuket is one of, if not the most popular beach area in Thailand and there's a reason for that–sunny weather when northern Asia is witnessing winter. Besides white sandy beaches, crystal clear blue seas and paradisiac backdrops, Phuket is a must-go place when tanning is what you're looking for. However, there are also a ton of other things to do there.
Between the island's coasts, there are dense green areas and less-visited sites, if what you want is peace and quiet. In contrast, Patong is great to get your groove on with countless bars and discos, dining spots and parties, it's the to-go place when looking for fun nights out with friends. Here, we let you in on the best things to do in Phuket island!
Culturally Speaking
With temperatures ranging between 24°C and 30°C all year round, it's perfect if you're planning to divide your time on the island between sunbathing, check out some local cultural sites, shopping and eating real Thai food. There is an array of Buddhist temples to visit, but perhaps the most striking monument would be Phuket's own Big Buddha. Standing on a mountain top, one can walk all the way around this 45 meter-high sculpture, which allows breathtaking views with the ocean in the horizon. It's beautiful at any given time, but sunset will leave you speechless. Other recommended places include Wat (meaning temple) Chalong, Wat Khao Rang and Wat Suwan Khuha. 
Phuket Town is a place you should visit at least once. Filled with unique colonial one and two-story houses that have been revamped over the years, most are now affordable boutiques and charming hotels. The city center has it all–gourmet restaurants, lots of old streets to get lost in and photograph, shopping malls with amazing discounts and, well, countless bargain goods including home decor, scented items, clothing, and more.
Get your cultural side going by visiting non-religious places such as Fantasea. Located in Kamala Beach, it's fun for the whole family! Teeming with cultural activities such as dancing and singing shows, traditions, history and much more, this is the to-go place when you're done with temples and sun. If you're feeling specially artsy, leave the beach behind and head to Patong Inn Art, an art gallery full of modern creations by local artists. Why not stuff your bag with paintings as souvenirs, instead of magnets or bottle openers?
Big Buddha Soi Yot Sane 1, Karon, Muang, Phuket 83100, Thailand, +66 (0) 81 891 3827
Wat Chalong Temple 70 Village, 6 Chao Fah Tawan Tok Road, Chalong, Muang, Phuket 83000, Thailand
Fantasea 99 M3, Kamala Kathu, Phuket 83150, Thailand, +66 76 385 000, [email protected], www.phuket-fantasea.com
Patong Inn Art Patong, Kathu District, Phuket 83150, Thailand, +66 94 293 9551, www.facebook.com/Patonginnart
Best Beaches
Any beach in Phuket is sure to have white sand and calm sea. However, some are incredibly crowded (especially during festive seasons such as Christmas and Easter), so be sure to choose a beach that's either secluded or far from accommodation hubs. Some great ones are Kata Noi (different from Kata, which is usually full of sunbathers), Surin, Laguna and Bangtao.
There are other options–great for people who prefer having restaurants and first aid nearby–like Karon or Kamala beaches. Nai Yang is great for those with early flights, since it's filled with hotels, a long stretch of sandy beaches, lots of restaurants and 10 minutes away by taxi from the airport. Almost all of them provide both boat rides to the nearby islands, and water sports such as jet ski, banana riding, paddling, amongst others.
Relax & Chill
Thailand means the beach, but it also means cheap massages. If you're a fan of Thai-style massages, there's no better place than a late afternoon, post-sunset relaxation bit at one of Phuket's shops. Set all around the island, there are several to try out and all quite affordable. If you're not the street style kind of parlor, there are several five-star hotel spas you can choose from–almost every accommodation (four-star or above) offers massages. We also recommend massages at the beach, which can not only be relaxing but soul-soothing. Listen to the waves lapping on the shore while getting rubbed down and unknotted from whatever stresses you had. 
We also think you can't leave Thailand without trying out one of Sukko Spa Resort's luxury experiences which come at some of the most affordable prices in Asia. Upon entering Sukko, a lemongrass scent quickly hits you and cleanses your mind–this will set you up for a body treatment. The therapists let you choose the type of massage oil and they have private rooms facing the forest too.
Sukko Spa Resort 5/10 Moo 3, Tumbon Vichit, Amphur Muang, Phuket, Thailand 83000, +66 76 530 456, www.suukowellness.com
Eat & Drink
From posh and gourmet restaurants to unforgettable, great street food, there is always something to savor around Phuket! The thing with Thai cuisine is that there are amazing places all over the country and this island is no different. At Nai Yang and Karon beaches, there is an array of street food to choose from. Tables are set right there in the sand, so you can either rest from the midday sun, or enjoy the most beautiful sunsets. We highly recommend morning glory (stir-fried vegetables with garlic), pad kra pow (spicy basil minced meat with steamed rice and a fried egg), green curry with steamed rice and the classic but never boring, mango sticky rice for dessert.
All the fishes are also incredible, but better stay away from fried food if you have a sensitive stomach–go for the chili and lime steamed fish. Now, we'll let you in a secret: pad thai is what everyone usually orders when looking for Thai style noodles, but there is another dish that is not only quite popular around the country, but also tasteful. Its name is pad sew and instead of that sweetness of pad thai, it's a savory dish made of large, flat rice noodles. Have it with shrimp, meat or vegetables, it's great anyway! Besides tasty, Thai street food is cheap and usually quick to get to the table.
If you're looking for a unique, yet affordable option, there is a restaurant owned by globetrotting chef Harold Schwarz. Tatonka stays close to Bangtao Beach and although it has no ocean view, it's worth both the taxi drive and the time. This place serves an interesting combination of Asian and Latino-inspired dishes, including shrimp taquitos, Thai bouillabaisse, blackened tuna on honey wasabi, amongst others. At China Inn Café, people can experience a blend of Asian and European flavors, including rosebud iced tea and noodle-wrapped prawns. Looking like an antique shop, it has little to do with Thailand's culture, but it's still a great option for diners looking for a different look.
Located inside a building that has been standing for over 100 years, the One Chun Café & Restaurant is nicely decorated with vintage collections of clocks, vinyl, old cameras and many more. Make sure to try their famous Nam Prik Gung Siap, featuring a paste made with dried shrimp, onion, chili, lime, and palm sugar.
What's the best food for a sunny day? Torry's Ice cream offers over 60 flavors of homemade ice cream using local Phuket ingredients. Some of their unique Phuket-inspired special flavors include O-Aew (clear jelly with red beans) and A-Pong (crispy coconut crepe). Their croissant ice cream with honey is highly recommended!
Tatonka 382/19 Moo 1, Srisoonton Road, Cherngtalay, Phuket 83110, +66 076 324 349, [email protected]
China Inn Café 21 Thalang Rd, Tambon Talat Yai, Mueang Phuket District, Phuket 83000, Thailand, +66 76 356 239
Torry's Ice cream 16 Soi Rommanee, Thalang Road, Tumbon Taladnue, Aumpher Muang, Phuket Town, Phuket 83000, Thailand, +66 76 510 888
One Chun Café & Restaurant 48/1 Thepkasattri Road (near the intersection with Dibuk Road in Phuket Old Town), +66 (0) 7 635 5909, +66 (0)8 514 5443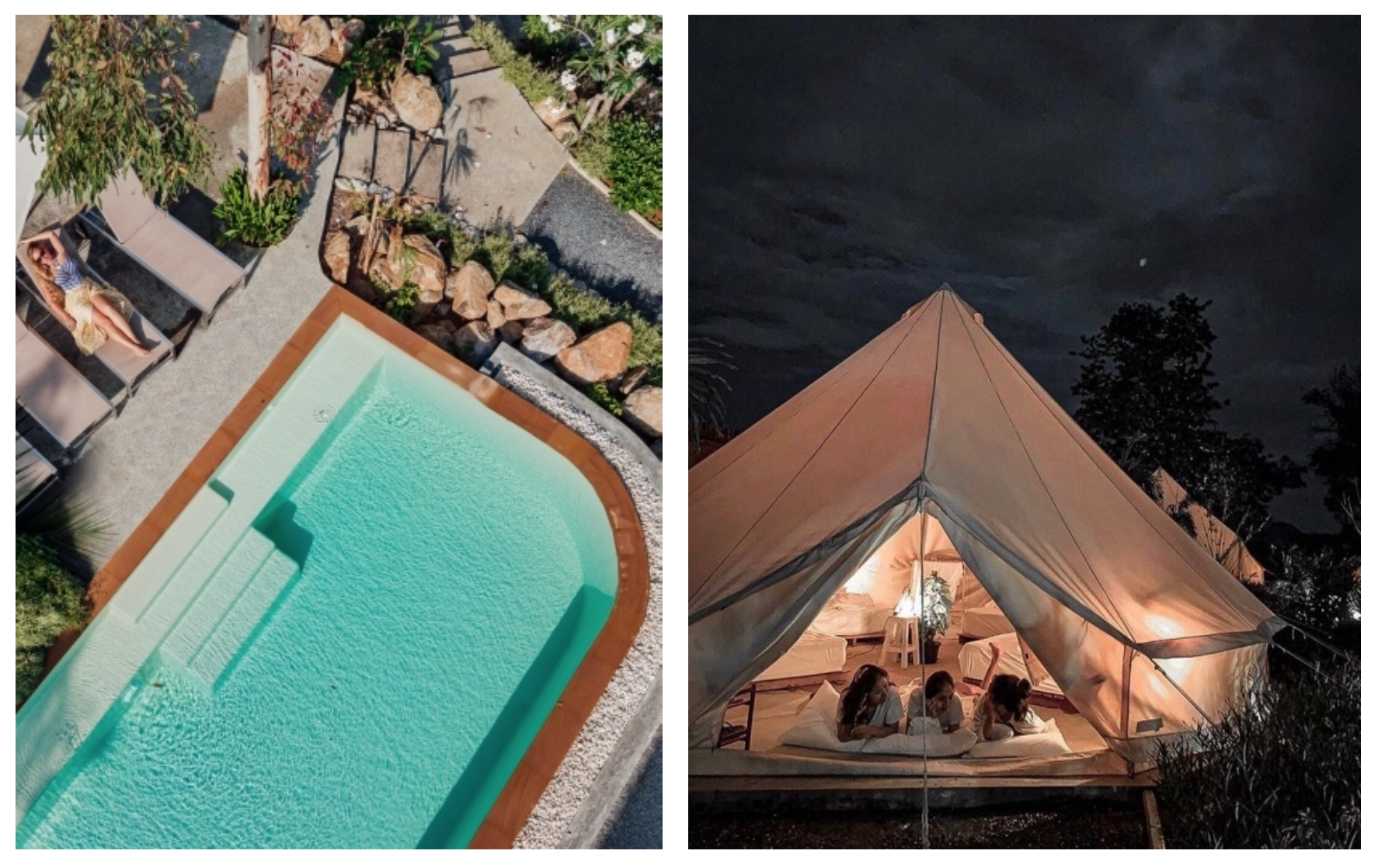 Where to Stay
Phuket has hundreds of great places to stay at. We suggest staying away from Patong and nearby areas since the noise and crowds can be a nuisance for people looking to have a peaceful night's sleep. Surin Beach only has two hotels facing the ocean and Surin Beach Resort is a good option. With breakfast included and just a few stair steps away from the sandy beach, it allows a relaxing environment and waking up with the waves hitting the rock below. When in Phuket Town, one has to try its boutique hotels. The best are The Memory at On On Hotel, Little Nyonya Hotel, and 99 Oldtown Boutique Guesthouse.
Other options include Roost Glamping, down south at Rawai Beach. Although this is not the best beach in Phuket, these glamorous tents surely give you a sense of comfort rarely experienced while camping. There are group tent options (around MOP $300 per night) and more expensive choices with bathroom included. With a fireplace, a pool and an all-day restaurant, there are plenty of ways to chill out here, high in the mountains and away from the hustle and bustle of Rawai's main streets.
If quiet and luxury are what you're aiming for, The Slate is the place to book. Spacious and neat rooms are just the tip of this iceberg: set in a green area of the island, it's close enough to walk to Nai Yang beach, but still pretty secluded from noise and crowds. It's ideal for a couple looking for a comfortable, clean and luxurious stay. Intercontinental is also a smart choice when looking for accommodation in Phuket.
Surin Beach Resort 105/ 2, Moo 4 Srisoonthorn Road Cherngtalay Thalang Phuket 83110, Thailand, +66 76 201 888, www.surinbeachresortphuket.com
Roost Glamping 87/70 Rawai, Mueang Phuket District, 83130, Thailand, +66 76 602 133, www.roostglamping.com
The Slate Phuket Nai Yang Beach 116, Moo 1, Sakhu Thalang Phuket 83110, Thailand, +6676 327 006, www.theslatephuket.com
Tags
Related Posts