It is said that in the confines of 798's narrow alleyways, under the shadows of the looming high-rise buildings, the birth of Chinese contemporary art took place in a movement known as the 85 New Wave just over two decades ago. During that time, artists had nothing to support their practice – there were no galleries, no access to formal art training and definitely no government grants. The only thing holding them up was their passion, and this in turn gave rise to a powerful art movement and some of the world's most exciting contemporary creations.
Humble Beginnings
"Except for money and big studios, Chinese artists have everything they need." – Gu Dexin, August 6, 1989, prominent artist in the 80s.
With avant-garde frowned upon before the 90s, many artists of the time worked under a cloak of anonymity that could only be provided by the city's outskirts. This all changed in the 90's, when the Beijing Central Academy of Fine Arts needed to expand their workshop space at a cheap price – and they found it in the desolate industrial zone in a complex of 50-year-old decommissioned military factory buildings located in Dashanzi, Chaoyang District of Beijing. Also located on the outskirts, these buildings offered plenty of space and had a unique architectural style. Along with the first original shuttered factory they inhabited, Factory 706, the art community soon took over other sub-Factories, including 707, 751, 761, 797 and 798 (the largest, and the one from which the area takes its name). What followed is a story of gentrification and creativity – designers, philosophers and hipsters all flocked to the area to feed off the creative energy that could only fly amongst thriving enthusiastic artists.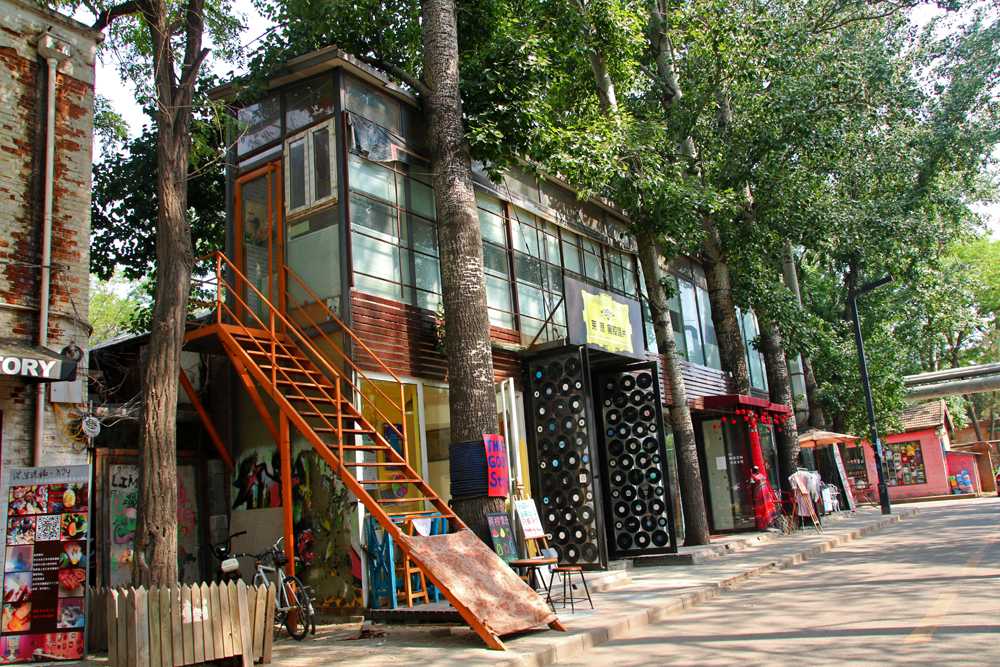 798 Today
Nowadays, the area resembles more of a hip outdoor shopping complex than a collective of studios. This is not to say the district lacks any interesting or internationally famous works (in fact, the opposite – the UCCA gallery and the Hive Center for Contemporary Art both hold major exhibitions every year). It is just that these prominent collections are hidden amongst a maze of fake Ray Ban sunglasses, boutique bouclé dresses and frozen yogurt shops which pepper the district and stand on just about every corner – but who doesn't love a guiltless gluten-free version of ice cream with less calories, right?
Of course, something as special and unique as an art district cannot remain the same forever. In the same way that the area once evolved from an industrial zone into a creative complex to cater to a need for art spaces, it has again evolved to cater to popularity and mass tourism (both domestic and international interest grew in recent years). The international interest came about after a face-lift the area received ahead of the 2008 Olympics, which saw the installation of English signs and a tourist center. At the time a lot of the street art and graffiti disappeared at the time, but this has returned in recent years, and it now rivals Shanghai's hip M50 Creative Park (for a cool Macau street art guide see our recent article here).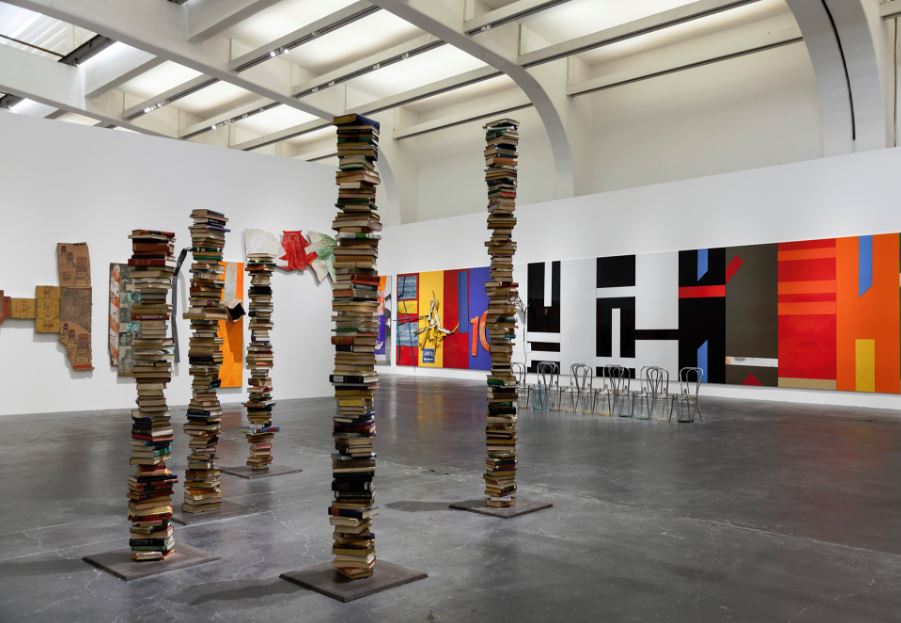 The Future 
With countless art schools and galleries now in China, a huge number of Chinese need radical art space, and China is now encouraging and supporting the arts. The accessibility, growth and popularity of art institutions such as 798 is sure to have contributed to this. Keeping the district alive through gentrification and commerce has given artists the stability of financial support and provided the population with accessible exposure to the arts. To visit is a unique historical and experiential opportunity – come see some of the country's most successful artists and support some of China's most talented craft makers in the place that some would say gave birth to Chinese contemporary art as we know it.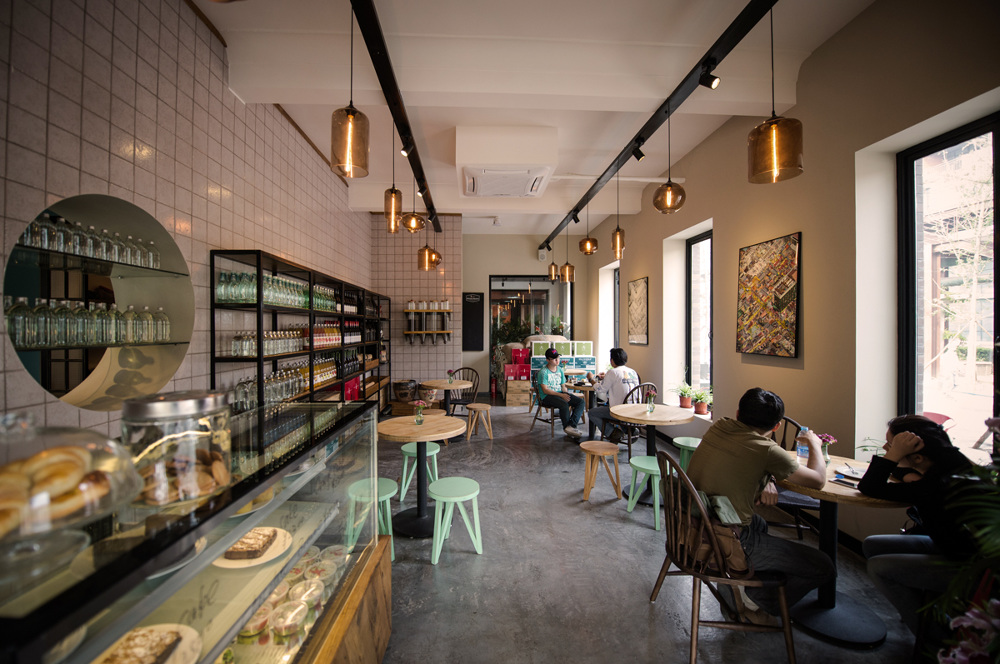 Facts and Figures
The vibrant area is often called 798 Art District or Factory 798 although technically, Factory #798 is only one of several structures inside a complex formerly known as 718 Joint Factory. The buildings are within alleys number 2 and 4 on Jiǔxiānqiáo Lù. The cluster of abandoned factory buildings have been transformed into new museums, galleries, and cafe, with courtyards and shoddy paths paved over to give way to outdoor sculptures, fashion shows, and other cultural events. There are more than 400 different organizations from China and the rest of the world creating and showing off artwork and designs here, so you can easily spend a day or more here. Cafe culture is really big here also you can get a well-needed boost at almost every corner. Try Cafe Flat White for the smoothest cup in town – or Buddha's Bite for some fresh veggie/vegan food.
---
How to get there: Air Macau flies to Beijing for approx MOP $2000 return
Where:  798, 2 Jiuxianqiao Rd, Chaoyang Qu, Beijing, China (see our must-have apps for China travel here)
Nearest subway: Line 14 Jiang Tai station
Opening times: Most galleries and shops are open 10:00am until 6:00pm, however check individual galleries in advance – some places close on Mondays
What not to miss: UCCA, Hive Centre for Contemporary Art
Tags
Related Posts