Among a plethora of hospitable hotels in Macau, some stand out for their well-established brand, flawless service, and luxurious facilities. One fine specimen is The Ritz-Carlton, Macau, aka The Ritz, a destination for sophisticated travelers, celebrities, and guests who strive for the highest standards. While some of them can't come to Macau to dive into that universe of luxury and comfort yet, we could not miss a chance to have our latest staycation at The Ritz. Read on to see why we are already planning our next night at The Ritz-Carlton, Macau!

First impression 
Upon arrival at the hotel's entry foyer, The Ritz-Carlton's staff will greet you, help you with the luggage, and then escort you to the check-in area. Unlike most of the hotels, the front office is located on the 51st rather than the ground floor. There, you can relax in a comfy armchair enjoying the stunning view while the front desk clerk will take care of the registration process. Insider tip: if you are looking for a VIP-treatment, contact the hotel in advance to request an in-room check-in. This option is not guaranteed and subject to availability, but if granted, will surely add an extra note of exclusivity to your arrival. 
All in all, service is the priority here, and The Ritz takes pride in its personal approach to every guest. First of all, all the guests and employees here are referred to as ladies and gentlemen. Classy! If you've stayed with them before, the staff would make sure to take notes of your preferences and important dates. Even if you don't notify them of your wedding anniversary that is coming again on the days of your next stay, they will prepare a surprise for you! Should you wish to organize something special–be it a bottle of fine champagne or celebratory decoration in the room, the hotel's ladies and gentlemen will do their best to make you happy. 

Suites 
The Ritz-Carlton, Macau is an all-suite hotel with 230 spacious rooms. While the prices here aren't for everyone, the value for money is totally worth it as even their entry-level suite will impress you with space, design, and comfort level. We had the privilege to stay at the Premium suite that is approximately 100 square meters, facing the Grand Resort Deck and its surrounding area. At sunset, when the skies turn golden, this view is incredibly mesmerizing.
Combining European aesthetics, decor inspired by Macau's cultural heritage, and state-of-the-art technology, The Ritz creates both a feeling of immense comfort and outstanding luxury. The suite features a living area, bedroom, bathroom, and wardrobe connected with French sliding doors. So if you want to work or watch some TV on the couch while your significant other is napping in the bedroom, just slide the doors closed. 
Without a doubt, the crown jewel of the suite is its palatial bathroom. Decorated with opulent hand-selected marbles with bathroom accessories in champagne and golden colors, it features a large round jacuzzi, a spacious shower, and two ebony lacquered vanity tables. To feel even more like royalty, upgrade your bathing experience with Asprey royal luxury bath products, a brand with a royal warrant dating back to 1781. Additionally, the Premium suite has a second washroom–how convenient!  

How to start your day 
For all of us brekkie addicts out there, The Ritz will be the place to wake up in. Whether you prefer dressing up a little and heading down to enjoy your meal at the cafe or eating in your bathrobe half awake, the culinary team is at your service. Hands down, The Ritz-Carlton, Macau has one of the most extensive selections of breakfast dishes, from Oriental classics like chicken congee and Japanese miso soup to Western healthy egg white frittata or decadent scrambled egg with caviar.
Moreover, every breakfast meal comes with an excellent and caring service. Our in-room eggs benedicts and omelet were served by one of Ritz's gentlemen, not a minute later or earlier than scheduled. While we tried to wake up watching the breakfast being set up, the concierge poured us some fresh orange juice and wished us a beautiful day. What could we say, the smell of freshly brewed coffee was a clear indication the day was going to be memorable, especially after such a good night rest in the comfy king size bed. 

Where to dine
Galaxy Macau offers more than 120 dining locations. That number includes two of The Ritz-Carlton, Macau's excellent restaurants–Lai Heen with one Michelin Star for the excellent Cantonese cuisine and The Ritz-Carlton Café, a French brasserie marked with the Michelin Plate. During our staycation, Lai Heen was temporarily closed. However, there was no reason for disappointment as The Ritz-Carlton Café presented us with an intriguing duo experience menu. Our dinner started at the cafe with a set of canapes paired with champagne and followed by delectable Canadian seared scallops served with sea urchin. Another starter on the menu that won our hearts and stomachs was the rich and creamy lobster bisque, paired with a glass Portuguese white wine. 
It's worth mentioning that The Ritz-Carlton Café offers several special menus throughout the week. One of them is Surf&Turf where diners can appreciate the culinary team's skills in both seafood and steak cooking. Luckily for us, the main dish that evening was US beef tenderloin cooked to a perfect medium-rare with a delicate butter-poached lobster, paired with oaky full-bodied 2011 Bordeaux. Indeed, the best from the land and the best from the sea come together for the ultimate gastronomic pleasure.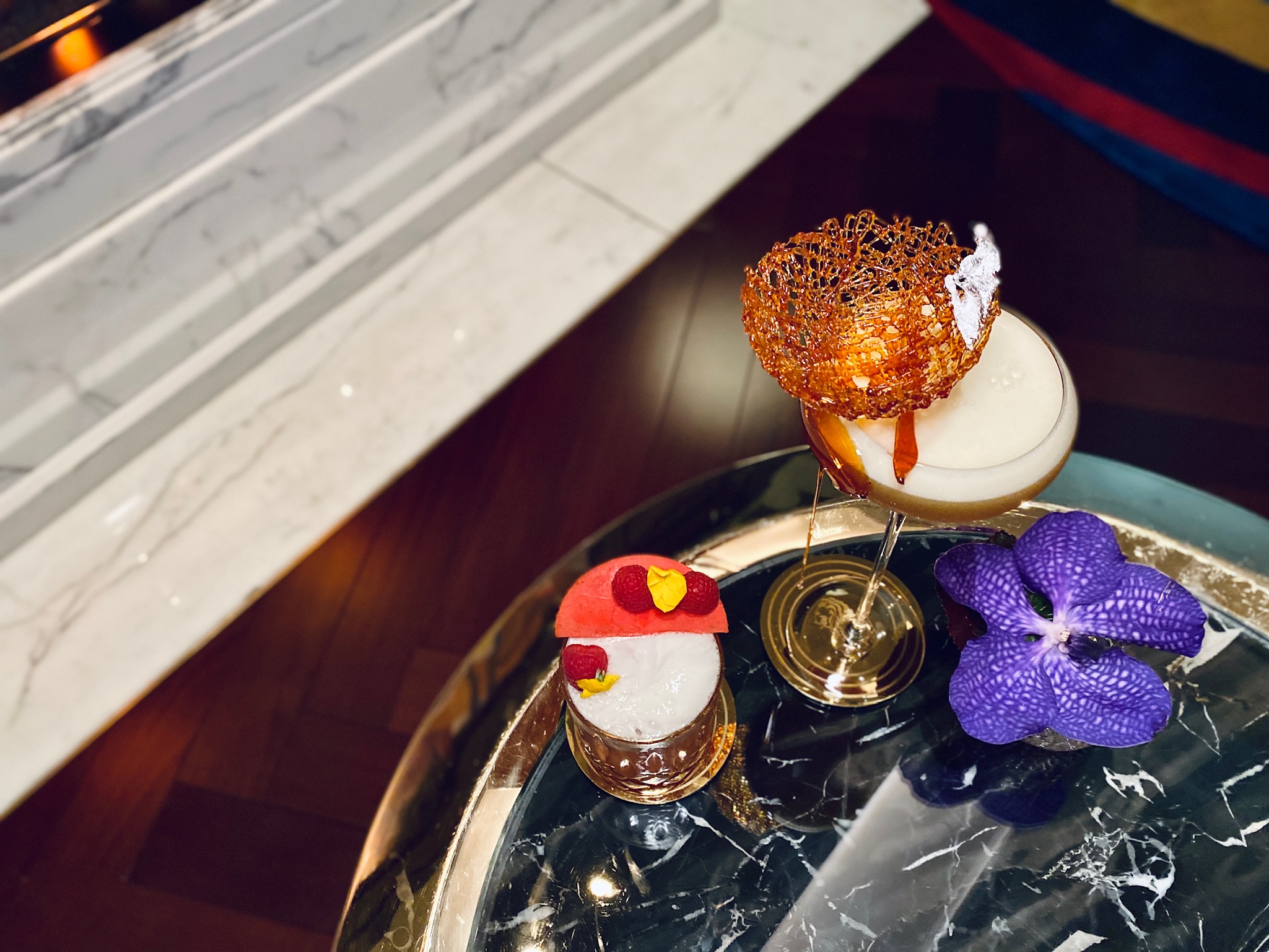 Where to have a drink
After we savored the last bite of that delicious course, our waitress escorted us to the 51st floor, where our experience continued at The Ritz-Carlton Bar & Lounge. While we sat back and relaxed on the leather couch listening to the jazzy tunes, our desserts have arrived accompanied by a couple of cocktails. Even if you skip the duo experience menu, don't hesitate to go up to the bar and check out their signature cocktails or take advantage of the gin trolley. With around 140 bottles, The Ritz has the biggest collection of gin in the city! If your staycation falls on Friday or Saturday, you're in luck because local live musicians will play music while sipping on your G&T or wine.  

Where to chill
When the sun is up, and the air quality is right, there is no better place at the hotel to chill than the pool. We love the pool at RC for the secluded design and lush greenery around. If you wish to soak in some rays, there are plenty of sunbeds around. Do you prefer more privacy and shade? Take one of the cozy cabanas, free of extra charge. The only pool necessity you should not forget when packing your suitcase is a swimming suit–the rest you can find by the poolside. Sunscreen, mosquito repellent, and even aloe vera gel for after-sun care are right there. Not to mention, the staff will be happy to accommodate anything else you wish for, let's say, a refreshing cocktail mixed at the poolside bar. 
Guests who opt for adventures instead of peaceful surroundings would love the Grand Resort Deck at Galaxy Macau, free for all the guests of The Ritz-Carlton, Macau. The access is right beside the hotel pool. Take your room key and explore the massive array of Galaxy's aqua world–a sand beach, lazy river, wave pool and so much more.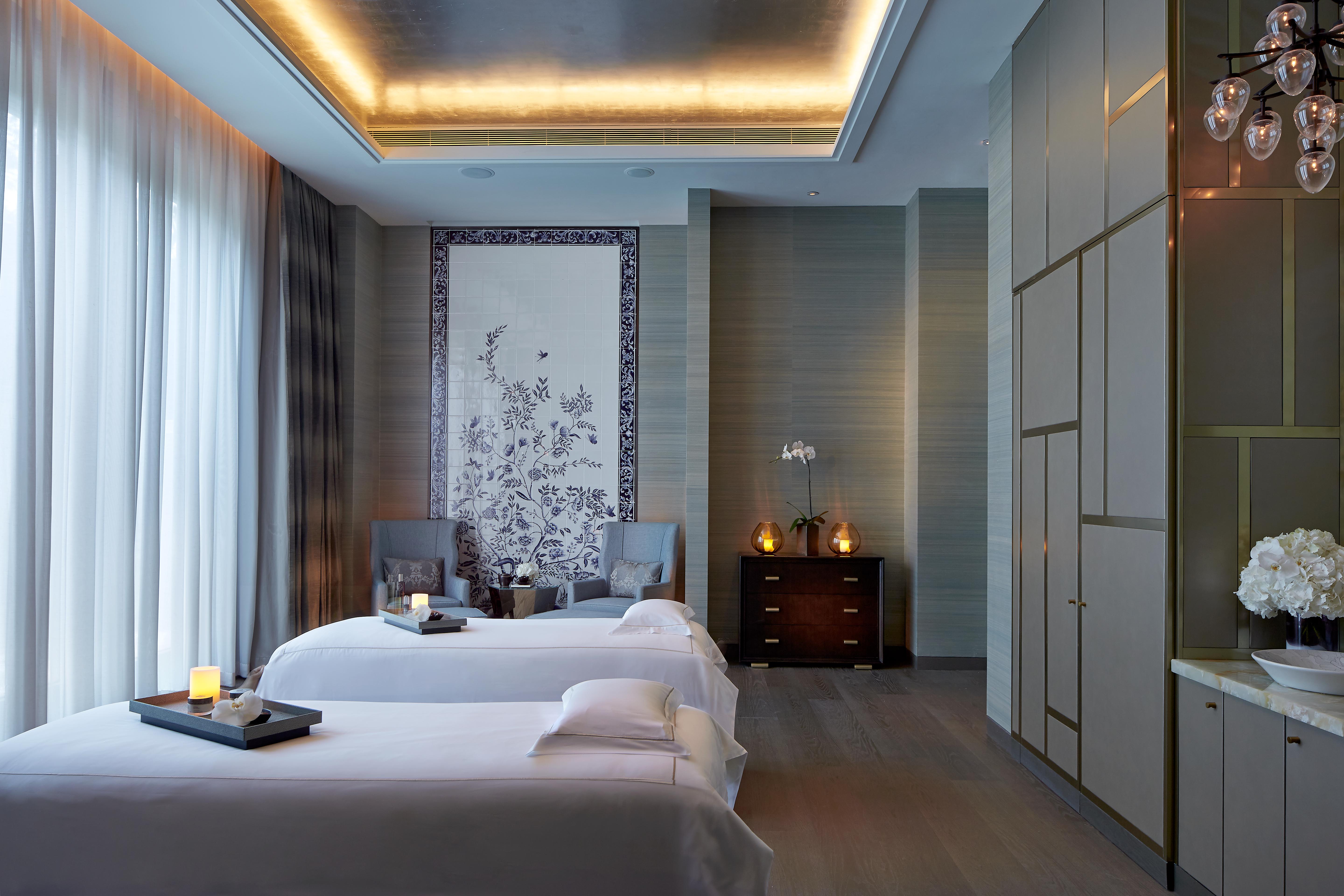 Where to unwind
If you aim for ultimate relaxation, visit The Ritz-Carlton Spa, where the experienced spa therapists will help you out with tension and fatigue accumulated on those busy weekdays at work. What we appreciate about this spa are their one-of-a-kind facilities that include a steam room, sauna, ice fountain, experience shower area, reflexology lounge, and vitality pool. Take our advice and come at least half an hour earlier to your reserved time to decompress and enter a relaxed mode and prepare your body for treatment. Nonetheless, the reason to praise The Ritz-Carlton Spa is the treatments performed by experienced and friendly therapists. Thus, Forbes Travel Guide awarded this spa for four consecutive years, pretty impressive! So whichever treatment you choose, expect the highest level of satisfaction as this is the only standard that The Ritz-Carlton, Macau successfully proved to aim for and succeed.
---
How much: Rates start from HKD $2,739
The Ritz-Carlton, Macau Galaxy Macau, Nossa Senhora da Esperança, Estrada da Baia de Nossa Senhora da Esperanca, Macau, +853 8886 6868, www.ritz-carlton.com
Photo credits: The Ritz-Carlton, Macau; Ksenia Kuzmina
Tags
Related Posts