Malacca (or Melaka in Malay), 147 kilometers southeast of Malaysia's capital city Kuala Lumpur, is dubbed "The Historic State" and the Historic Cities of the Straits of Malacca is a UNESCO World Heritage listing. Known for its unique geographical location, many traders anchored in Malacca especially traders from Arab, China and India, and they dealt in the port of Malacca, which made it a strategic state position for international trade routes.
Located in the southern region of the Malay Peninsula and next to the Strait of Malacca, Malacca has a swarm of pastel-colored buildings, ancient landmarks and colonial structures due to its rich and long history. Different colonial forces including Britain, the Netherlands and Portugal made contact with Malaysia here first and left imprints that are easy to find.
So if you fancy a history trip getaway then check out our guide on what to do in Malacca in 24 hours!
Red buildings surround the iconic Dutch Square, along with the oldest Dutch building in the east and the oldest Protestant church outside of Europe, which showcases Dutch influence in Malacca. Stadhuys (see featured image above), the reconstructed Stadhuis or Town Hall, is the centerpiece dating back to 1660.
Cultural melting pot
Malays, Chinese, Indians, Baba Nyonya, and Kristang (mixed Portuguese) are some of the examples of people living in the State of Malacca up to the present generation and they live in peace and prosperity with one another. The peaceful life and ambiance of the people of Malacca are attributed to the various races and ethnicities that have long existed among the local community.
The Baba Nyonya are the offspring of the early intermarriage between Chinese and Malays, making them a large part of the society. Many soldiers and officials stayed in Malacca during Zheng He's voyages during the Ming Dynasty and married the local women. Their male descendants were called "Baba" and the females were called "Nyonya." The Baba Nyonya still observed Chinese traditional customs such as weddings, funeral arrangements, and eating habits.
If you are interested in the history of Malacca, dropping by the Baba Nyonya Museum on Jonker's Street is the best way to learn and it's recommended to book a tour in advance to avoid peak time periods.
Opening hours: Daily, 10:00am–5:00pm (last tour 4:00pm, last admission 4:15pm)
Extended hour on Friday–Sunday: 10:00am–6:00pm (last tour 5:00pm, last admission 5:15pm)
Baba & Nyonya Heritage Museum No. 48 & 50 Jalan Tun Tan Cheng Lock, 75200 Malacca, Malaysia, +60 6282 1273, babanyonyamuseum.com
Also, don't forget to turn on your "shop till you drop" travel mode. Besides the museum's own shop, there are places that sell traditional wear (baju kebaya), beaded shoes and jewelry such as Sixty 3 Heritage.
After a long day of walking and tours, the best day to wrap up a day is to have a food feast in the local night market. Being the soul of Malacca and located in the city's historic Chinatown, Jonker Street bursts with life and activities. Jonker transforms into the city's beating heart with numerous tourists, locals, bars and street foods after the sun goes down. You can take a sip of coffee and have a good rest at the vibrant cafes before continue to hunt for bargains in stores. It is not an uncommon scene that the nationwide-famous Jonker Street Night Market is packed with weekend travelers on Friday and Saturday nights.
Kedai Kopi Chung Wah (中華茶室)
One of the Malacca's most popular dishes is chicken rice balls, and it's highly recommended to try it at Kedai Kopi Chung Wah. Located in Jonker Walk, Kedai Kopi Chung Wah embraces the Malaysian-style coffee shop decor, wooden chairs, and marble-top tables occupy the floor space, with hawker stalls being used as workstations. As with a lot of local cuisines, prices are affordable with a plate of five balls, steamed chicken and drinks going for about RM11 per person. With lines of hungry diners standing outside the restaurant throughout its opening hours, Chung Wah is undoubtedly immensely popular.
Opening hours: Daily, 7:30am–3:00pm
Kedai Kopi Chung Wah 18, Jalan Hang Jebat, Malacca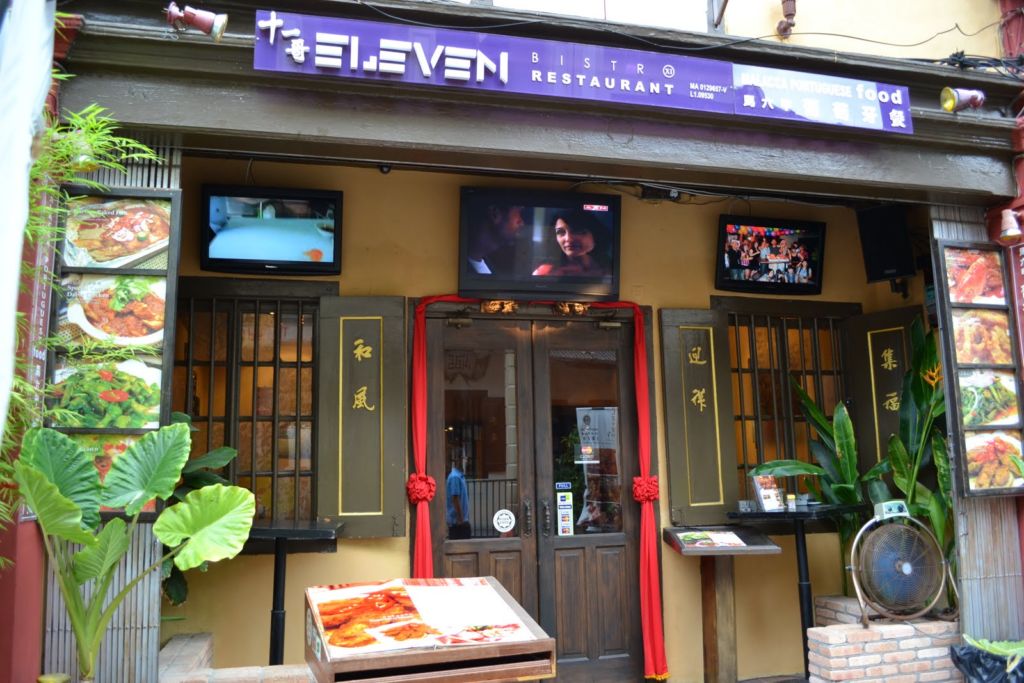 Eleven Bistro & Restaurant Eleven
Eleven Bistro & Restaurant Eleven serves up traditional Malaccan-Portuguese fare in a cool, warmly lit dining venue. The menu is extensive and the food here is appetizing with a little spicy kick. Do not hesitate to order the sambal crabs and special curry dable chicken to try Southeast Asian typically spicy cuisine.
Opening hours: 10:30am–11:45pm
Eleven Bistro & Restaurant Eleven No. 9 – 11, Jalan Hang Lekir, 75200, Malacca, Malaysia, +60 6282 0011, www.elevenbistro.com.my
JONKER 88
Don't miss this historic restaurant with a strong vintage style and a great family atmosphere! Jonker 88, housed in a heritage building in Jonker Street, serves amazing Nyonya cuisine and provides really fast self-service. The dining area inside with many historical items is worth exploring so take a look and snap away! The rear part of the interior has closely placed rounded and square tables that are wooden and goes with the overall vintage style. The wall that forms the backdrop is adorned with several classic portraits of some famous celebrities and politicians who you may know.
Jonker 88 is famous for a simple but simply delicious dessert, cendol. With red bean, green cendol and shaved ice as the base and topped with good amount of gula Melaka and coconut milk, the dessert can cool you down in this scorching town.
Another must-try dish is asam Nyonya laksa. The main ingredient for asam Nyonya laksa is asam keping (dried tamarind slices) which produces the unique sour flavor. The soup base is savory and spicy with a sour twist complete with yellow noodles, fishballs, puffy deep-fried tofu, beansprouts, and hard-boiled egg.
Jonker88 No.88, Jalan Hang Jebat. 75200 Malacca, Malaysia,
HOW TO GET HERE
Bus and train are the most common ways to travel from Kuala Lumpur to Malacca. Regular buses depart every 30 minutes or one hour from Terminal Bersepadu Selatan, arriving at Melaka Sentral around five kilometers north of the city. The bus takes approximately 2.5 hours costing between RM10 and RM20 (USD $2.50 and USD $5).
If you want to take the train, you can first take the Komuter to Tampin before catching a public bus to Melaka Sentral. Tickets on the Komuter cost approximately RM14 (USD $3.50) and the one hour bus to Melaka will be just a few ringgits.
Tags
Related Posts