A rare destination 20 years ago, today, Bilbao is on many travelers' bucket lists. While it is not a short trip from Macau, this city in the North of Spain deserves a visit. Welcoming people, celebrated gastronomy and unique culture makes Bilbao a dream vacation spot. Packing your bags already? Check our list of the top 10 things to do in Bilbao before planning your trip!
Visit the Guggenheim Museum
One simply doesn't travel to Bilbao without visiting this outstanding landmark. One of the most impressive examples of contemporary architecture, the Guggenheim Museum in Bilbao has fundamentally transformed the city. Moreover, it has set off many more changes and turned this industrial Basque town into a tourist mecca. As a matter of fact, it created an urban phenomenon called the "Bilbao effect", that describes how a single project can revive the whole city.
While the building itself is a masterpiece, it is also one of the best contemporary art museums in the world. Its permanent collection is rather small, but by no means modest. It features works by Mark Rothko, Willem de Kooning, Andy Warhol, Anselm Kiefer, Jean-Michel Basquiat and many more. The sculptures installed outside the building are created by big names like Louise Bourgeois, Jeff Koons, Fujiko Nakaya and Anish Kapoor. 
The Guggenheim Museum also regularly hosts huge contemporary exhibitions that art lovers around the globe travel for. So it is always worthy to check their website to see what's on.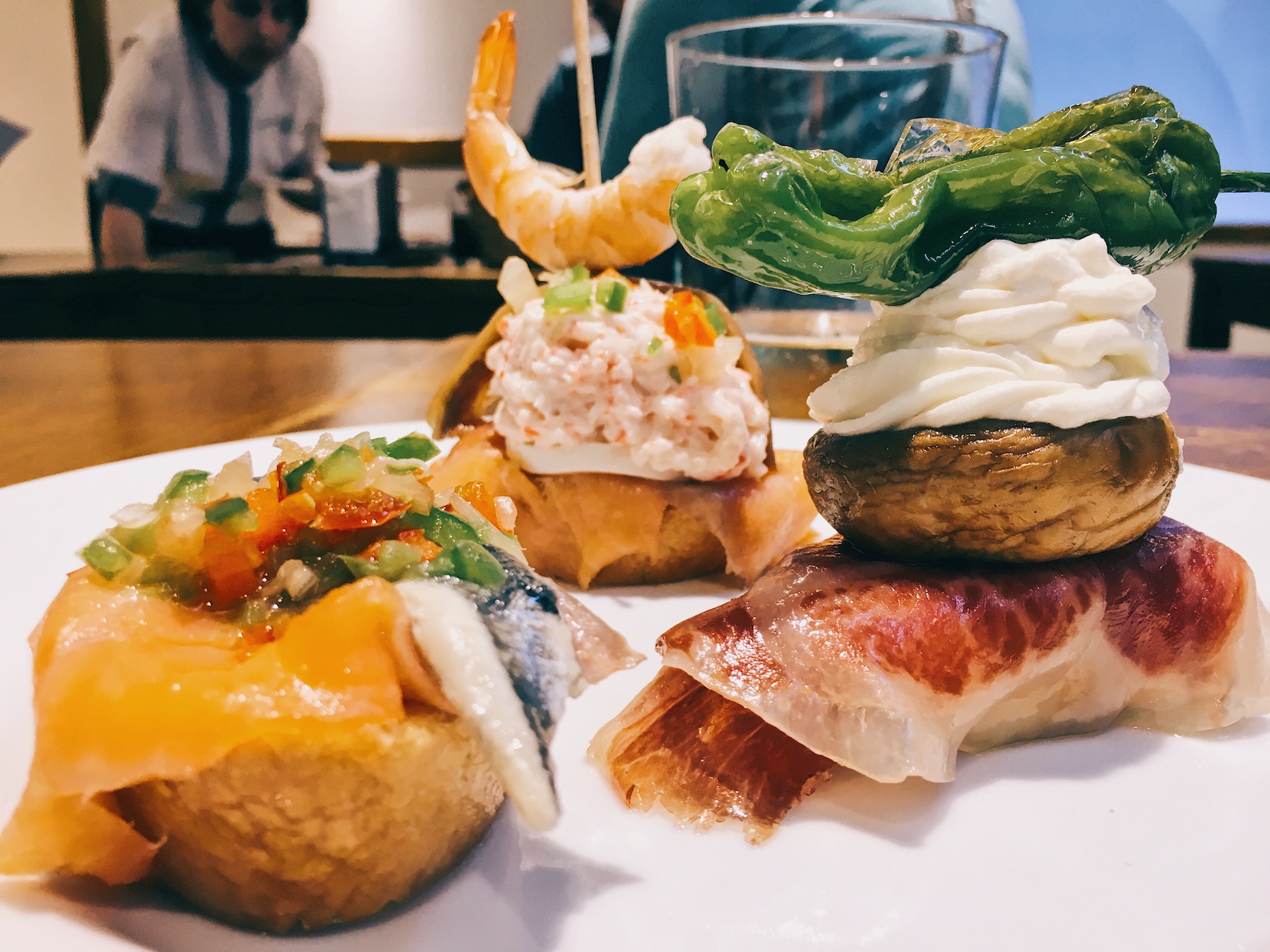 Indulge yourself with a fine meal
If you call yourself a foodie, Bilbao is a must-visit. There are four Basque restaurants in the list of 50 World Best and 10 Michelin starred restaurants in Bilbao, a city of 345,000 people. It is, without a doubt, one of the capitals of world-class gastronomy.
So if you are willing to add some of the finest gourmet spots to your list, choose one of the city's Michelin starred restaurants. If that's not enough, take a short trip to one of the rural areas like Larrabetzu where 3-star Azurmendi is. Not only do they serve mindblowing Basque cuisine, modern, yet cooked in a homely style, they are also focusing on sustainability. It is considered to be one of the most innovative restaurants in the world.
Go on pintxos and wine crawl in Casco Viejo
Casco Viejo is an old town in Bilbao. Besides the historic vibe and cozy narrow streets, it is the area to do the pintxos crawl, an absolute must in the city. Start your culinary journey in the Plaza Nueva and move further into the alleys of vibrant Casco Viejo. 
Pintxo is finger food served in bars across the country. It is a large part of Basque gastronomy and a common pastime for locals. The variety is huge, therefore it is impossible to get enough of them. Some of the essential pintxos are gilda, an absolute classic with olive, anchovy, and a pickled green chili; a pintxo with gulas (baby eels); or a pintxo with morcilla (blood sausage). Do it like a local—grab a pintxo and a glass of wine, then move to another bar for the next bite. 
Although it is somewhat similar to tapas, take note to never call a pintxo "tapas" to avoid an intercultural conflict. Basque people take pride in their autonomy, distinctive culture and gastronomy.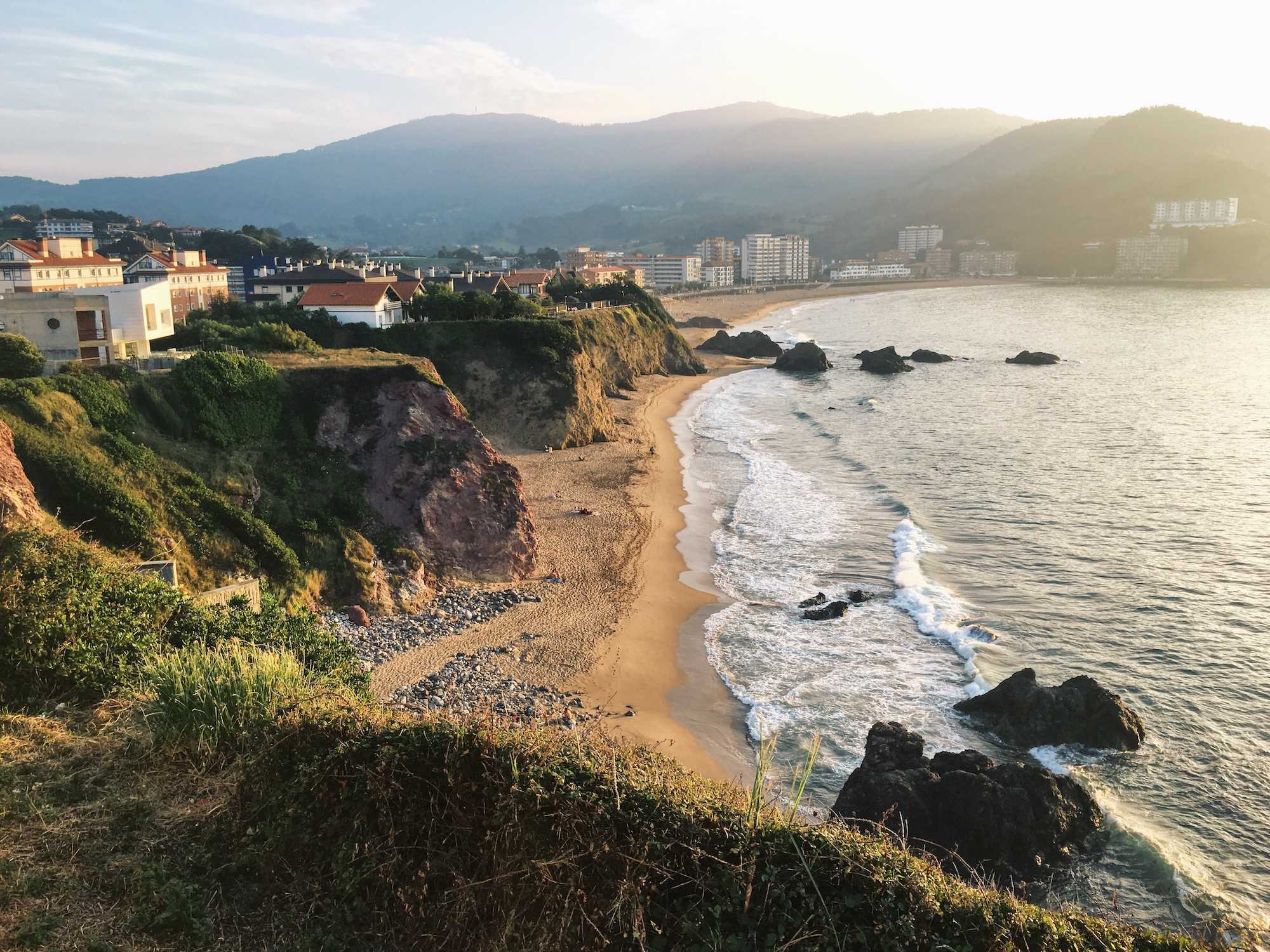 Go on a hike
The Basque country is a land of green hills and vast landscapes. So put on your hiking shoes and get ready to be stunned. Even the big cities have several trails to fulfill the needs of hiking enthusiasts. In Bilbao, there are around 15 popular trails. One of them takes you up the Artxanda mountain where the whole city can be seen. The whole route takes around 2.5 hours. If hiking is not really your style, take the cable car up and enjoy the view!
Surf or chill on a beach
Surfers know the Basque Country as a land of one of the world best surf beaches. Luckily, many of them are really close to Bilbao, which is perfect if you wish to combine some city tourism with active sports. Most of the beaches on the Basque coastline are full of brave wave riders all year around. Mundaka, a renowned surfer's mecca 38 km east from Bilbao hosts the annual Billabong Pro surf competition. 
For those who enjoy some swimming or just chilling on a beach, there are places like Bakio (25 mins from the city), a small tranquil town with a large stunning beach, or Plentzia where you can reach by metro. Basque waters might not be the calmest, but beaches here are picturesque and extremely clean. Did you know that Spain has the record number of Blue Flag—high environmental and quality standards—beaches with the Basque country as a significant contributor?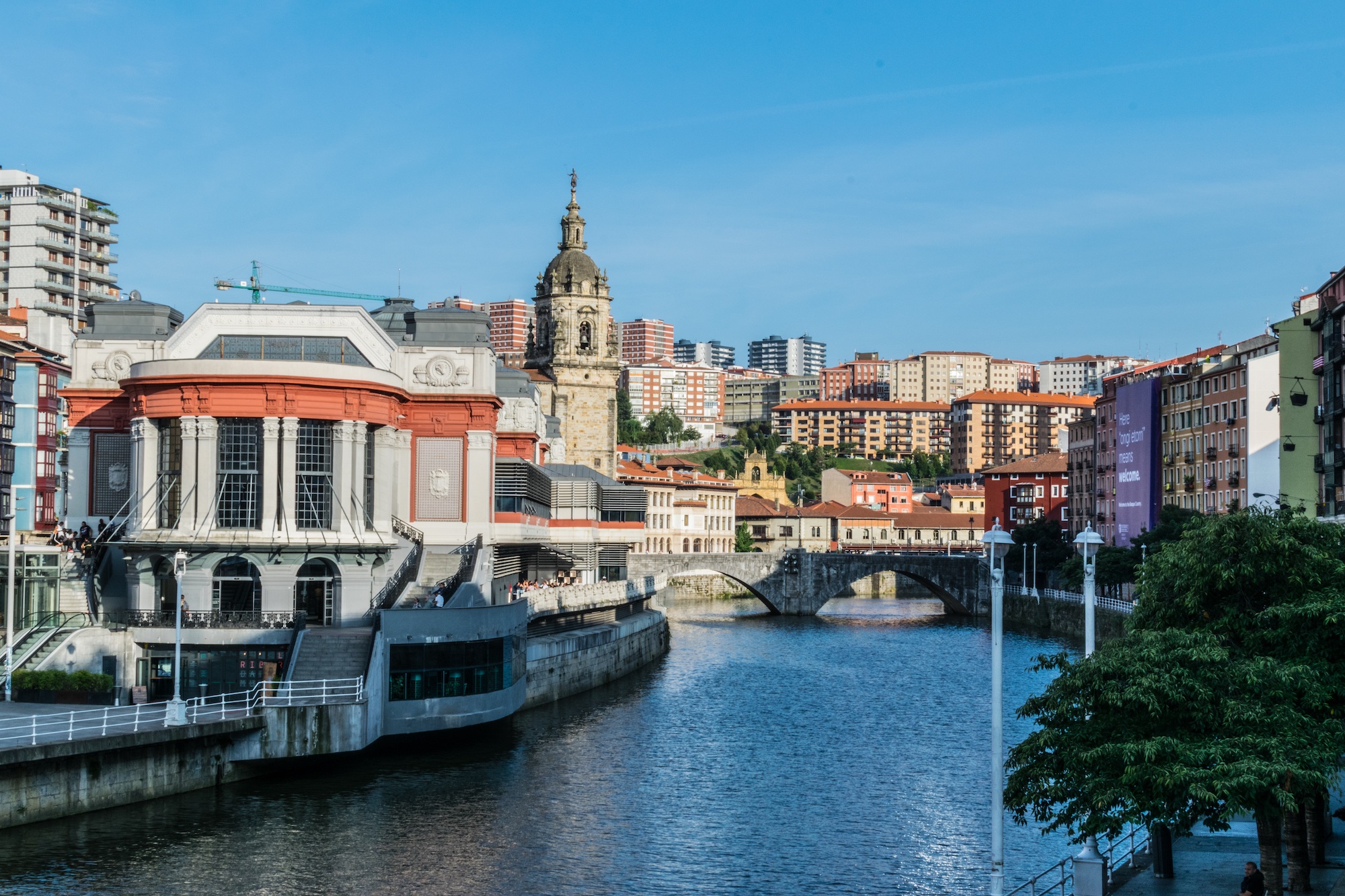 Admire the architecture
When it comes to architectural landmarks, Bilbao truly has a lot to offer. Apart from the legendary Guggenheim, there are lesser-known gems of modern architecture. Azkuna Zentroa cultural space was an old wine warehouse that has been renovated and designed by Philip Stark. Another one is the Department of Health headquarters with "folded" glass facade.
To admire some classic architecture with history, check out both train stations, Estacion Abando with giant stained glass and the art nouveau exterior of Estacion de Santander. Visit Mercado de la Ribera to admire the oldest covered market in Europe and snack on some pintxos. And, of course, there are gracious old Catholic churches such as Basilica de Begoña, where people come to thank Lady Mary for the athletic achievements of sports teams in Bilbao.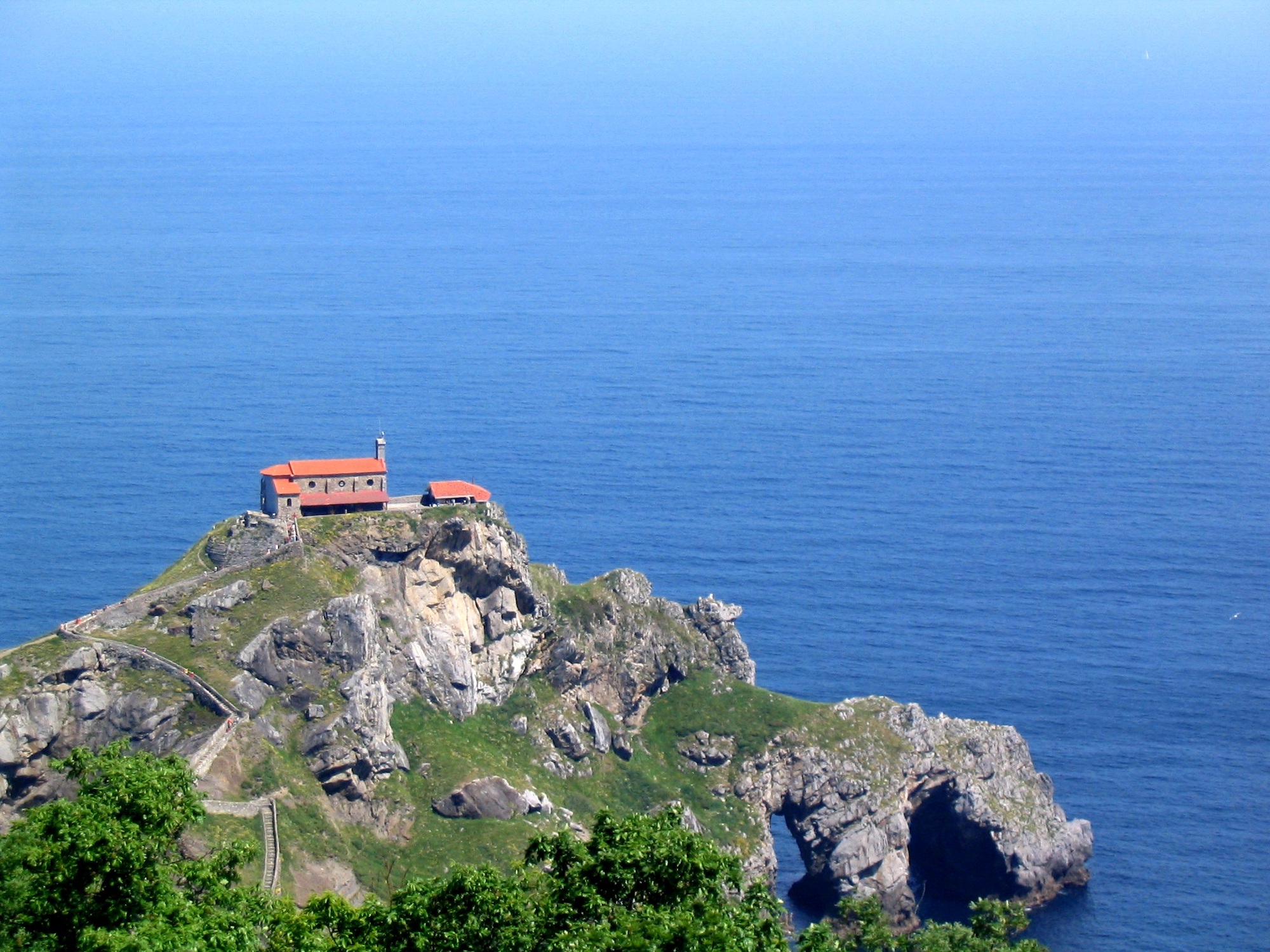 Take a ride to Gaztelugatxe
Have you seen the last season of Game of Thrones? Don't worry, no spoilers here. But if you do watch the show, you would probably remember the breathtaking view of Dragonstone where the King in the North and the Mother of Dragons finally met. 
That scene was shot right here, on Gaztelugatxe, a sensational landmark on the coast of Biscay, 45 minutes from Bilbao.  While not a short drive, it is definitely worth it for the unforgettable views. Connected to the mainland by a man-made bridge with 231 steps, this small islet hosts a church dedicated to John the Baptist. The church dates back to the 10th century.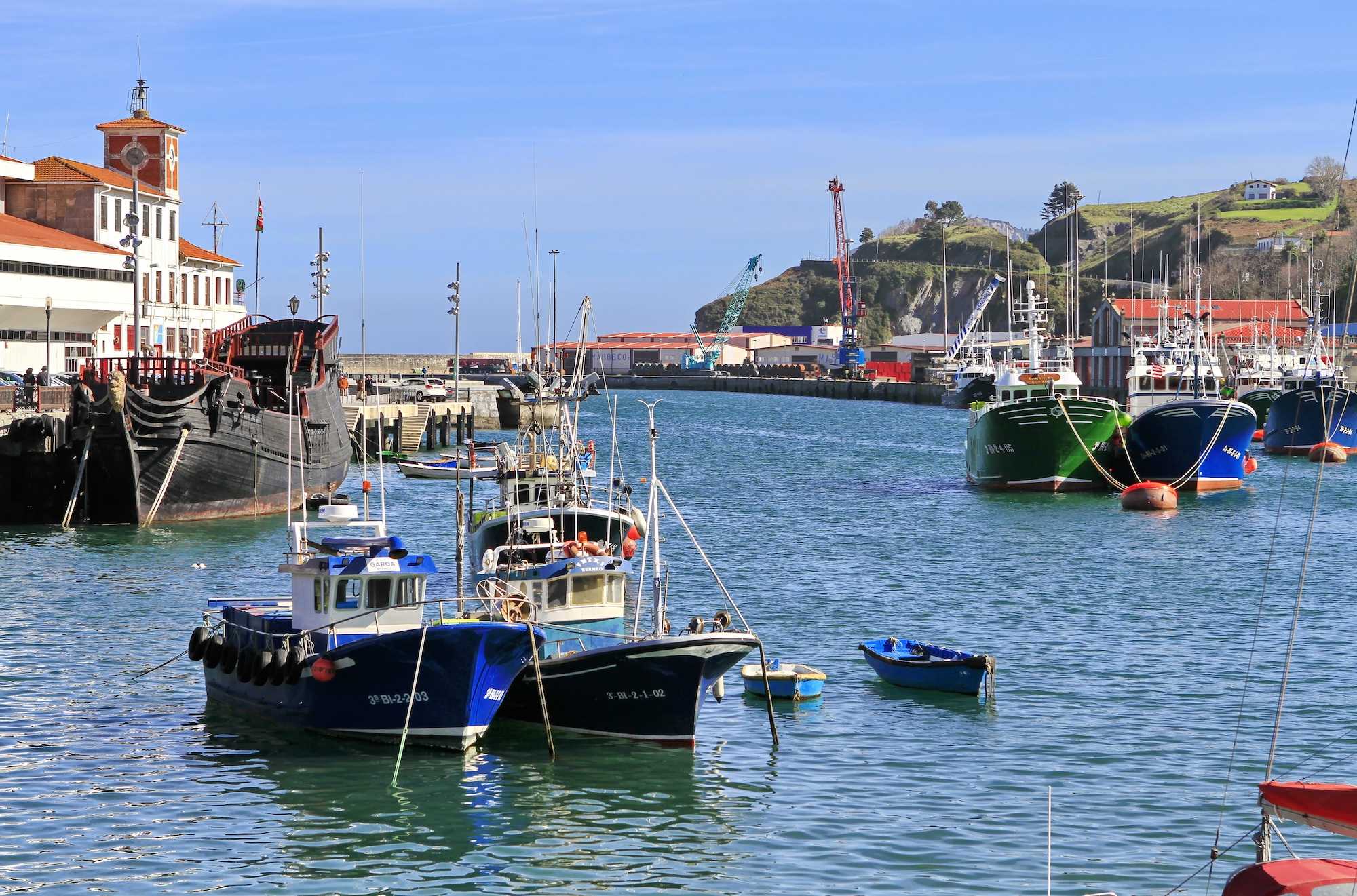 Visit one of the fishing villages on the coast
Scattered along the coast of the Bay of Biscay, there are numerous fishing villages and small towns with a unique vibe and heritage. Bermeo, a charming town not far from Gastelugatxe, is one of them. So it's wise to consider combining these two destinations for a one-day adventure. Head towards Bermeo's marina to spend a lazy hour or two at the outdoor tables with a glass of txakoli (Basque white wine). It seems like no one here is in a hurry and never stressed. Not a bad example to follow.
Getxo, Portugalete and Las Arenas are even closer to Bilbao and can be reached by metro. The Vizcaya Bridge that connects Portugalete with Las Arenas is the first suspension bridge in the world and a World Heritage Site.

Watch a football game in New San Mames football stadium
The new stadium replaced the old building in 2013. Even people outside Bilbao call this beautiful giant "La Catedral" which means "The Cathedral". This is how much respect the football community and fans of the local team has for the stadium. The whole of Bilbao supports PFC Athletic and it shows. On game days the city changes its colors to red and white.
Dance to some rock music in one of the bars
Unlike South of Spain that dances to the rhythms of reggaeton and salsa, Bilbao love rock music! It's rare to see this many people wearing Metallica and AC/DC t-shirts and actually know their songs but that's happening here. That makes Bilbao a perfect place for listening to some quality live bands and playing air guitar in rock bars. Try Azzurro, a small, but legendary spot, owned by a charismatic long-haired bartender who can even play rock classics on demand, if you ask nice enough. 
Tags
Related Posts