Macau and Hong Kong have been connected by ferry for decades. As for the Macau SAR and Zhuhai, there are several borders and some are open 24 hours! One can cross by car or even on foot. However, there's a new way of crossing the waters dividing both regions: the longest bridge in the world! Its official name is Hong Kong-Zhuhai-Macau Bridge, but it's known locally as HZMB. The bridge was inaugurated by Chinese president Xi Jinping on October 24, 2018.
For now, buses are the only way to Hong Kong. To Zhuhai, one can travel via private car or take the bus as well. If you're a little unsure of the HZMB crossing, we've prepared an ultimate guide to help you start your Macau-Hong Kong-Zhuhai adventures.
6 curious facts about HZMB
1. At 55 kilometres, it is the longest bridge in the world and divided into sections. The Hong Kong Link Road has 12 km, the main bridge is comprised of 29.6 km, and the Zhuhai Link Road consists of 13.4 km.
2. One can now reach main Pearl River Delta cities (from Hong Kong) within three hours, and Macau in 40 minutes.
3. Hong Kong Port has a modern design, which according to the designers, has a roof in the form of a wave, to reflect the undulating flow of surrounding waves.
4. Macau Port was designed with a focus on a façade with geometric shapes. The project was made to house millions of people and keep a healthy and fast flow and pace of passengers.
5. Its construction took nine years, built to last for 120 years and cost a total of RMB $126,9 billion.
6. In Hong Kong and Macau, traffic is left-handed (LHT), whereas in China, it's the other way: right-hand (RHT). On the bridge, traffic flow is RHT as in the mainland. So, when going to or from Zhuhai, people driving their own cars will have to make use of the viaducts designed to change traffic sides.

When and how much
First things first: The connection between Macau–Hong Kong and Zhuhai–Hong Kong (to and from) is opened 24 hours. This includes both the passport control points and the bridge itself while the Macau–Zhuhai connection operates from 8:00am to 10:00pm. Worry not as there are other border points opened 24 hours a day.
There are two ways to reach Hong Kong SAR and Macau SAR:
➤ Shuttle bus (also known as golden bus) – These depart every 10 to 15 minutes from each region port and take about 40 minutes to complete the crossing. The cost depends on which side you depart from and ranges from MOP/HKD $65–70. Take note that there's a 50% discount for the elderly, children and other eligible passengers.
➤ Cross-boundary coach and hire cars have specific stops, fixed schedules and cost more than the shuttle buses. They are designed for private trips for small groups of people.
Departing from Macau
➤ There are two public buses to the Macau Hong Kong Bridge Port: 101X and 102X. A one-way trip costs MOP $6 and stops at some of Macau peninsula's most busy and central stops, such as Rotunda Ferreira Amaral, Av. Infante D. Henrique, Fai Chi Kei, and Taipa. Unfortunately, the port's stop name is only available in Portuguese and Cantonese. Look for the following to know where to head and get off: Posto Fronteiriço da Ponte Hong Kong-Zhuhai-Macau or 港珠澳大橋邊檢大樓.
➤ Taxis can also access this area. Just show the taxi driver the phrase "港珠澳大橋邊檢大樓" in Cantonese.
➤ There is a parking lot available for those taking their private cars as well.
Departing from Hong Kong
➤ There are several public buses connecting Central, Kowloon and the New Territories to the Hong Kong Port: 11A, A21, A22, A29, A10, A12, A20, A26 and A29P. All information on the companies' websites and bus stops is in English.
➤ Taxis may be expensive if the starting point is a central area, but it may be less time consuming.
➤ A combination of MTR and public bus or taxi is also a good option. There are several stations such as Sunny Bay or Tung Chung that are already in the same island as the port (Lantau). So, after reaching them just take an inner-island bus to the port.
Pros
Crossing the bridge is much easier than you may think. Truthfully, the trickiest part might be getting to the passport control ports due to heavy traffic from all major cities. Always take your passport and local resident card as all regions function independent from each other.
The journey from Macau to Hong Kong is relaxing, smooth and has great scenic views! Also, it takes less time than a ferry trip (one hour) and is way cheaper. This is a good option for those wanting to go to Hong Kong International Airport or Lantau Island.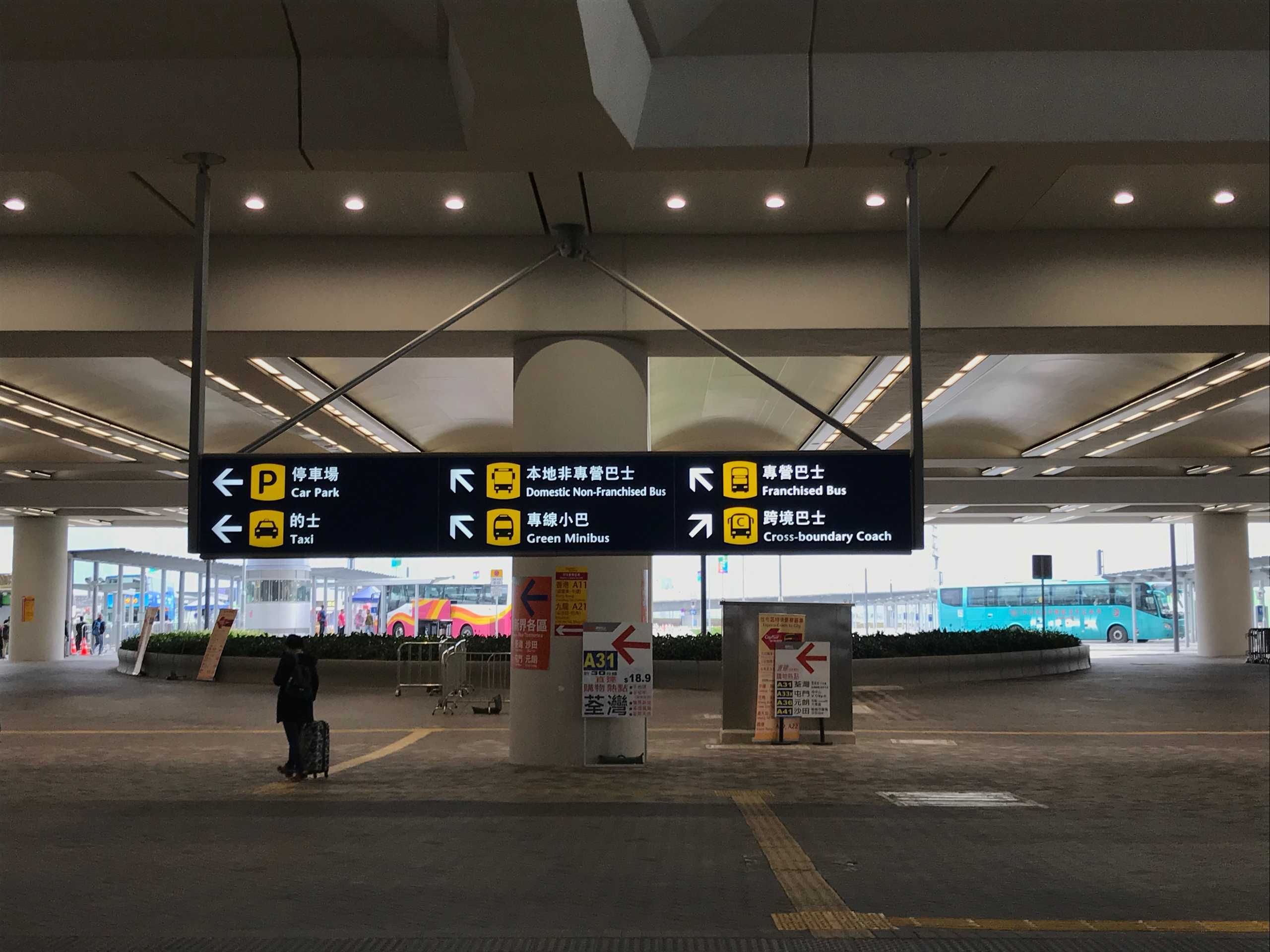 Cons
Despite the quicker trip, Hong Kong and Macau bridge ports are far from city centres. This may lead to a time-consuming trip for those looking to reach Central or even Kowloon (Hong Kong), and Leal Senado (Macau).
From those ports, one has then to take the MTR or bus – sometimes more than one – to get to the desired destination. We took 40 minutes from Centro Infante D. Henrique bus stop to the Macau Port. Then spent 20 minutes going through the building and passport control to the bus stop. A further 40 minutes to cross the bridge and 20 minutes to pass through immigration in Hong Kong. Afterwards, we took bus B6 to Tung Chung MTR station to finally reach Hong Kong MTR station after 45 minutes in the subway. There is also the issue of luggage weight. At the time of writing, people are only allowed 20 kilograms and a small hand bag on the shuttle buses. This means people carrying bigger and heavier luggage cannot take this transportation and will need to find an alternative.
For more interesting facts, schedules, pricing and other information regarding the HZMB, check its official website, or read this pamphlet.
Tags
Related Posts