Located in Cotai, Broadway Macau is situated in a less crowded part of it. Thanks to that, it has a breathable atmosphere, away from all the hustle and bustle of shopping, traffic jams, and casinos. It has one of Macau's few alfresco areas, offering both an array of more than 20 different restaurants and a pedestrian area which is both family-friendly and enjoyable till the late hours! There aren't many night markets in the city, so Broadway Macau has become a great alternative. If you are looking for a fun time with your family while enjoying a tasty meal, or a place to relax while drinking some beer or whiskey–plus a free ride home–this spot is the answer to the question "Where to tonight?". Here's a short guide on how to maximize your experience at Broadway Macau: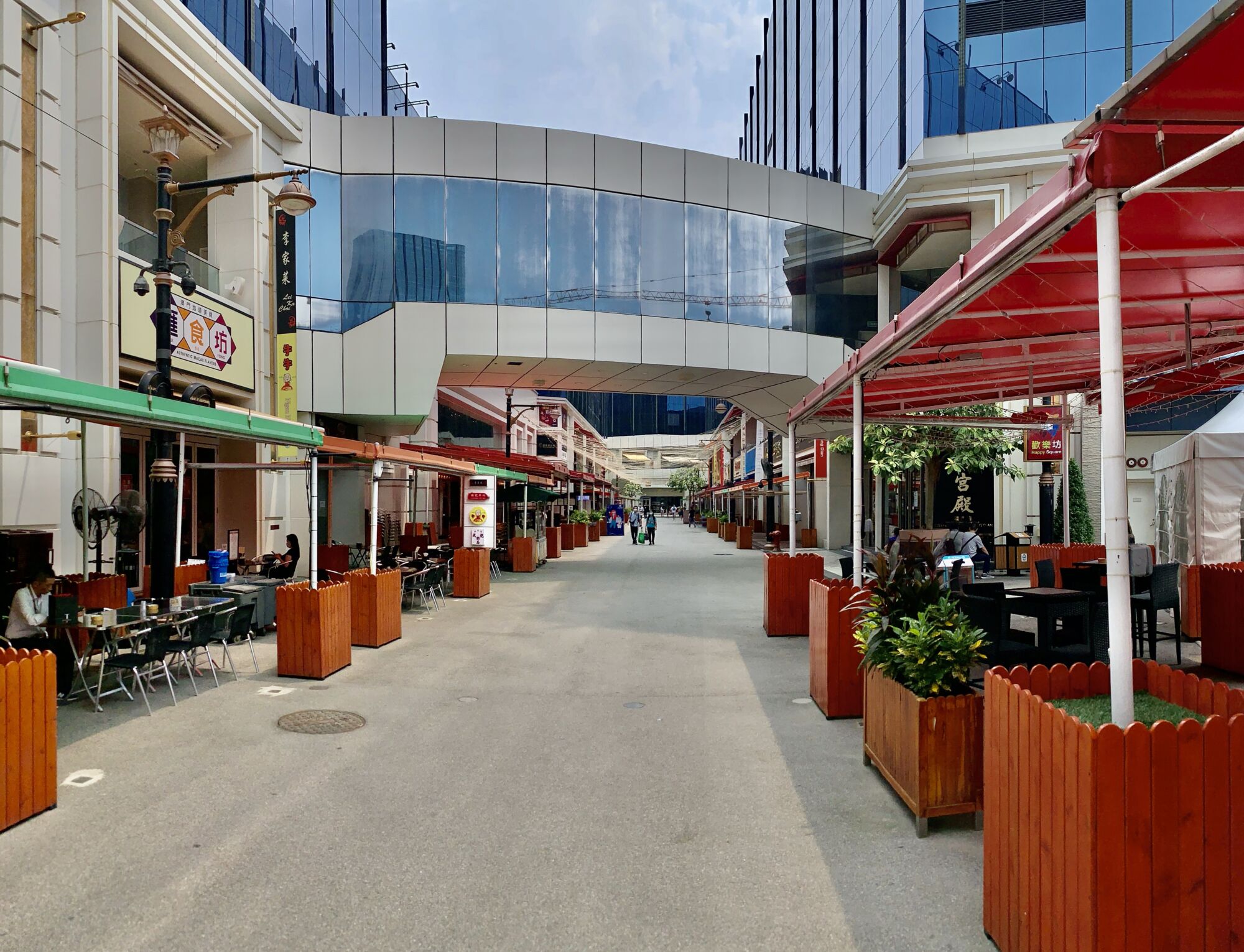 Outdoor Entertainment
Broadway Macau is known for being the city's first hawker-style street market where visitors can experience the hustle and bustle of traditional Macau street markets, authentic food, friendly services, great entertainment, and fun. In a less crowded way, of course. With pedi-cabs, live musicians, and performers, their alfresco Street Food boasts an incredible vibe of feeling alive. From gambling with friends to having a drink at Duffy's Bar, or watching a show at the Broadway Theatre, one has plenty to do around that area.
With a pedestrian link to and from Galaxy Hotel Macau, Broadway is not only tempting but desirable. Local musicians play live on the streets from Monday to Thursday (6:30pm–7:15pm) and on Sundays (6:30pm–7:00pm), while pedi-cab drivers are around from 5:00pm onwards, on weekends. There is also a live band performance at Happy Square and they are there from Friday to Sunday as well.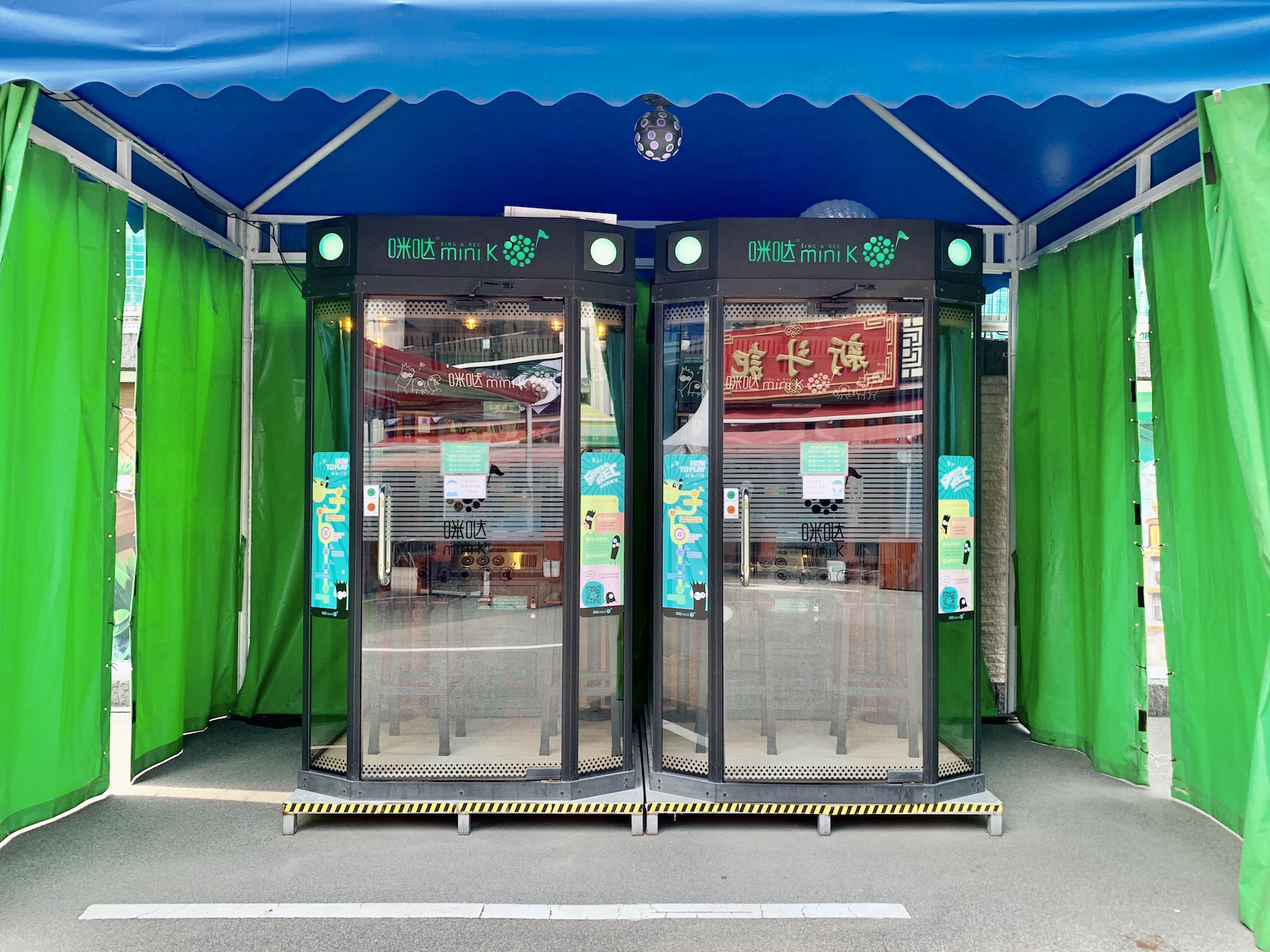 Karaoke Booths
Also, did you ever wonder what those weird booths that say "Karaoke" outside, work? Broadway Macau has two of these and they're super fun! If you're feeling an urge to sing out loud, head to one of these–with friends or not–and start a wonderful journey through their immense list of karaoke songs. The booths are soundproof, so don't mind people hearing you from the outside. This is your moment to shine! They're located in front of Thai Chui and Leitaria I Son restaurants, on The Roadhouse Macau end of the Street Food. Although it's a pretty common trend in Japan, it hasn't reached all corners of Asia. Macau has two and they're perfectly located at Broadway Macau. Unwilling to take a taxi and head to Macau side for karaoke? These booths are the answer!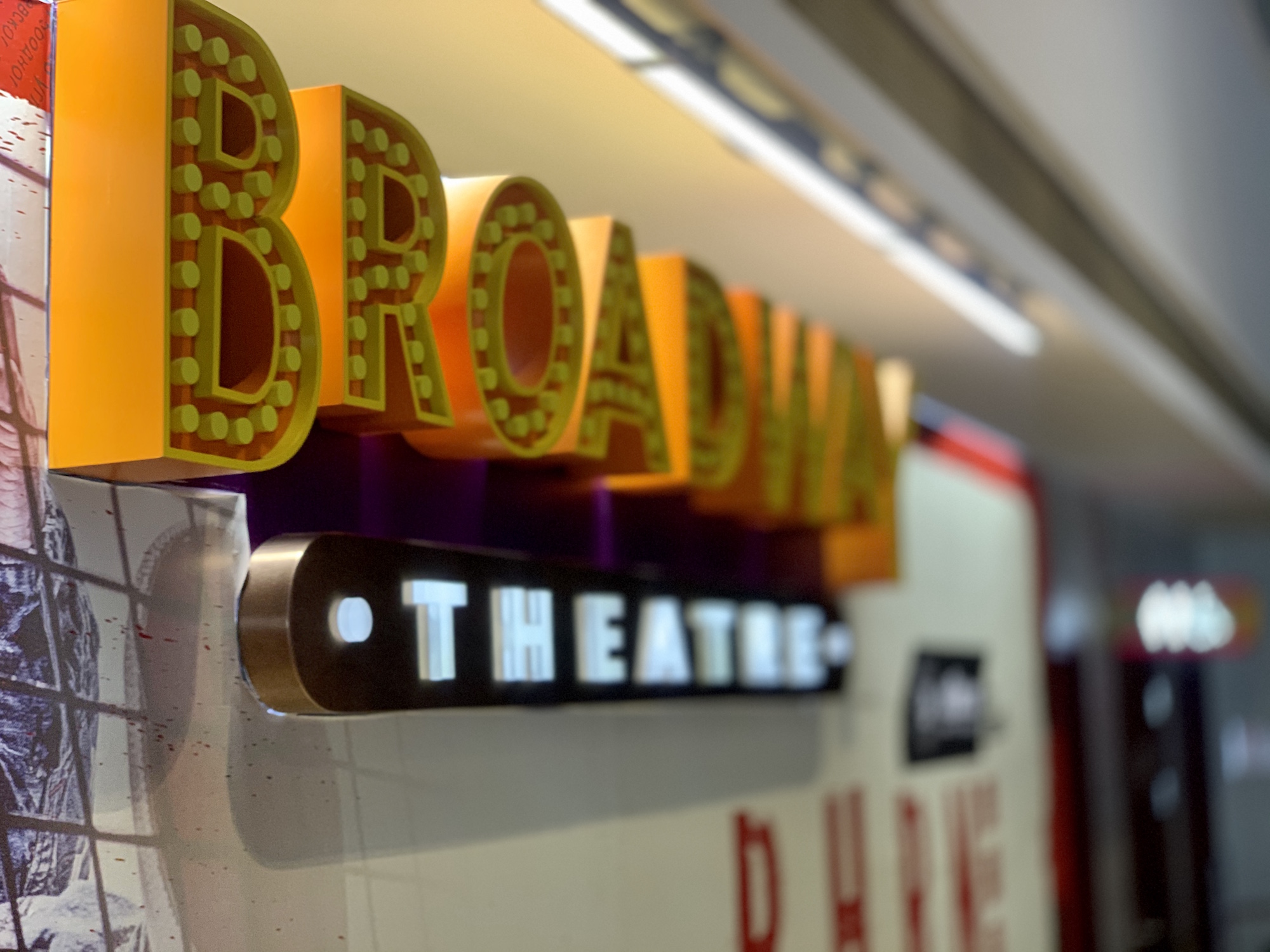 Family time: Treat for Everyone
Besides the more than 20 restaurants with open-air seating, there is music all day long, food from all four corners of the world, lots of live entertainment–mimes, singers, and performers–and incredible desserts for children to have a ball! Broadway Theatre hosts all kinds of performances, from Portuguese hit singer Salvador Sobral, Japanese musician Kitaro, to a Peppa Pig musical, it has it all. Whether it's your kids or even your parents you want to make happy, tickets to see a show here are always a great gift!
A Foodie's Dream Destination
Broadway Theatre is one of Macau's greatest performance venues, but what really sticks out in this place is Broadway Food Street. Commonly mistaken for a spot offering solely street food, it is in fact the richest area in town with such a wide range of different cuisines to taste. There are so many amazing places to have food at Broadway Macau's Street Food, one won't be able to choose from the wide array. Looking like a dream, this outdoor area boasts tiny, twinkling lights during the night with music playing softly. Irish, Mexican, Korean, Chinese hotpot or specialties from specific regions of China and Thailand, you name it: there's something for everyone. Almost all of its restaurants have an alfresco dining area, but if you prefer air-conditioning head inside and take a look at the restaurants' menus.
Feeling like Japanese? You are in luck then, because Chi Sasa is one of the best in Macau! They import fresh sashimi from Japan every single day. Signature dishes include A5 beef yakiniku, grilled live surf clam with wasabi sauce, Chi Sasa assorted sashimi, and house plum and fruit wines. It is undoubtedly, one of Macau's best Japanese restaurants! There's also Ufufu Café. It might have a weird name for a Japanese food restaurant, but they have exclusive dishes difficult to find in other shops around town. From traditional omelet rice to teppan dishes, they have it all. Browse through their menu here.
Sizzling rice with beef is way underrated as well. Who wouldn't want to have their meal cooked at the table, with their order of fresh meat sizzling to perfection? Have it with egg, curry sauce or plain, Pepper Lunch is a great place to go when you're hungry but a little pressed for time. With quick service of pay before eating, dishes at Pepper Lunch are inexpensive and really tasty.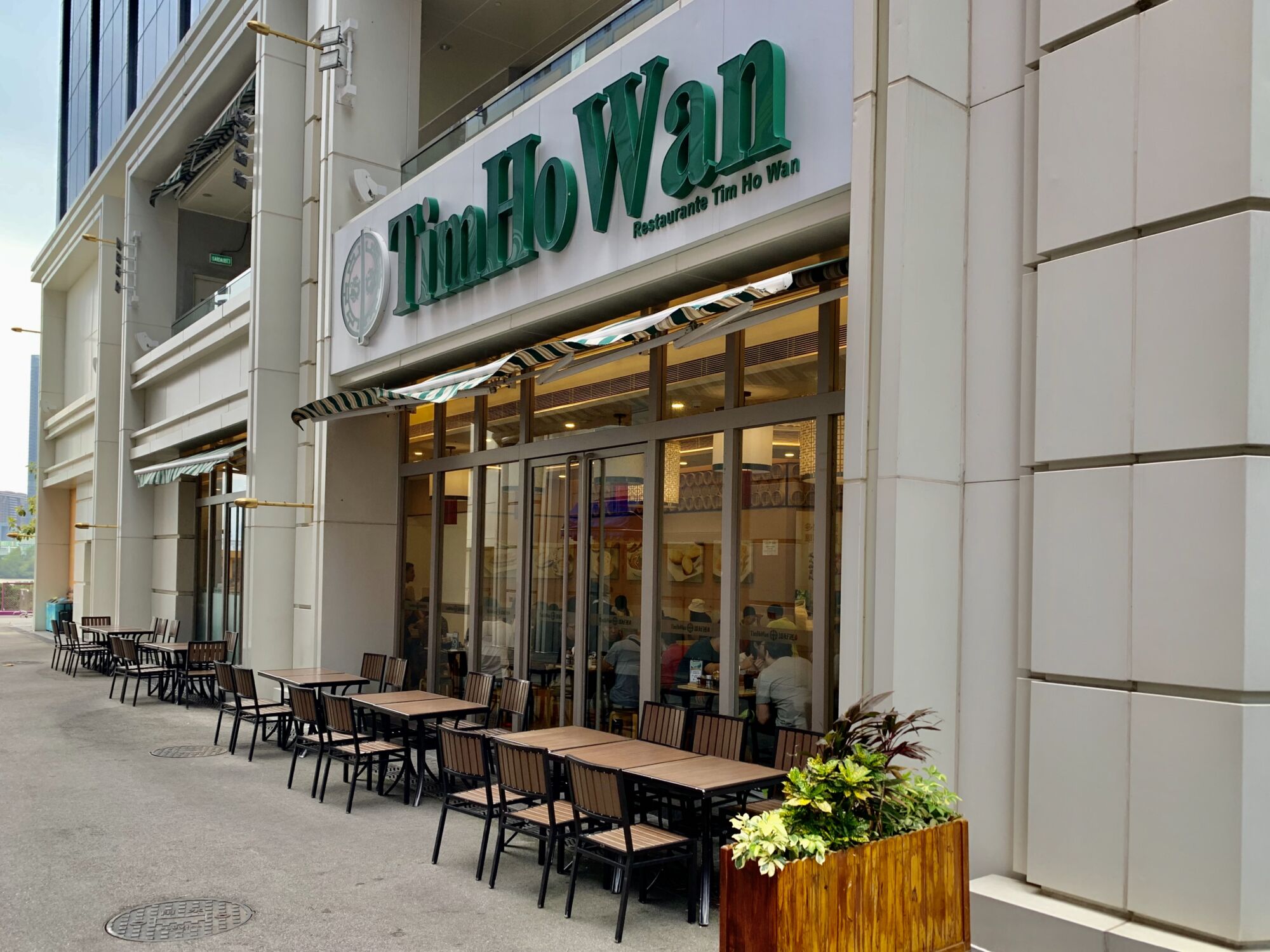 Tim Ho Wan (The Dim Sum Specialists) is known for having some of the best dim sum in town. Its Hong Kong shops have huge queues, but this one is usually quite calm, so here's your chance to have a bit of the best without having to wait for a long time. Wong Kun Sio Kung is a great choice for those looking for comfort food. They specialize in congee and noodles, great for wintertime! Experience fluffy, hot from the oven "char siu bao" with a crunchy top and creamy BBQ pork on the inside. Sounds delicious, right?
If Shanghainese Cuisine is what you are craving, Nan Xiang Steamed Bun Restaurant is your to-go spot. As a leading Shanghainese xiao long bao specialist since 1900, Nan Xiang's Steamed Pork Dumplings have a rich stuffing–perfectly paired with their own vinegar and shredded ginger. Its popularity has spread all over Asia, with branches in Japan, Korea, Singapore, Indonesia, Hong Kong, Malaysia, and more.
Sichuan delicacies are best served at Ba Shan Spicy Noodles, where you can get a perfect taste of traditional and spicy noodles from this province north of China! For the vegetarians out there, Ving Kei Tao Fu Min Sek specializes in tofu dishes. Signature specialties include their signature bean curd pudding, soybean milk, and bean curd soup noodles. The wildly popular store once sold more than 400 bowls of tofu desserts in a single day! To know more about their opening hours, contacts and full menu check their website here.
Thai Chiu is way underrated and deserves all the credit it can get. Located at the Food Street, it has some amazing traditional Thai dishes really worth trying. These include Thai Chiu Hainanese boneless chicken rice, Thai Chiu bitter pork shank rice, tom yum kung soup noodles, and more. It is a Michelin recommended restaurant in Hong Kong from 2011 to 2019 and serves an impressive range of authentic Thai cuisine.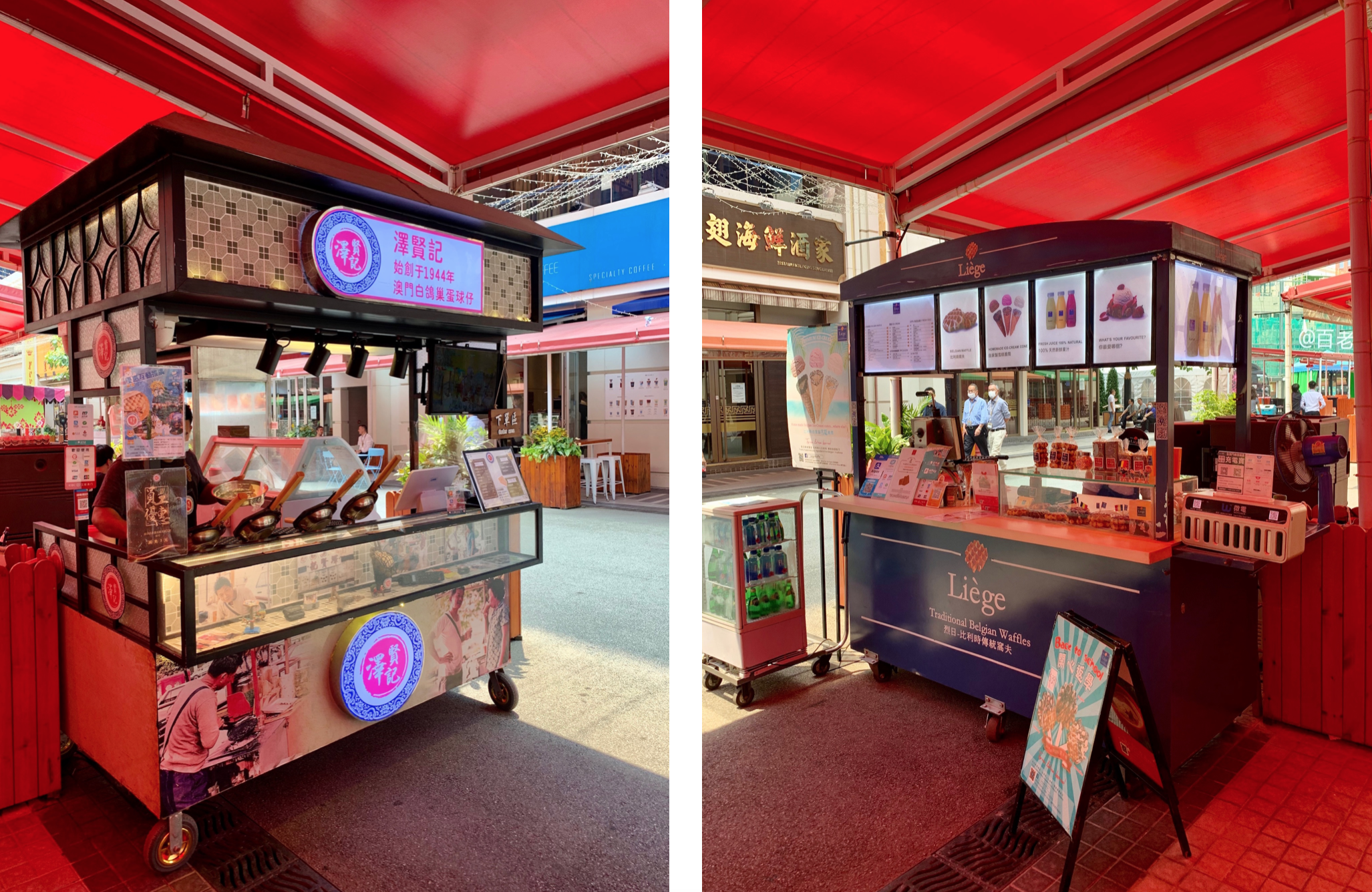 Desserts Galore
Liege Waffles are to die for, so don't leave Broadway Macau without experiencing their French-style fresh waffles! It's time for your dessert stomach to clock in because there are so many desserts here waiting for you to savor! From Thai Chui's mango sticky rice to famous Hong Kong sweets at Honeymoon Desserts, there are lots of options for you, your family, or your date to try. Leitaria I Son also has a branch there and it's the most convenient one to avoid the city center's chaos and traffic.
At the other end of Food Street stands DiGreen, a gelato shop with classic and also original flavors that vary according to the season, but usually include Vita Ice Lemon Tea. You can always go for a no-brainer: traditional Macau egg waffles or French-style ones at Liège; both are served at carts close to the entrance of Broadway Theatre. Have a seat and enjoy some good old traditional desserts before heading for a beer (or two) at Duffy's.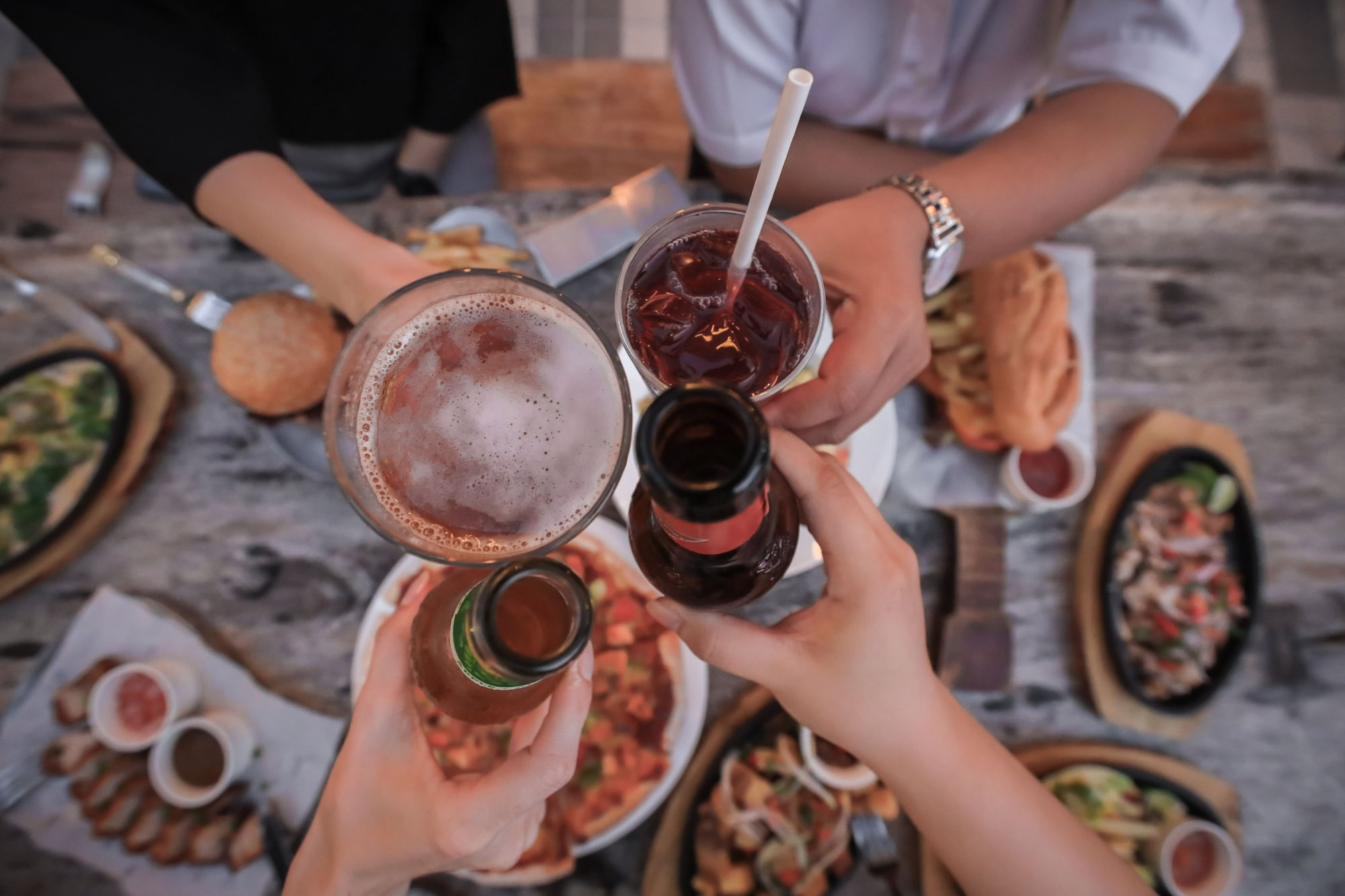 Live Music, Western bites and Drinks
The Roadhouse Macau serves exquisite food, mostly in large portions so people can share if they want. With a menu covering food from Mexico to the Phillipines, there is a lot to choose from! Let's not forget Duffy's wide array of beer and whiskey, like any other great Irish bar. The Roadhouse Macau even has some American-style dishes, such as BBQ ribs! However, this is not your everyday Western food stop; besides killing that craving for hamburgers and Tex-Mex, The Roadhouse Macau offers daily live music! Aside from its rock-style in-house band, it frequently hosts several concerts for foreign music groups. Rock, punk, soul, and acoustic are styles you might find here. Combine tourists, Cotai workers wanting to unwind, and music lovers who flock in every night–especially during the weekends–with great music and exquisite, uncomplicated food, the result is an Irish-style pub bar full of good vibes and a welcoming outdoor area!
Duffy's is clearly the next stop, featuring a wide selection of whiskeys and beers, it also has a strong Irish influence and invites everyone to sit outside, be it winter or summer. On cold days, warming lamps light the terrace and when the weather is warm, beer buckets are the wisest and best choice. Tired or too tipsy to get your car from the parking lot? No worries! Head back to The Roadhouse Macau and ask for a ride home. Boozemobile is free of charge, comfy, with lots of space for your buddies, and the safest option to get home.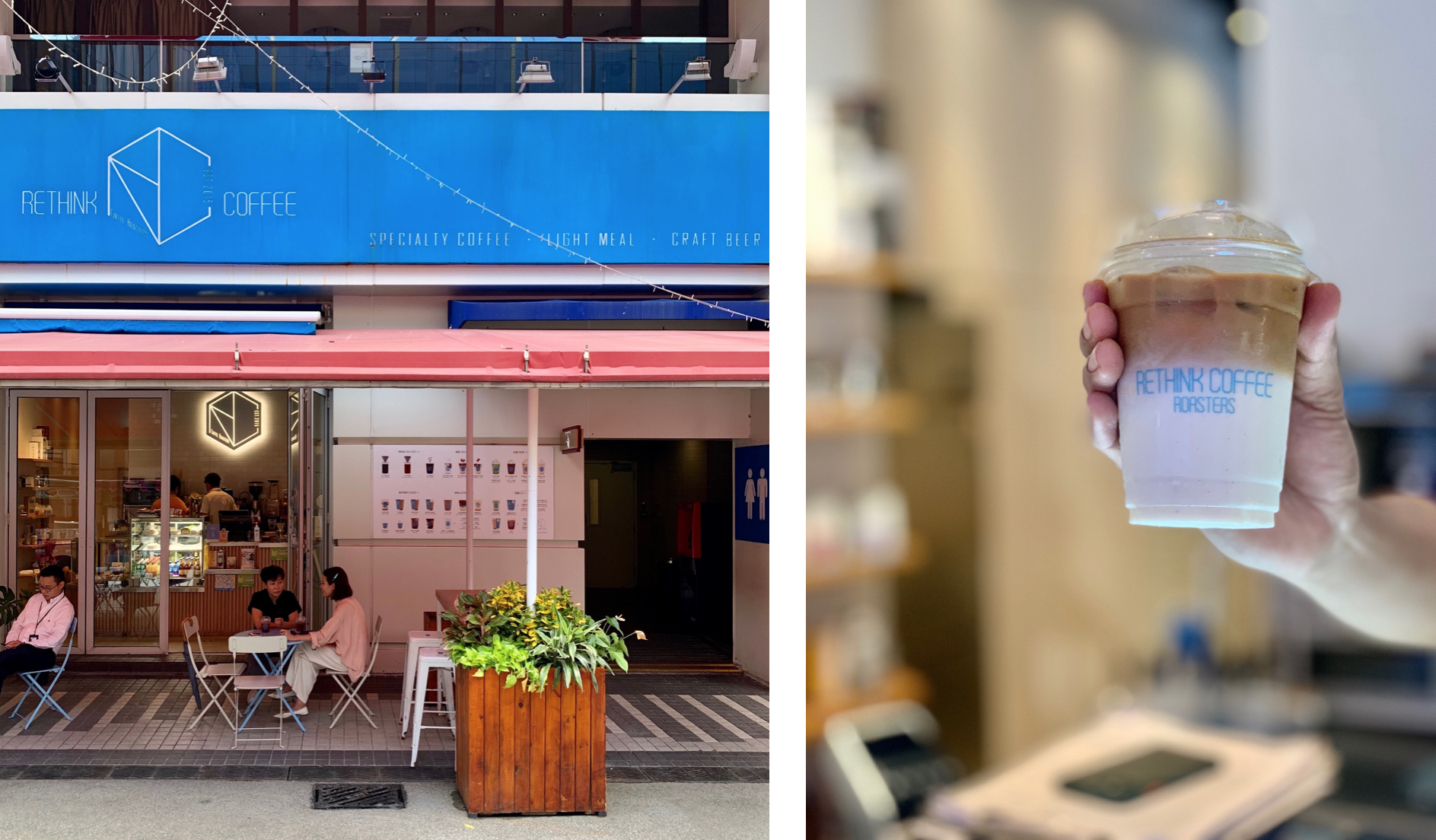 Rethink(ing) Coffee
One of Macau's most popular coffee brand has a shop at Broadway Macau's Food Street! At Rethink Coffee Roasters, you can grab a drink and rush back to the office, or chill for a moment at their outdoor seating area, specially designed for people who live relaxing to the feeling of a breeze. We love their Macanese latte–made with two types of milk and coffee, plus secret ingredients–but there's an array to choose from. Frappes and coffee-based drinks, juices, and teas, have it cold or hot, doesn't matter: quality is key here and that we can assure you. This is also one of the few spots in Broadway Macau where you can get good coffee.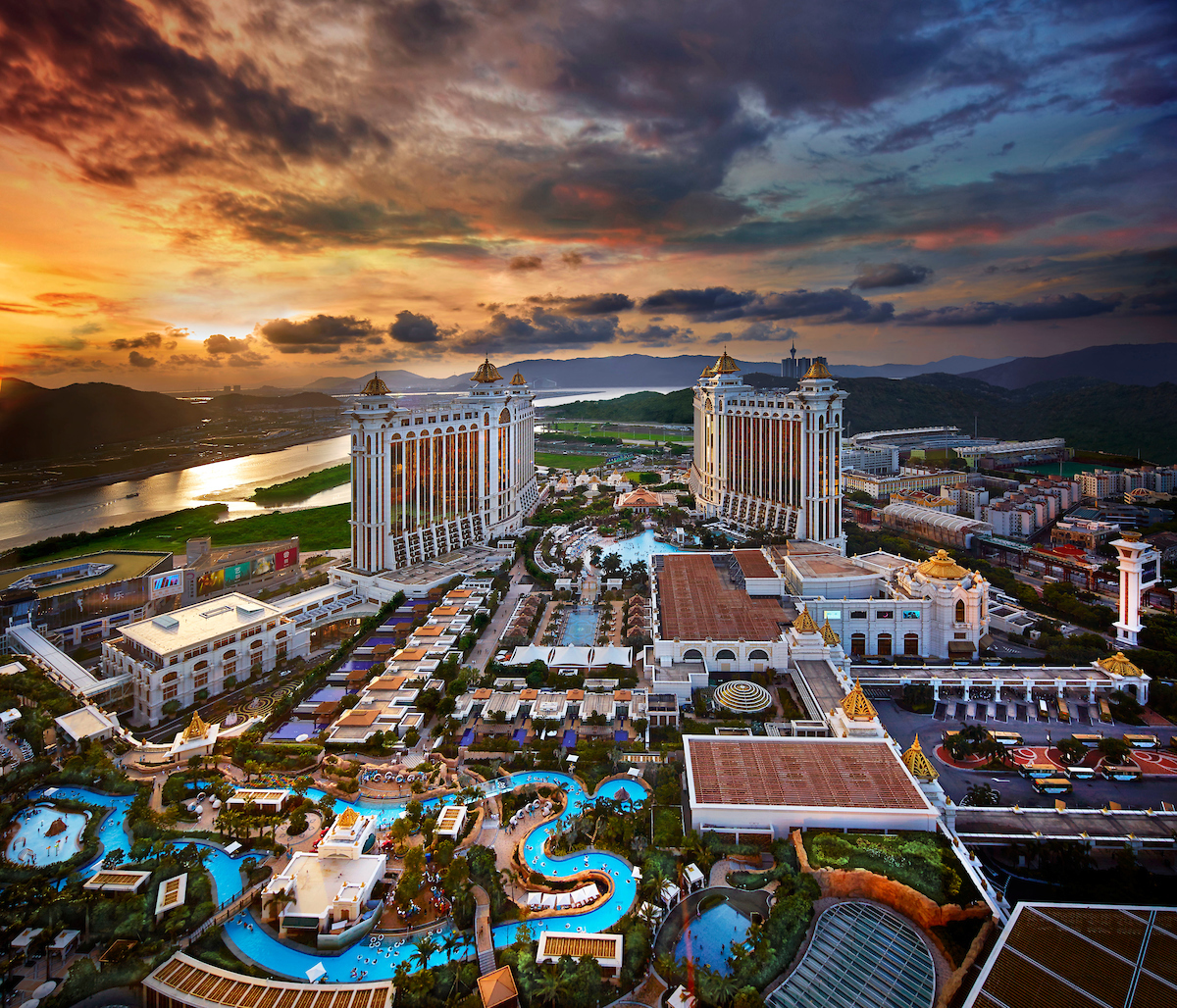 Where to Stay
You can choose to stay in a range of Galaxy Resort Macau hotels such as The Ritz-Carlton, Macau, Banyan Tree Macau, JW Marriott Hotel Macau, Hotel Okura Macau, Galaxy Hotel, or Broadway Hotel. The best thing about these hotels is that they are all connected by a walkway that you can stroll along to get to Broadway Macau. However, the Broadway Macau hotel is pleasurable, has good reviews, and keeps a simple, yet classy tone to it. In truth, one does not need to leave the premises to have lunch, dinner, a glass of wine, or even listen to a live music concert! See more of their rates here.
Contrary to some other hotel and casino resorts, Broadway Macau has convenience stores where you can buy medicine, shampoo, cigarettes, and snacks to enjoy. Circle K and Watson's are both located close to one of the Food Street's entrances while there are also several ATMs inside the building with MOP notes available, although most places accept credit and debit cards.
---
Broadway Macau Avenida Marginal Flor de Lótus, Cotai, +853 8883 3338, www.broadwaymacau.com.mo
Tags
Related Posts