Mooncakes are part of our rich tradition each year and Mid-Autumn Festival wouldn't be complete without this important part of the entire celebration. The act of gifting mooncakes has been embedded in history as a sign of appreciation. Through the years, different flavors, fillings, and crusts have emerged giving the classic mooncake a modern twist. We've compiled the most delicious mooncakes available in Macau along with the impressive boxes that will delight anyone who receives one as a thoughtful gift.
MANDARIN ORIENTAL, MACAU
(See featured image)
The elaborate designs certainly play an important role as much as the actual mooncakes during Mid-Autumn Festival. Encased in a sophisticated box that will immediately impress, Mandarin Oriental, Macau has taken their gift boxes to a different level this year. The pastel green mooncake box is inspired by the traditional Chinese door patterns where the box can be reused as a lantern if an electric candle is placed in it. It's priced at MOP $438. On the other hand, the limited-edition tiffin carrier is also ideal to be reused as a food takeaway container priced at MOP $588.
Exquisite flavors of the orient take the spotlight with homemade delicate mooncakes by The Mandarin Cake Shop. You'll find the silver lotus paste with double egg yolk, pandan paste with double egg yolk, five kernels with Yunnan ham, and this year's highlight, red bean paste and tangerine zest with double egg-yolk. The Oriental Treasure mooncakes will be available for collection at The Mandarin Cake Shop on August 25 until 1 October 1, 2020.
Mandarin Oriental, Macau 945 Avenida Dr. Sun Yat Sen, Nape, Macau, +853 8805 8888, www.mandarinoriental.com/macau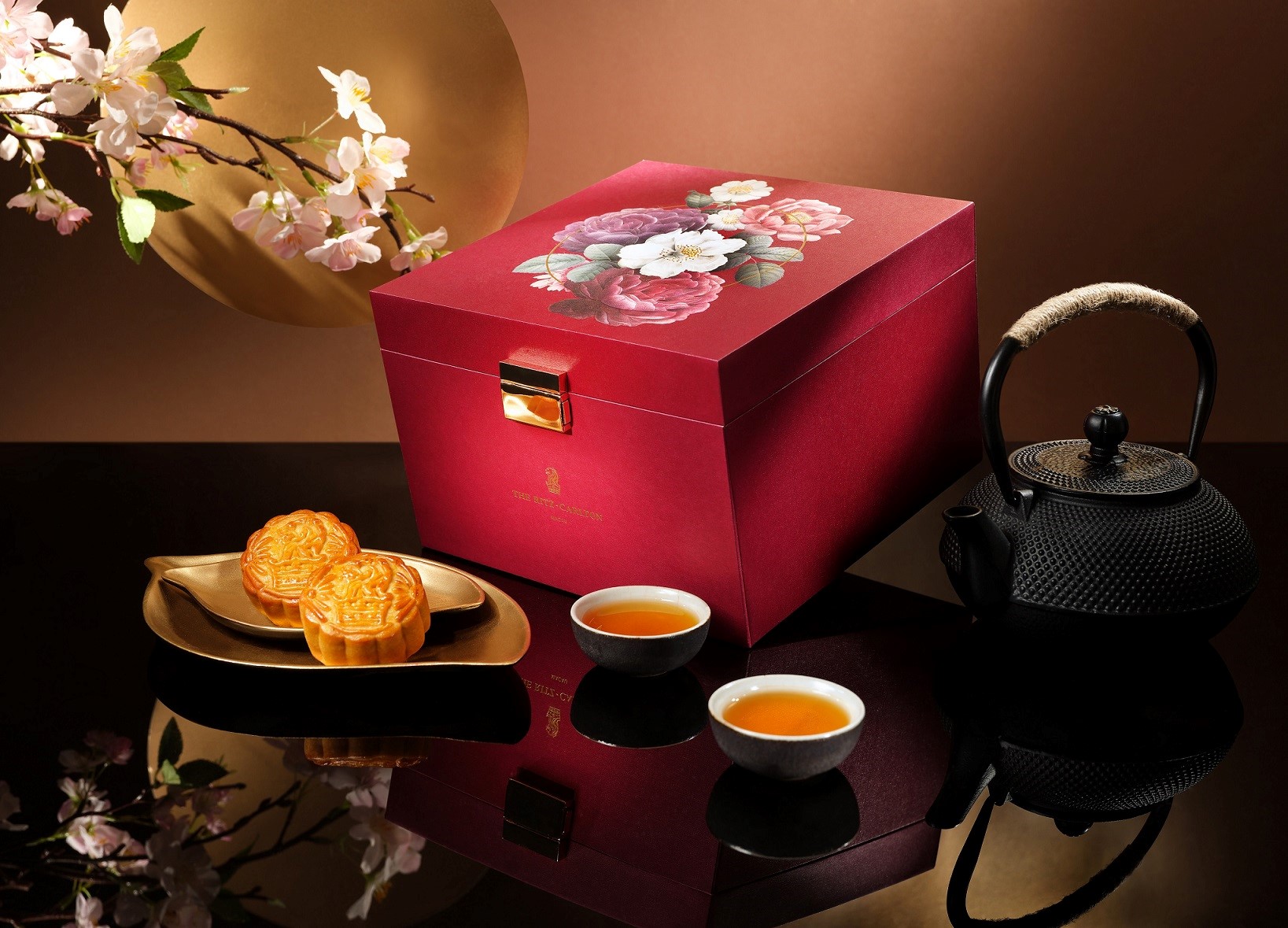 The Ritz-Carlton, Macau
Looking for something that never goes out of style? The Ritz-Carlton, Macau is the place to go when looking for something classic from the box to the mooncakes. The premium Autumn Moon Treasure Box is the perfect gift and features eight pieces of mini egg custard mooncake. The glorious box is decorated with full-bloomed peony flowers, symbolizing elegance, wealth, and prosperity. It's priced at MOP $598 per box. You can still enjoy 20% off if purchased from August 16 to 31, 2020. The Autumn Moon Treasure Box can be redeemed from August 15 to October 1, 2020, at The Ritz-Carlton Café on the ground floor of The Ritz-Carlton, Macau.
The Ritz-Carlton, Macau Galaxy Macau, Estrada da Baia da Nossa Senhora da Esperanca, Cotai, +853 8886 6868, www.ritzcarlton.com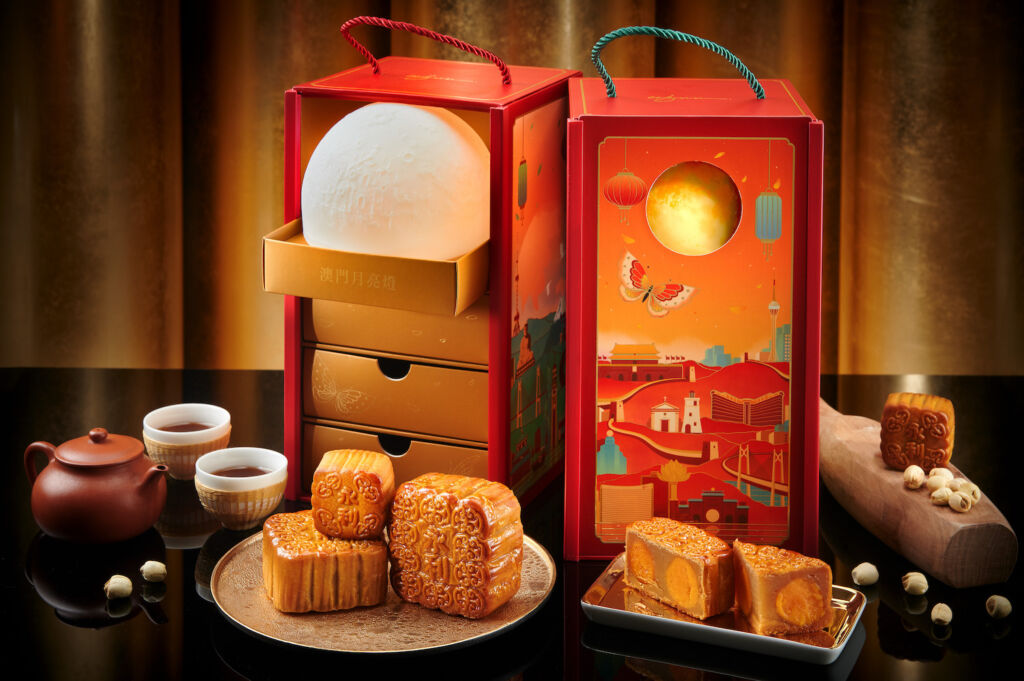 WYNN MACAU & WYNN PALACE
Taking part in the celebration, Wynn Macau and Wynn Palace are offering the traditionally popular mooncakes that should be a staple in every household. The flavors include the four-yolk white lotus seed paste mooncakes; double-yolk white lotus seed paste mooncakes and the egg yolk white lotus seed paste mini mooncakes. Made from ingredients of the highest quality, each mooncake combines the sweet flavors of white lotus paste with savory egg yolk. To purchase mooncakes or gift vouchers, please visit Wing Lei restaurant at Wynn Macau between 11:00am and 10:00pm or Sweets at Wynn Palace from 11:00am to 10:00pm. Wynn presents the following traditional mooncake gift boxes: four-yolk white lotus seed paste mooncakes priced at MOP $498 and the double-yolk white lotus seed paste mooncakes priced at MOP $468. The egg yolk white lotus seed paste mini mooncakes are comprised of six pieces and priced at MOP $368.
Wynn Palace Avenida Da Nave Desportiva, Cotai,+853 8889 3228, www.wynnpalace.com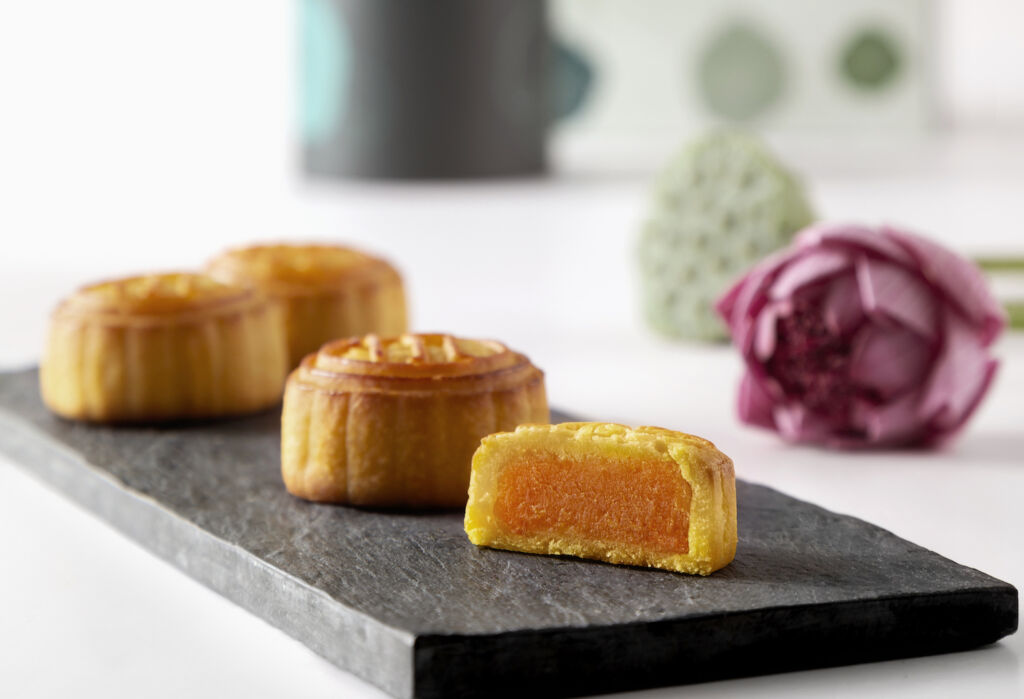 Grand Hyatt Macau
Simple and yet satisfying, mooncakes at Grand Hyatt Macau are perfect for everyone in the family. This Mid-Autumn Festival, you'll find Grand Hyatt Macau's exquisite mooncake gift box, "Lua de Lótus" the perfect solution to your gifting list.  The ingredients have been meticulously selected with silk-smooth custard fillings. The egg custard mooncakes taste like heaven with every bite. If you order before August 31, you can still enjoy a 30% discount. The original price is MOP $488 per box. If you purchase 51 boxes or more, you can also avail of special prices so get in touch with their team.
Grand Hyatt Macau City of Dreams, Estrada do Istmo, Cotai, +853 8868 1908, www.hyatt.com/en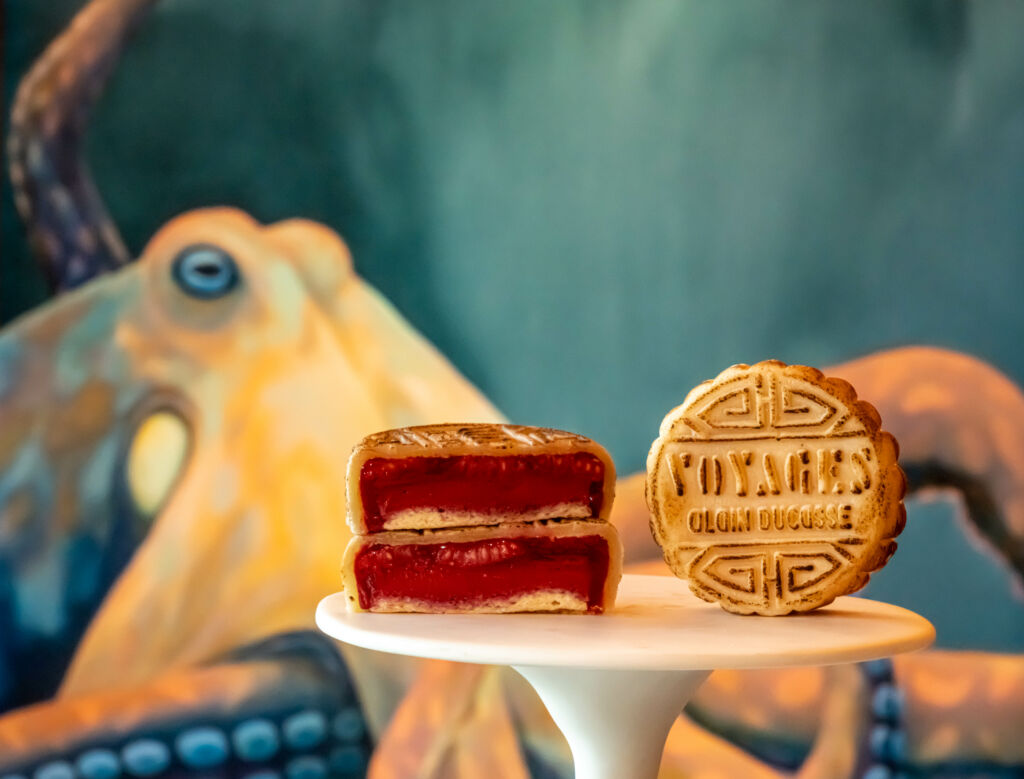 Voyages by Alain Ducasse
A touch of French on the usual mooncakes can be found at Voyages by Alain Ducasse. This restaurant is already popular for fine French food in Macau. This Mid-Autumn Festival, they have launched a limited-edition ice cream mooncake to pay homage to the vibrant culture and history celebrated in Asia. Made of seasonal berries, homemade berries sorbet, and almond paste, the ice cream mooncake is available from mid-September to October 1, 2020. It's available for dine-in only and priced at MOP $108 each. Give this unique mooncake a try with your loved ones!
Voyages by Alain Ducasse City of Dreams Macau, Estrada do Istmo, Cotai, +853 8868 6688, www.cityofdreamsmacau.com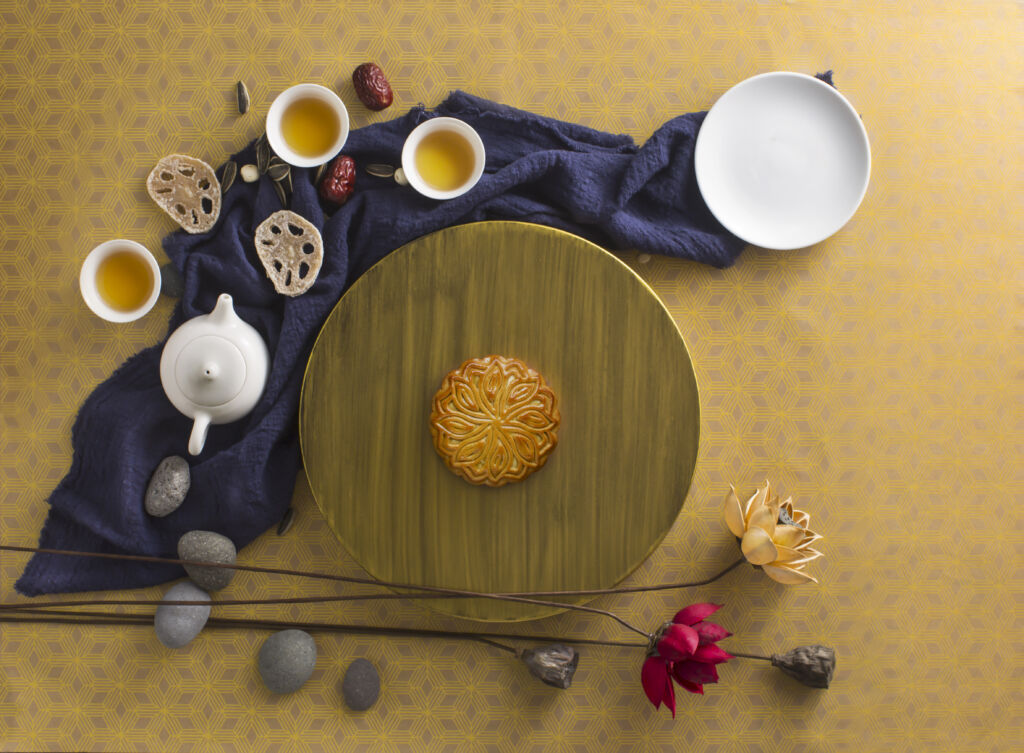 Grand Lapa, Macau and Grand Coloane Resort
Every year, Grand Lapa, Macau and Grand Coloane Resort join forces to present an amazing treat in the form of mooncake boxes. Surprise your family and friends with the Golden mooncake for Golden Autumn. Reflecting on the pride of Macau's culture and blessings, you'll find the lotus flower in full bloom along with the fishing boat and other symbols of the SAR's glorious history. You will also find Grand Lapa, Macau's iconic resort façade as well as elements of nature at the Grand Coloane Resort incorporated in the packaging. You'll fall in love with two savory flavors on offer. Choose from the traditional white lotus seed paste mooncake with two yolks and tasty coffee mung bean paste mooncake with two yolks. Guests who order before September 13 will get 25% off as early bird discounts.
Grand Lapa, Macau Avenida de Amizade, Macau, +853 2856 7888, www.grandlapa.com
Grand Coloane Resort 1918 Estrada de Hac Sa, Coloane, +853 8899 1127, www.grandcoloane.com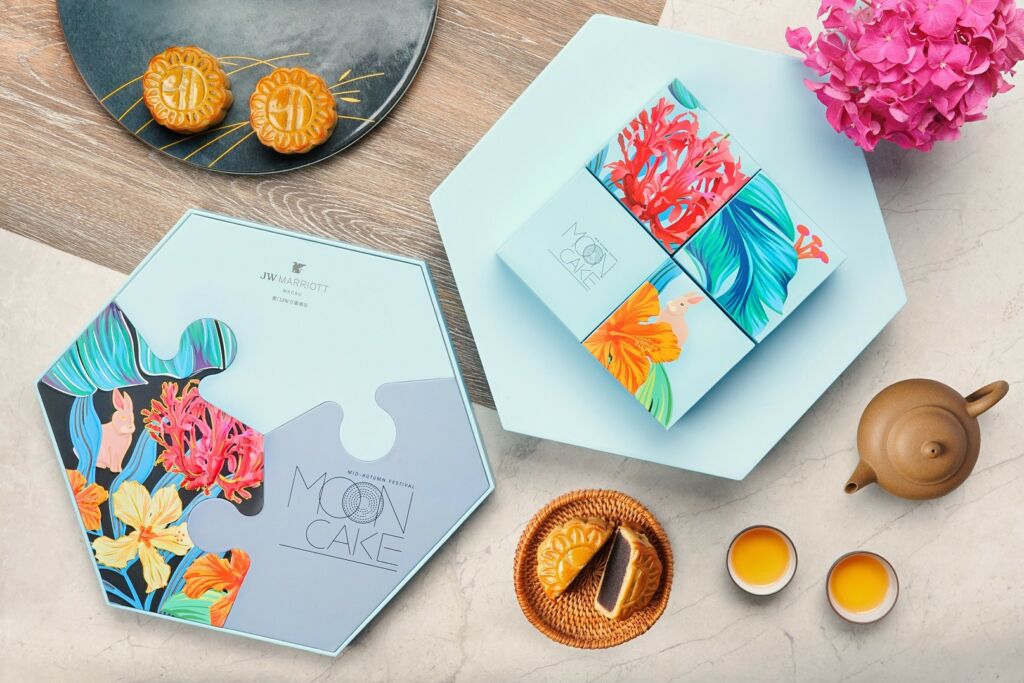 JW Marriott Hotel Macau
Add some color to your Mid-Autumn Festival celebration with a beautiful mooncake gift box from JW Marriott Hotel Macau. Designed with a secret garden theme and carries mooncakes infused with traditional ingredients, these sumptuous mooncakes will captivate your tastebuds. From the red bean paste mooncake to the enticing black sesame paste mooncake, and the healthy choice of purple sweet potato mooncake, it's priced at MOP $358 per set. Each set contains six pieces of mooncake, two of each of the three different flavors, that are sure to be well-loved by all. You can enjoy the price of MOP $308 per box if you purchase them from August 15 to September 25, 2020. Guests who spend MOP $500 or above at any restaurant of JW Marriott Hotel Macau can enjoy a special offer of MOP $238 per box between July 13 and August 31, 2020, limited to four boxes per transaction. The Mid-Autumn Mooncake Gift Box is now available at Man Ho Chinese restaurant. Redemption dates are September 1 to October 1, 2020.
JW Marriott Hotel Macau Galaxy Macau, Estrada da Baía da Nossa Senhora da Esperança, s/n, Cotai, +853 8886 6228, www.marriott.com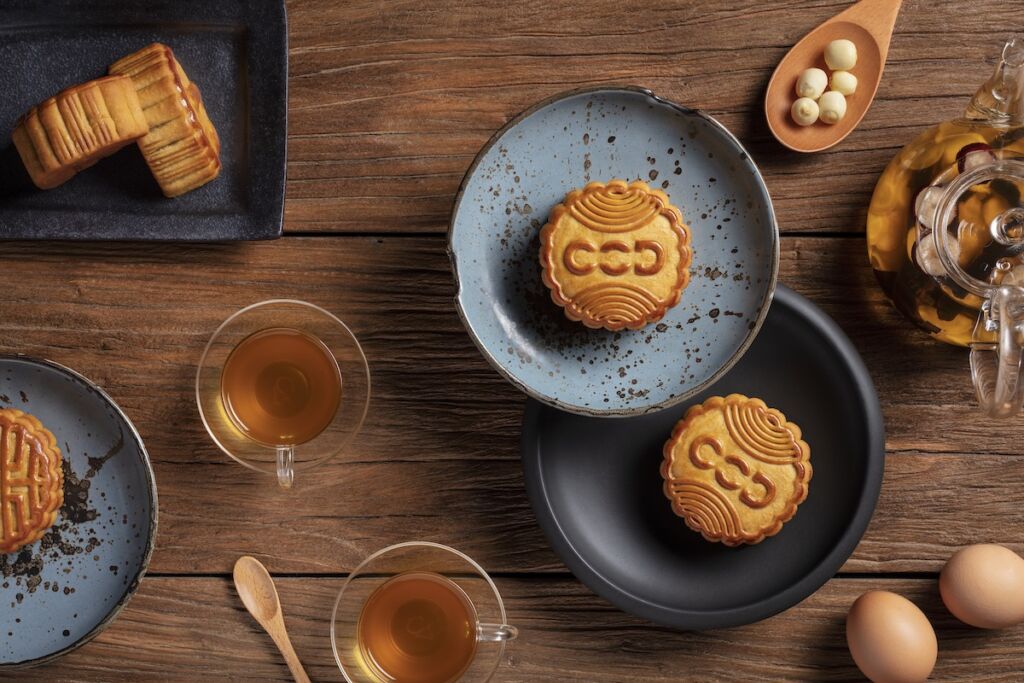 City of Dreams
These delectable delicacies at City of Dreams will send you over the moon, figuratively speaking. Serving as an inspiration, the moon gets a new interpretation in this year's mooncake gift set. Designed with geometric shapes to give the symbol of harmony a sense of vibrancy, guests will adore the four delicious double yolk lotus seed paste mooncakes inside the boxes. It is the most thoughtful gift for loved ones this time of the year. You can also enjoy discounts when purchasing 10 boxes or more from September 1 to October 1, 2020. The white lotus seed paste mooncakes with two yolks are priced at MOP $348 per box of four pieces. You can place your order and redeem at Golden Pavilion, Level 1 of City of Dreams.
City of Dreams Estrada do Istmo, Cotai, Macau, +853 8868 6688, www.cityofdreamsmacau.com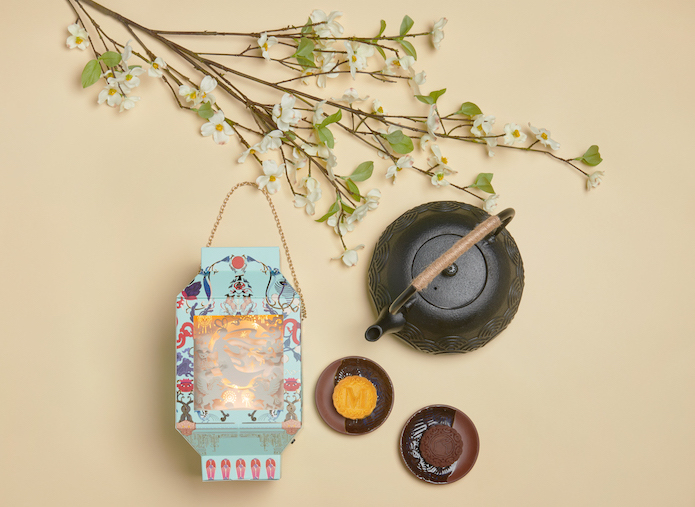 LADY M
A true blend of old and new, Lady M's Over the Moon Mooncake Lantern epitomizes the best about the Mid-Autumn Festival. In collaboration with Netflix, each gold and jade lantern features intricate, laser-cut imagery of characters and scenes from the film, showcased with an interactive illumination effect. The lanterns open to unveil a collection of six individually-wrapped Lady M mooncakes in two flavors: sweet egg custard stamped with the classic Lady M logo and chocolate custard stamped with an image of the mythical moon rabbit. The round shape of the mooncake represents a joyous symbol of union and harmony, and each lantern includes three of each mooncake flavor. You'll love the gift bag packaging complete with a greeting card, instruction card, and envelope. Lady M's collectible Mooncake Lantern is an unforgettable gift to give and receive.
The Lady M Over The Moon is priced at HKD $528. It can be redeemed from September 2 to October 4, 2020.
Lady M New York Sands Cotai Central Shop 2203b, Level 2, Shoppes at Cotai Central
Lady M New York at The Venetian Macao K02, Grand Canal Street, Level 3, Shoppes at The Venetian Macao, Estrada da Baia de Nossa Senhora da Esperança, Cotai, www.ladymhk.com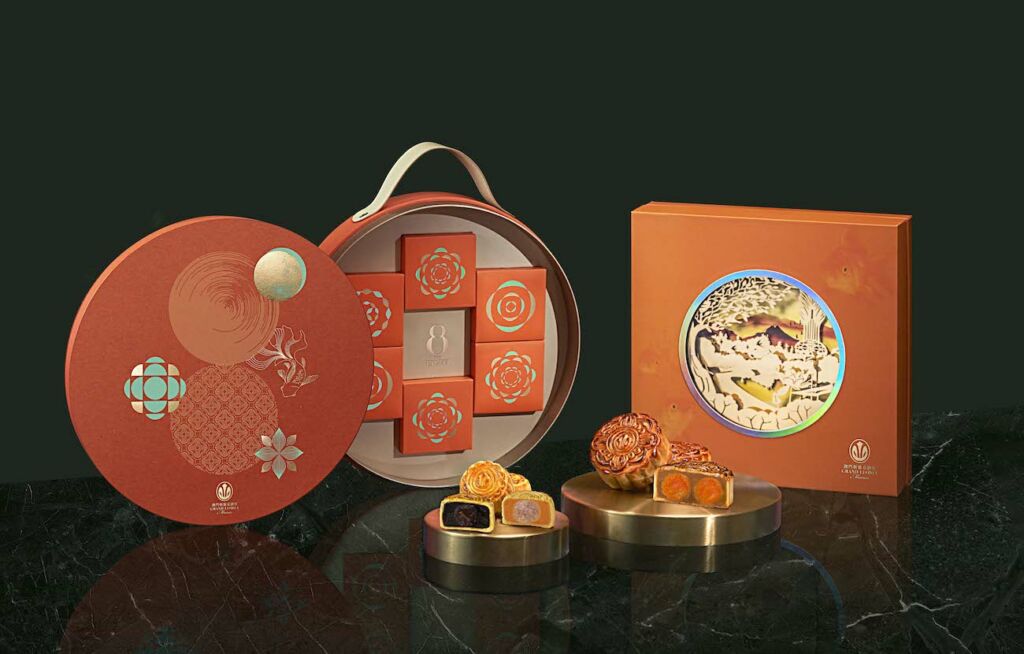 GRAND LISBOA HOTEL
Grand Lisboa Hotel's Michelin-starred restaurant The 8 has crafted a variety of exquisite home-made mooncakes. With luxurious packaging and intricate ingredients, Chef Yah Wah Fai and his team of dim sum chefs have created a masterpiece in The 8 Mooncake with double egg yolk and lotus seed paste. Made from the hotel's time-honored recipe, it echoes the importance of tradition within the family. The 8 is also introducing two new varieties of home-made mini mooncakes: bird's nest and custard mini mooncake and tangerine peel and red bean mini mooncake. Talented local Macau designer, Kenneth Ho has been invited by Grand Lisboa Hotel to create this year's mooncake gift boxes. He incorporated symbols of health and vitality to the design, a much-needed inspiration this time of the year.
Gift vouchers are available for sale at Hotel Lobby Hamper House now, and the mooncakes will be ready for collection between September 1 and October 1, 2020, at the hotel lobby Hamper House or Round-The-Clock Coffee Shop. The four-piece Double Egg Yolk and Lotus Seed Paste Mooncakes are priced at MOP $498 per box. The six-piece Bird's Nest and Custard Mini Mooncakes and the six-piece Tangerine Peel and Red Bean Mini Mooncakes are priced at MOP $410 per box.  Guests who make purchases using ICBC cards or pay by cash will receive a 15% discount on the mooncakes and Mid-Autumn Festival items.
Grand Lisboa Hotel Avenida de Lisboa, Macau, +853 2828 3838, www.grandlisboa.com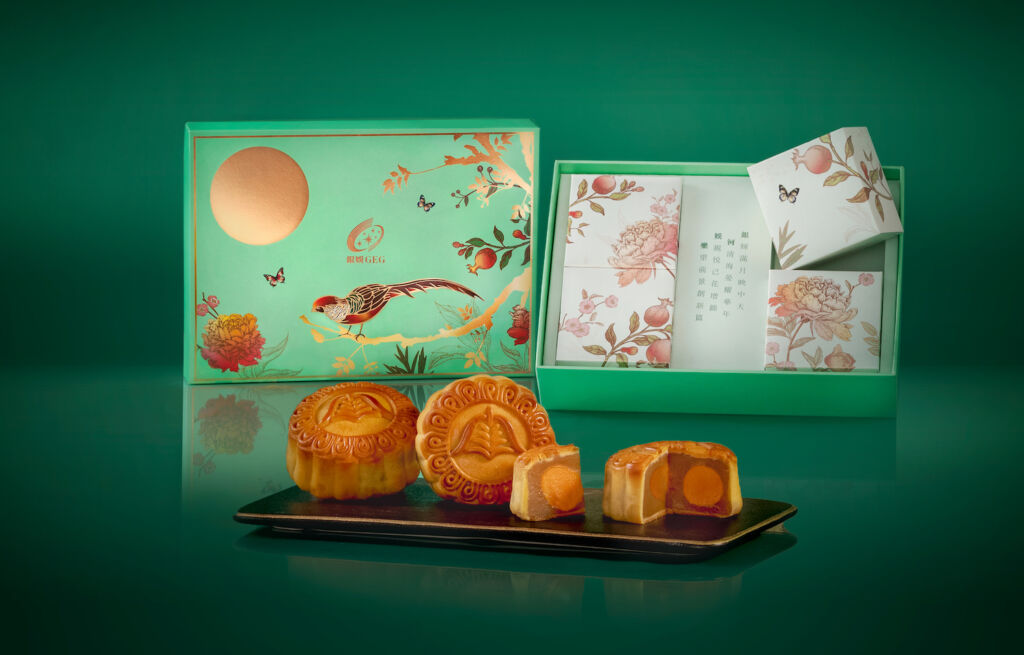 Galaxy Macau
Enjoy the timeless treat of mooncakes with the Galaxy Royal Mooncakes. The elegant packaging is already pleasing to the eyes making it a great gift for family members, friends, and business associates. The classic selection delivers a delicious medley of sweet and savory flavors by combining smooth lotus seed paste and double salted egg yolks. You'll find the white lotus seed puree with double salted egg yolk mooncakes priced at MOP $348 for four pieces. You can still avail of the early bird offer of 15% off if you purchase on or before September 15, 2020. Head to the redemption location at Taste of Asia Mooncake Counter, Galaxy Macau. The mooncakes are available from August 30 to September 30, 2020.
Galaxy Macau Estrada da Baía de Nossa Senhora da Esperança, Galaxy Macau, Cotai, +853 2888 0888, www.galaxymacau.com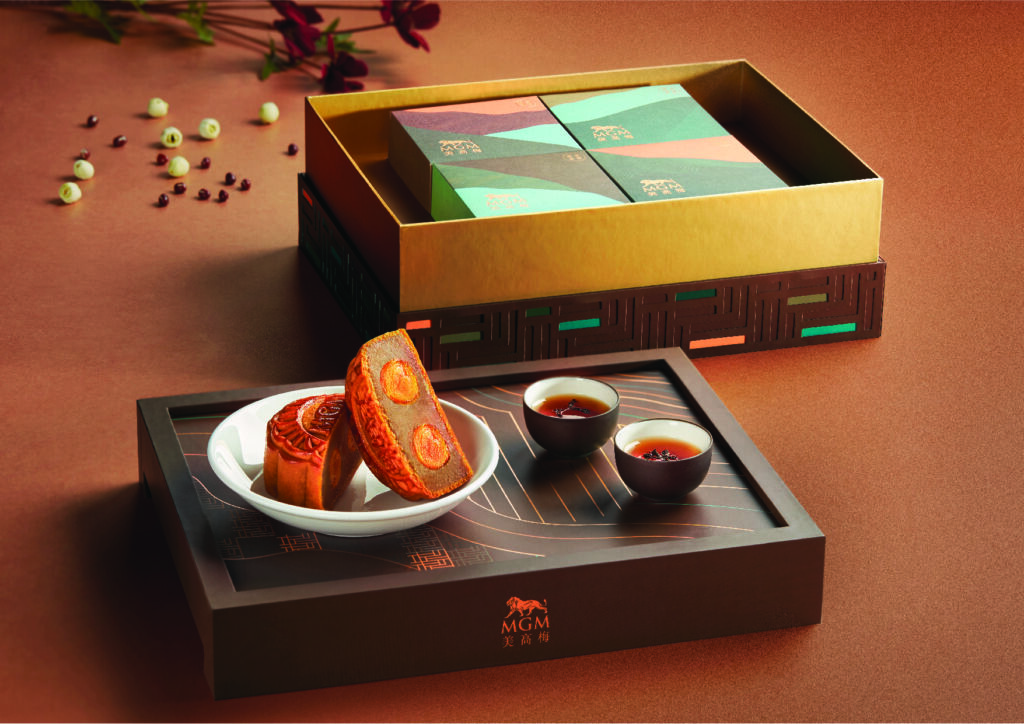 MGM Macau & MGM Cotai
This season is all about coming together in peace and harmony. A much-needed reunion with our loved ones and relatives will help make the Mid-Autumn Festival a meaningful celebration. The Moonlight Reunion mooncake gift box of MGM is one of the best when it comes presents. Exuding features of traditional festive elements with a contemporary touch, you'll love the box cover that's actually been designed to be used as a traditional Chinese tea tray. It's perfect for serving festive delights and Chinese teas with family and friends. Choose between the classic four-piece white lotus seed paste double egg yolk mooncake gift box or the six-piece mini egg custard mooncake gift box. Vouchers for mooncake gift boxes are priced at MOP $480 per box and are available for purchase from now until September 30, 2020. It's so convenient to get it from Pastry Bar, Imperial Court and Square Eight at MGM Macau, as well as at Hao Guo, Chún and Five Foot Road at MGM COTAI.
MGM Cotai Macau Ave. Da Nave Desportiva, Cotai, Macau +853 8806 2318, www.mgm.mo
MGM Macau Vista, Avenida Dr. Sun Yat Sen, NAPE, +853 8802 3838, www.mgm.mo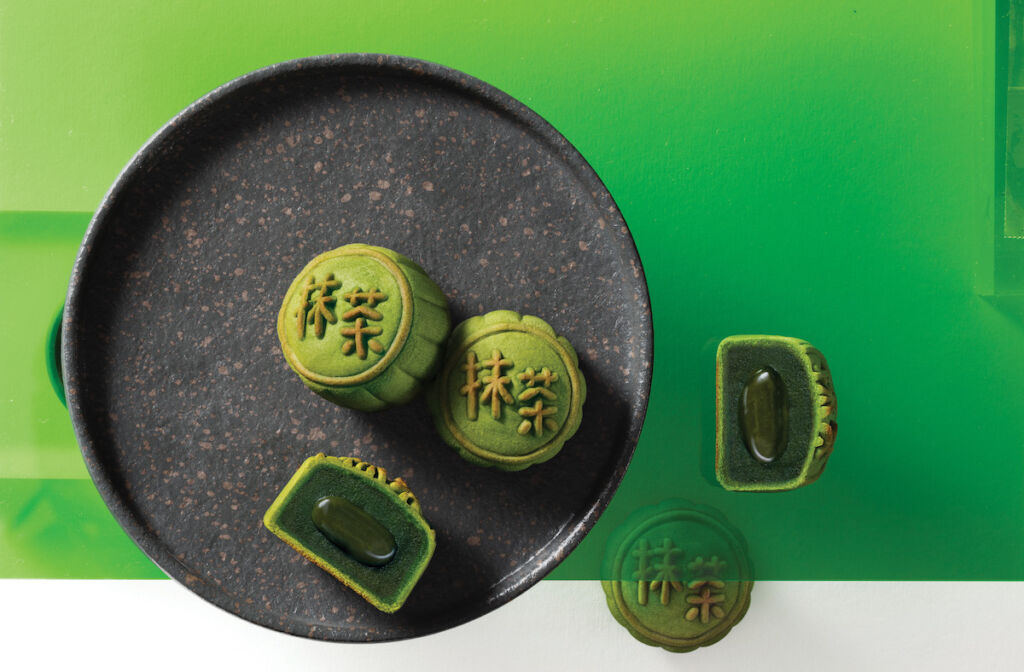 Arome Bakery
It's the time of the year to reconnect with relatives and friends and most importantly to share a box of mooncakes. Arome Bakery is a one-stop-shop for customers having created various flavors of mooncakes to suit different palates. Not only is it affordable, but you'll also find a unique twist in the form of Japan-sourced ingredients giving a modern take on the traditional festive pastry. One of the best sellers and our personal favorite is the Arome Bakery's Lava Matcha Mooncake. It is created with 100% handpicked Kyoto Uji Matcha with a luscious aroma and enticing lava filling fresh from the oven. It comes in a lovely packaging priced at MOP $295 per box with six pieces of mooncakes. Watch out for special prices on offer including an HSBC 40% discount and you can get a box for only MOP $177.
Arome Bakery products are available at PARKnSHOP outlets in Macau and Hong Kong.
ParknShop Flower City (Edificio Lei Tou), 181 R. de Évora, Taipa, +853 2884 0161, www.parknshop.com
Tags
Related Posts