Are there better ways to spend an evening than unwinding with good friends, chilling out with a few drinks, and enjoying great music? We doubt that! In Macau, there are plenty of places to listen to live music. Choose which performers and genres hit the home run for you. Here are some spots where you can listen to awesome live music in Macau that caters to just about any taste on most evenings of the week.
LIVE MUSIC ASSOCIATION (LMA)
(See featured image above)
Commonly known as LMA by live music lovers, the Live Music Association is a small concert and gig venue in one of Macau's oldest districts. LMA has changed venues several times over the years, finally settling in the current location where they have stayed for some time now. The good thing with this spot is that you never know what's coming next! They usually announce future concerts on their Facebook page, but there is always something different. From jazz to electronic duos, punk rock series or jam sessions, LMA has it all. If you are looking for some more underground and off-the-beaten-track action, this is the place to be. Be careful not to miss it, since the venue is on an industrial building's upper floor and the entrance can be easily mistaken for an abandoned factory. They also serve drinks!
When: Depends on the schedule 
Live Music Association 11B San Mei Industrial Building, 50 Avenida do Coronel Mesquita, Macau

The St. Regis Bar Macao 
The classy bar at The St. Regis Macao has gained popularity among the sophisticated Macau crowd even before its official opening. What's there not to like? Stunning design inspired by New York's golden era, comfortable plush armchairs, curated art collection, and exquisite bar bites accompanied by original cocktails will satisfy even the most capricious visitors. While elegant waiters slip between tables, accomodating guests, the main action happens on the art deco stage. From Wednesday to Sunday, a talented jazz band entertains the bar's audience with familiar tunes. The soloists are Jandira Silva with a soothing voice and striking charisma, fabulous and elegant Yaya Lam. Aaron Lo accompanies them with his deep baritone at the piano.  
When: Wednesday–Sunday, 6:30pm–late
The St. Regis Bar Macao 2F, The St. Regis Macao, The Londoner Macao, Estrada do Istmo, s/n, Cotai, +853 2882 8898, www.thestregisbarmacao.com
Also read: The St. Regis Bar Macao: The Hottest Spot in Town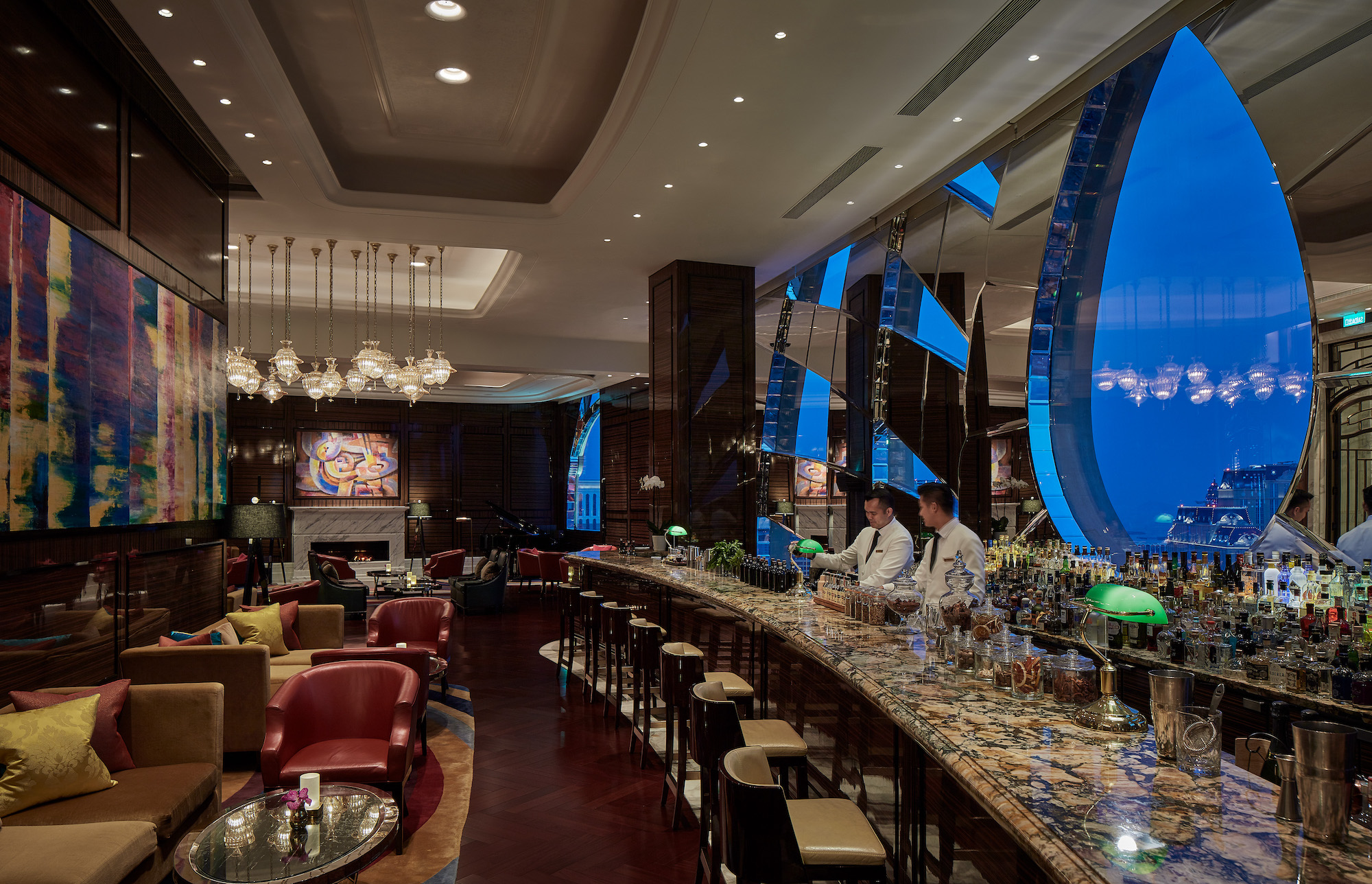 THE RITZ-CARLTON BAR & LOUNGE
With its chic atmosphere, this fabulous bar is perfect for music lovers, particularly those who love jazz and pop. Enjoy your drink as the singer's sultry voice fills the room, accompanied by the smooth notes of instrumental music. It all adds up to one sophisticated night out. Live performances entertain guests every Friday to Saturday from 8:00pm to midnight. 
Notably, The Ritz-Carlton Bar & Lounge offers the most extensive gin menu with all types and brands you can imagine, from the most trendy and common to some incredibly rare bottles. The team is full of suggestions and tips to make your cocktail perfect. Opposite the bar, there's a cigar shop with a smoking lounge, so don't worry if you're thinking the 51st floor is too far to head outside for a smoke as you can still sip on your drink and smoke in the lounge.
When: Friday–Saturday, 8:00pm–12:00am 
The Ritz-Carlton Bar and Lounge 51st Floor, The Ritz-Carlton Macau, Galaxy Macau +853 8886 6868, www.ritzcarlton.com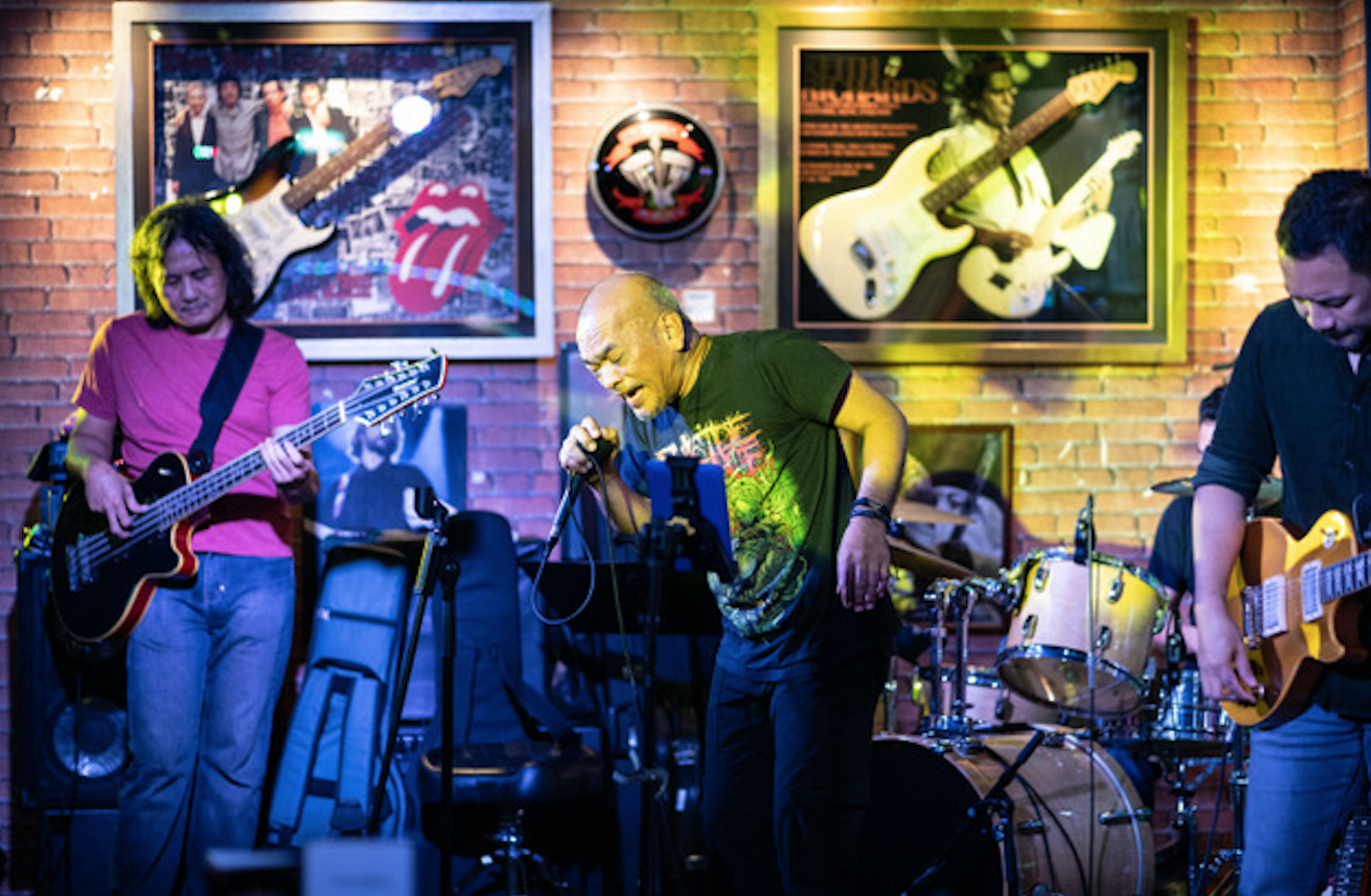 THE ROADHOUSE MACAU
Who's ready for some good old blues, rock, and booze? Check out the Roadhouse Macau to roll with musicians and prepare to be blown away. Come as you are and let your hair loose as you indulge in heaping portions of food and get carried away with their happy hour, but most importantly, tire yourself out by singing and grooving with the music! They serve all types of snacks such as chicken wings, French fries, and hamburgers. There's also a wide selection of beers and other drinks. Head to Roadhouse if you are looking for some local musician jams and comfort food. And the best thing about it? There's an alfresco area as well!
The Roadhouse Macau Broadway Macau, Avenida Marginal Flor de Lotus, Cotai, +853 2875 2945, www.facebook.com/theroadhousemacau

Paulaner Wirtshaus Macau 
Where to sing along to live tunes in Taipa Village? Try its new German beer garden with a live performance of Star Duo. Star Duo is a collaboration of a well-known artist in Macau with a vast experience of live gigs all around Asia, Allen Harris, and a Taiwanese female singer Rika who has been singing for more than 15 years in Taiwan, Macau, and China. Together they entertain guests with covers of Modern Jazz, Blues, Reggae, R&B, Top 40s, Rock, and Oldies. Allen's stage presence and guitar skills will blow your mind, while Rika's classic ballads and love songs will make you forget the world set a romantic atmosphere.
Paulaner Wirtshaus Macau 41–43 Rua dos Negociantes, Taipa Village, +853 2838 1038, www.paulaner-wirtshaus-macau.com
This article was originally written by Nisa Reyta in January 2017, updated by Leonor Sá Machado in December 2018 and by Ksenia Kuzmina in April 2021.
Tags