Bowling is an interestingly exciting fun sport, especially if you're competitive and your goal is 10 strikes in a row! Here, we show you where and when to play bowling in Macau. Although there are few places to do so, they are all pretty awesome, each with its own vibe. Plan a day of absolute fun with your friends and family and make it a mini-competition between you guys!
Future Bright Amusement Park
(See featured image above)
Nestled in a local Macau neighborhood in the peninsula, this amusement center has everything one needs for a fun afternoon! Kids will surely love it, but adults can also go down memory lane by going ice skating, hand in hand. With a vintage vibe all over the place, the bowling center lends guests some proper bowling shoes and has several lanes for all to play without feeling crowded. With ambient music and neon lights, one is surely in for a great time! Students and VIP card holders can enjoy a 20% discount on the price!
How much: Monday–Friday (before 5:00pm) – MOP $25 per game or MOP $160 per hour, (after 5:00pm) – MOP $34 per game or MOP $220 per hour; Saturday, Sunday and public holidays – MOP $38 per game or MOP $250 per hour; Bowling shoes rental – MOP $6 a pair
Opening hours: Daily, 10:00am–1:00am
Future Bright Amusement Park 17-29 Praça de Luís de Camões, Lai Hou Building, Macau, +853 2870 1166, www.futurebrightgroup.com.mo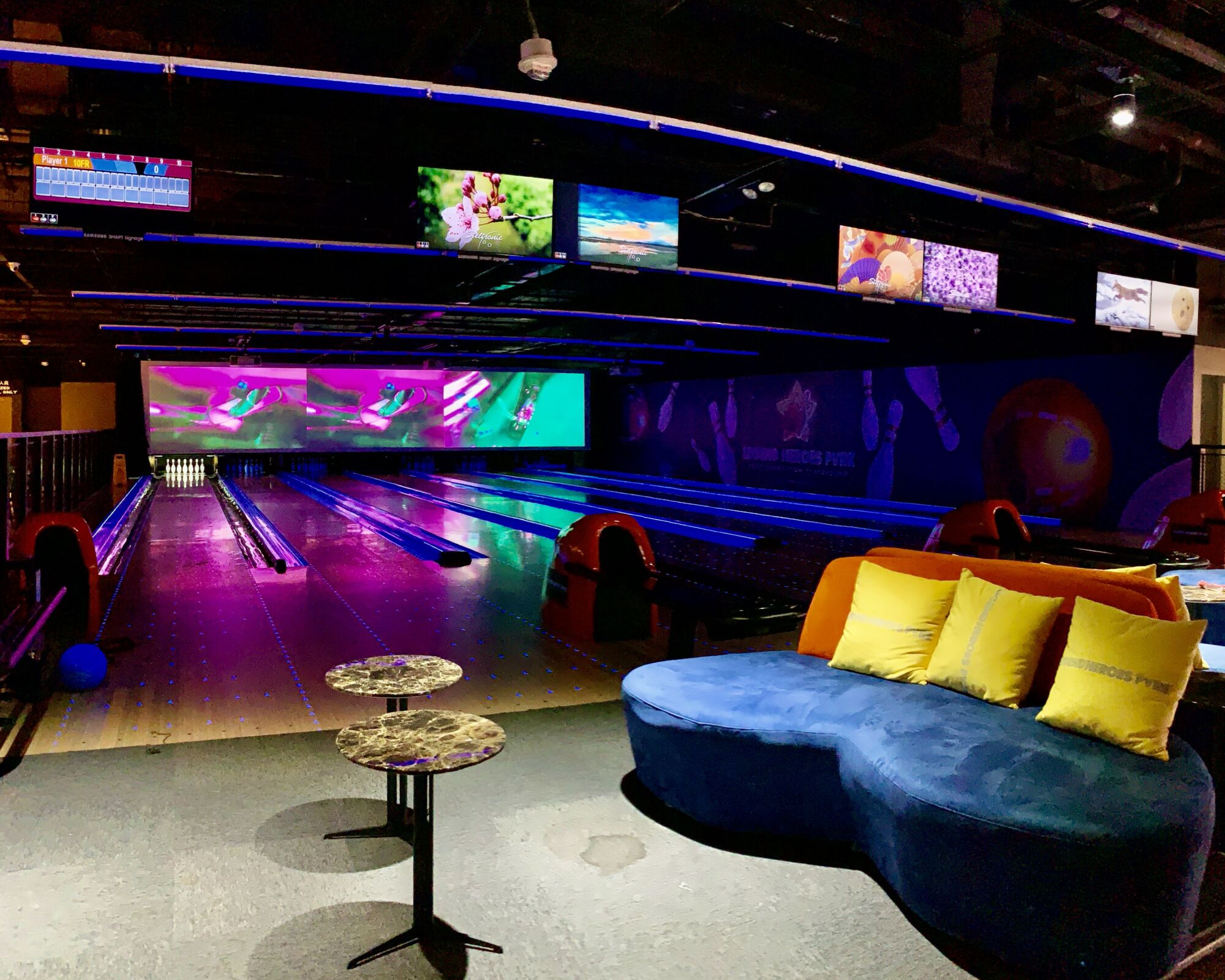 Legend Heroes Park, Studio City Macau
As one of the biggest and coolest entertainment venues in Macau, Legend Heroes Park features dozens of games and entertainment tech! From virtual reality machines–which can be played alone or with friends–to bumper cars (also VR), sports and horses, roller coasters, and much more. What you might not know is that they also have a huge bowling alley with several lanes on a futuristic scene. The coolest part? The entrance tickets are based on time–two or four hours each slot–so you can enjoy the entirety of the games in the park while waiting for your turn in the bowling! Let the games begin!
Opening hours: Tuesday–Sunday, 8:00am–9:00pm
Legend Heroes Park Legend Zone: Level 2, East Wing, Studio City Macau, Estrada do Istmo, Cotai, [email protected]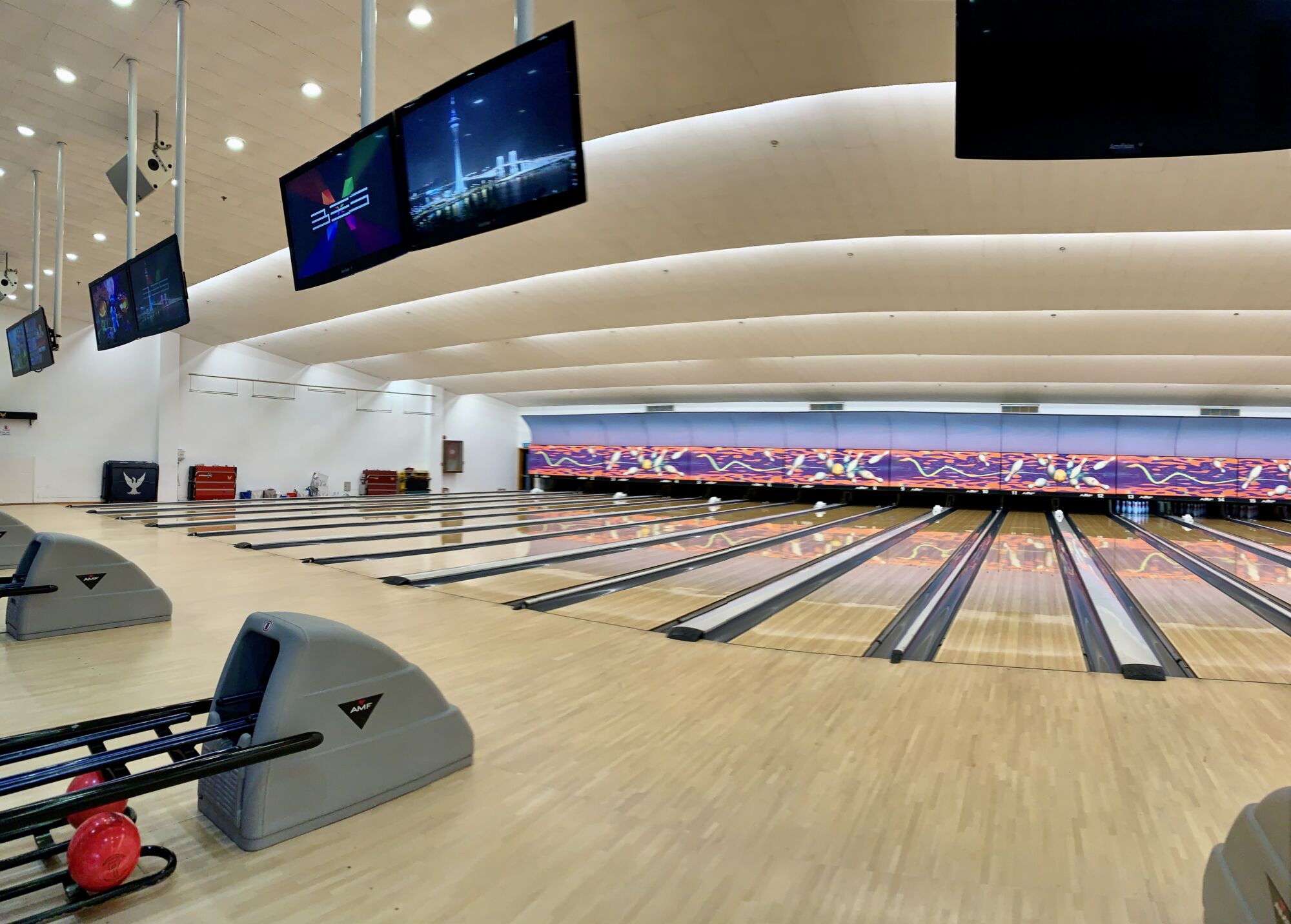 Cotai Bowling Centre – Macau East Asian Games Dome
The Cotai Bowling Centre is located close to the Macau East Asian Games Dome, that huge circular construction one can see from afar, in Cotai. This is the perfect opportunity to do several other sporty activities throughout the day. Since the bowling center is close to the dome, one can practice squash, table tennis, and much more. They have 24 bowling lanes available too so why not call some friends and meet them there? You can explore different activities throughout several hours at the same place! Start with squash and finish with bowling? Or perhaps strike out some pins before heading to the tennis court after?
How much: 9:00am–7:00pm, MOP $20 per set; 7:00pm–10:00pm, MOP $30 per set
Opening hours: Monday–Friday, 2:00pm–11:00pm; Saturday, Sunday and public holidays, 9:00am–11:00pm
Cotai Bowling Centre Avenida da Nave Desportiva, Cotai, +853 2886 5017, www.sport.gov.mo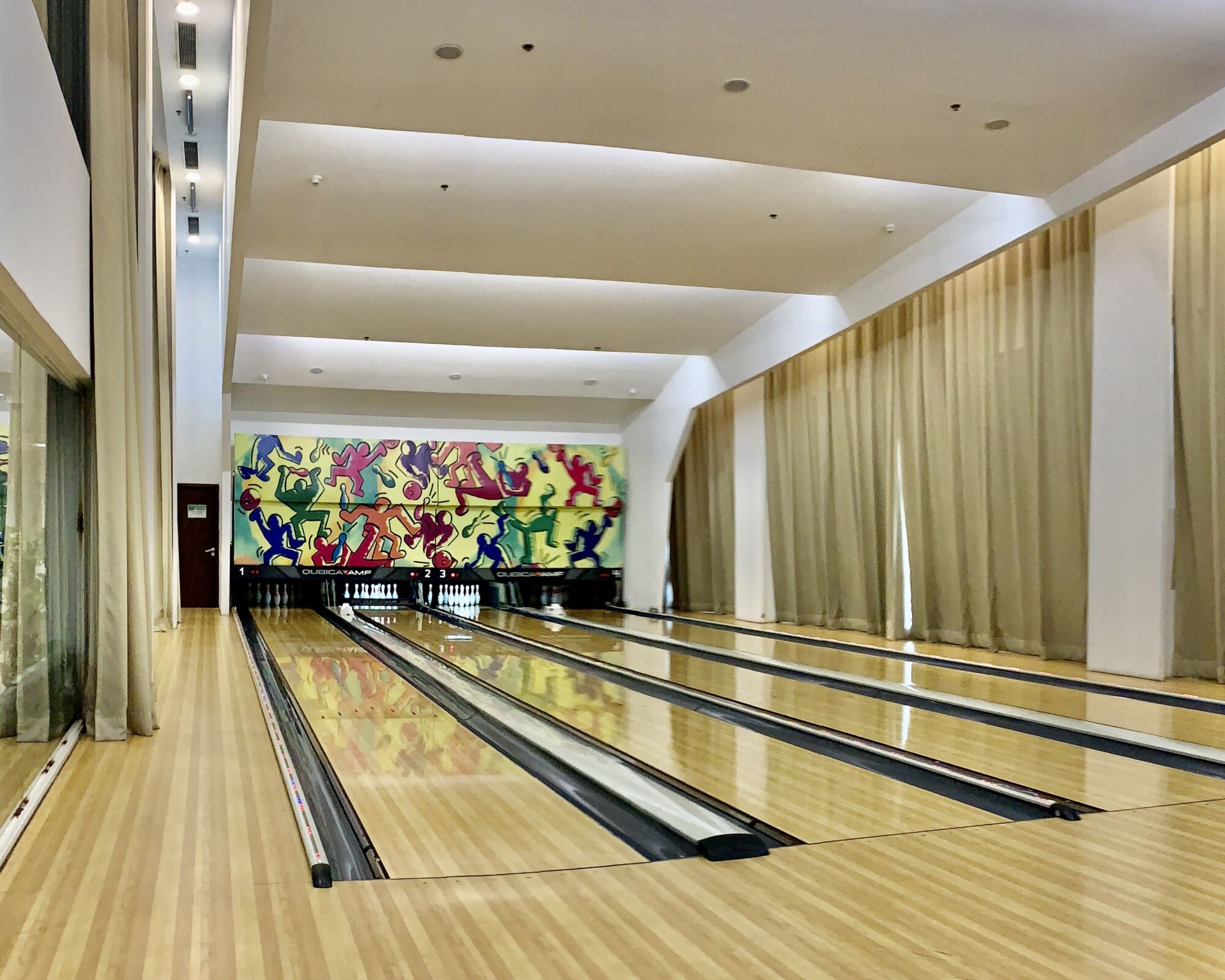 DSEJ Youth Activities Centre (northern area)–Centro de Actividades Juvenis do Bairro do Hipódromo

With several facilities and infrastructures, this activity youth activities center houses a small, yet modern bowling alley with four lanes. Why not gather the whole family on a Saturday or Sunday and head here for some group fun? Besides bowling, people can also play ball games–indoor and outdoor–fencing, climbing, and enjoy the terraced cafe. Although the center is designed for youngsters from 13 to 29 years old, older parents can come with their sons and daughters for some family fun! However, be ready to wait some time as it's a super popular place amongst locals. Management recommends heading there in the morning since afternoons are pretty crowded (sometimes a two-hour wait!) for bowling. They're having big discounts now and that's an even better reason for you to visit!
How much: Youth associations and schools registered in DSEJ – MOP $30 per hour; public entities and local associations – MOP $50 per hour
Opening hours: Monday–Friday, 3:30pm–10:00pm, Sundays and holidays – 10:00am–10:00pm (September–June); Daily, 10:00am–2:00am (July and August). Discount prices are only available until 10:00pm
Centro de Actividades Juvenis do Bairro do Hipódromo Praceta da Serenidade junto da Avenida Leste do Hipódromo, Macau, +853 2842 5110, +853 2842 5112, [email protected], www.dsej.gov.mo
Tags
Related Posts