Macau Lifestyle is partnering up with Broadway Macau for a fantastic giveaway to allow two lucky winners to redeem three tickets each to take their little ones on a fun day watching Peppa Pig Live – Perfect Rainy Day at The Broadway Theatre! Spending time with your kids is the best way to shower them with love and affection. This year might have passed by very quickly, but it's never too late to look for adventures right here in our very own backyard. Macau is teeming with exciting events and Broadway Macau is home to spectacular activities and happenings for the young and old alike.
Enjoy the show as Peppa Pig embarks on an adventure with her trustworthy friends. A memorable story awaits that will stir the imagination and ensure the kids are thoroughly entertained. Join our giveaway as we support our community and embrace the magical atmosphere of Macau around us. This prize in collaboration with Broadway Macau has a total value of MOP $1,440! The "Reserved A" ticket prizes are redeemable for the show on November 22, 2020 at 7:00pm only. This will be an English session and will allow a seating arrangement for one adult plus two children, or two adults plus one child. This giveaway ends on November 10, 2020 and the winner will be notified directly via email. Please note that certain terms and conditions apply to this giveaway. Good luck!
[typeform_embed type="drawer" button_text="Enter this giveaway!" url="https://macaulifestyle.typeform.com/to/bqpBK02h"]
---
Peppa Pig is back with a brand new 75-minute musical adventure that promises to make the biggest muddy puddle ever! As an unexpected storm comes by, Peppa Pig's grandparents arrive at her house along with their loveable pet, Polly Parrot, followed by Peppa's friends Rebecca Rabbit and Suzy Sheep. While the storm continues, Peppa Pig feels very bored because they are stuck in the house and have nothing to do.
Mummy Pig suggests putting out "A Rainy Day Play". Everyone contributes essential and different elements to create this wonderful play perfectly. This charming live show is filled with family, friendship, color, and fun so don't miss all the laughter of Peppa Pig Live – Perfect Rainy Day!
When: November 20–22, 2020
English sessions – 6:30pm, Friday, November 20, 2020; 11:00am and 4:30pm, Saturday, November 21, 2020; 2:00pm and 7:00pm, Sunday, November 22, 2020
Mandarin sessions – 2:00pm and 7:00pm, Saturday, November 21, 2020; 11:00am and 4:30pm, Sunday, November 22, 2020
Where: Broadway Theatre, Broadway Macau, Avenida Marginal Flor de Lótus, Cotai
How much: MOP $280–580
For more information, visit the event's official page or check its Facebook page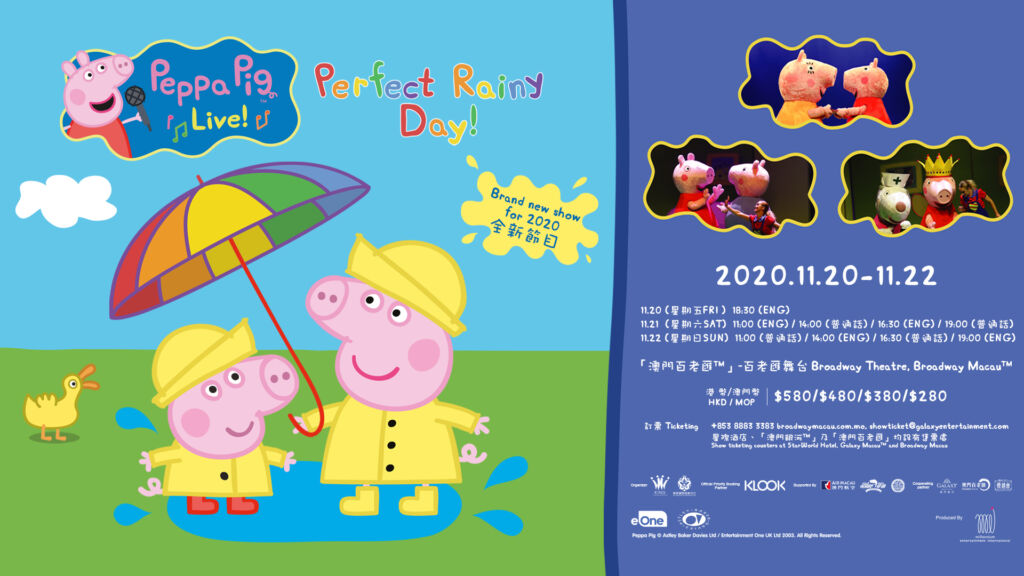 Tags