As the temperature continues to drop in the city, we find ourselves wrapped in winter coats and a constant desire to warm up in what could only be the ultimate comfort food this time of the year–healthy winter warmers at the Golden Court.
The talented chefs of eight restaurants of Sands Resorts Macao and Sands Macao have transformed our favorite Chinese dishes into culinary creations that also bring health, heat, and vitality to combat the cold weather. The winter warmers promotion continues until February 11.
At the helm of the Golden Court restaurant's kitchen is Chef Lee Chiu Fat who believes in using the freshest ingredients to create a heartwarming menu inspired by wonderful warming properties to keep the winter chills away. Decked in chic and classic interiors, the restaurant ambiance has always tried to imbibe a mixed feeling of the old and new. Located above the maze of the casino floor of the Sands Macao, make your way up to the third level to this traditional Chinese restaurant that serves a wide variety of dishes sweeping from hot pot to dim sum. Below are some of the tantalizing dishes that impressed us the most: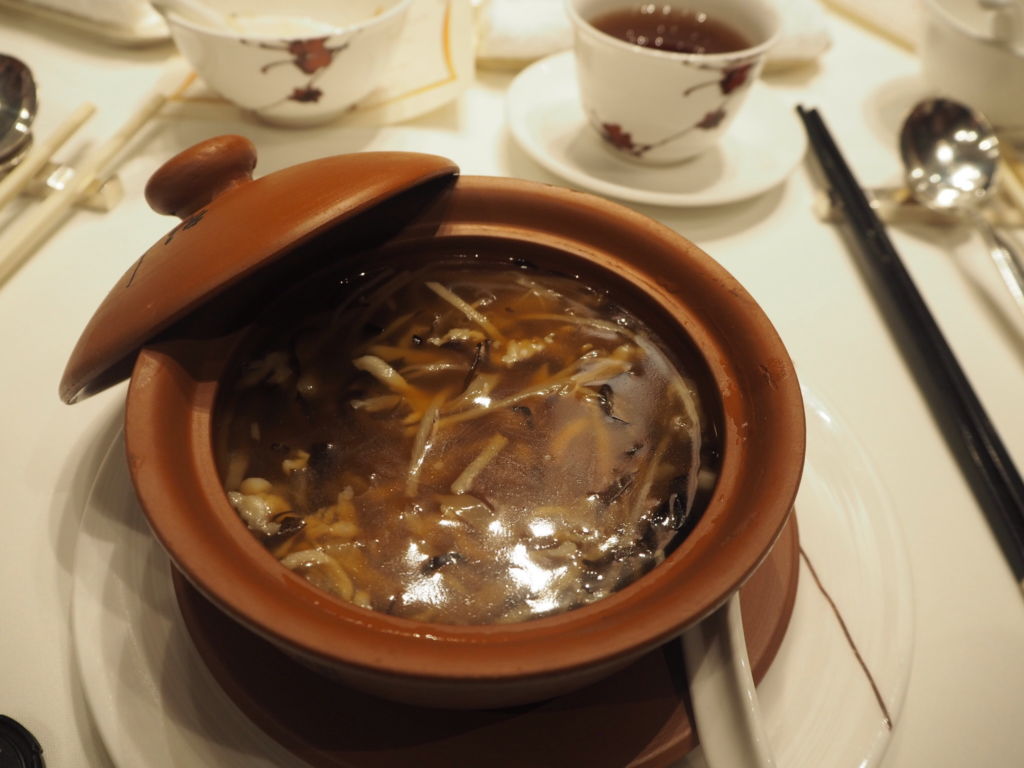 Chicken and fish maw soup with fungus and black mushrooms
Traditionally eaten during CNY, this soup is packed with crunchy nutrients and wonderfully flavorful and delicious. The result of hours of simmering is a golden liquid like manna from the heavens that is both nourishing and indulgent! Despite its name, fish maw isn't the mouth of a fish but rather their dried swim bladders. Properly prepared, fish maw isn't fishy but instead, they absorb the flavors of the other ingredients it's cooked with. What it's truly treasured for is its texture which is possibly due to its high collagen content, giving a nice bite to the dish.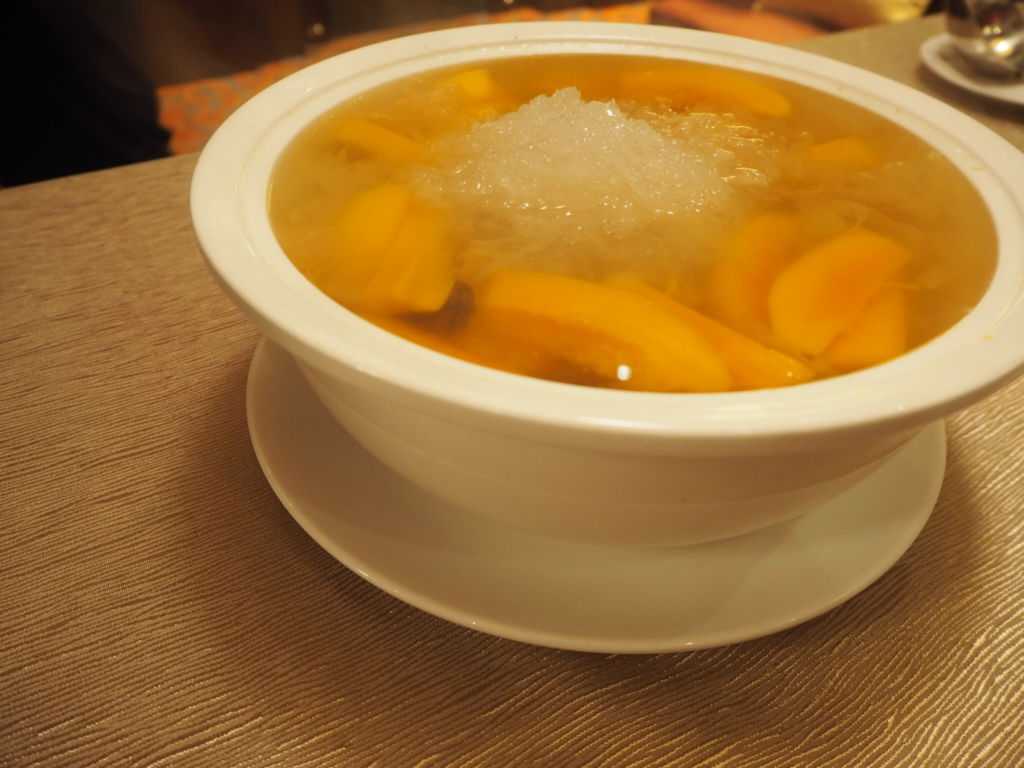 Double-boiled bird's nest and fish maw soup with hippocampus, snow fungus and papaya
Again with the fish maw, a popular ingredient in Chinese cooking and is known as a rich source of collagen, it remains a hearty and healthy delicacy. Bird's nest soup is exactly what it sounds like–soup made from an actual bird's nest, a specialty eaten throughout Southeast Asia for its claimed health benefits when added into soup, it creates a gooey texture which is said to give us a long healthy life and a strong body. While the hippocampus (seahorse) is good for soothing the throat, we were a bit hesitant to eat a seahorse but if you just relax and close your eyes and think of the health benefits, the taste actually resembles and feels like you were munching on bony sardines with an earthy crunch. And that's where the papaya adds a sweet and yet soft layer of taste that is perfected with the snow fungus that is also reported to be a core to help dry coughs. This overall soup helps moisturizes the skin with all its beauty benefits. So let's close our eyes and drink up to that!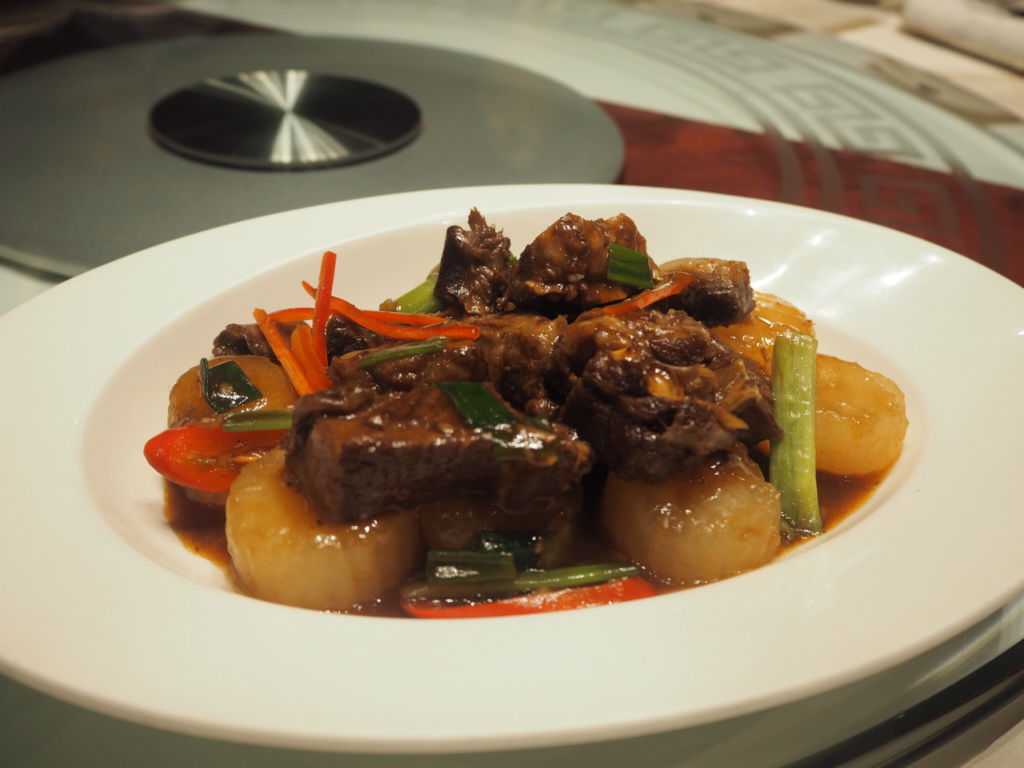 Braised boneless beef with turnip tender and more
If you're looking for a rich winter dish that is forgiving to eat under their sleek caps of fat melting soft chunks melts in your mouth and a foolproof and delicious addition to your palate would be their braised boneless beef with turnip tender. And, if you're looking for something to turn up the heat, try their fried whole Garoupa with Sichuan peppers and chili that definitely heats it up with mouth-numbing Sichuan spicy chilies. And their braised fish head with port wine sauce in a clay pot will surely explode with surprising spices in your taste buds.
Golden Court also offers a wide range of delicious herbal soups including their double-boiled fish maw and pork soup with apple, candied dates, dried tangerine peel and Chinese herbs which can aid relieve cough and asthma conditions, and double-boiled snake-fish in American ginseng soup with Chinese herbs and red dates that helps improves blood circulation and protects the liver. All herbal soups must be ordered at least six hours in advance. Keep warm, stay cozy and don't forget to tag #sandsdiningsensation and #macaulifestyle to be featured.
Winter Warmer menu is available at Sands Macao from now until February 11.
---
Golden Court 3/F, Sands Macao Hotel, 203 Largo de Monte Carlo, Macau +853 8983 8222 www.sandsmacao.com
Tags
Related Posts