Our beloved city is slowly going back to its exciting pace, so find out what there is to do in town when it comes to cool things to do! We've crafted this amazing list with everything you need to plan ahead this May including activities and events with friends and family in Macau. Read on and find out what's in store for you these next weeks!
(See featured image above)
Sands Resorts Macao is having a 30% discount at selected restaurants across their properties for all Macau ID cardholders to enjoy! This amazing dining offer can be used at 14 restaurants at four of the Sands properties, including at Brasserie, The Manor, Crystal Jade, Windows Restaurant, amongst others.
This promotion allows people to have unique dining experiences until the end of June, 2020, so hurry up and book your table at your favorite, or simply try something you always wanted to have. Go for Brasserie's exquisite French delicacies, opt for Crystal Jade's signature dan dan noodles, or head to Portofino for some true Italian food with a twist.
When: April 17–June 30, 2020
Where: Moonlight, 888 Food Court (Sands Macao), North, Portofino and Imperial House Dim Sum (The Venetian Macao), Lotus Palace, Brasserie, Market Bistro, Crystal Jade La Mian Xiao Long Bao and Southern Kitchen (Sands Cotai Central), Windows at Four Seasons Hotel Macao, Cotai Strip, Ping at The Plaza Macao, Yum Cha at Sheraton Grand Macao, Cotai Strip, and The Manor at The St. Regis Macao
How much: 30% discount on the bill total
For more information, check the promotion's website
*Valid for Macao residents holding valid permanent resident identity card or non-permanent resident identity card issued by the government of Macao SAR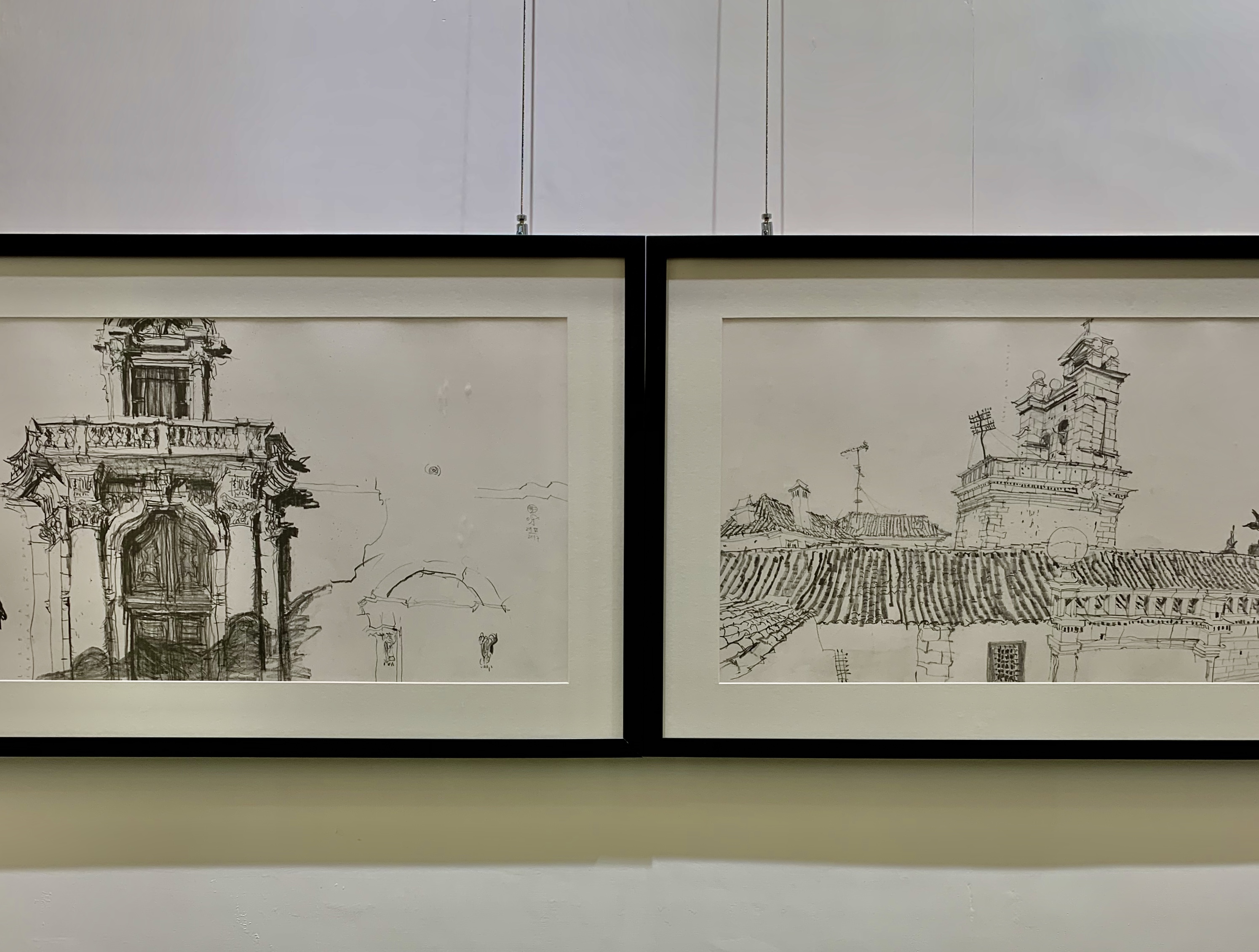 As one of the largest and oldest art groups in Macau, the Macau Artist Society was invited by Delegação Económica e Comercial de Macau, in Lisbon, to send an art exchange group consisting of more than 20 members to bring 30 masterpieces from members of all ages to Lisbon, Portugal for "Art Exhibition and Celebration for the 20th Anniversary of the Macao Special Administrative Region" in the late spring of March, 2019.
During the trip, the artists collected and sketched in Lisbon and many Portuguese cities. From the pleasant climate of the Iberian Peninsula as well as the rich and colorful cultural heritage, infinite creative inspiration was brought to the artists. After returning to Macau, the artists created a large number of artworks based on this trip to Portugal.
It is the first time "The explicit charm of Portugal" Sketches of Portugal by the Macau Artist Society is to be held in Macau in Galeria Lisboa, which makes it more extraordinary and memorable. This May, make it a point to see these sketches, make an event out of it and go with your closest friends! 64 sets of masterpieces including watercolors, oil paintings, Chinese paintings, sketches, acrylic paintings, and calligraphy by a total of 41 artists will be showcased in this exhibition.
When: May 1–30, 2020
Where: Galeria Lisboa, Macau Fisherman's Wharf, Avenida da Amizade e Avenida Dr. Sun Yat-Sen, NAPE, Macau
How much: Free admission
For more information, call +853 8299 3514 or check their Facebook page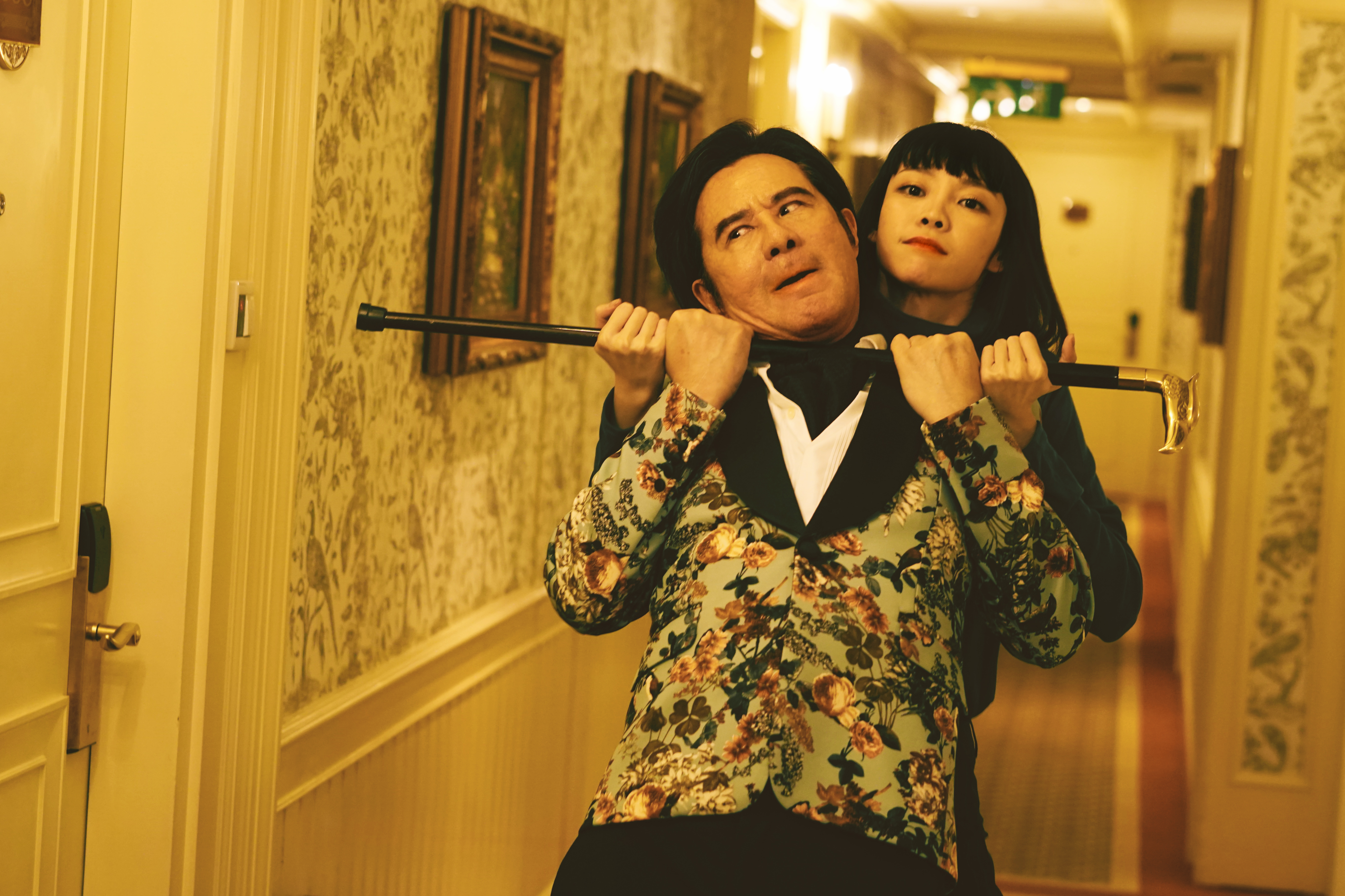 Cinematheque Passion once again presents remarkable and new local works at Macao Films Panorama 2020 from May 8 to 24, 2020. Various sessions bring features, documentaries, and animations—most of which are shorts. Apart from local works, it also features recommendations from festivals in China, Hong Kong, and Taiwan.
The Cinematheque is to host the debuts of the works selected from Local View Power, an event organized by the Macao Cultural Centre. These include recent works by experienced documentary filmmakers: Wong Keng Tang's About Time and Lei Cheok Mei's The Lily Yet To Bloom; by directors who participated in Macao Films Panorama, such as Ho Kueng Lon with Light of Life, Lao Keng U, with A Void Without A Face, Loi Chi Iong, with COC00N, Jody Lei, with Marriage, Andy Kam, with Singing Hearts, Mak Kit Wai, with One Last Time, Ray Loi, with PP Goes to the Nursery, Catherine Ho, with 70 Years Later, Christy Cheang, with Stay With Me, Hoi Weng In, with Cross-boundary Student, Iao Fong Lam, with Fisher and Fishy, and Sam Lam with Santa Claus Is Late. Lou Ka Choi and Leong Kin return with heart-warming animation The Valley of Ginseng.
When: May 8–24, 2020
Where: Cinematheque Passion, 13 Travessa da Paixão, Macau
How much: MOP $60 per person. Full-time students and senior citizens age 65 or above can enjoy 50% discount. Each purchase of 10 regular tickets or more can also enjoy 20% discount
For more information, call +853 2852 2585 or check the event's official website
Grand Lisboa Hotel is pleased to announce the return of Casa Don Alfonso! Starting from May 6, they welcome you to dine in with them for lunch and dinner once again. To celebrate the reopening of Casa Don Alfonso, Chef Giovanni Galeota has crafted a new lunch set menu available until May 31, 2020. Casa Don Alfonso will be open six days a week and closed on Tuesdays. And for those who want freshly baked, homemade pizzas and leafy green salads at home, continue ordering from us seven days a week!
This lavish lunch set menu includes a selection of traditional antipasti (entrée), a main–pizza Napoletana with nduja, Italian bacon San Marzano, tomato sauce, and mozzarella cheese or linguini pasta from Gragnano with venus clams, Italian zucchini, and arugula pesto, or pan-fried sole fish with green asparagus, baby spinach and Jerusalem artichoke sauce–and the cake of the day.
When: 12:00pm–2:30pm, 6:30pm–10:00pm, May 6–31, 2020 (closed on Tuesdays)
Where: Casa Don Alfonso, 3/F, Grand Lisboa Hotel, Avenida De Lisboa, Macau
How much: MOP $300 per person
For more information and reservations, call +853 8803 7722 or check their website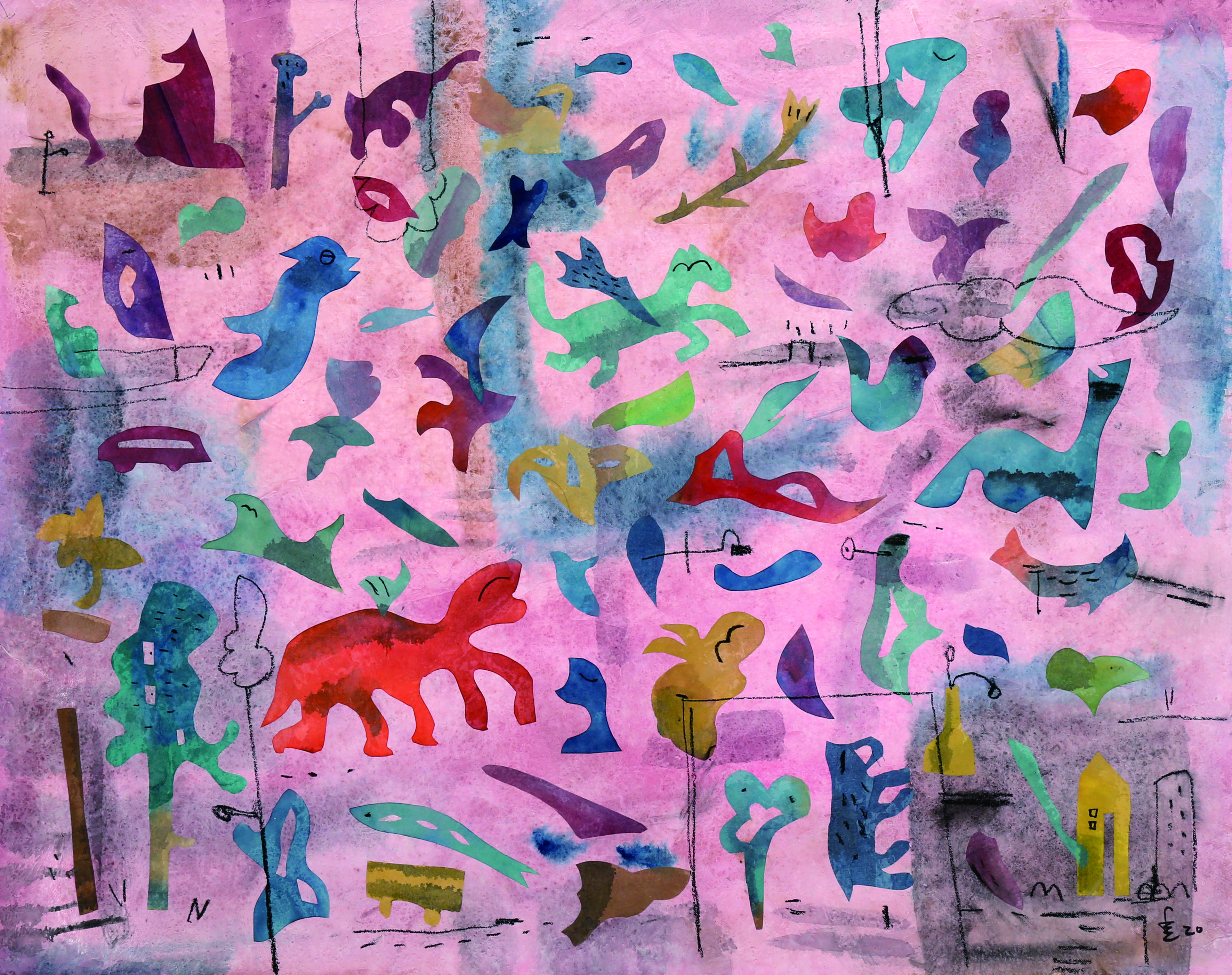 "Somniloquence" is series of latest artworks is the artist's exploration in colors during the past two to three years. Tong Chong, who has turned over forty years old now, said that there was an absence of bright colors in his paintings previously. But as he entered middle age, he seemed to reach a new comprehension of colors in his works. He has chosen to use Chinese traditional painting pigments, because the colors of plants and mineral pigments are more natural, and the use of colors is combined with traditional paper-cutting art. Using bamboo fiber paper as a medium, which provides more advantages in coloring and preservation, he paints, does coloring and collage in the process.
Tong Chong's exploration of totems has never stopped since he was a teenager. His painting style never drifted to other mainstream culture, he has dedicated himself to exploring the plasticity of turning reality into patterns and images, which also led him to the path of sculpture art. The current exhibition of Tong Chong, organised by the Macau Art For All Society, is the first part of the exhibition series of "Perpetual Impermanence" for established artists in the annual planning of 2020. The exhibition "Somniloquence" – Works by Tong Chong is his 11th solo exhibition, showcasing 22 pieces of his latest and selected artworks, including five sculptures, and the rest are paintings.
When: May 9–June 7, 2020
Where: AFA, 4F Art Garden, 265 Avenida Dr. Rodrigo Rodrigues, Macau
How much: Free admission
For more information, check AFA's Facebook page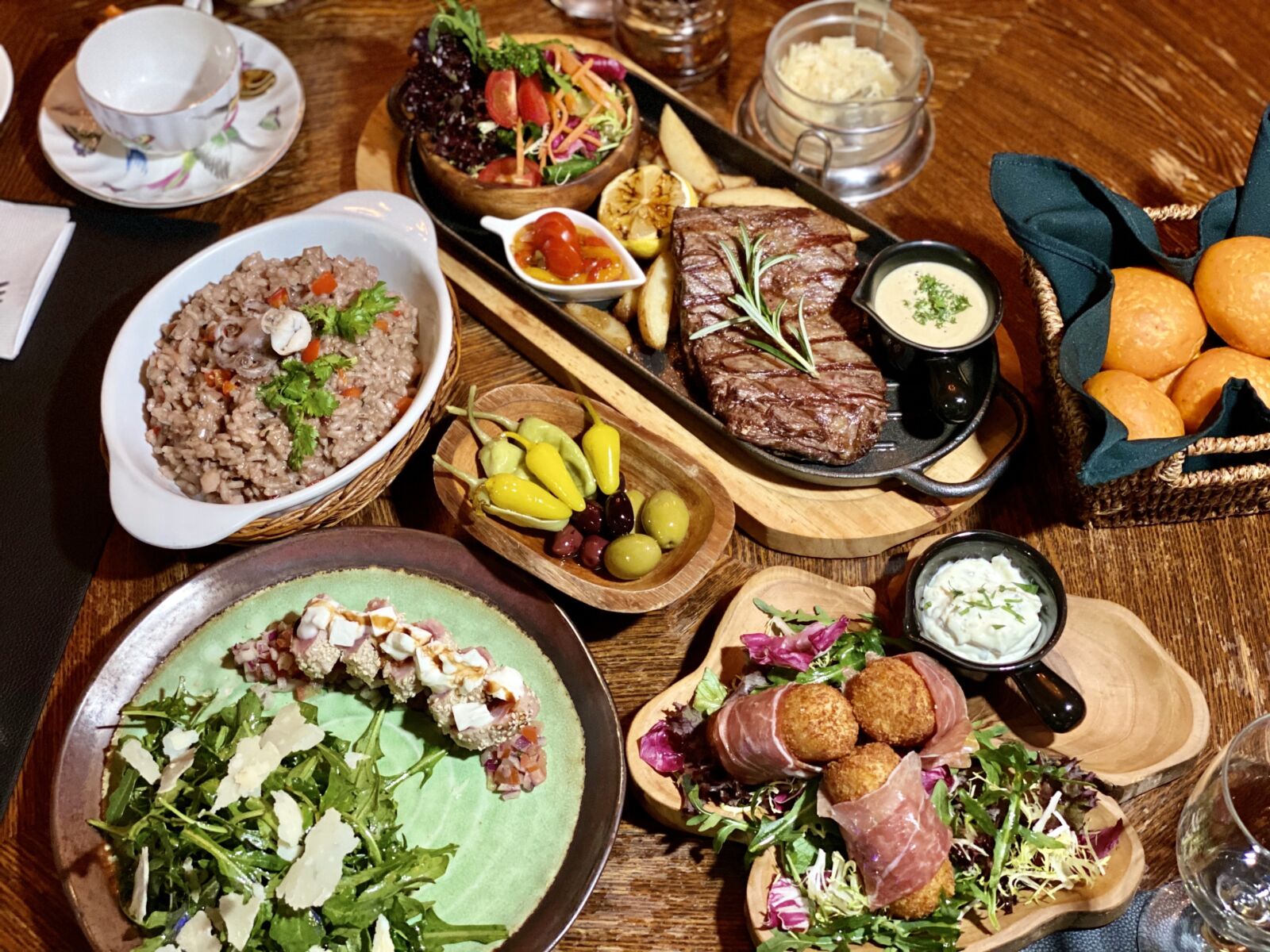 From now on, every Friday will be a music and drinking party at Antica Trattoria! From 11:00pm till late, at their Syndicate Bar, they'll be spinning urban vibes and engaging with the upper ground pop culture while offering incredible promotions on drinks that include cocktails and beer. Refuel your stamina with free pass around pizza bites as well.
When: Fridays, 11:00pm–2:00am, May, 2020
Where: Antica Trattoria, 40–46 Edificio Vista Magnifica Court, Avenida Sir Anders Ljungstedt, Macau
How much: Beer bombs – MOP $50
Classic cocktails – MOP $60
For more information, check the event's Facebook page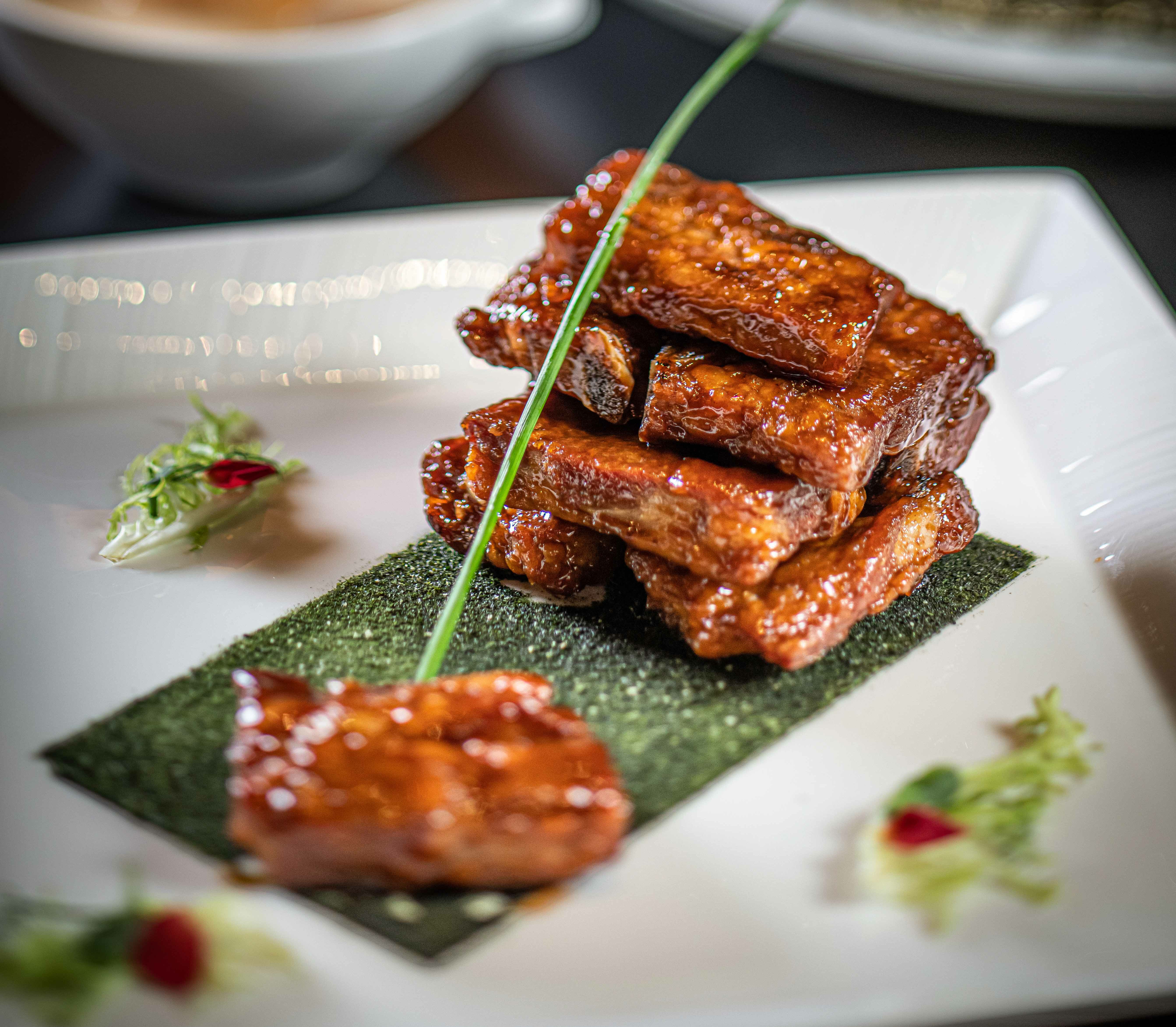 (See featured image above)
Treat your beloved mom this Mother's Day to an exceptional three Michelin star dining experience at The 8. Executive Chef Joseph Tse and his team have crafted two special dinner menus–The 8 Classic Flavors and The 8 Gourmet–featuring fresh and premium dishes. The 8 is of the most sumptuous restaurants in town, and it's ready to treat you, your family, and friends to a dining experience to remember.
The 8 Classic Flavors menu starts with pan-fried bean curd sheet rolled with assorted mushrooms chilled marinated jellyfish head with vintage black vinegar barbecued suckling pig. Continuing on with braised winter melon soup with crabmeat and conpoy, sautéed shrimps and scallops in homemade chili sauce with cashew nuts, steamed whole sea garoupa, poached chicken in homemade soy sauce, poached seasonal vegetables with thickened broth, amongst other fantastic dishes. Dessert is double-boiled red lotus soup with hasma. Their nine-course menu includes some of the dishes from the previous menu, but also seafood fried rice topped with sakura shrimps and double-boiled lily bulbs and coconut milk with hasma for dessert.
When: May 1–31, 2020
Where: The 8, 2/F, Grand Lisboa Hotel, Avenida De Lisboa, Macau
How much: The 8 Classic Flavors dinner menu (8-course) – MOP $2,080
The 8 Gourmet dinner menu (9-course) – MOP $5,080
Prices are subject to 10% service charge.
For more information and reservations, call +853 8803 7788 or check their website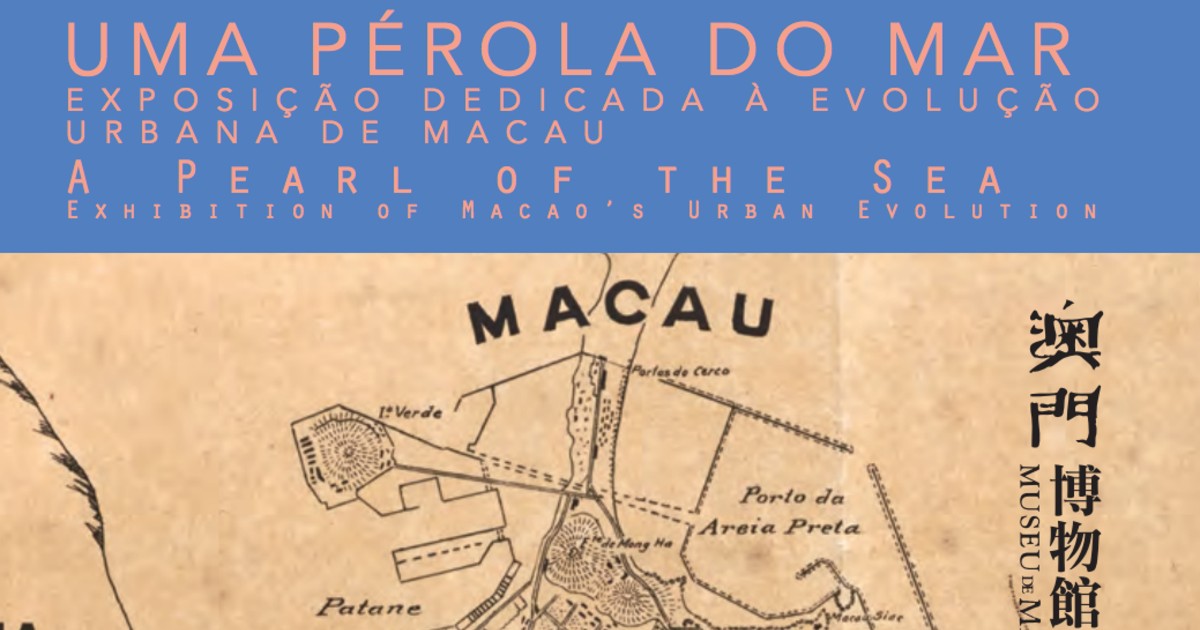 Macau has been increasing land resources through reclamation since the mid-19th century, which subsequently has had a profound impact on its overall urban development. The gathering and integration of different cultures over the past centuries have resulted in the combination of Chinese and Western styles in the city's architecture and the emergence of new landscapes amid urban development. A Pearl of the Sea – Exhibition of Macao's Urban Evolution features 101 exhibits divided into four sections: Geographical Change, Past View and New Image, Infrastructure Constructions and A New Chapter, seeking to give both residents and tourists a better understanding of Macau's achievements in a variety of fields over the last 20 years since the handover, and present a brand new historical image of Macau.
Urban functions of Macau have been improving with the completion of large infrastructure projects; through public transport facilities such as ferry terminals, sea-crossing bridges, the airport, and the Light Rapid Transit, Macau is connected to neighboring cities and many other places around the world. To complement the exhibition, an educational area and multimedia installations have been made available inside the venue to give visitors a more realistic and intriguing experience of Macau's urban development.
When: December 27, 2019–August 2, 2020
Where: Macao Museum, 112 Praceta do Museu de Macau, Macau
How much: Free admission
For more information, call +853 2835 7911 or check the event's website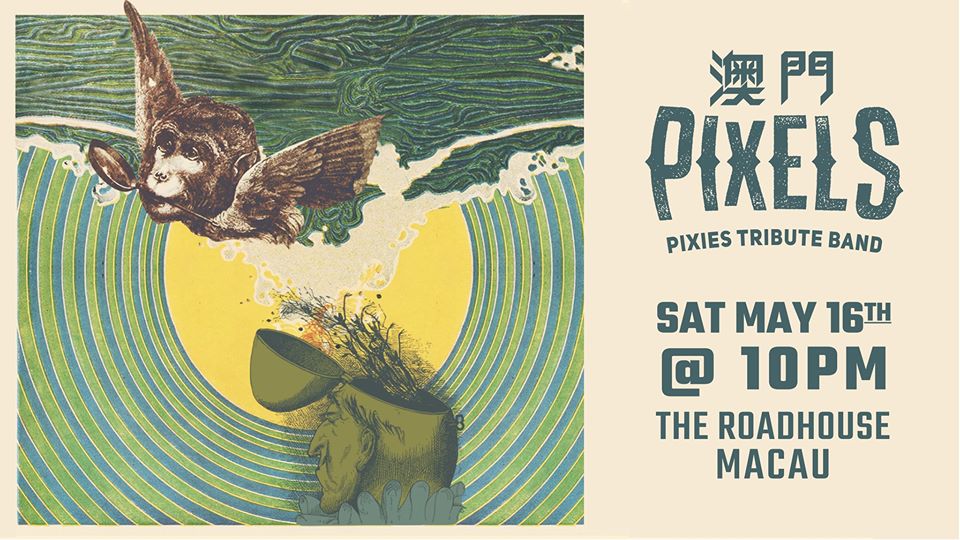 澳門 Pixels was born out of overcoming adversity. The idea came after the disappointing moment when Nuno and Marco, the two biggest Pixies fans, heard about their favorite band cancelling the concert in Hong Kong on March 3, 2020 due to the Covid-19 virus outbreak.
They had their tickets ready, so Nuno told Marco: "We need to do something about this. Do you still have that bass of yours? I know all the songs, I'll sing them. If The Pixies will not go to Hong Kong, let us bring them to Macau!" Marco cracked up laughing and vigorously confirmed!
Then, Pedro joined the crew and embracing the idea, brought his energy and drum sticks. Marco asked Daniel if he wanted to bring his guitar–which he did–bringing also his gigantic dedication to the band along with his lovely girlfriend Lisa, who was coming just to hear the rehearsal but ended up singing the backing vocals. João arrived last, adding to the band his la la love for music and guitar playing, completing the alignment.
When: Saturday, 10:00pm, May 16, 2020
Where: The Roadhouse Macau, E-G016-G019 Broadway Food Street, Broadway Macau, Avenida Marginal Flor De Lotus, Cotai
How much: Free admission
For more information, check the event's Facebook page
"The Long Journey: The Forbidden City and Maritime Silk Road" is open to the general public and tourists. The exhibition follows the theme of "One Belt, One Road", without forgetting the original purpose of the Maritime Silk Road, while reflecting on history and looking to the future. Large in scale and rich in content with a wide array of exhibits, it is indeed one of a kind art event of remarkable significance through Macau's history.
It features a total of nearly 150 exquisite cultural relics related to the Maritime Silk Road, including porcelains, timepieces, scientific instruments, enameled pieces, calligraphic works, paintings and textiles, leading the audience to reminisce on the boom in cultural exchange which occurred between the East and the West.
*In order to allow residents to have more opportunities to appreciate treasures of the Palace Museum, the exhibitions "The Long Journey: The Forbidden City and Maritime Silk Road" and "Cultural and Creative Products from the Palace Museum and Education Area", jointly organized by the Macao Museum of Art of the Cultural Affairs Bureau and the Palace Museum, is extended until 17 May, 2020.
When: January 11–May 17, 2020
Where: Macao Museum of Art, Avenida Xian Xing Hai, NAPE, Macau
How much: Free admission
For more information, check their website

Taipa Village Cultural Association exclusively showcases an illustration and drawing exhibition entitled "Who heeds a man who sits and wails out in the cold?" presented by Macau-based Portuguese artist Rui Rasquinho. The selected works for this exhibition are based on a series of illustrations published in Hoje Macau newspaper (a local Portuguese language newspaper) during a seven-year span, from 2012 to 2019.
The story behind the scenes is that Rasquinho embarked on a long-term graphic commitment based on a weekly assignment, which was to illustrate translated scholarly texts (poems, philosophies, critical essays) from several controversial Chinese literati, such as Li He (790-816 AD), Wang Chong (27-100 AD), Huainanzi (139 BC) and Wen Tzu (742 AD).
The title of this exhibition hails from the stanza of a poem entitled "Let Wine Be Brought In!" written by Li He. The illustrations and drawings reflect Rui's artistic skills, in which he found realization in pure abstraction registered in Chinese Orihon style watercolor books (originating from the Tang dynasty, 618-908 AD).
When: April 8–July 3, 2020
Where: Taipa Village Art Space, 10 Rua Dos Clérigos, Taipa
How much: Free admission
For more information, call +853 2857 6118 or send an email to [email protected]
Tags
Related Posts