Families stick together, right? Enjoy the best events and happenings in town especially with the little ones of the clan! Read our selection of the best November family-friendly events and share it with friends. Gather the bunch and have fun at the 20th Macau Food Festival, take the kids to Peppa Pig's new show at Broadway Theatre, check the latest on arts and craft at the Tap Seac Craft Market, and much more!
(See featured image above)
The Cultural Institute is promoting a series of activities and events this summer taking place at two major locations: in front of A-Má Temple and at the Taipa Houses-Museum. From July till August, everyone enjoyed concerts, theatre, performances, and urban wall painting in these areas. Due to the high popularity of this, the government is extending these free activities till mid-December, 2020. Featuring 84 sessions of seven different shows, it aims to entertain the population, from kids to adults.
In the Inner Harbour area, events include the tour "Dimensional space: a walk through the Inner Harbour with Auguste Borget"–inspired by this French artist's works–featuring ambient dancing performances and guided tours in the area of Patane Market. "Truz-truz, Quem Atracou no Porto Interior?", by the MW Dance Theatre dance company is a contemporary approach to dance, with "live paintings" happening live. "Returning by Boat", by the Ieng Chi Dance Association tells the story of the Inner Harbour throughout the centuries with a guided tour and detailed information, plus dance sessions close to Praça de Ponte e Horta. These events require booking, as they are limited to 20 people per session.
When: Saturdays and Sundays, July 25–December 27, 2020
Where: Largo do Pagode da Barra, Praça de Ponte e Horta, Patane Market and Taipa Houses-Museum
How much: Free admission
For more information, check their Facebook page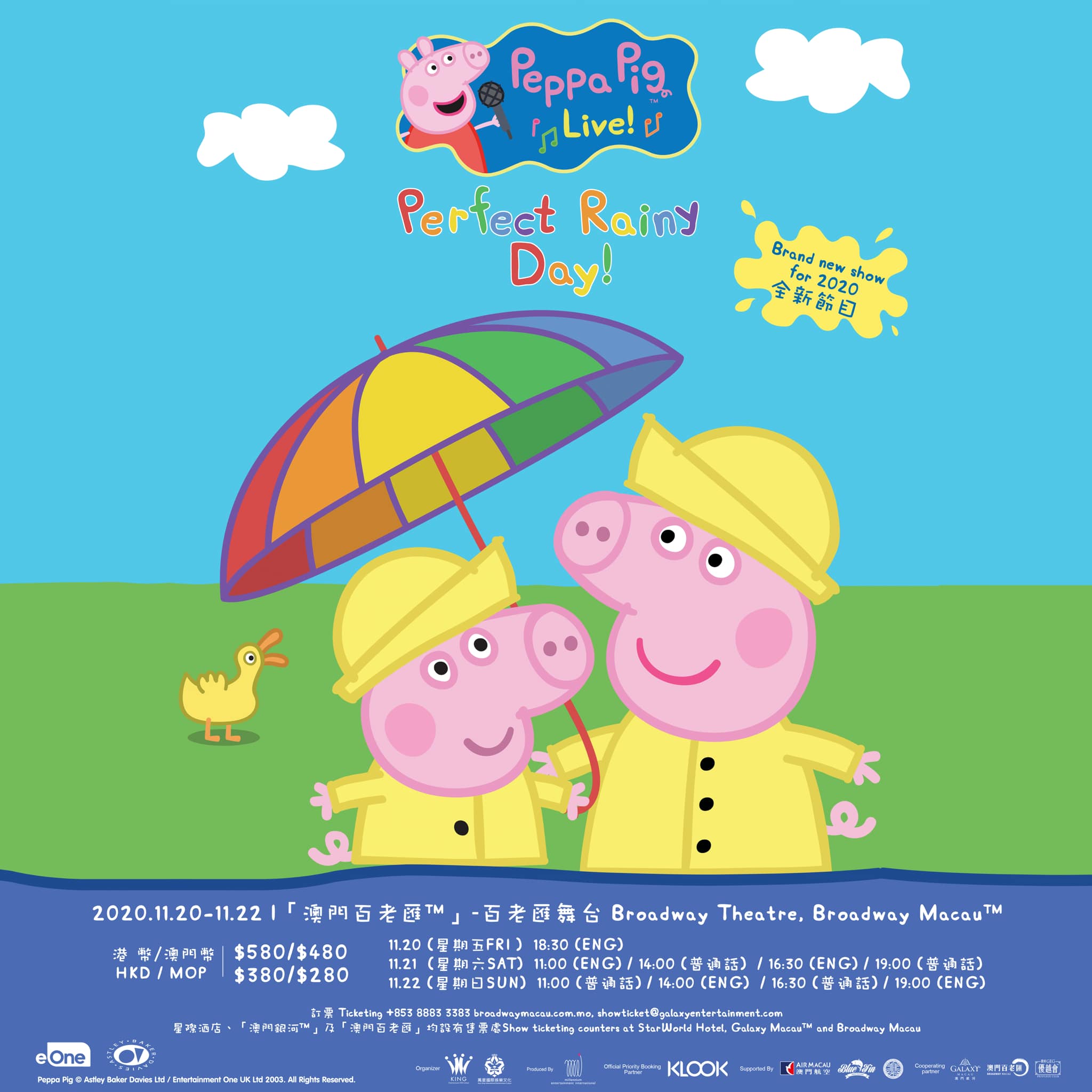 Peppa Pig is back with a brand new 75-minute musical adventure that promises to make the biggest muddy puddle ever! As an unexpected storm comes by, Peppa Pig's grandparents arrive at her house along with their loveable pet, Polly Parrot, followed by Peppa's friends Rebecca Rabbit and Suzy Sheep. While the storm continues, Peppa Pig feels very bored because they are stuck in the house and have nothing to do.
Mummy Pig suggests putting out "A Rainy Day Play". Everyone contributes essential and different elements to create this wonderful play perfectly. This charming live show is filled with family, friendship, color, and fun so don't miss all the laughter of Peppa Pig Live – Perfect Rainy Day!
When: November 20–22, 2020
English sessions – 6:30pm, Friday, November 20, 2020; 11:00am and 4:30pm, Saturday, November 21, 2020; 2:00pm and 7:00pm, Sunday, November 22, 2020
Mandarin sessions – 2:00pm and 7:00pm, Saturday, November 21, 2020; 11:00am and 4:30pm, Sunday, November 22, 2020
Where: Broadway Theatre, Broadway Macau, Avenida Marginal Flor de Lótus, Cotai
How much: MOP $280–580
For more information, visit the event's official page or check its Facebook page
We partnered with Broadway Macau for a fantastic giveaway to allow two lucky winners to redeem three tickets each to take their little ones on a fun day watching Peppa Pig Live – Perfect Rainy Day at The Broadway Theatre. Join the giveaway here and good luck!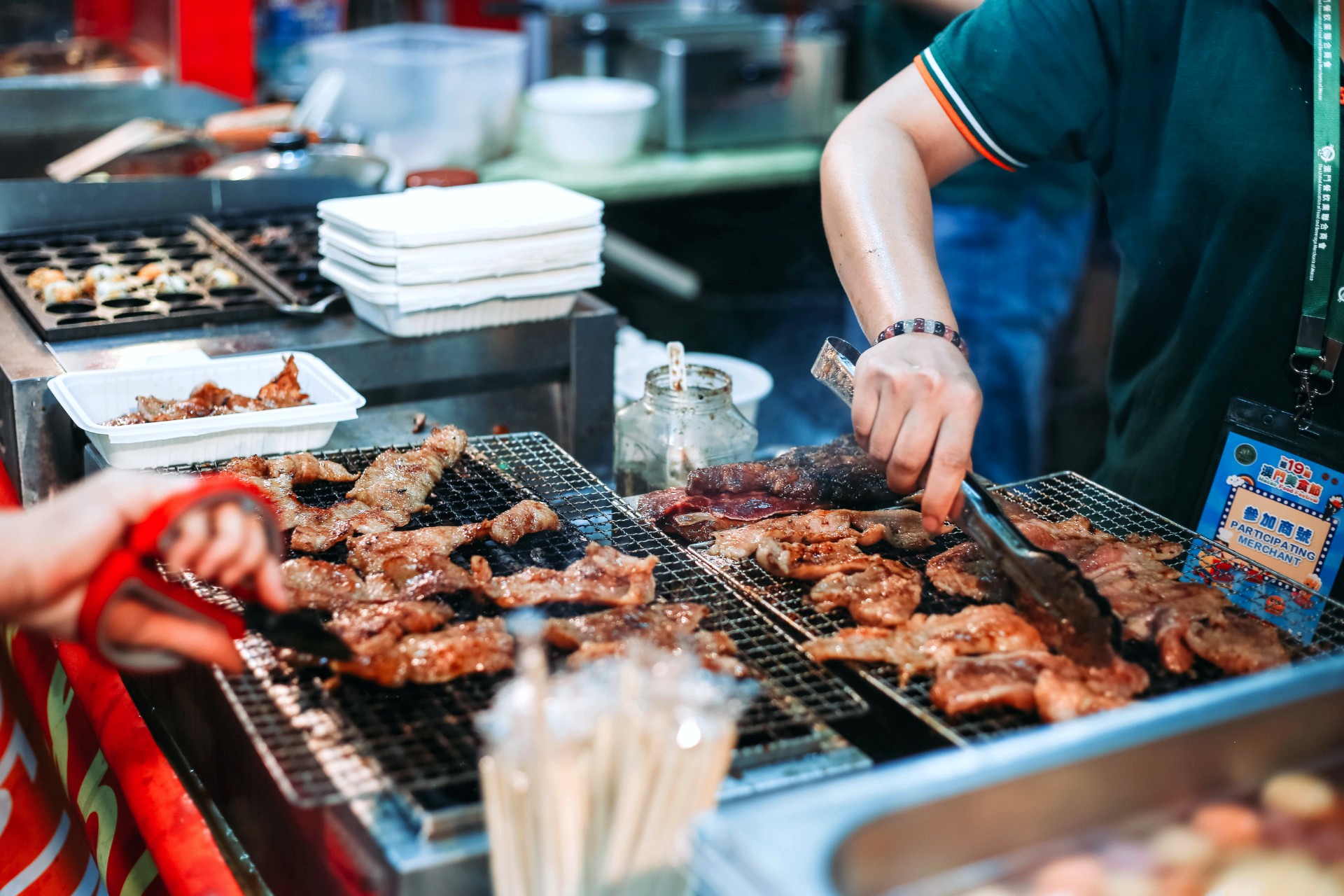 November brings delicious food to the forefront in Macau, with the 20th Macau Food Festival gathering more than 100 local businesses to display Macau's unique cuisine culture, combining both Chinese and Western styles. No matter whether you come with friends or family, you are sure to find shared joy at the food festival. There are also cool games and fun booths to try out, especially for those looking to win prizes and surprises!
When: Monday–Thursday, 5:00pm–11:00pm, Friday–Sunday, 3:00pm–00:00am, November 13–29, 2020
Where: Sai Van Lake Square, Largo da Torre de Macau
How much: Free admission
For more information, call +853 2857 5765 or check their website
In Macau, those seeking to reconnect with nature will find a range of verdant parks to immerse themselves in. Covering an area of 198,000 square meters, Seac Pai Van Park with its Macau Giant Panda Pavilion is one of the most-loved by locals and visitors alike. One can easily spend close to a day in the park in order to thoroughly explore what it has to offer. A zoo, playgrounds, a trail, and a museum are just some of the attractions awaiting visitors.
If you are planning on where to go with the kids over the weekend, consider this place as it can be both fun and educational. We've put together a comprehensive guide to the Macau Giant Panda Pavilion along with Seac Pai Van Park so you'll have an easier time planning a visit next time!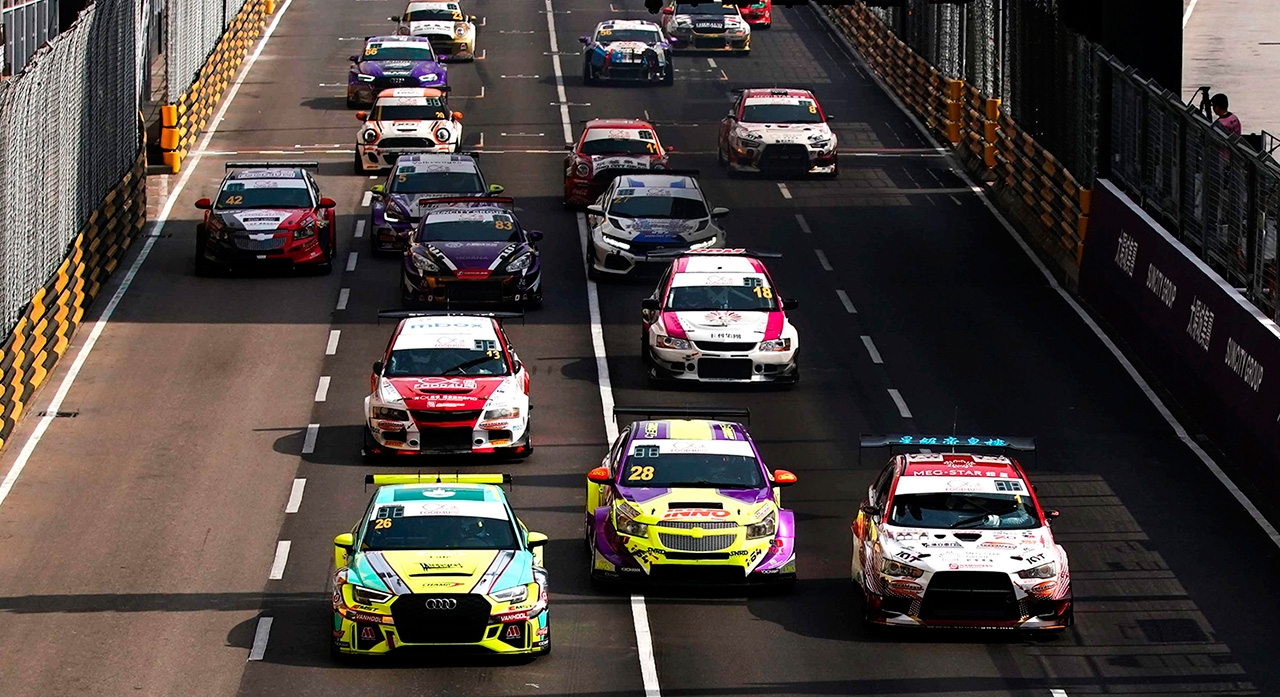 The 67th Macau Grand Prix is held from November 19 to 22, 2020. A total of 6-7 races are expected to take place this year, which include: Formula Macau Grand Prix, Macau GT Cup, Macau Guia Race, Macau Motorcycle Grand Prix – 54th Edition, Macau Touring Car Cup, and Greater Bay Area GT Cup.
The Macau GT Cup features GT3 and GT4 race cars, with drivers selected from China GT Championship and Asia Pacific GT to compete with local counterparts. The Macau Guia Race will be run in the TCR format, featuring selected drivers from TCR Asia Series and Asia Pacific Touring Cars 2.0T races as well as local drivers. The Macau Touring Car Cup will continue last year's format with the two classes of race cars '1600cc Turbo' and 'Above 1950cc' competing on the grid. Arrangements for the other races will be announced in due course.
When: Thursday–Sunday, November 19–22, 2020
Where: Guia Circuit, Macau
How much: Practice days – MOP $50 per person
Races – MOP $400–1,000 (depending on the spectator stand)
For more information, check the event's official website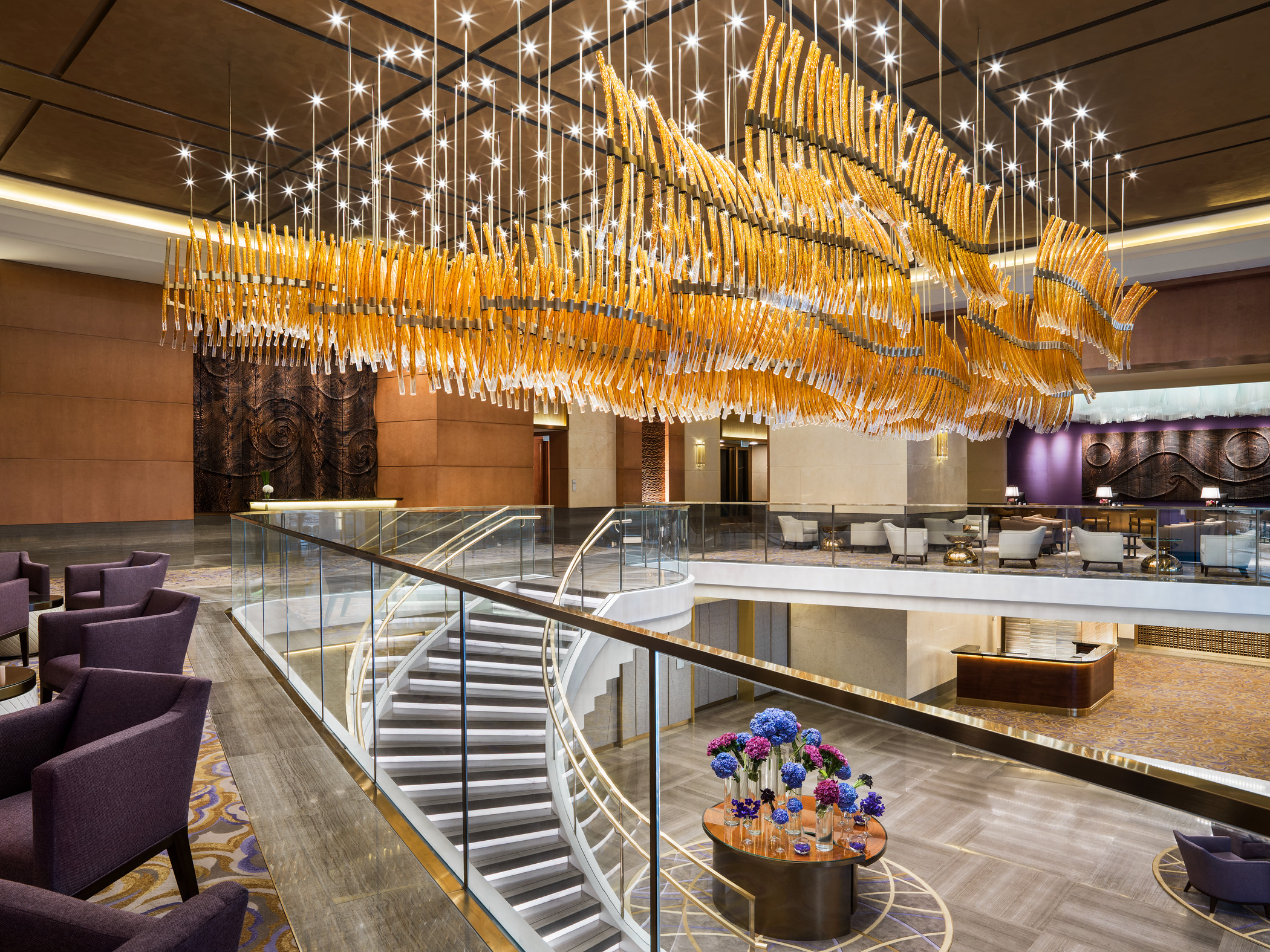 Families are invited to create special memories at The St. Regis Macao with "The Ultimate Family Staycation at St. Regis" package that includes a special two-hour "Experience Macao" outing escorted by their own dedicated St. Regis Butler.
In addition to a one-night stay in a stylish deluxe room with breakfast for two adults and two children and complimentary room upgrade to the next category, The Ultimate Family Staycation at St. Regis package comes with a selection of family-friendly inclusions, including themed welcome and turndown amenities for children, family-oriented activities including the St. Regis Reading Journey that offers a selection of special stories and books especially curated for children to allow precious family moments.
When: Booking period – Now till December 30, 2020
Stay period – Now till January 3, 2021
Where: The St. Regis Macao, The Londoner Macao, Estrada do Istmo, s/n, Cotai
How much: Starting from HKD $1,888 per night
*5% government tax will be exempted until October 31, 2020
For bookings, check their website
With the current unfortunate circumstances that no one needs a reminder of, the entertainment scene has become restricted and sometimes even frozen globally. Thus, when a worldwide-renowned and critically acclaimed art show comes to town, there is no reason to miss it!
The anticipated teamLab SuperNature opened for visitors at The Venetian Macao's Cotai Expo this June. Most likely, your Instagram feed has been overwhelmingly dominated by your friends' photos from this mind-blowing exhibition. But if you haven't had a chance to check it out yet, read on to learn five reasons why you should visit teamLab SuperNature Macao!
If your kid moves to any song, the infamous Baby Shark song, or even television commercials, maybe it is time to search for a suitable dance studio and with teachers to help develop your tot's talent! Not just a fun activity, dance has a long list of benefits, both physical and mental.
Not to mention, dancing together often leads to lifelong friendships. From ballet to hip hop, Macau dance studios have a lot of classes for the little ones. Keep reading to find one which one will be the best for your young Beyonces and Baryshnikovs.

Little by little, the Tap Siac Craft Market has become a recognized creative market brand across Asia. Bringing together elements of creativity, music, and gastronomy, and offers handicraft aficionados unique experiences every season. This year, the Tap Siac Market takes place on two weekends of November, 20 to 22 and 27 to 29. As in previous editions, this too features a series of music live performances, activities for the little ones, lots of booths with creative and craft items, and workshops as well.
Since 2008, the Tap Siac Craft Market is held twice every year in Spring and Autumn. It attracts both local and overseas creative talents to showcase their creativity and is now a major cultural and creative event featuring handicrafts in Macau and throughout Asia.
When: 5:00pm–10:00pm (Fridays), 3:00pm–10:00pm (Weekends), Friday–Sunday, November 20–22 and 27–29, 2020
Where: Tap Seac Square, Avenida do Conselheiro Ferreira de Almeida, Macau
How much: Free admission
For more information, check the official event's website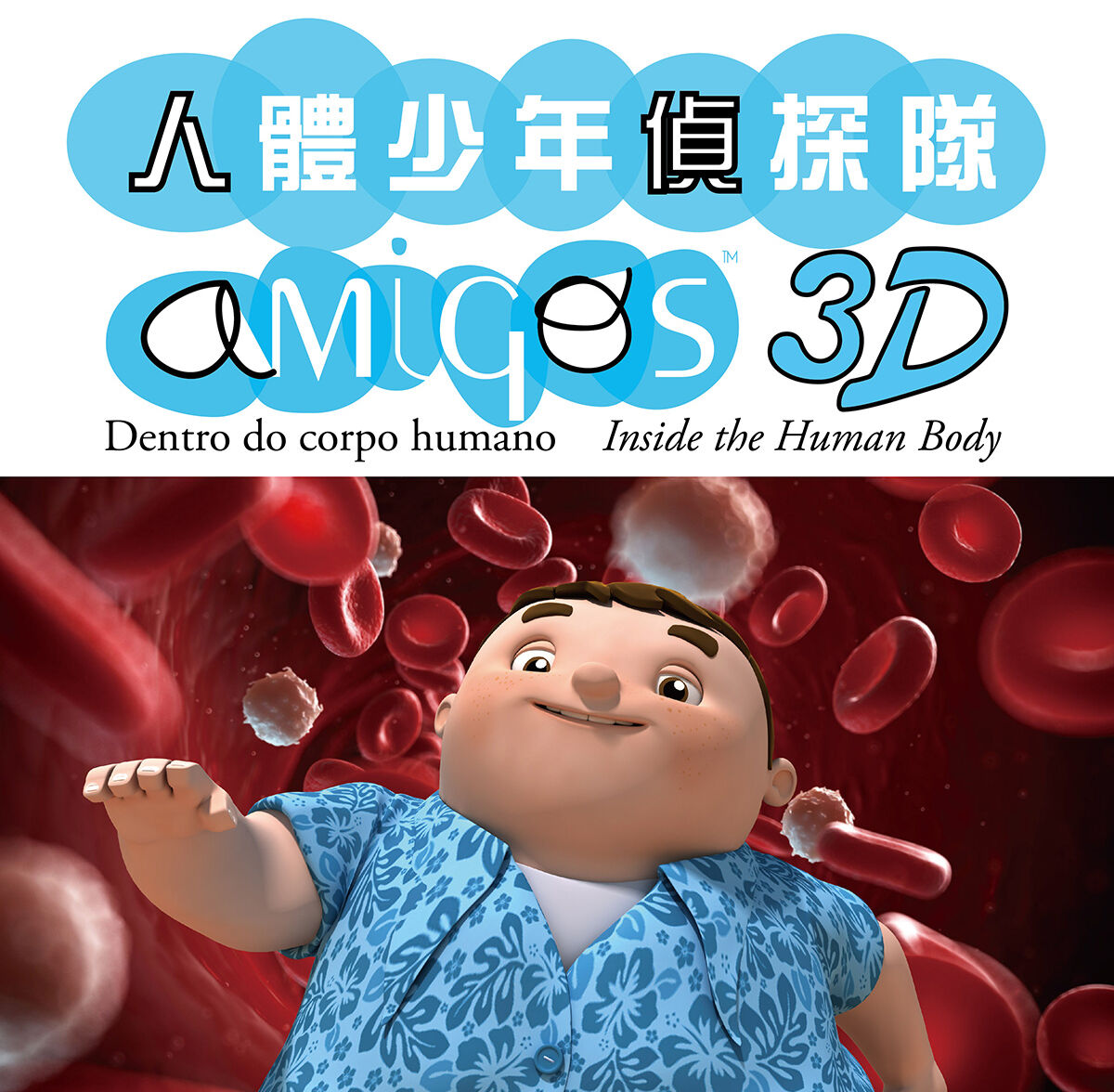 Amigos – Inside the Human Body 3D is a dome show targeting kids and their parents, crafted to teach the little ones about the human body through a fun and interactive way! Three children and a dog: Steven, Teresa, Alex, and Cookies. After a mysterious meeting that will unite them forever and with the help of a wonderful invention, "The Virtual Reality Room", they will learn firsthand about the incredible machine: the human body.
They learn from the inside how the sense of sight works, about the brain, how our body is fed by oxygen, about the heart's mechanism, and our digestive system. They will also have to help the body to fight off an invader, Viron, who will try to provoke bad illnesses and finish them off as well. It's in Cantonese, Mandarin, and English.
When: 12:00pm, 3:00pm or 5:00pm, throughout the year
Where: Macao Science Center, Avenida Dr. Sun Yat-Sen, Nape, Macau
How much: MOP $60 per person (regular 2D show ticket), MOP $20 (Macao residents discount price)
For more information, check their website
Tags
Related Posts