March is a month full of activities and fun events in Macau, so fill up your weekends with the best that the city has to offer. The Macau Literary Festival is revving up, The Roadhouse Macau and Duffy's Irish Pub is celebrating St. Patrick's Day in style this Saturday and more! Get international this weekend and check out Bene Food & Wine Mercato and reserve your seat at Privé celebrating Good France with an all-things French menu!
(See featured image above)
Celebrate St. Patrick's Day at either The Roadhouse Macau or Duffy's or both! Raise a pint or two with The Roadhouse Macau family and don't forget to get dressed in green this March 16. From 9:00pm onwards, Doble Dorias rocks the stage with popular Irish rock band tunes from U2, The Cranberries, Thin Lizzy and Gary Moore. This will be a night and a line-up to remember!
The Roadhouse Macau will be giving out gifts for people, including 10 free Irish cooler bags for those who are best dressed and covered in green. They will give away two bags every hour from 8:00pm to 10:00pm and four bags at 11:00pm. The night will also have a balloon drop, complimentary dinners for two, three bottles of Jameson, cash vouchers, free drinks and huge discount cards. As if this wasn't enough, the Italy vs. France and Ireland vs. Wales rugby tournaments will be screened. Also, get to The Roadhouse Macau between 5:00pm and 8:00pm, buy a drink and get one free! This applies to standard spirits, bottled beers, draft beers and house red and white wine by the glass.
At Duffy's, there will be different activities to celebrate this once-a-year event! The night starts with a live acoustic session with local musician, Beto followed by a great night with lots of giveaways and drinks. Only on St. Paddy's Day, their special Jameson cocktail–Jameson Ginger & Lime–will be going for only MOP $55! There will also be free Irish flag shots on the hour, every hour from 8:00pm–11:00pm! Both spots will have an all night long promotion for Heineken, where if you buy one beer, you get another one for free. See you at Duffy's and The Roadhouse Macau this St. Paddy's Day! Sláinte!
When: Saturday, 5:00pm–2:00am, March 16, 2019
The Roadhouse: 8:30pm – Six Nations Rugby tournament (Italy vs. France)
10:45pm – Six Nations Rugby tournament (Ireland vs. Wales)
5:00pm–8:00pm – Happy hour (buy 1 get 1 on several drinks)
Duffy's: 9:00pm–onwards – Live acoustic session by Beto
8:00pm–11:00pm: Free Irish flag shots on the hour, every hour
Where: The Roadhouse Macau E-G016-G019 Broadway Food Street, Broadway Macau, Avenida Marginal Flor de Lotus, Cotai
Duffy's Irish Pub Broadway Food Street, Avenida Marginal, Flor de Lotus, Broadway Macau, Cotai
How much: The Roadhouse Macau – Free admission
Duffy's – Free admission, with special Jameson cocktail "Jameson Ginger & Lime" – MOP $55
For more information check Duffy's Facebook event here and The Roadhouse's here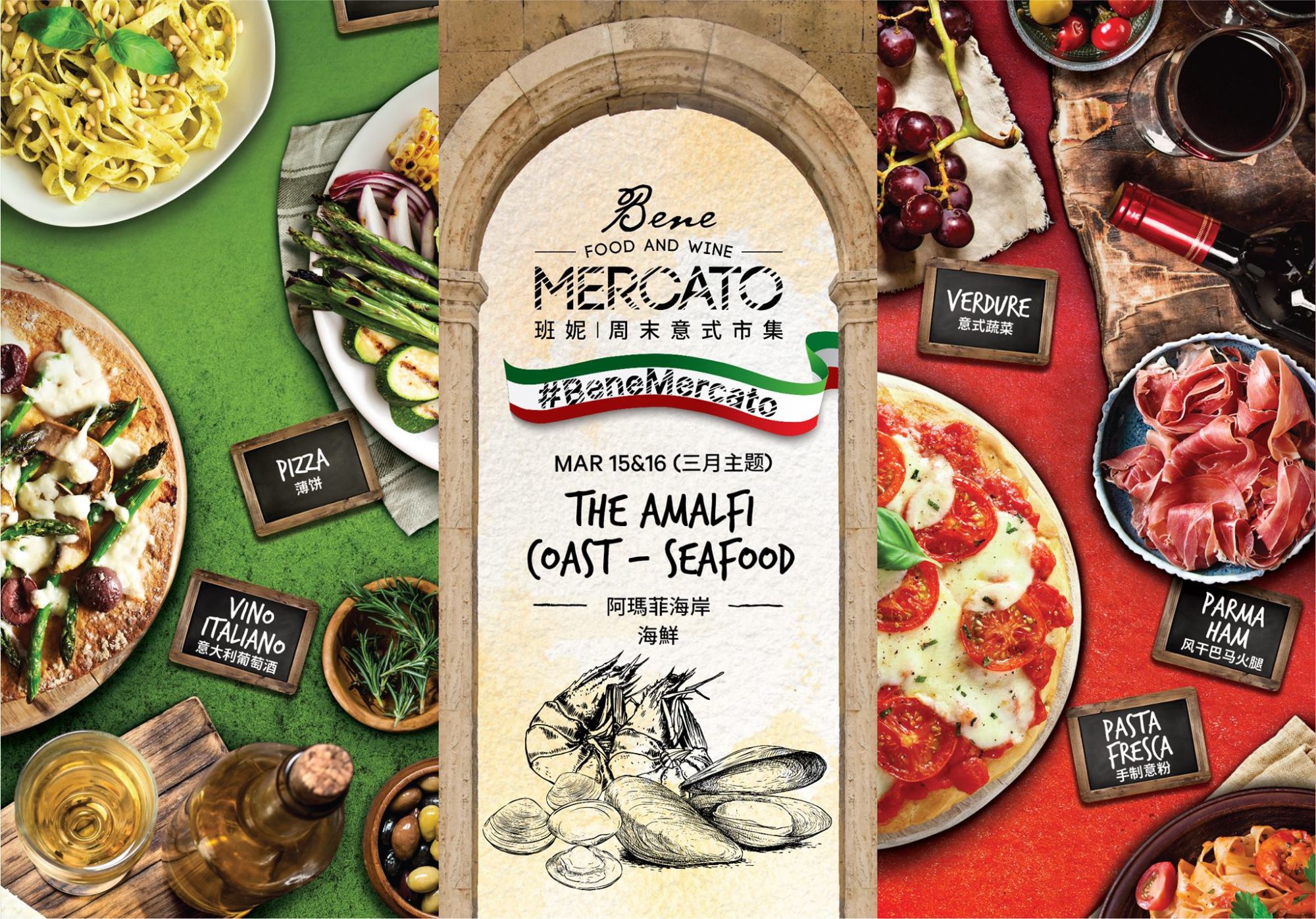 La Dolce Vita is back at Sheraton Grand Macao Hotel, Cotai Central! Visit Bene Food & Wine Mercato on March 15th, this time focusing on delicacies from the Amalfi coast! This month's unique dining concept incorporates lots of seafood. This event explores the authentic flavors of Italy every month and this doesn't just extend to the food. Vibrant market atmosphere, indigenous wine counters and different theme-inspired interactive cooking stations will take you on a journey to experience the flavors of Italy like a true Italian.
When: Friday and Saturday, March 15 and 16, 2019
Where: Bene, Level 1, Sheraton Grand Macao Hotel, Cotai Central, Estrada do Istmo. s/n, Cotai
How much: MOP $488 per adult; MOP $200 per child (aged 6–12 years old)
Price includes entry ticket, unlimited food, wines and drinks while Marriott Bonvoy members will enjoy special discounts
For enquiries or reservations, call +853 8113 1200 or email them at [email protected]
To find out more about this event, check their Facebook page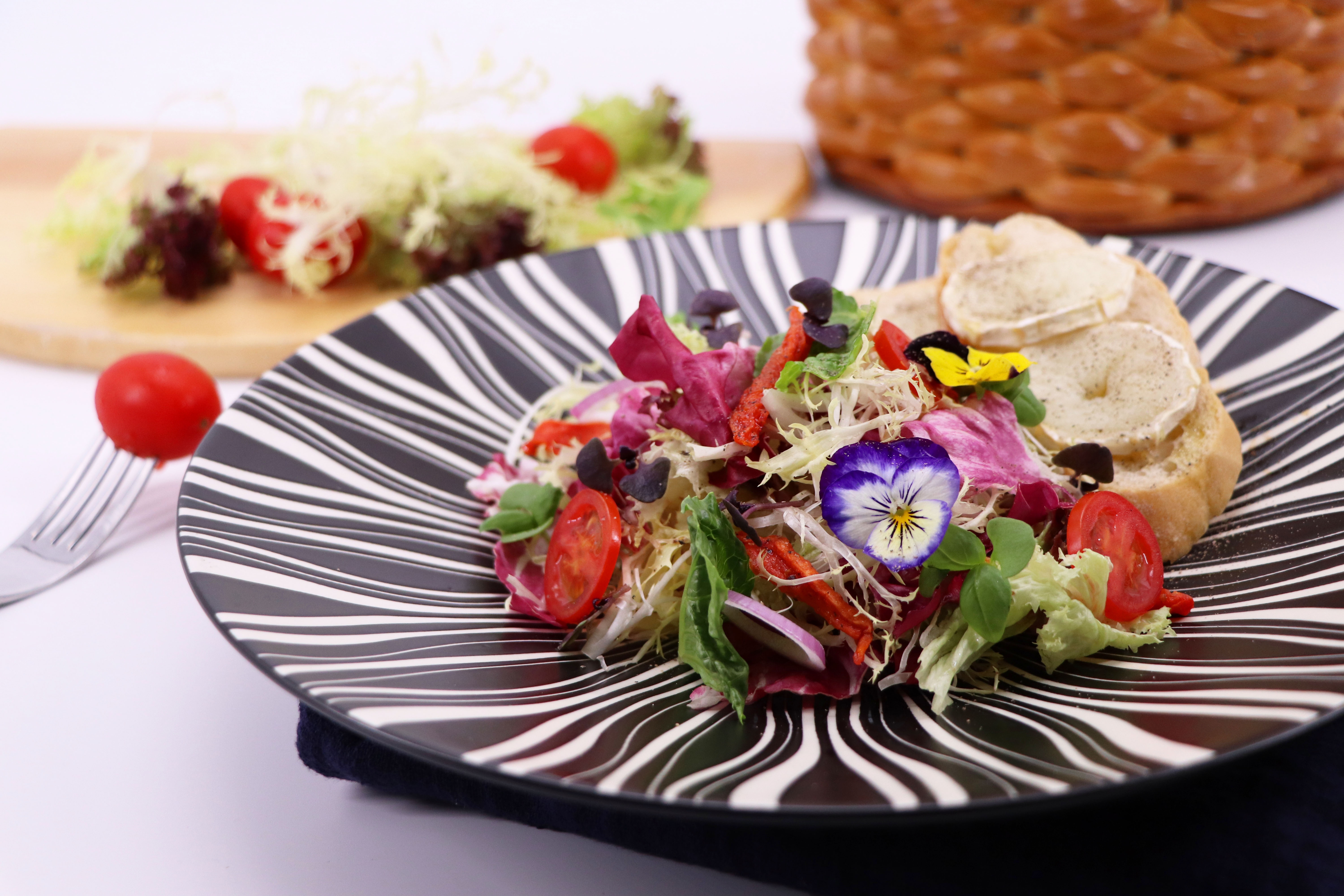 Sofitel Macau At Ponte 16 is celebrating French cuisine with the Good France 2019 dining experience! From March 19 to 23, Privé is serving an all things French menu. Renowned for its elegance and exquisiteness, "Gastronomic Meal of the French" is a UNESCO intangible cultural heritage that has prompted French chef Alain Ducasse and the French Ministry of Europe and Foreign Affairs to launch Good France in 2015.
The "Good France" menu starts with hot goat cheese salad, which is prepared with cherry tomatoes and honey balsamic sauce, and French cold cut platter, which offers an assortment of sausages and coppa, jesus, and Bayonne ham. Next up is bouillabaisse fish soup–a Provençal specialty that combines the rich flavours of Bouillabaisse with prawns, scallops, and blue mussels. The main course is the crispy yet tender salmon fillet, perfectly complemented by truffle mashed potatoes. To finish off the meal, guests are treated to the chocolatey and gluten-free pave chocolate cake.
When: March 19–23, 2019
Where: Privé, Sofitel Macau At Ponte 16, Rua do Visconde Paço de Arcos, Macau
How much: "Good France" set menu – MOP $588 per person
For more information on the Good France initiative, check their Facebook page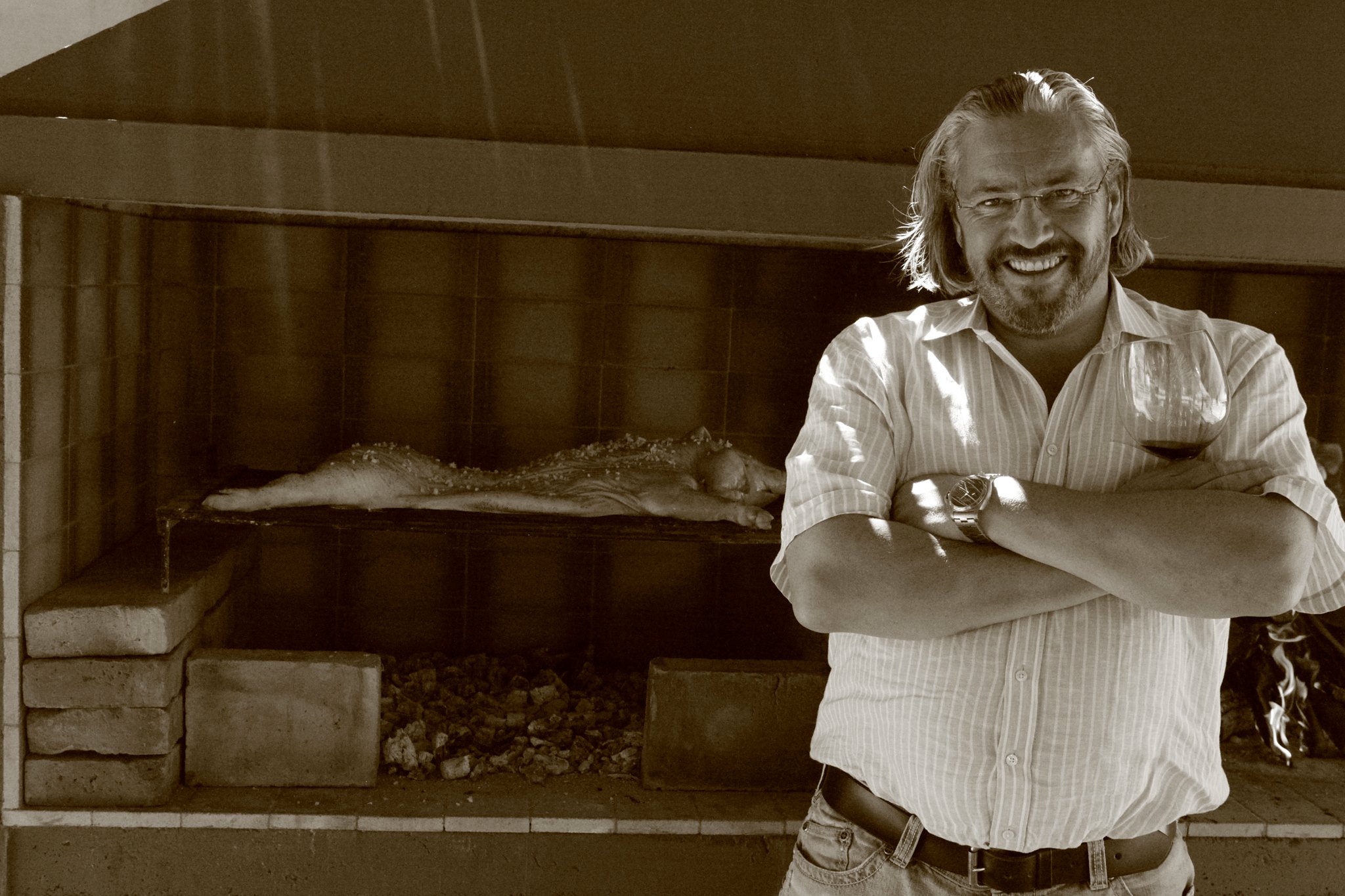 Get ready for a night of amazing wine and dining with SW Steakhouse and Hundred Acre winery. Hundred Acre, a renowned winery, awarded a total of 22 perfect-100 points by The Wine Advocate, is best known for producing Cabernet Sauvignon and other premium wines. For the first time in a Hundred Acre event, winemaker and owner Jayson Woodbridge will showcase seven different 100-point wines from Hundred Acre. Don't miss the opportunity–reserve a seat today!
When: Friday and Saturday, 7:00pm, March 15 and 16, 2019
Where: SW Steakhouse, Wynn Palace Cotai, Avenida Da Nave Desportiva, Cotai
For reservations, call +853 8889 3663 and to know more, check their website or Facebook page

The next edition of The Script Road: Macau Literary Festival will take place between March 15 and 24, at Naval Yard 1 and other spots around the city. Its first confirmed performer is Portuguese singer and composer, Salvador Sobral, with more to be announced! For this year, the Festival will host more than 30 events throughout the city, with cinema sessions at Alegria Cinema, Passion Cinematheque, art exhibition at Art Garden and Navy Yard 1, and a concert at Broadway Macau.
This 2019 is an homage to poetry, so there will be several activities related to it: from conferences and talks with authors like Miguel Sousa Tavares, José Luís Peixoto, Michael Shelden, or Caroline Petit, to movie screenings of Empire Hotel, San Va Hotel – Behind the Scenes, Melville in Love and many others. Taiwanese band Wednesday & Bad to the Bone and local artists also have a place in this event.
When: March 15–24, 2019
Where: Macao Contemporary Art Center – Navy Yard No 1, Broadway Theatre at Broadway Macau, Wing Lok Cinema, Cinematheque Passion, Vasco Bar at Grand Lapa, and other venues
How much: Free admission for workshops, conferences, jam and cinema sessions
Salvador Sobral's concert – MOP $200 per person
Tickets are available here
For more information, go to their website

The first exhibition of AFA this year has opened! This exhibition is the first solo exhibition for Crystal W. M. Chan after she completed her degree in School of Visual Arts. As an Asian, female artist, she drew attention with her work while studying at art school in New York. In 2017 she won the Will Barnet Award issued by the New York National Club and held two solo exhibitions in New York in 2018.
Leaving Macau to go to New York, through the four years of studying and hard work, Crystal has blurred the boundaries of the shapes she creates. It is her way of breaking through limitations. The creation of her works are more matured, though the appearance of her paintings is somehow ambiguous but the emotional power of her work has revealed itself in clarity during this process of artistic pursuit. Alice Kok is the curator for this exhibition.
When: February 27, 2019–April 2, 2019
Where: Macau Art Garden, 265 Avenida do Dr. Rodrigo Rodrigues, Macau
How much: Free entrance
For more information, check the event's Facebook page
Tags