We've all been very aware of the impact that Art Macao has exerted all over town. Now, we take time to check out this year's Outloud Street Art Festival, focusing on urban street art and Asian talents, there is much more than meets the eye! Let's see what this festival brings and what there is to experience. More than just another exhibition, compilation or artwork, this festival is real-time interaction with the local communities living in the neighborhoods where the international artists are leaving their mark. Amazing, right?
Taking Macau higher
With Art Macao, the local government shows a set of exquisite, unique and original pieces of art spanning from centuries ago to this year. However, where does graffiti fit in amongst the sculptures, paintings, and installations?
Often misunderstood as vandalization of public property, this means of expression has experienced a growing number of both participants and fans. Some youngsters who started as graffiti writers are now well known. Graffiti is becoming more and more accepted, even brightening up the main avenues of big cities such as Lisbon, Oporto, Hong Kong, Seoul, among others. Jean-Michel Basquiat and Banksy are great examples of graffiti writers. Both started as graffiti artists and were even chased by the police when they were younger. However, several of these artists' works have already sold for millions of US dollars.
Outloud: A Theme Per Year
This time, organizers chose "Back to the Future" as the festival's main theme, so be sure to encounter several revivalist items, songs, and vibes. From clothing to music, activities to paintings, there is an array of things taking all of us back to a time some might have not experienced. For others, it will certainly be like traveling back in time!
Most activities will take part at Macau Hotel S, formerly known as Macau Hotel Sun Sun. As one of the oldest hotels in town, this place resonates with vibes from simpler and somewhat cooler times, when the city ran on industries such as fishing and traffic wasn't an issue yet. The whole area of Praça Ponte e Horta is filled with graffiti from previous editions of Outloud Street Art Festival, so be sure to have them on camera, plus the new ones you'll see live this year. Travessa dos Tréns is also located close to the hotel and hosts some cool events.
Graffiti artists: Get to know them
We've told you about the walls and street being lit with incredible personalized drawings and paintings, but who are these artists coming to our city? Let's get to know them! Graffiti artists prefer to be called writers and creators since most wall paintings have a strong message attached to it. With artists from Moscow, Korea, China, Malaysia, Japan, Australia, and Thailand, this is Macau's greatest and boldest event of urban art expression yet.
Jay Flow (from the JNJcrew and SUKcrew) is a Korean graffiti writer, an illustrator and the art director of Stigma. As a member of Stick Up Kids (a worldwide graffiti crew), the artist is currently working actively inside and outside of the country. He's also working on a variety of artworks influenced by subculture based on graffiti.
Australian Gus Eagleton brings us some pretty beautiful portrait and figurative representations, almost too real to believe. With a preference to paint and draw people on walls, Eagleton eternalizes women and men figures, taking graffiti to a whole new level: it isn't just about going back in time and setting the clock in the 80s; it's about making use of the evergreen abilities of art.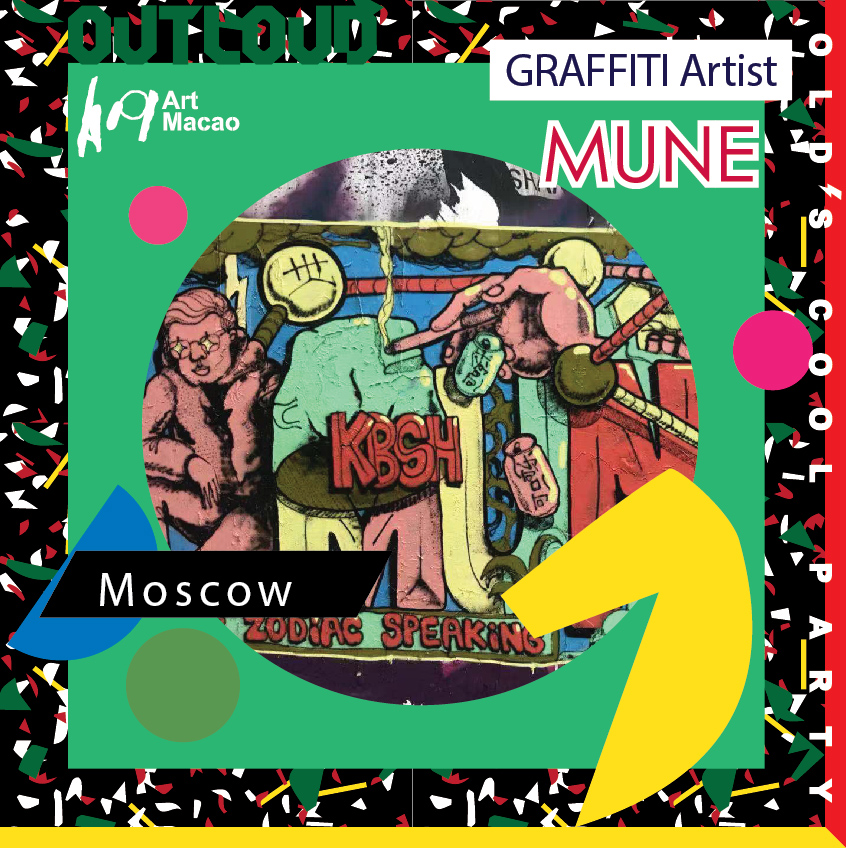 Mune started spraying in 2014 but has always been interested in street art. He isn't very fond of being called an artist, preferring to be addressed as a "graffiti writer". Check out his work and be amazed by his artwork in Russia, specifically in Moscow.
Wezt One, MT, Kenji Chai, NOS, Cloakwork, Rukkit, Vance, ANDC and Chose are some of the other names worth knowing and learning about, so search them online before you head to the event. There are more than 10 artists worth checking out in this year's edition of Outloud Street Art Festival, so be sure to keep that weekend open to visit this incredible festival and the talent that's in Macau for two days only!
Back to the 80s 
Taking part of the city back in time to the 1980s, Outloud Street Art Festival organizes a series of other activities and events not related to graffiti. Amongst them are artists talks, a V-lyfe studio art experience, but also a vintage art market, a roller disco, and a DJ music show!
Events such as the vintage market, the sharing talk and the free wall (where everyone can take turns testing their graffiti skills) take place at Travessa dos Tréns, while surprises such as pillow fights, the roller disco, and the DJ show happen at the hotel. Join all the fun and buzz from October 25 to 27, making this a weekend to remember for days to come!
---
The 3rd Outloud Street Art Festival invited several remarkable street artists from all over the world to gather in Macau and unleash their creativity, bringing a great visual show to the city. The festival's line-up includes large graffiti wall painting sessions, music, dance, DJ performances, artwork displays, a car exhibition, workshops, game booths, food stalls, charity auctions and introductory sessions about graffiti.
When: Friday–Sunday, October 25–27, 2019
Where: Surrounding area of Ponte e Horta Square, Macau
How much: Free admission
For more information, click here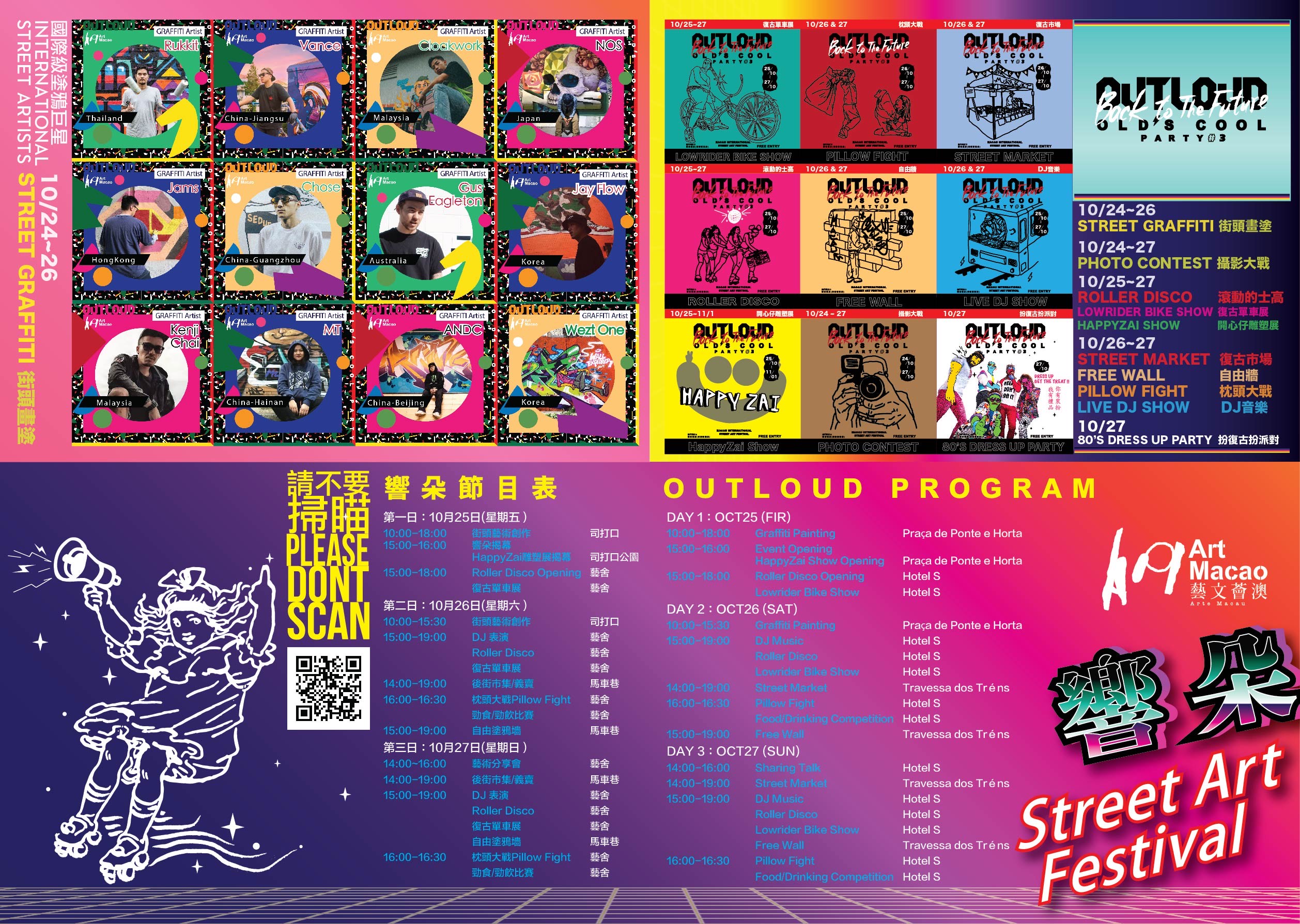 Tags
Related Posts