A churchman, Catholic missionary, historian, researcher, and writer, priest Manuel Teixeira lived most of his life in Asia. Although he spent 14 years doing missionary work in Singapore, it was in Macau where he found a home. Read on and get to know the man with a characteristic white long beard who crossed the Governador Nobre de Carvalho bridge every day until thrombosis hindered this daily ritual.
Early life
Born in Trás-os-Montes–northern Portugal–on the same day Titanic sank (April 15, 1912), Manuel Teixeira finished primary school and traveled to Macau right after. According to his own writings, the decision to follow a career in religion was fostered by a conversation with a priest from his hometown who asked if he wanted to move to Macau because the city needed churchmen. He got home that day and told his parents that's what he wanted to pursue. And thus, the then 12-year old boy embarked on a two-month boat journey towards Macau.
Here, he completed his religious studies at St. Joseph's Seminar which allowed him to become a priest. After becoming ordained, he became a priest at St. Lawrence's Church until 1946. At the young age of 22, Teixeira started managing the Ecclesiastic Bulletin of the Macau Diocese, a position he kept for 13 years. In 1942, he founded the monthly review O Clarim and co-founded the weekly publication, União. O Clarim is now a newspaper.
Sharing knowledge: From Singapore to Macau
Also titled a monsignor, Teixeira moved to Singapore where he lived from 1948 to 1962 doing missionary work and as a vicar of the Portuguese Missions in Singapore and Malacca. Teixeira was a key figure in fostering religious institutions of this area, including the English language catholic magazine, Rally.
Back in Macau, he taught Latin and Religion at several schools such as St. Joseph's Seminar and College, Escola Comercial Pedro Nolasco, and Liceu Nacional Infante D. Henrique. With quite a few years of experience with books and managing publications, he directed the Macao Archives during the 1970s and 1980s, as well as of the Luís de Camões Institute's Bulletin.
Maybe one of the most striking facts about Father Manuel Teixeira is the number of historical research books he published: 123, having actively contributed to many others. Three of his most well-known titles are Macau e a Sua Diocese (a 16-volume collection depicting the 400-year history of the Macau Diocese), Toponímia de Macau–a book on the history of Macau streets and roads, the origin of their names, the meaning behind some uncommon ones, and other really interesting information–and A Imprensa Periódica no Extremo-Oriente, the first comprehensive research on the history of the press in Macau. He also wrote several books on the history of religion in Macau–especially Catholic churches and parishes–on historic buildings such as Hotel Bela Vista, or the presence of explorers and important figures on emblematic structures in the region. He also focused a lot of his research on tracing the history of the Macau Diocese.
Also read: Walking Around: Macau's Oldest Streets
The missionary spoke fluent Portuguese, Chinese, and English. During the 1-2-3 Incident–riots between the Portuguese authorities and civilians in 1966–some valuable historic documents were being burned at Senado Square and the priest rushed there to save the precious information. It's said it took him three consecutive days and nights to put it all back together.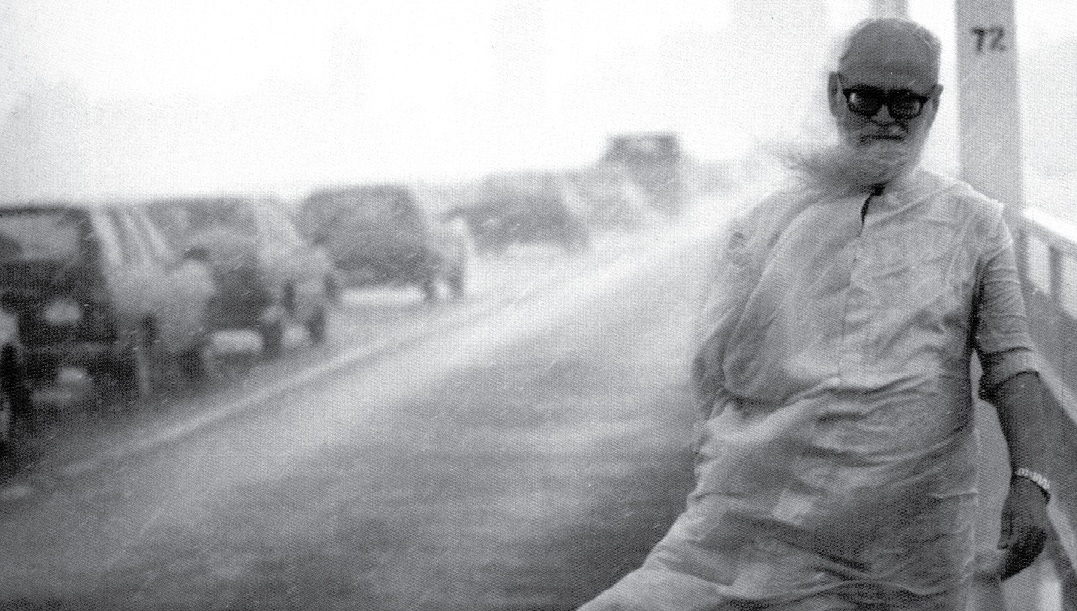 A particular figure
Missionaries are a common sight in Macau since the Portuguese first arrived. However, few churchmen are as characteristic as Father Padre Teixeira. Not only he was critical for the advancement of research about Macau's history, but he also had a very unique figure: always dressed in white clothes, Teixeira was instantly recognizable for his long, white beard. One of his singularities was the fact that for years, he crossed the Governador Nobre de Carvalho bridge on a daily basis. His book on Macau streets is proof of his broad knowledge of the city, something he was known for. Unfortunately, the researcher and writer suffered a thrombosis in the 1990s and were forced to quit his daily bridge crossing.
Awarded achievements
In 1981 and 1983, he was awarded the Calouste Gulbenkian Foundation History prize for the works Os Militares em Macau and Toponímia de Macau. The priest was also nominated "Person of the Year" in 1982 and two years after, he founded the Padre (Priest) Teixeira Foundation, which granted scholarships to poor local students.
The priest had never gone back to his home country until 1988 to enjoy a leave of absence. He then came back to keep his research and church-related work. Even when his health took a hit–the thrombosis incident in 1994–and was hospitalized for several months, Teixeira never ceased to attend mass every day at 7:00am at the Church of Santa Clara (Santa Rosa de Lima school). He returned to Portugal in 2001–aged 89–and died on September 15, 2003 in Chaves, northern Portugal.
"As someone who studies Macau's history, the most important thing is to take notes on all the important achievements of Macau and its diocese, because the Macau church's history is linked to the rest of the territory's one (…) Man is dust, fame is smoke and the end is ashes (…) only my books will remain (…) and that's my consolation"*
– Father Manuel Teixeira
*[translated from the original Portuguese]
Tags
Related Posts