This time, we bring you a story on Macau's connection not directly with Portugal but Goa which was also ruled by the Portuguese. Because of Macau's proximity to the sea, it was often used as an entry and also a resting point for different nations. This is the history of the Moorish Barracks in Macau which currently houses the Marine and Water Bureau's offices. The Marine and Water Bureau is also known as Direcção dos Serviços de Assuntos Marítimos e de Água (DSAMA) in Portuguese.
Built to host a regiment from Goa
The Moorish Barracks–now known as the Marine and Water Bureau headquarters–was completed in the summer of 1874 and was meant to host a police regiment sent from former Portuguese Goa to Macau. The men from the Moorish Company of the Macau Police Force were housed here, a building with capacity for more than 200 people. They were called "Moorish" because of their semblance with dark skin and exotic features, physically different from the locals.
The project came from the mind of Italian architect Cassuto, resulting in a structure made with bricks from Barra Hill, characterized by a neoclassical style inspired by Moorish aspects. All this results in an exotic feel to it, with long verandas on three sides of the building and Moorish style arches.
Although the barracks was initially built to host these men, later–in the 19th century–it became the Harbour Master (now the Marine and Water Bureau) and the Marine Police headquarters, in order to cope with the growing number of pirates operating off the Chinese coast and their activities which involved contraband of weapons and opium. 1905 marked the year this building officially became the accommodation spot of the Marine Police officers and the Harbour Master.
One might not be able to picture it, but centuries ago before years of land reclamation, Macau was a tiny city. Not long ago, in the 90s in fact, water passed by the Maritime Museum, in Barra. Those reclamation projects drove the Moorish Barracks far from the waterfront. However, it's not as distant as one might think. If you are descending from Lilau Square, you'll find the yellow and white building on your left-hand side. Unfortunately, visitors are not allowed inside the structure, since it's still working as a government institution, but the exterior is so beautiful it makes for beautiful photos and memories.
Unfinished grandiosities
History is essentially made up of facts but there are some super interesting stories never officially confirmed. Most official sources state Cassuto as the Morrish Barracks' architecture. However, different sources point to the existence of a first project by António Alexandrino de Melo, (a baron, known as Barão do Cercal in Portuguese). In an 1887 edition, Occidente ("Occident" in Portuguese, written in former orthography) magazine has some information leading to the above-mentioned idea. The drawing shows a more ambitious structure with a much stronger influence from Middle Eastern culture.
Barão do Cercal (1837–1885) was an engineer born in Macau who lived in the region and to whom was attributed a series of projects, most of them demolished over the years. Those confirmed are the Government's headquarters (formerly known as the Governor's Palace), Santa Sancha, São Januário Hospital, São Miguel Cemetery and the renovation project of Dom Pedro V Theatre.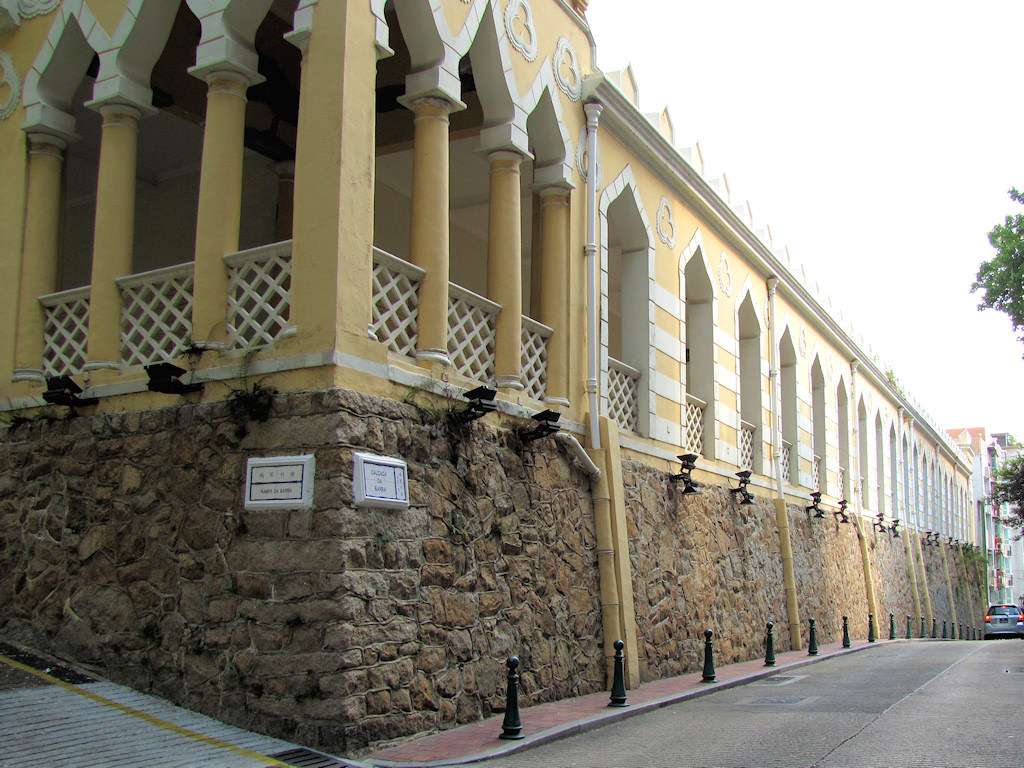 Inscription into UNESCO World Heritage List
In 2005, the Moorish Barracks Macau building was inscribed in UNESCO's World Heritage List, now classified as a preserved building with high historical interest. The local government's intent was to leave the 19th century alive and well and build new structures to host DSAMA's services. Thus, the construction of the Marine and Water Bureau building along with the development of the surrounding areas was completed in 2018, adjacent to the Moorish Barracks' historical structure.
Located close to the Barra Port (inner harbor area), it also provides typhoon signals for dwellers and fishermen to look out for when the weather takes a turn. Now, there is even a recreational space and pathway leading to Penha Hill, where tourists and other interested parties can lounge and get to know a bit more about Macau history. Do be advised that visitors are only allowed at the exterior and verandas of the building but nevertheless, it's definitely worth a visit to see a different side of Macau!
---
Moorish Barracks 1 Calçada da Barra, Macau, +853 2855 9922, marine.gov.mo
Tags
Related Posts