As you might already know, Macau is made up of a peninsula–connected to Zhuhai, China–and two other islands: Taipa and Coloane. It wasn't until the 1970s that the peninsula started to be linked to these areas. Until then, Taipa was a rarely visited spot, while Coloane was mainly populated by locals who worked as fishermen and in the shipyards. Finally, in 1974, the first bridge was inaugurated, marking an important step into easing people's lives and movements.
Can you imagine taking more than an hour to reach Taipa from the city center? That's how much time it took to travel from the peninsula to the other side before the first bridge was built! Also, Taipa and Coloane used to be distinct islands, with a land strip road built in 1968. And, of course, there were no casinos at the time, so drivers would drive by what is now Cotai and have water surrounding them.
Nobre de Carvalho Bridge
(See featured image above)
What's now known as the "old bridge" or "middle bridge"–where the only vehicles allowed are public buses, taxis, and ambulances–was Macau's first-ever bridge. It starts in front of Hotel Lisboa linking the peninsula to the former island of Taipa. It was named after one of the region's Portuguese governors, José Manuel de Sousa e Faria Nobre de Carvalho, who managed the government from November 1966 to November 1974, the year it was opened to the public. Portuguese engineer Edgar Cardoso is the author of the project. Nowadays, going through a bridge or tunnel in Macau is always free of charge, but that wasn't always the case; when Nobre de Carvalho Bridge first opened, users had to pay a toll when coming from Taipa. According to records from the Official Gazette, it cost between MOP $3 and MOP $20 to cross it. The booth was later moved elsewhere becoming a restaurant after tolls were no longer used.
Also read: Five Things Macau Guide Books Won't Tell You: Part 2
Standing a few meters from the water–35 meters above sea level in its highest point–it's the shortest of all–still 2,600 meters long–and features a simple architecture, very linear, with an arch in the middle to allow vessels to pass underneath. However, few things are left to chance around here and, like any other architecture project, this too also had a purpose: to be designed to look like a dragon, where Hotel Lisboa is the head and the bridge represents its body and tail. Its status as an "all-cars" bridge changed in 2006, after being closed for a brief period due to the construction works around Hotel Lisboa. This is the only bridge where pedestrians are allowed, providing a nice running or jogging path for those looking to go from Macau to Taipa.
Also, did you know that this bridge is meant to be the body of a dragon, with Hotel Lisboa as the head and Taipa's white mural monument–by Portuguese artist Dorita Castel-Branco–as the tail? Interesting, right? This means the artist took the effort to integrate her artwork in the city's urban tissue.
Insider tip: Nobre de Carvalho Bridge is one of the best spots to watch–and take pics of–the fireworks (walking up from Macau side). Hop on a bus and take the ride from Taipa to Macau side. We promise you it offers a spectacular view over Macau side and its skyline!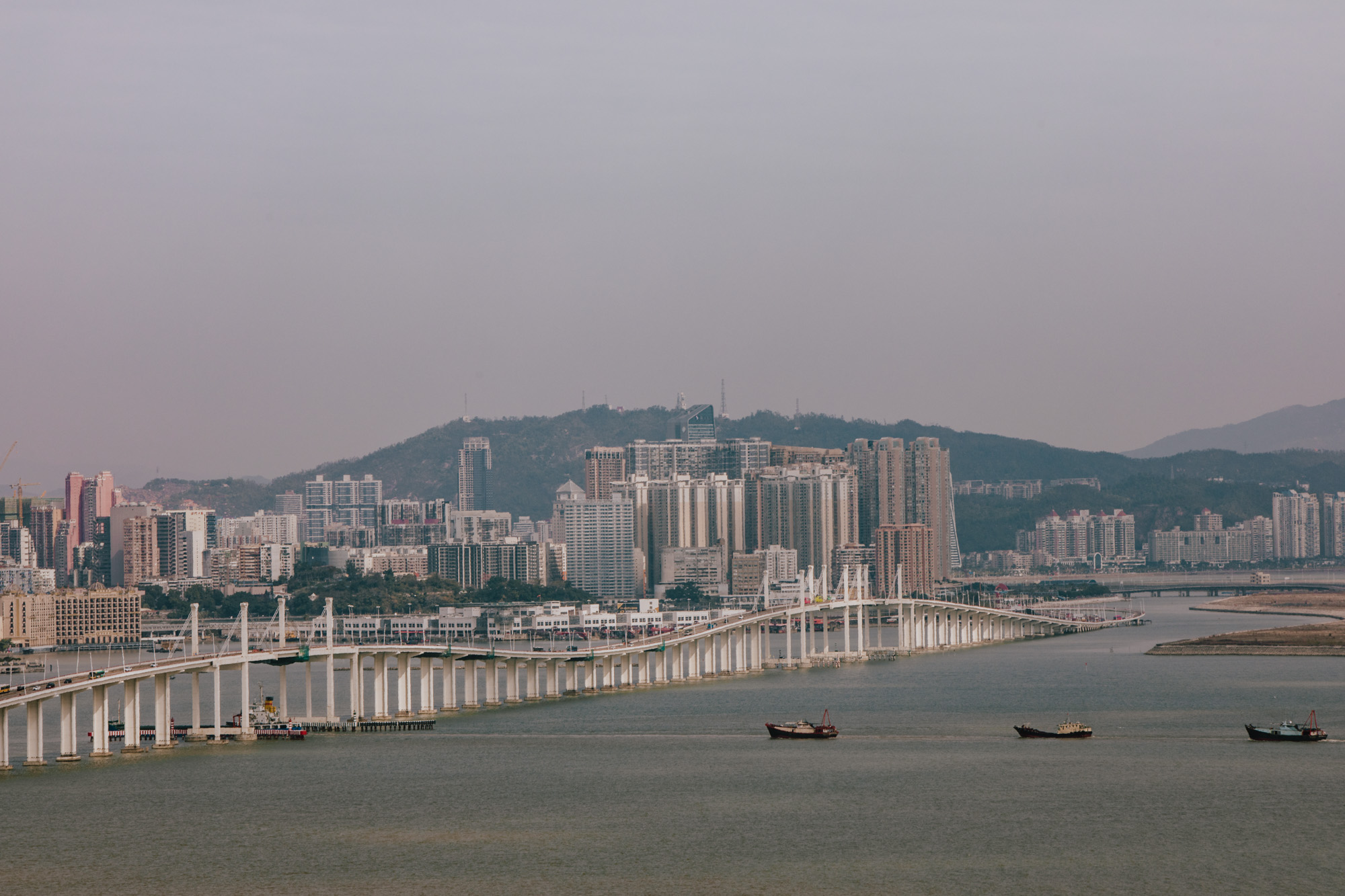 Amizade (Friendship) Bridge
Built in 1994 with a design by Portuguese engineer Câncio Martins–awarded with the Secil prize the following year for this same project–it's the longest bridge in the city (excluding the one connecting Hong Kong to Macau and Zhuhai) with a total of 4.7 kilometers. It was built to cope with the intense traffic jam felt in the city during the mid-1990s with just two bridges operating.
Amizade Bridge links the peninsula to Taipa as well, this time reaching the reservoir surroundings (Macau side) and Pac On in Taipa. Used mostly by people wanting to head to Macau's northern area, it's also crowded during peak hours with drivers and buses going to Gongbei and neighboring areas.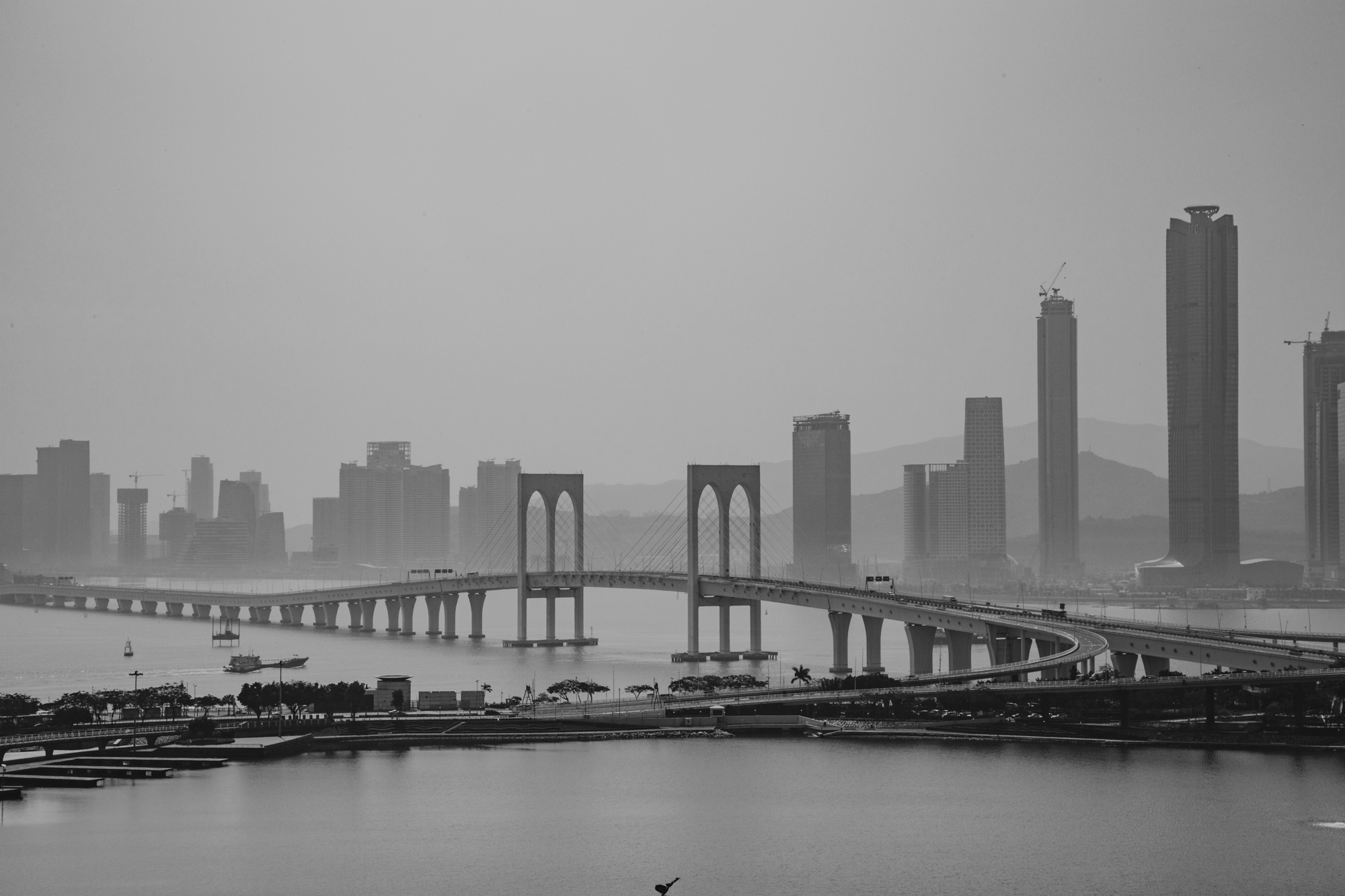 Sai Van Bridge
This cable-stayed bridge–with towers from which cables support the deck–was inaugurated in December 2004, making Sai Van the second-ever connection between Macau and Taipa. With 2.2 kilometers, it's the preferred connection for drivers, since it connects the area of Ocean Gardens (Taipa) to Macau Tower, Barra, and the waterfront zone that includes Mandarin Oriental, Macau and goes all the way to the Macao Science Center. It's also the best access to reach the city center. It gets quite packed during peak hours.
Besides that second deck, Sai Van also features an enclosed tunnel, the only connection in place to assure that people are able to head to and from their homes during strong typhoons since traffic on bridges is immediately prohibited because of the strong winds.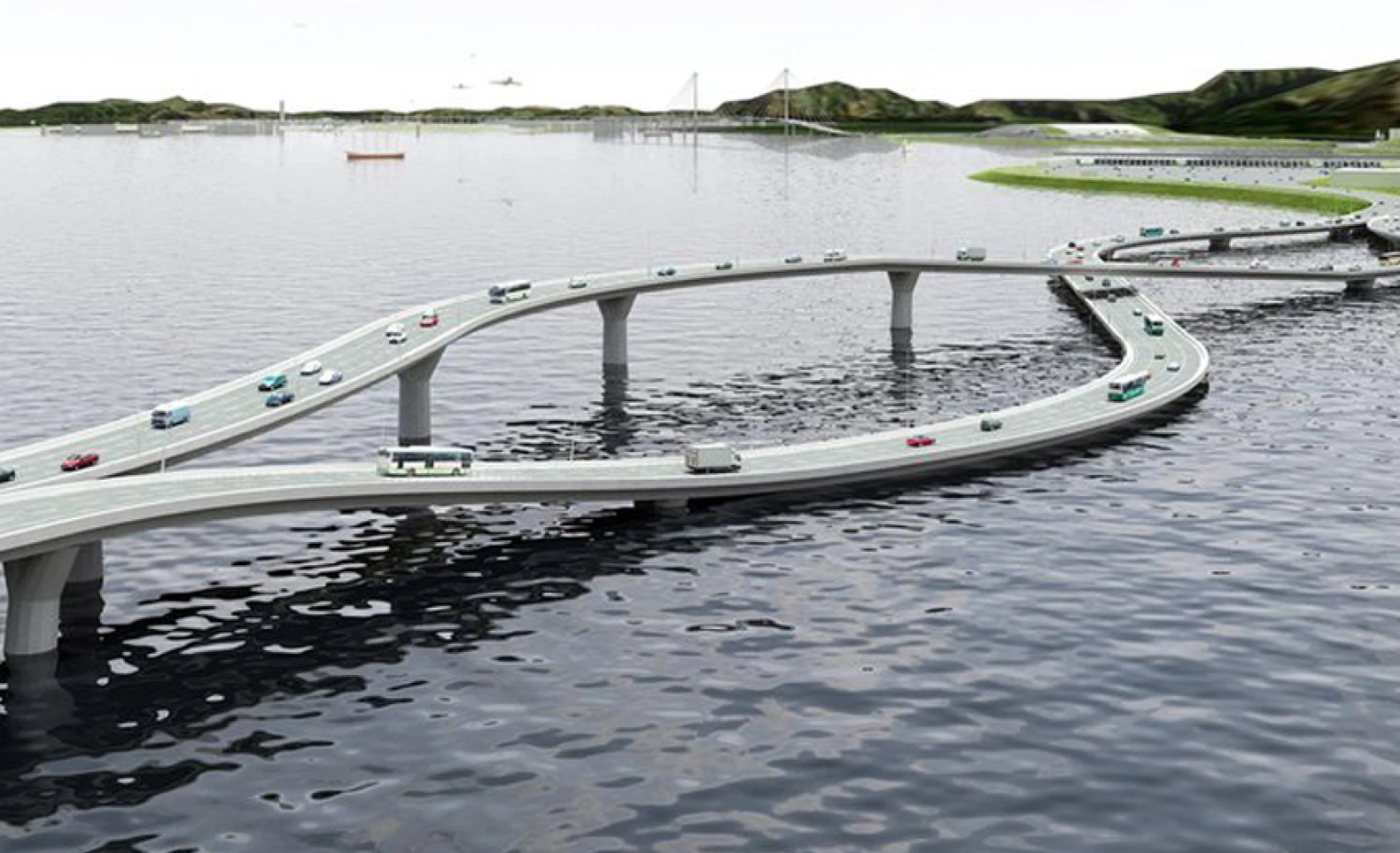 Lotus Bridge
Lotus bridge links Macau to Zhuhai, specifically Cotai to Henqin. This construction is curious and interesting because it's one of the few in the world where drivers have to switch the traffic sides because of the difference between Macau (British) and China (European). It's shaped with two big rounded lanes and signs warning people they will have a change of direction soon. Designed by Portuguese engineer Nuno Costa, it was inaugurated in 2014 and operates 24 hours a day, pretty convenient for people looking to cross after hours.
If you know all about Gongbei, maybe it's time you explore other areas of this Chinese city. With shopping malls, hotels, nightclubs, bars, and art galleries, Zhuhai is cool and interesting to visit, especially if you only have one or two days before going back to work.
Also read: Macau–Zhuhai: The Ultimate Border Crossing Guide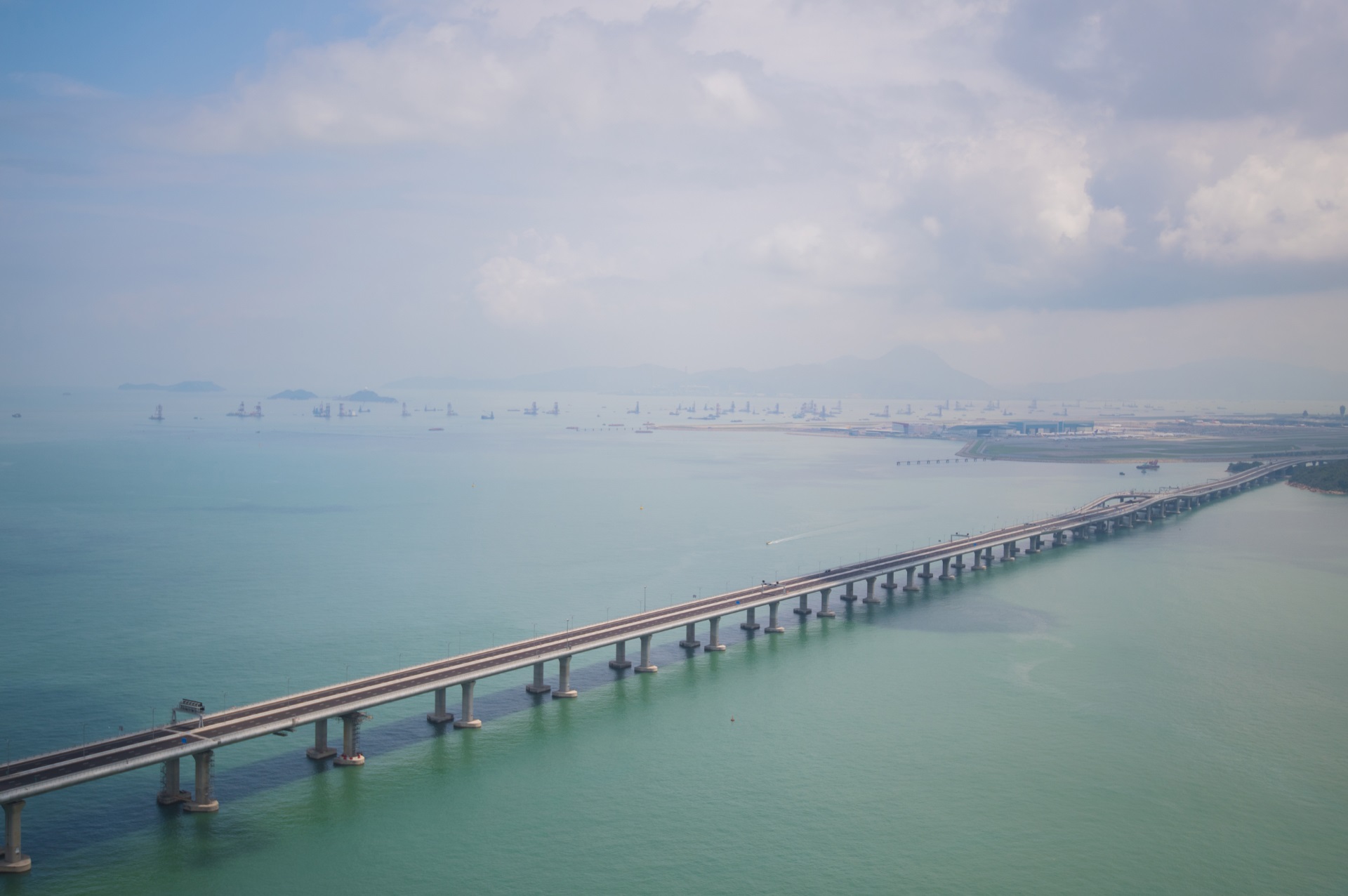 Hong Kong-Macau-Zhuhai Bridge
Presently the longest overseas exterior connection in the world, the HMZ Bridge spans 55 kilometers and features some of the most beautiful water views! For less than MOP $100, go to and from Hong Kong to Macau or Zhuhai without having to make use of the ferry, the only means of transportation available between our city and Hong Kong till this bridge's opening, in October 2018.
Its design has a life expectancy of 120 years and its connecting ports are prepared to handle millions of tourists per month and year. Besides an exquisite architecture, it's also a super convenient way to reach neighboring cities. Although most people just cross the pedestrian border of Gongbei to get to Zhuhai, you can also do it through the bridge. The most common means of transportation are public buses–active 24 hours–but one can also request a private car service, which is a bit pricier but allows for more privacy and a quicker crossing.
Hong Kong-Macau-Zhuhai Bridge Macau Hong Kong Bridge Port, Macau, +853 2872 3888, www.hzmb.gov.hk
Tags
Related Posts