There is certainly no shortage of impressive buildings in Macau. The region has cemented its status as an entertainment hub in Asia and it's no surprise that the skyline has swelled impressively year after year with trail-blazing buildings constantly being added. This year, we are ecstatic to learn that The Londoner Macao is set to open the first phase of its property this February. Nestled at the center of the Cotai Strip, the new hotel brings the excitement and charm of the Victorian era to our city.
From the same property that brought us the largest spectacular hotel resort in Asia and landmarks inspired by recreations of world-famous landmarks, The Londoner Macao is a unique addition to the vibrant scene of Macau. Every corner has been meticulously designed making The Londoner Macao a true celebration of timeless British design. This project also represents Sands' latest collaboration with David Beckham representing his first foray into this design field. Mr. Beckham, who is known around the world as a British sporting icon and international businessman has been a Sands Resorts Macao global ambassador for many years already so it comes as no surprise that he has collaborated with the brand making it an even more special project.
The Londoner Macao will open progressively throughout 2021. With two new all-suite hotels, guests now have a choice of five leading luxury brands, eclectic dining options, enhanced retail and MICE space including a 6,000-seat arena, themed entertainment and attractions. As part of the first phase Sands China Ltd. will unveil the all-suite The Londoner Hotel, the magnificent Crystal Palace atrium, new dining options and interactive London-themed attractions with an official ceremony.
Prepare to be transported to England with the exterior facade, modeled on the iconic Palace of Westminster and Houses of Parliament, complete with the 96-meter Elizabeth Tower and spectacular clock face. Upon arrival, the grandeur of the glass-canopied porte-cochere with cobblestone paving evokes the capital's most famous train station, Victoria Station. The grounds and gardens surrounding The Londoner Macao are patterned on the great London parks and gardens and most especially inspired by those at the royal residence–Kensington Palace.
Everything is majestic with the Crystal Palace brightly lit and the palatial atrium reminiscent of Claridge's of London. Bask in the setting of one of the greatest in Victorian design and construction of glass and iron. Step into the lobby where guests will find elegant spaces, inspired by the contemporary yet formal drawing rooms of glamorous British manor houses. It embraces visitors with the grandeur and warmth of sumptuous British luxury. Rooted in ancient classical architectural orders which were the inspiration for many of the great estates, manors, and palaces of historic England, staying at this property will no doubt be a multi-sensory experience encompassing luxury and lifestyle. We can't wait to explore the world-class restaurants, retail offerings, and entertainment!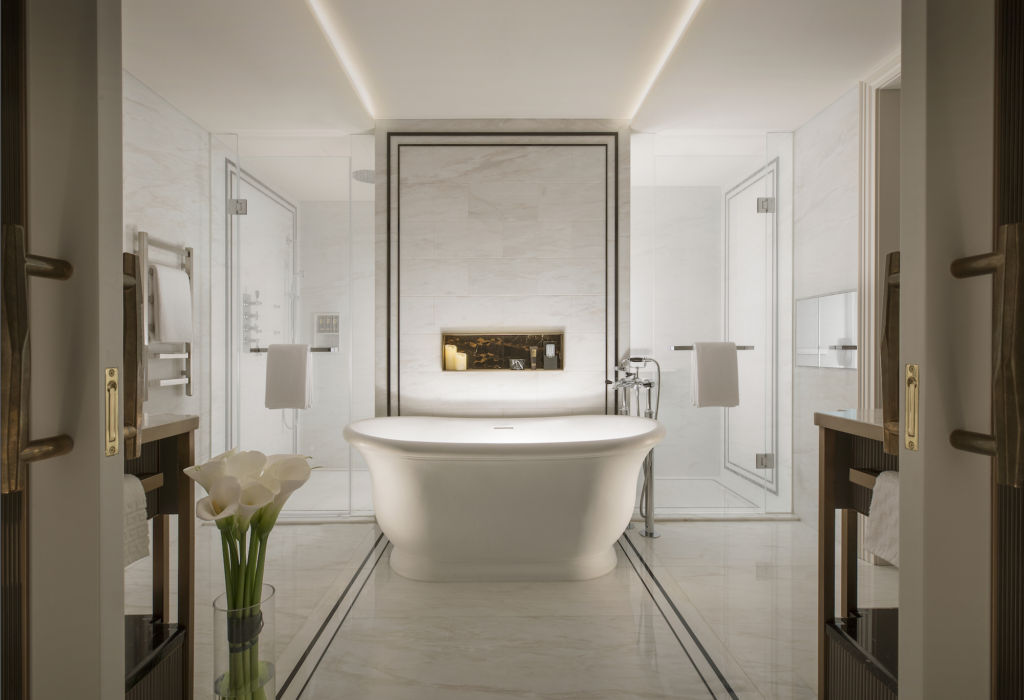 The Londoner Macao Facilities
34,300 square meters of meeting and convention space
13 ballrooms
six meeting rooms
three spas
four health clubs
More than 20 dining options
Over 200 wide-ranging stores
Over 34,000 square meters of gaming
CULINARY JOURNEY
Embark on an exciting dining adventure that delivers the very best culinary experiences at this location. Partake in British classics, traditional and modern Chinese cuisine, authentic Portuguese specialties, and fascinating Macanese fusion food. We take a quick peek of the top-notch restaurants soon to open in Macau.
Dongbei and Sichuan cuisine
This new restaurant will exhibit the very best from northeast China specializing in roast duck and Xinjiang specialty dishes. A highlight of the restaurant includes a traditional duck oven, open fire pit for roasting whole lamb or goat, grills with a tandoor oven for flatbreads and noodles, dumplings, hotpot, and condiment stations. The aesthetics of the dining spot is inspired by classic Chinese mansions and honors strong elements of traditional Chinese design while adding a level of modernity through the use of materials, rounded corners, and contemporary interpretations of timeless Chinese art and patterns.
The Mews, Thai restaurant & bar
The Mews is an all-day bar and Thai restaurant with seating for 94 guests. Enjoy a warm ambiance with an extensive menu of drinks including Thai-inspired cocktails, while snacks feature specialties from around Thailand. It is located near the stunning setting of The Londoner Macao's Crystal Palace.
Gordon Ramsay Pub & Grill, British gastropub
Gordon Ramsay Pub & Grill by Gordon Ramsay brings the authenticity of British gastropub to Macau. With an upscale and lively bar and lounge area, sample an array of draught beers, with a quality wine selection and handcrafted cocktails. The bar menu has an amazing variety of dishes that pair well with beer, wine, and cocktails, including shepherd's pie, a selection of British sausages, and classic fish and chips.
Churchill's Table, The Londoner Macao
This all-day restaurant can accommodate 200 guests for casual dining with international and English breakfast offerings along with Asian food stations and an à la carte menu. We can't wait to try the fine English afternoon tea with a tea master on hand, and traditional scones, jam, and clotted cream served from a trolley on silver stands. It will also feature a London-themed retail and takeaway area with branded patisserie, coffee, tea, and gift items.
This time around Macao will offer everyone in the region a glimpse, taste, and experience of London without the 15-hour flight. It's been often said that great architecture is a reflection of an urban landscape's heart. When you think of London, you'll see and feel all of the city's essence at this beautiful property.
---

"Unveiling The Londoner Macao" Hotel Package
To welcome guests to the spectacular property, The Londoner Hotel has launched the "Unveiling The Londoner Macao" hotel package to mark its opening. A unique journey of bespoke experiences awaits with the opening package starting from MOP $2,398. It includes one night in a luxurious Louis Suite accommodation for two with all-day access to The Residence. The booking period is from December 15, 2020, for a stay period from January 22, 2021 onwards. Guests can enjoy all-day access to The Residence, including breakfast buffet, afternoon tea, and selected evening cocktails. The Residence's all-in-one reception counter service offers check-in and check-out privileges as well as other services.
Don't miss these Londoner moments like:
London Calling is a 5.2-meter red telephone box where visitors are welcomed to The Londoner Macao by the Queen's beloved corgi Londi
Black Cab Escape is an adventure inside an iconic London taxi with David Beckham on a fun trip around the capital's streets, visiting the British star's favorite spots
It's Tea Time features giant teacups and high tea ladies dressed in tea party fashion with flowing hats and gowns for unique selfie opportunities
---
For more information about the "Unveiling The Londoner Macao" hotel package and reservations, please visit www.londonermacao.com
The Londoner Macao Estrada do Istmo. s/n, Cotai, Macau, +853 2886 6888, www.londonermacao.com
Tags
Related Posts