December never went without the customary Christmas tree and February (or late January) never went without these exciting red packets. For Westerners, the beautiful hóngbāo (Mandarin) or Lai Si (Cantonese) was so fascinating that there was an entire "trade" in some schools. They would carefully collect, exchange, and in some cases, purchase the coveted envelopes which would then be arranged tidily in photo albums. Surely these days everything is a little different with applications like WeChat allowing users to offer virtual Lai Si! Here're a few things you need to know about Lai Si and perhaps some no-nos as well.
Filial piety, weddings and prosperity
As with so many traditions in China and across South East Asia, Confucianism plays an important role. Family, hierarchy, and values are respected and highlighted. Parents would hand out the Lai Si according to each child's age, the older getting more than the younger. Similarly, in a professional environment, the boss is expected to give more money according to an employee's position in the company. Married couples have to hand out Lai Si and grandparents deliver the Lai Si to the grandchildren before their parents. Single people can also give Lai Si but to people who they work with or serve them, like security guards and receptionists.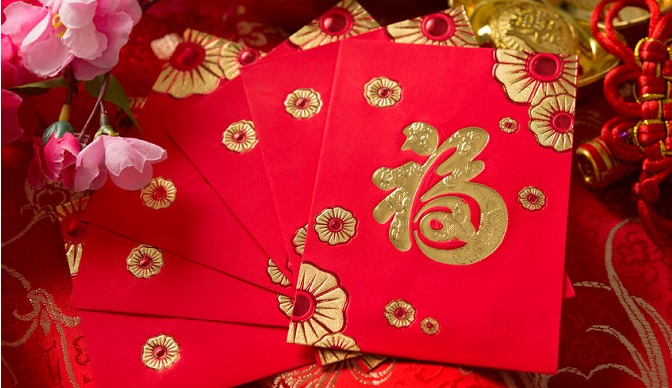 As a gift, the Lai Si is a symbolic gesture in which every detail has a meaning. As important as the color red that is auspicious in Chinese culture, the motifs serve a purpose too. They can wish its recipient a year of prosperity or a happy marriage. In a sense, offering a Lai Si is like giving a postcard saying "Happy Holidays" in Western culture.
Some motifs suggest certain phrases known among the Chinese community. One that recurs a lot is the use of a red carp–a tradition that comes from the saying "nin nin yao yun". This translates to "wishes of an abundant year" because the sound "yun" is similar to the "yun" of carp. Other auspicious symbols used are tangerines and peonies. If you decide to purchase Lai Si to give out, avoid the red packets with a single character. Unless you can read them, these most likely represent surnames.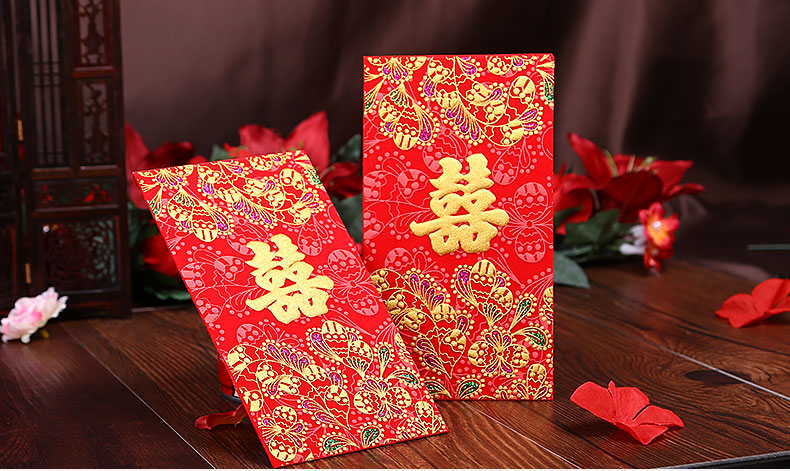 Numbers matter
Be careful not to give red envelopes with wedding motifs (pictured above) during the Lunar New Year and vice versa. Avoid any phoenix, dragons, double happiness characters (囍), and the like during Lunar New Year. Naturally, what is inside is quite important too. Sums of fours–400, 40, 14–are to be avoided at all costs. This is because the Chinese word for "four" 四 (sì) sounds like "death". Avoid odd numbers as well because they are often used during funerals and considered to be less auspicious.
Lai Si are given out on the eve of the Lunar New Year, between 9:00pm and 10:00pm among family members. Among friends and employees, it is customary for distribution to occur during the next 15 days. Do not display any empty envelopes because it attracts bad luck and is a rookie mistake. If you want to showcase your DIY skills, do place at least a 10 cent coin inside.
We wish you a Kung Hei Fat Choi and hope that this lesson on Lai Si might prove helpful. Good luck and remember to receive a red envelope with both hands and a gentle bow of the head.
Tags
Related Posts