One of the most amazing things about living in Macau is that you can embark on a culinary journey around the world without leaving the city. There is no shortage of choice for adventure seekers and the launch of Art Macao has ushered in a kaleidoscope of flavors to savor at the Sands Resorts Macao restaurants.
An incredible way of support and artistic fervor, four restaurants will embody the creative heart of the city by presenting a decadently designed menu with impressive dishes ranging from colorful to classic with a creative twist that will captivate your senses. Put your diet on hold because there are a whole lot more reasons to eat out after exploring the inspiring and thought-provoking Art Macao exhibitions amidst the spectacular scenery of the city.
La Chine
(Featured image above)
Nothing says "chic" more than dining on the 6th floor of The Parisian Macao's Eiffel Tower. The ode to love structural magnificence also pays homage to fantastic French-influenced Chinese food in an elegant fine dining setting. You won't want to miss La Chine's splendid tasting set menu that explores the heritage and diversity of French cuisine. The five-course menu that's carefully crafted by Executive Chef Chung Kuy Fai is inspired by the ceramic masterpieces and theme of "All That's Gold Does Glitter – An Exhibition of Glamorous Ceramics".
The menu starts with La Chine's signature assorted appetizers that feature escargot, foie gras, caviar, and scallop. You might also want to look out for the poached tomato with quinoa black truffle and seasonal vegetable in a fish broth that's a sensational dish in every way. Cap off an extraordinary meal with a chocolate fondant with pumpkin ice cream that truly reflects a rich visual explosion of art. La Chine tasting set menu is priced at MOP $1,288* per person.
La Chine  The Parisian Macao, Estrada do Istmo, Lote 3, Cotai Strip, Macao SAR, P.R. China, +853 8111 9210, www.parisianmacao.com/macau-restaurants/la-chine.html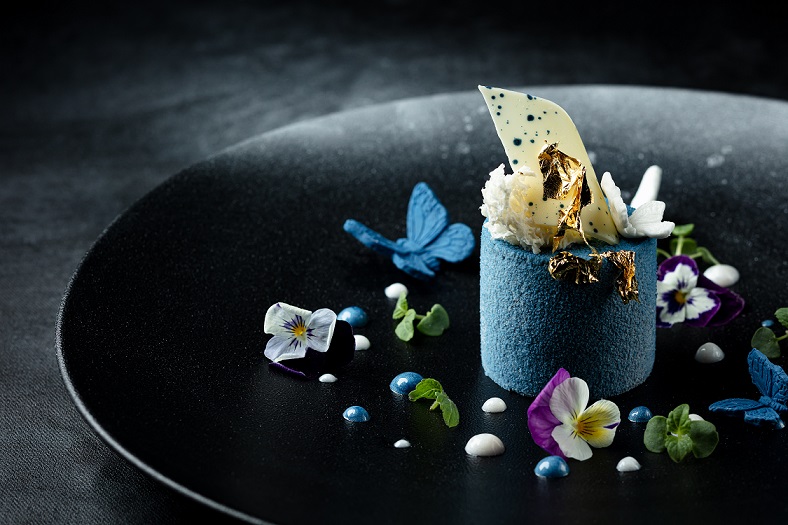 The Golden Peacock
The culinary intricacy of Indian cuisine entails the very concept of art. It involves a deep understanding of spices, techniques, and composition to achieve the perfect balance of flavor and aroma. The Golden Peacock at The Venetian Macao might have achieved immense popularity from visitors and food critics for being a celebrity favorite but its one-star rating in the Michelin Guide for Hong Kong and Macau for six years in a row is highly commendable.
The Indian restaurant is a paradigm of excellence for a good reason. Walk through the beautiful interiors adorned with a peacock theme oozing with glamor and opulence. There's even a private dining quarter for special occasions on the second floor of the loft style space. Try the four-course menu inspired by a blue and white ceramic butterfly dress entitled "Prosperity" created by renowned ceramic artist and "All That's Gold Does Glitter" curator Caroline Cheng. Chef Justin and his team have recreated the art on a plate with two exceptional dishes: Lobster Maheen Katli and the beautiful Prosperity dessert decorated with gorgeous butterflies, featuring blueberries, hazelnut chocolate mousse, yogurt, cardamom, cherries and gold leaf. It is evident that the exquisite plating methods with carefully selected ingredients manifest culinary and creative skills unlike any you've experienced before. The Golden Peacock's Prosperity menu is priced at MOP $588* per person and ranks high on our must-try this special season of Art Macao.
The Golden Peacock Shop 1037, Level 1, The Venetian Macao, Estrada da Baía de N. Senhora da Esperança, s/n, Taipa, Macao SAR, P.R. China, +853 8118 9696, www.venetianmacao.com/golden-peacock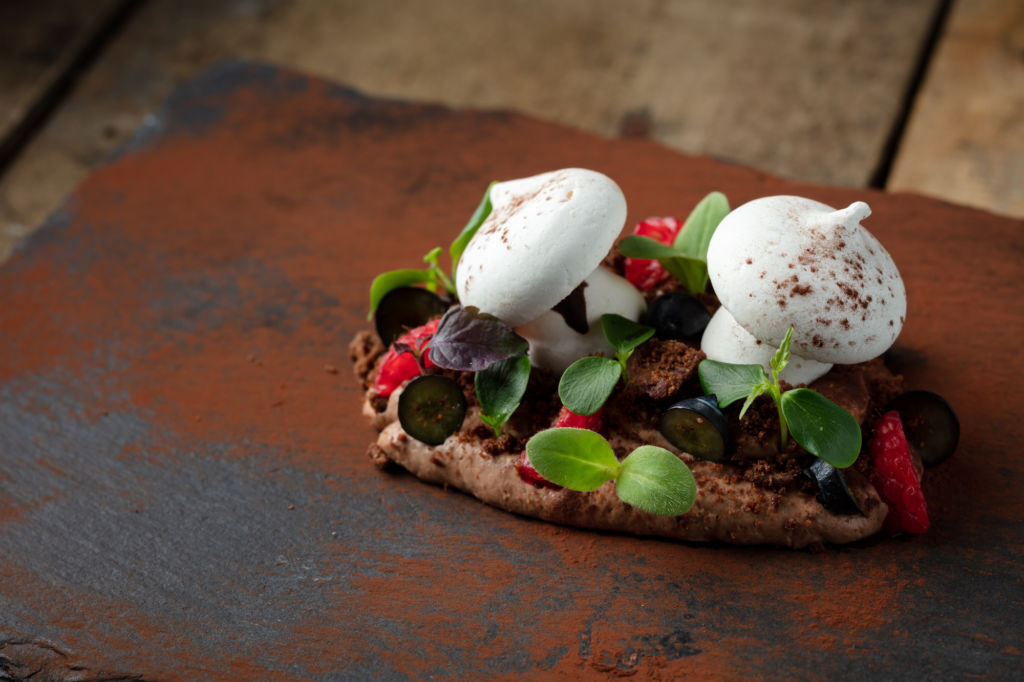 Portofino
Italy is home to many brilliant minds who have made their mark on art history. The iconic names of Da Vinci, Michelangelo, Raphael, Botticelli echoes through the world with legendary accomplishments. What better way to bask in the beauty of renaissance than with an Art Macao-inspired menu at Portofino.
Take a tip from the Italians and prepare to be mesmerized by a masterpiece set menu featuring foie gras terrine, fagottini pasta with Castelmagno cheese and Kaluga caviar and premium New Zealand 'Te Mana' lamb. As spring fades and summer brightens, diners can indulge in meringue 'mushrooms' popping out from chocolate 'soil'. Make your way to this authentic Italian trattoria at The Venetian Macao for an unforgettable dining experience. The Art Macao set menu is priced at MOP $688* per person.
Portofino Shop 1039, Level 1, The Venetian Macao, Estrada da Baía de N. Senhora da Esperança, s/n, Taipa, Macao SAR, P.R. China, +853 8118 9950, venetianmacao.com/restaurants/signature/portofino.html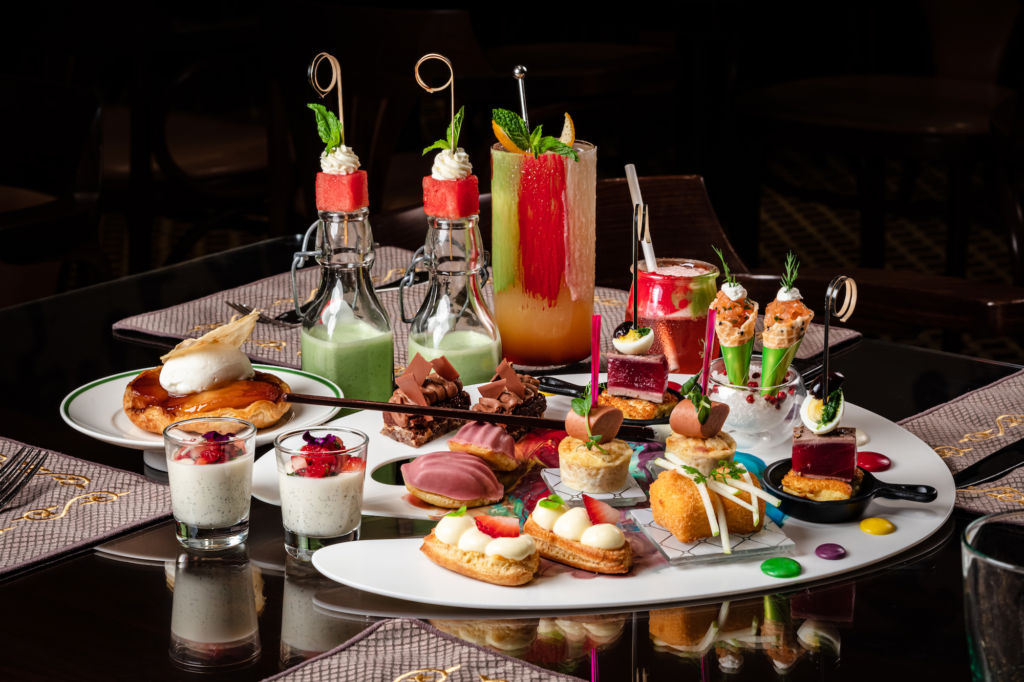 Brasserie
Imagine the cobbled streets, stunning Basilica, and charming surroundings of Montmartre, a popular Parisian district in Paris. A real melting pot of art and inspiration for cinema, it exudes a village atmosphere that appealed so much to prominent artists of the 19th and 20th century that still lingers to present time. In honor of all things art, Brasserie launches 'A Summer in Montmartre' afternoon tea set
Partake in a charming presentation of palatable offerings taking you on a culinary journey through magical Montmartre. Indulge in unique creations such as the watermelon and feta cheese skewer with yogurt mint shake or the sakura flavor bean paste madeleines in ruby chocolate amongst a beautifully-presented table. It's available daily from 3:00pm to 5:30pm. Brasserie's 'A Summer in Montmartre' afternoon tea set is priced at MOP $368* for two people. You may wish to add MOP $40* for a glass of French cider or MOP $75* for a glass of French sparkling 'Saumur Brut Bouvet Ladubay' to complete the wonderful dining experience.
Brasserie Shop 3312, Level 3, The Parisian Macao, Estrada do Istmo, Lote 3, Cotai Strip, Macao SAR, P.R. China, +853 8111 2300, parisianmacao.com/macau-restaurants/brasserie.html
*Prices are subject to 10% service charge
---
Sands Resorts Macao is showcasing special promotional menus at four of its signature restaurants to celebrate "All That's Gold Does Glitter – An Exhibition of Glamorous Ceramics". The participating restaurants include The Venetian Macao's The Golden Peacock and Portofino; and The Parisian Macao's La Chine and Brasserie. In support of Art Macao 2019, a major international art and culture event running until October 9, explore 90 masterpieces by contemporary ceramic artists from 13 countries and regions, and the largest and most prestigious ceramic art exhibition taking place in the Greater Bay Area in 2019. After your art appreciation, taste creativity and try the special dishes at these spectacular restaurants.
When: July 1–August 31, 2019
Where: The Golden Peacock and Portofino, The Venetian Macao, Estrada da Baía de N. Senhora da Esperança, s/n, Taipa, Macao SAR, P.R. China
Brasserie and La Chine, The Parisian Macao, Estrada do Istmo, Lote 3, Cotai Strip, Macao SAR, P.R. China
Tags
Related Posts