Created as a remedy for British soldiers to fight malaria in India, the Gin & Tonic has come a long way from a humble long drink to a complex cocktail. The pairing of distilled spirit with a bouquet of botanicals mixed with sparkling quinine soft drink today is a favorite indulgence of many bar-goers, not for its medicinal properties but the slight bitterness, herbal notes, and refreshing character. Every respectable drinking establishment and even dive bars worldwide have one or one hundred bottles of gin. However, some bartenders know how to serve a proper G&T better than others. We went bar hopping to come up with our list of the best places to drink Gin & Tonic in Macau. Take notes and plan a fun night out!
L'Attitude 
(See featured image above)
Former Voyages by Alain Ducasse went through a rebranding and changed its name in early 2021. However, its kitchen and bar menus remained untouched, to the delight of frog legs' fans and cocktail aficionados. Although mainly known as a dining spot, L'Attitude is a decent destination for an afternoon or evening drink. Guests who prefer their G&T plain and straightforward can choose from the gin selection that includes German, American, British, Japanese, Canadian, and French bottles.
For those who appreciate a complex gin and tonic, L'Attitude prepared a gin trolley packed with garnishes of all kinds. Fresh and dry herbs, fresh and dry fruit, spices, roots, botanicals, and even a smoke machine will add a desirable note to a classic drink. When lost in the assortment, share your preferences with the bartender and let them juggle the elements to come up with a blend that will become your perfect potion. 
L'Attitude City of Dreams Macau, Estrada do Istmo, Cotai, +853 8868 6688, www.cityofdreamsmacau.com/lattitude-bar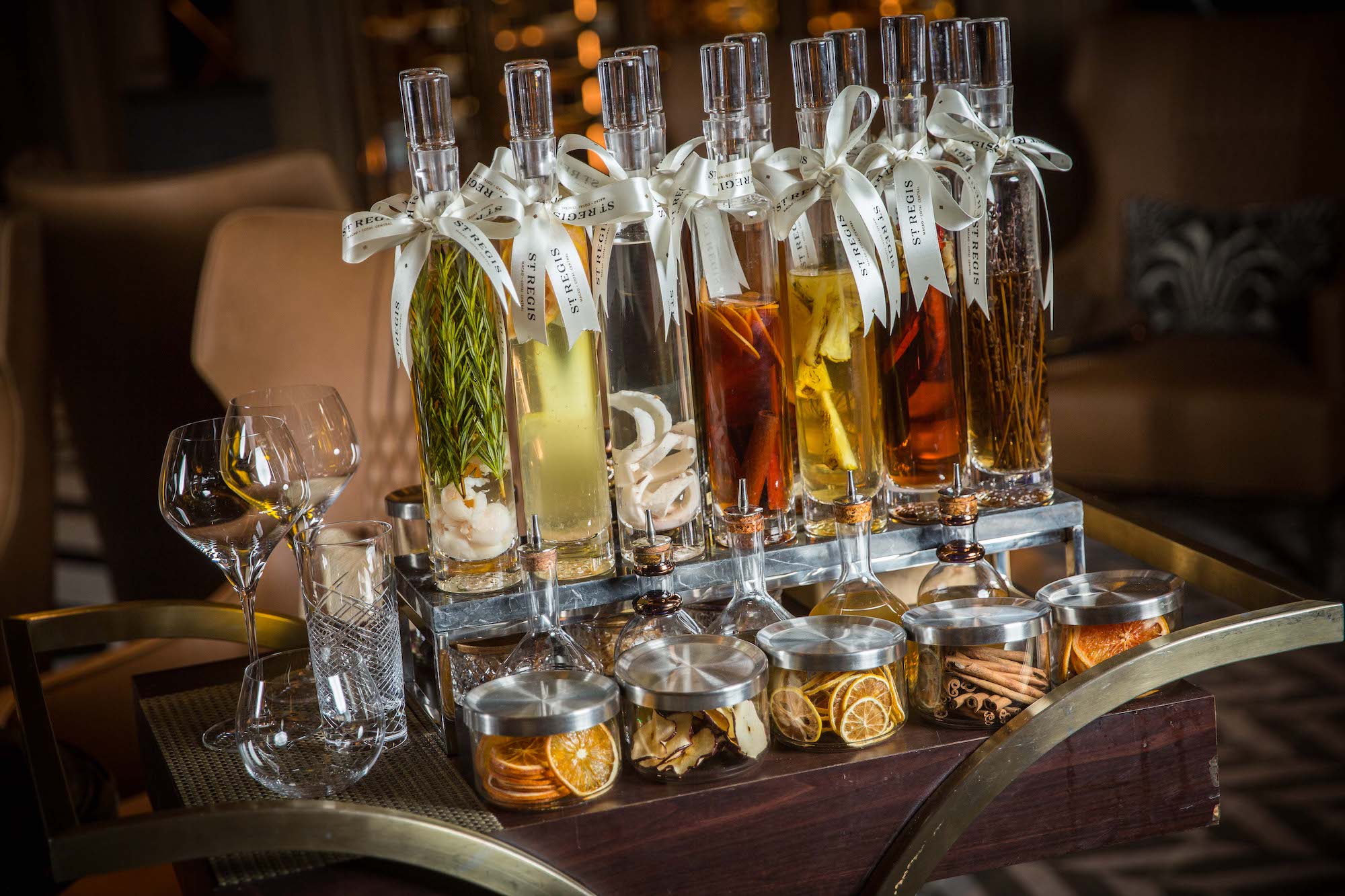 The St. Regis Bar Macao
A classy bar at The St. Regis Macao has been the favorite spot to meet and spend a night since its reopening in November 2021. Inspired by the Prohibition Era New York, it has all the attributes of a trendy establishment–elegant design, impeccable service, live jazz, and a decent bar menu. Besides signature cocktails and an impressive selection of wine, they offer home-infused gins poured in thin bottles and kept on a trolley. Wherever you feel like it's G&T o'clock, take a look at that array of bottles to see which one calls for you. You'll find lychee and rosemary, saffron, butterfly pea and orange honey blossom, lemongrass and kaffir lime, rosebuds, and chili profiles. Compliment the gin of your choice with Fever-Tree and East Imperial tonic water, dehydrated fruit, herbs, or spices to achieve absolute perfection. 
The St. Regis Bar Macao 2F, The St. Regis Macao, The Londoner Macao, Estrada do Istmo, s/n, Cotai, +853 2882 8898, www.thestregisbarmacao.com
Also read: The St. Regis Bar Macao: The Hottest Spot in Town

Vida Rica Bar
The awarded bar on the second floor of Mandarin Oriental, Macau is one of the most popular spots among locals, not only hotel guests. Considering their delicious bar bites, flawlessly mixed classic cocktails, and a menu of creative signature concoctions, this popularity is well-deserved. 
When craving a refreshing glass of Gin and Tonic in Macau, Vida Rica Bar would provide a perfectly balanced drink with gin of your liking. Opt for the familiar classics or experiment with something rarer. Ask Vida Rica's bartenders to mix you a drink with critically acclaimed Sipsmith London Dry Gin, a small-batch Italian Bordiga Premium Dry with Alpine botanicals, or Iron Balls, a gin from Thailand with fermented pineapples and coconuts base. Besides, Vida Rica Bar is one of the best places in town to watch the sunset. So enjoy the majestic view from the panoramic windows while sipping on your long drink. Indeed, this is what we call vida rica (good life)! 
Vida Rica Bar Mandarin Oriental, Macau, 945 Avenida Dr. Sun Yat Sen, NAPE, +853 8805 8928, www.mandarinoriental.com 
Also read: Show Me the Way to: Macau's Best Cocktail Bars

Bar Patuá
This gorgeous lounge bar at MGM Cotai will impress you with the lush beauty of its interiors. Whether you want to go out with your buddies or it's time to take your significant other on a date, Bar Patuá has plenty of comfy armchairs and intimate corners to accommodate you. Sophisticated bar-goers should take a seat at the bar counter to discuss all the rare bottles and complex cocktails with Patuá's passionate and knowledgeable head bartender Paul. He's traveled the world participating in international competitions and stopping by acclaimed distilleries to learn more about the process. Paul would be happy to share his profound knowledge of the liquor assortment the bar stores, including some unique gin, particularly brands distilled in China. Bimber Roasted Oolong Tea gin, Porcelain Shanghai dry gin, or Two Moons signature dry gin will be a pleasant surprise for those who love widening their spirits geography. 
Bar Patuá MGM Cotai, Avenida da Nave, Deportiva, Cotai, +853 8802 8888, www.mgm.mo
Also read: Macau's Best Hotel Bars

Wing Lei Bar
If we had to name the main reasons to visit Wing Lei Bar at Wynn Palace, we'd say the design and the bartenders. While the jewelry box design concept will stun you with a luxurious interior with gemstone decor, plush emerald chairs, and golden walls; the mixology team will impress you with the level of expertise and creativity. 
This small bar next to the eponymous Michelin-starred restaurant doesn't have an endless bar menu. Nonetheless, they boast a list of crafted signature cocktails and a carefully selected collection of spirits. The latter includes Scandinavian small-batch gin, such as Stockholms Bränneri and Finnish rye Koskue gin rested in white oak casks, a real treat to guests who prefer their gin to have a more robust herbal and aromatic profile. As Wing Lei's bartender Richard claims, the small-batch distillation process allows the spirit to preserve the botanical flavor better than the large-scale distillation. 
Check out the lesser-known gin, French flame-distilled Citadelle reserve gin aged in Cognac casks from Dunkirk and Dancing Sands barrel-aged gin from New Zealand. 
Wing Lei Bar Wynn Palace Cotai Avenida Da Nave Desportiva Cotai, Macau, +853 8889 3663, www.wynnpalace.com/en/wing-lei-bar
Also read: Shaken or Stirred: Macau's Best Cocktails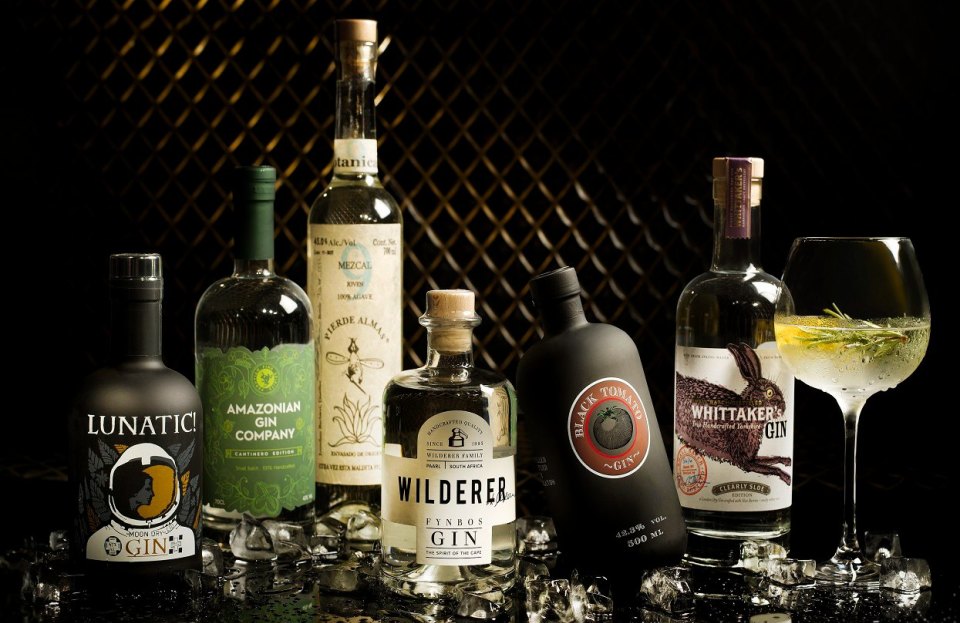 The Ritz-Carlton Bar & Lounge
The Ritz-Carlton is a brand known worldwide and the bars are often some of the most desirable drinking places in town. In Macau, The Ritz-Carlton Bar & Lounge is loved for the stunning view from the 51st floor and the mindblowing collection of gin. On Sundays, it tempts visitors with Gin & Tonic night when all gin bottles and G&Ts are 50% off. All other days, guests might have a hard time selecting a drink of choice from the overwhelming list of 140 gin labels, making it the most extensive selection in Macau. Their gin collection's geography spreads from Europe to Asia and includes premium, rare and limited, almost out-of-stock bottles. 
The most exclusive among them is Watenshi that costs MOP $6,400 per glass. Too expensive? The production is strictly limited to six bottles per batch. Most importantly, this gin contains the "angel's share" normally lost to the evaporation process but preserved in Watenshi due to unique technology. 
The Ritz-Carlton Bar & Lounge Galaxy Macau, Estrada da Baía de Nossa Senhora da Esperança, Cotai, +853 8886 6712, www.ritzcarlton

Prem1er Bar & tasting Room
If fancy cocktail bars don't hit the spot and you prefer something more casual and dress code-free, stop by Prem1er Bar & Tasting Room in Taipa Village. This bar with dimmed lights and cozy armchairs offers an impressive assortment of high-quality spirits paired with a laid-back atmosphere and occasional live-music and DJ nights. Visitors looking for a Gin and Tonic in Macau will be pleased to find a wide selection of gin, as well as home-infused liquor. There is nothing extra-complicated, just simple flavors such as grapefruit, lychee, or cinnamon, all of which add a character to a simple G&T. Last but not least, the prices here don't bite, especially if you show up during happy hours to score two drinks for the price of one. 
Prem1er Bar 86, Rua Direita Carlos Eugenio, Old Taipa, Macau, +853 2882 7109, www.prem1er.com
Also read: Best Places for Happy Hour in Macau
Also read: Hold My Beer: Macau's Best Pubs & Bars 

Duffy's Irish Pub 
Sports tournaments on large TV-screens, rock tunes playing in the speakers, a full traditional pub vibe where everyone is happy to see you make an ideal package for a relaxing night out, whether you are planning to keep on partying later or just came over for a quiet drink before heading home. Duffy's Irish Pub is that kind of place that gives you a welcoming environment blended with quality bartending and a few comfort food options. 
When it comes to the gin collection behind the counter, you will find some familiar labels such as Tanqueray or Hendrick's, as well as rarer species of dry gin. Among them are the Spanish Le Tribute–citrusy and fresh, Scottish small-batch Caorunn with wild foraged botanicals, Tarquin's–a craft gin founded by a classically trained chef from the Cordon Bleu in Paris, and more. The bartenders won't offer elaborate garnishes here, but they do have several types of tonic to go with your choice of gin. 
Duffy's Irish Pub C-GO02–GO04 Broadway Food Street, Broadway Macau, Av. Marginal, Flor de Lotus, Cotai, +853 2884 5212, www.facebook.com/duffysbarmacau
Also read: Best Places for Whiskey Lovers in Macau 
Tags
Related Posts