We're all surprised, at least once, when trying food from home in foreign places. Macau is no exception. While some restaurants serve authentic Thai, Indonesian, Vietnamese, Portuguese or American food, it can be difficult to feel the taste of home so far away. If you are addicted to Portuguese food or never tried but want to, here are a few places with not to be missed dishes. But first, there are three important tips to never forget:
Ketchup is not a Portuguese thing and never will be, so stay away from steaks, fish, or rice dishes filled with ketchup or canned tomato sauce.
Fish doesn't usually go with rice in Portuguese cuisine. Excluding grilled fish and seafood rice, what goes best with seafood dishes other than rice is boiled, baked, or roasted potatoes.
Portuguese food is highly seasoned, so expect tasty dishes full of salt and herbs such as coriander, parsley, and bay leaves.
Now that you aware of what can be called "the principles of Portuguese food", let's start with what really matters: where in Macau, can one savor real Portuguese food?
Chiado
(See featured image)
Macau's new must-go place when it comes to Portuguese cuisine, Chiado is owned by famous Portuguese celebrity-chef, Henrique Sá Pessoa. The restaurant is named after a famous square in Lisbon. With the decor taking us back to this city's historic areas, it presents Portuguese dishes with a flair. They're not traditional much like in the restaurants mentioned before; here, presentation and plating are beautifully executed while the taste remains untouched.
Also read: Henrique Sá Pessoa: Contemporary Portuguese Food by Michelin-Starred Chef at Chiado
Chiado is Sá Pessoa's first-ever restaurant outside the country and will surely amaze everyone looking for a bit of Portugal in the region. Try it out if you are looking for something different from what one is used to when in Macau. Here, we recommend their suckling pig (in the photo above) and the codfish "à brás".
Chiado Shop 2206, Level 2, Sands Cotai Central, Cotai +853 8113 8988, www.sandscotaicentral.com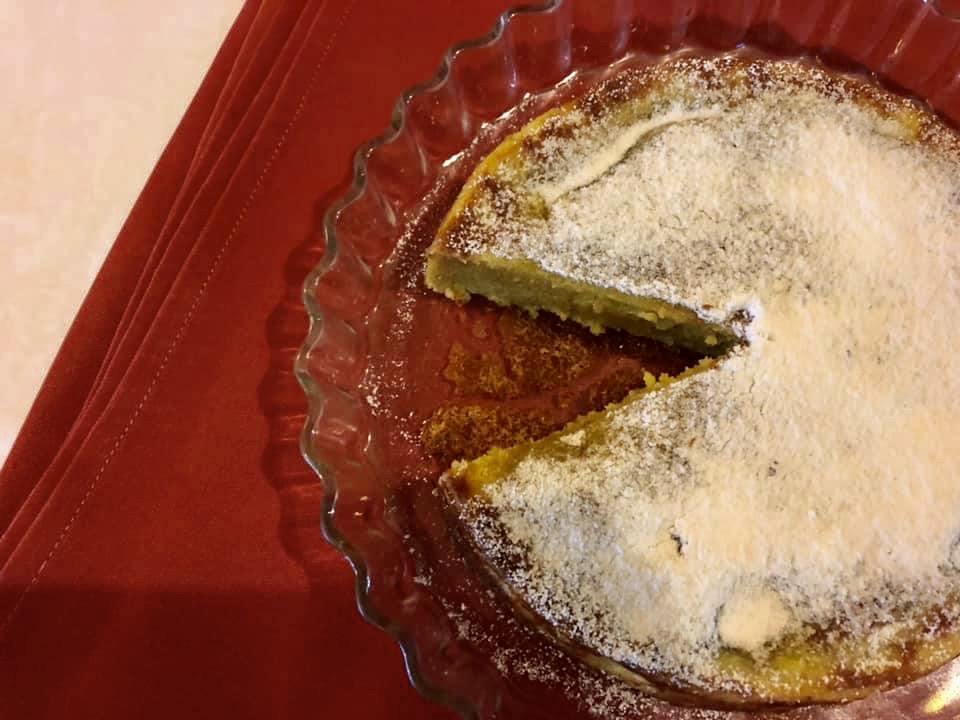 Photo credit: Café Lisboa. Toucinho do Céu (dessert).
Baía BY Café Lisboa
Relocated to the NAPE area–the building where Baía restaurant was–Café Lisboa's owners embraced a fusion concept, combining their signature and most popular recipes (from when they were on the Taipa side) with the seafood and some other menu titles from Baía. This welcoming eatery has everyone going there for their oven-roasted delicacies (codfish, octopus, and meat) and the Portuguese-style steak, served with a side of fried egg and french fries. We love this place and proof that it's really authentic is the fact it's always filled with people, especially tourists and Portuguese people looking to feel the homey vibes! They're also keen on desserts, so be sure to go in craving for some sugar. They're quite popular for their desserts, so be sure to try toucinho do céu (a cake made with eggs and sugar), baba de camelo (caramel mousse), chocolate cake, among others.
Opening hours: Tuesday–Sunday, 11:00am–10:00pm
Café Lisboa GF Wan Yu Villas Building, 88 Rua de Londres, NAPE, +853 2875 1465, www.facebook.com/CafeLisboaMacau
Fernando Restaurant
There is a quirky large-sized restaurant located in Hac Sá Beach featuring two indoor spaces and an alfresco area. Fernando Restaurant serves all day, from noon to 9:30pm and has the most amazing grilled cuttlefish in Macau. What makes the dish is its sauce, made of olive oil, vinegar, a lot of onion, and some herbs. Naturally, this dish completes itself with a side of boiled potatoes and a fresh mixed salad. Also try the roasted codfish and the grilled chicken. Take note: it is one of the few local restaurants allowed to grill alfresco, so the food is truly tasty. The homemade sangria–white and red–goes well with their dishes, but do explore their wine list too!
Also read: Fernando Restaurant: Macau's All-Time Favorite
Opening hours: Daily, 12:00pm–9:00pm
Fernando Restaurant 9 Hac Sá Beach, Coloane, +853 2888 2264, www.fernando-restaurant.com
Mariazinha
The name of this restaurant–owned by an Oporto local–translates into the nickname of Maria, a very Portuguese name. Its food is as traditional as its designation and you can bet you will experience real Portuguese food in this one. From their acclaimed Francesinha–an Oporto delicacy made of bread, meats, and cheese topped with a special sauce–to the Friday daily special of codfish cakes, Mariazinha has it all. However, there is one dish that never ceases to amaze: instead of some everyday vegetable soup, this restaurant's cook crafts the most beautiful vegetable crème. Besides nourishing your belly, it also takes care of your heart, bringing you a step closer to Portugal with each spoonful. Our team went there to try the Portuguese alheira, veal, and some more dishes!
Also read: Mariazinha: Authentic Portuguese Food Near the Ruins of St. Paul's
Opening hours: Daily, 11:30am–3:00pm, 6:30pm–10:00pm
Mariazinha 8 Rua do Monte, Tak Fat Building, Macau, +853 2835 7558, www.facebook.com/Mariazinha
IN Portuguese
Set in a Taipa Village building, it occupies the whole structure and has a marvelous terraced seating area from where people can overlook this beautiful neighborhood! Although it closes early–for people wanting to drink beers after dinner–it has both traditional Portuguese dishes, as well as more modern ones. This is a breath of fresh air when it comes to the variety of this country's food in Macau: besides oven-roasted codfish or great steaks, there are also some chef Herlander's creations with codfish and other typical ingredients. If you want to start light, why not go for some bulhão pato style clams, a side of champagne sangria overlooking the sunset? You can then start thinking about dinner!
Also read: IN Portuguese Food: A True Portuguese Gem in Taipa Village
Opening hours: Daily, 11:30am–3:00pm, 6:00pm to 11:00pm; Weekends and public holidays, 11:30am–11:00pm
IN Portuguese 86 GF, Rua Correia da Silva, Taipa Village, +853 2857 6700, www.facebook.com/inportuguesefood
Miramar
Miramar is located in a secluded part of Hac Sá Beach and its vehicle access is quite easy to miss. Miramar can be pretty random for the most demanding Portuguese, but there are still some must-have dishes. One of them is fish or seafood pasta. It is brought to the table in a huge covered casserole. Once opened, the aroma of fresh seafood fills the restaurant. This dish must be eaten quickly, otherwise, the pasta will become mushy and the sauce will lose some of its flavors. Miramar is also a good place for a barbecue since it also has an outdoor grill!
Opening hours: Monday–Friday, 11:30am–3:00pm, 6:00pm–11:00; Saturday–Sunday, 11:30am–11:45pm
Miramar Zona Norte Praia de Hac Sá, Coloane, www.miramar.com.mo
APOMAC
It stands for Associação dos Aposentados, Reformados e Pensionistas de Macau (APOMAC), an association created 16 years ago to represent the retired locals. Besides medical and recreational services, APOMAC also features a canteen, where everybody can go. There are discounts for members, but normal prices are pretty friendly. Try their steak, called "Bife à APOMAC". This piece of gorgeous and tender meat is served with a secret recipe sauce and potatoes. APOMAC is generally a Macanese association. Therefore, one can have lunch while listening to conversations in both Portuguese, Cantonese and if you're lucky, maybe even some Patuá. The fish fillet and the feijoada are also worth a try!
Also read: APOMAC: Taking Care of Our Community Since 2001
Opening hours: Daily, 10:00am–10:00pm
APOMAC Avenida de Sidónio Pais, n. 49-B, R/C, China Plaza Building, Macau, +853 2852 4325, www.apomac.net
This article was originally written by Leonor Sá Machado in January 2018 and updated in June 2020.
Tags
Related Posts