Mooncakes are a must for the upcoming Mid-Autumn Festival celebrations. Sharing one with the whole family or your team at work with a cup of hot Chinese tea is just the ticket. Of course, for a celebration, the mooncakes need to be the best of the best, especially if you're going to be gifting them to friends and family. From presentation to ingredients to overall quality, here are the best places to get mooncakes in Macau so time to book them before they run out!
The St. Regis Macao, Cotai Central
(Featured image above)
It comes as no surprise that The St. Regis Macao, Cotai Central shines bright for the Mid-Autumn Festival as they present two new creatively crafted mooncake flavors heavily featuring chocolate. The first one features exquisite flavors of pistachio with raspberry and ruby chocolate. The intense blend of pistachio flavor and tart raspberry puree, balances out the unique flavors of the famed ruby chocolate. If you want something different, the second mooncake flavor is made of 70% extra bitter chocolate plus Oreo that brings together the taste of luxuriously smooth gourmet chocolate with bits of Oreo to savor in every bite. Don't miss the exclusive mooncakes that are limited to 100 sets packaged in brightly colored Papinee gift bag that features The St. Regis' inspired character, Jak Odocoileus. The St. Regis mooncake gift set also includes a lunch bag, a coloring postcard and accessories, which makes it the perfect gift to share with family during the Mid-Autumn Festival. It's priced at MOP $588 per set so place your orders, stat!
The Manor The St. Regis Macao, Cotai Central, Estrada do Istmo, Cotai,+853 2882 8898, www.stresgismacao.com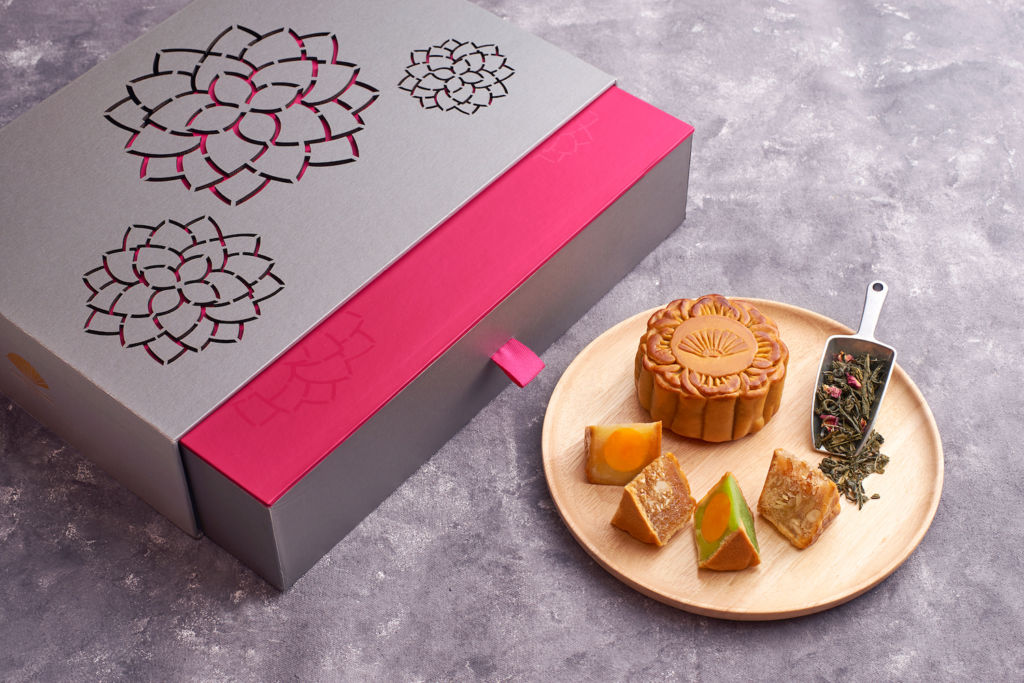 Mandarin Oriental, Macau
There's an unexplained feeling of warmth, comfort and the true essence of home with every bite of the homemade, delicate mooncakes by The Mandarin Cake Shop. It is also best complemented with the exclusive Tea WG Mandarin Oriental Blend Premium Tea that's best shared with your loved ones. Savor the silver lotus paste with double egg yolk, pandan paste with double egg yolk, five kernels with Yunnan ham and this year's highlight, pineapple with cinnamon and assorted nuts. The mooncakes are presented in a sophisticated gift box that makes this the perfect gift of the season to friends, families and business partners. It's priced at MOP $428 per gift box.
Mandarin Oriental, Macau 945 Avenida Dr. Sun Yat Sen, Nape, Macau, +853 8805 8888, www.mandarinoriental.com/macau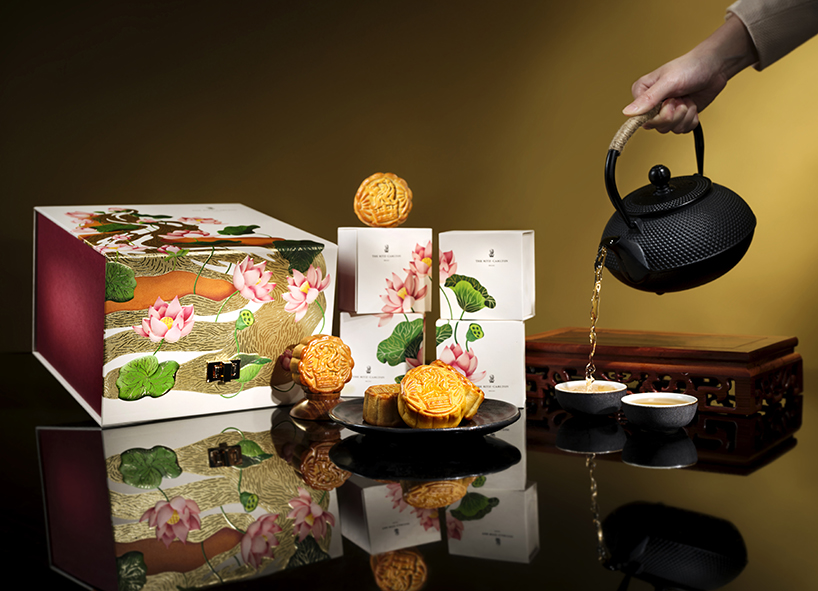 The Ritz-Carlton, Macau
The Ritz-Carlton, Macau's Autumn Moon Treasure Box is stylish with accents of white and red with the proud emblem of Macau's national flower, the lotus printed on it. The popular mooncakes are made with the finest, classic and seasonal ingredients, packaged in a thoughtful gift box. Artful packaging and delicious tasting mooncakes are reasons why this is the perfect gift especially if you're trying to impress your in-laws! It features eight mini egg custard mooncakes for only MOP $608 per box.
The Ritz-Carlton, Macau Galaxy Macau, Estrada da Baia da Nossa Senhora da Esperanca, Cotai, +853 8886 6868, www.ritzcarlton.com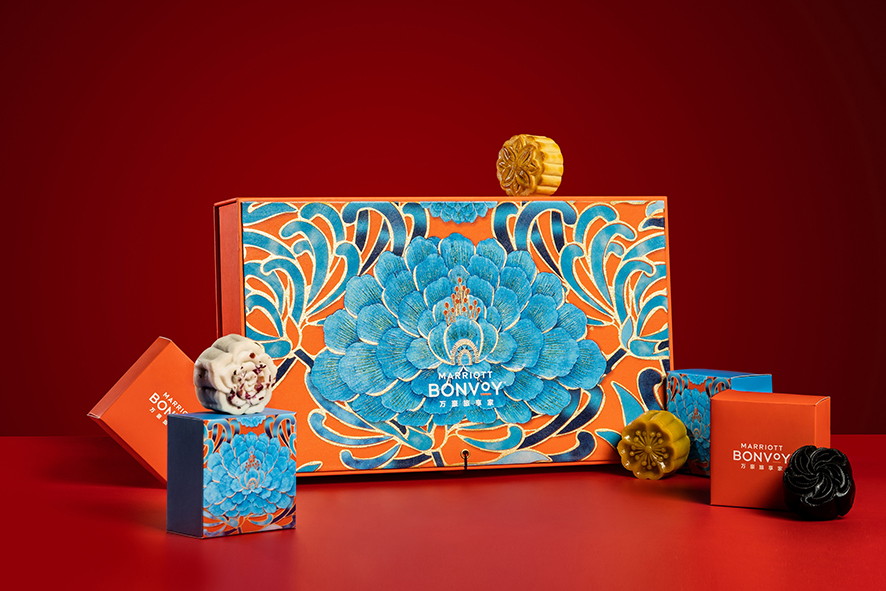 JW Marriott Hotel Macau
This year's Mid-Autumn Festival is made even more special at JW Marriott Hotel Macau. Their mooncake gift box is beautifully designed with fully-bloomed peony flowers representing nobility, honor, and wealth. Fit for royalty, you'll find eight pieces of delicate mooncakes specially curated by celebrity Chef Jereme Leung. We love the innovative flavors that include rose paste lava mooncake, the tasty sweet osmanthus lava mooncake, the delicious salted egg yolk custard lava mooncake, and the decadent chocolate lava mooncake. It's priced at MOP $358 and definitely shouldn't be missed.
JW Marriott Hotel Macau Galaxy Macau, Estrada da Baía da Nossa Senhora da Esperança, s/n, Cotai, +853 8886 6228, www.marriott.com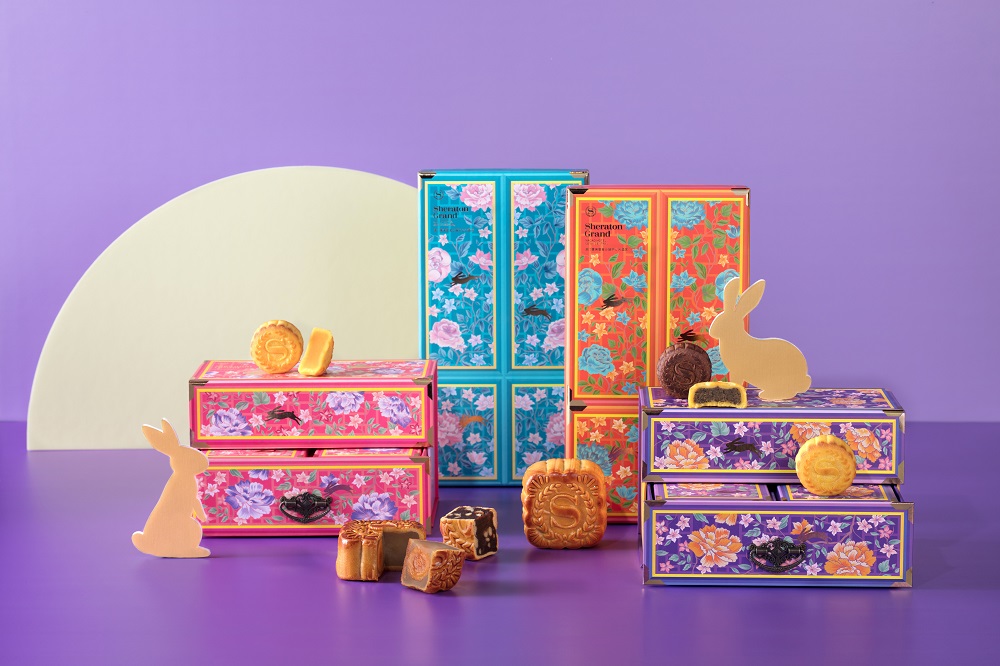 SHERATON GRAND MACAO HOTEL, COTAI CENTRAL
A treasure of treats awaits at Sheraton Grand Macao Hotel, Cotai Central for Mid-Autumn Festival this year. We adore the classic and contemporary combinations in their mooncake selections. From the classic, authentic low sugar deluxe lotus paste with egg yolk mooncake to the date paste complemented by a delicate note of pine nuts, every bite is memorable. We love the mini egg custard mooncake that is filled with a fragrant and creamy egg custard and also the assorted mini custard mooncakes pack featuring four distinctive egg custard fillings. Sheraton Grand Macao Hotel mooncakes are presented in one of four elegant mooncake gift set boxes. Inspired by traditional Chinese jewelry boxes and cabinets, these gift boxes are truly a coveted piece. It features an intricate floral pattern on the exterior, accentuated by the ancient legendary 'moon rabbit' in gold, orange, and teal colors. The mooncakes are available with prices starting at MOP $358 per box set.
Sheraton Grand Macao Hotel, Cotai Central Estrada do Istmo, Cotai, +853 2880 2000, www.sheratongrandmacao.com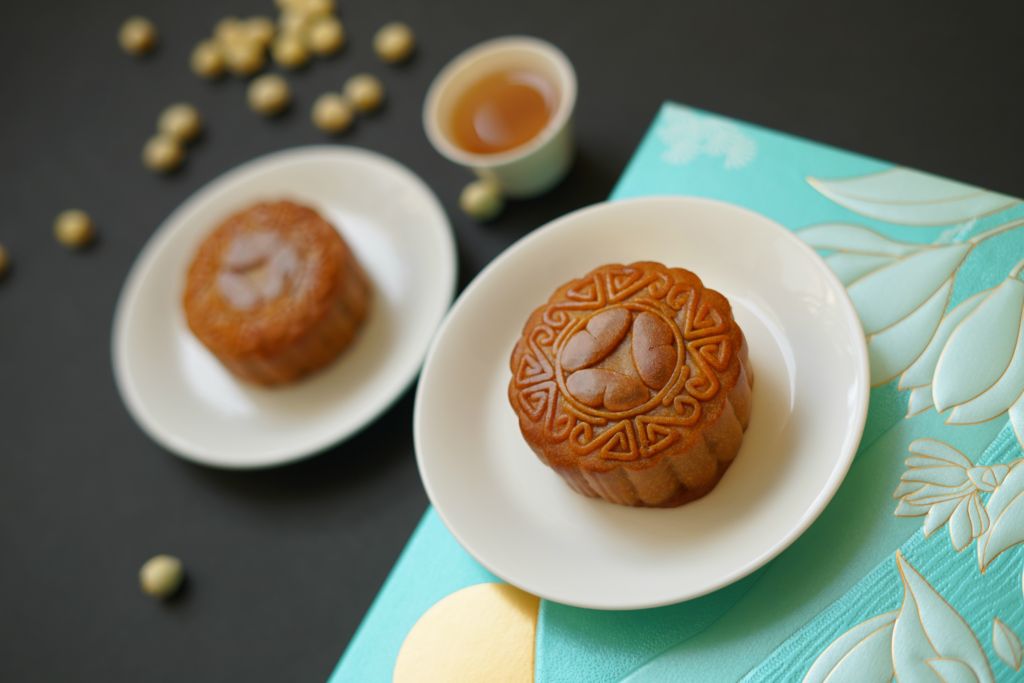 Hotel Okura Macau
No family gathering would be complete without mooncakes during the Mid-Autumn Festival. Hotel Okura Macau's premium mooncakes focus on the joy of eating with family during this time of year. They have created a traditional mooncake made of lotus seed paste and egg yolk to emphasize kindness and expression of good wishes to families, friends, and business associates. It is priced at MOP $288 for four delicious pieces that imparts love at every bite. The price is wallet-friendly and thoughtful so make sure to give them a call for advance bookings.
Hotel Okura Macau Estrada da Baia de Senhora de Esperanca, Cotai, +853 8883 5126, www.hotelokuramacau.com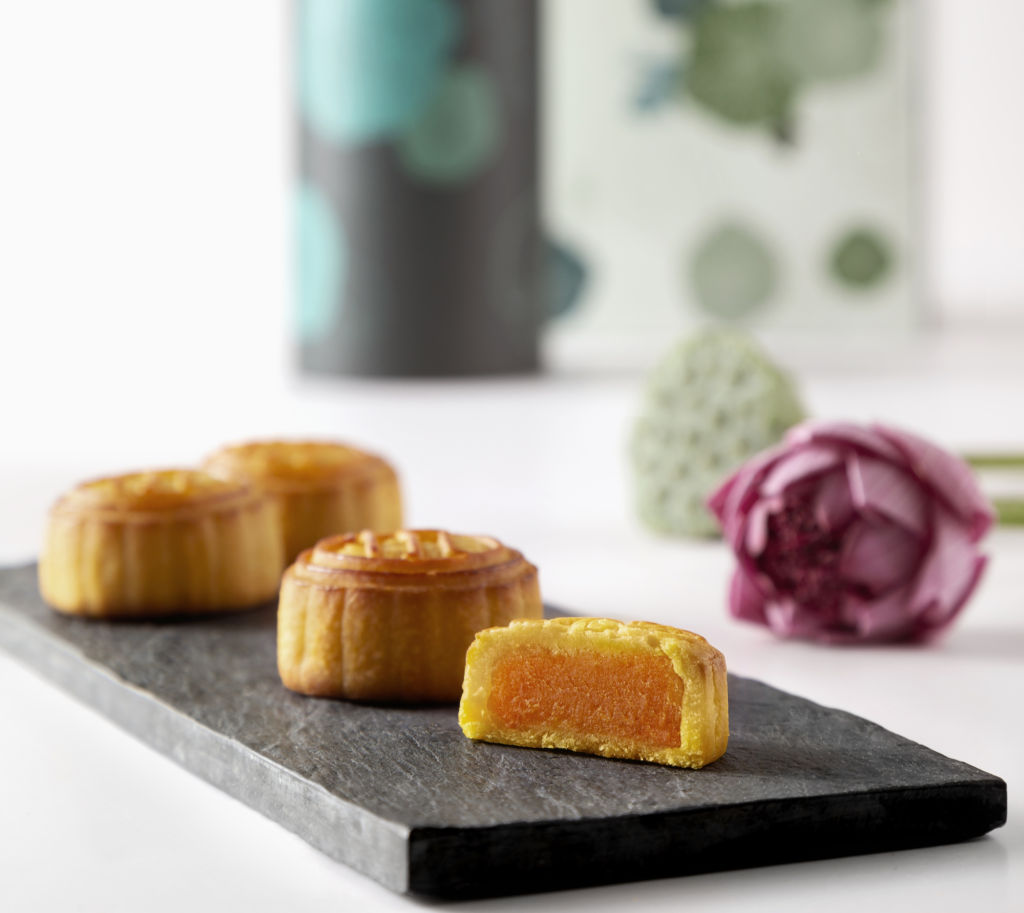 Grand Hyatt Macau
One of the most respected festivals in Chinese culture is the Mid-Autumn Festival. It is a tradition that's rich in heritage and culture and should be passed on to the new generation. Chinese ceramics can be traced back to over ten thousand years ago which was the major gateway for international ceramics trade in Macau. Inspired by this significant moment in the region's history, Grand Hyatt Macau has especially created an exquisite ceramic-shaped mooncake gift box highlighted by a curvy bottle that doubles as a tea container or a vase. Beneath the glow of the full moon, you'll discover the taste of silky smooth custard fillings and delightfully golden, crumbly exterior. The egg custard mooncakes will undoubtedly bring joy to your loved ones! The "Lua de Lótus" mooncake gift boxes are priced at MOP $588.
Grand Hyatt Macau City of Dreams, Estrada do Istmo, Cotai, +853 8868 1908, www.hyatt.com/en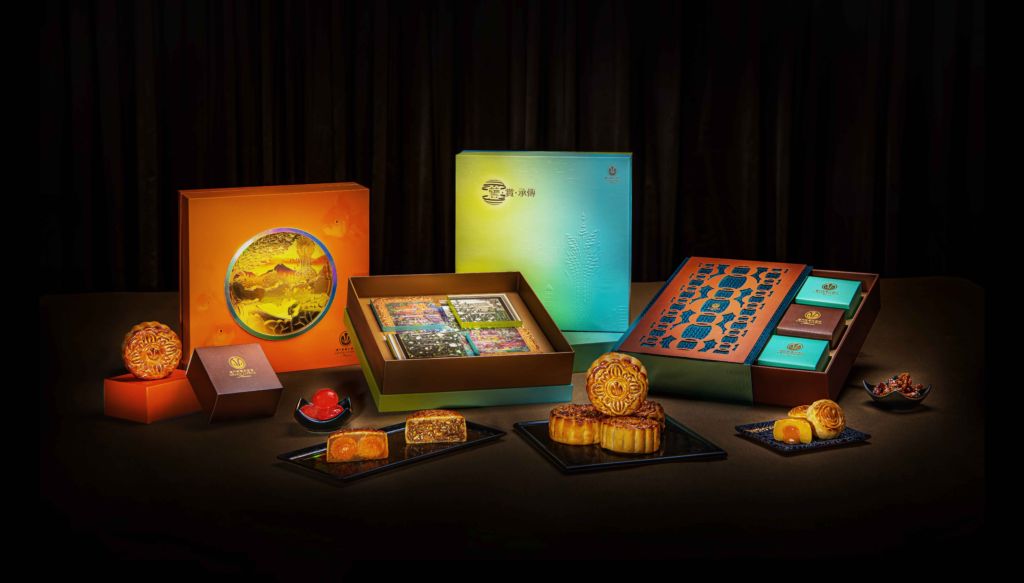 Grand Lisboa Hotel
Grand Lisboa Hotel's mooncake gift boxes are something we always look forward to each year. Chef Yau Wah Fai of The 8 Restaurant has merged healthy and tasty this year in the form of mooncakes with assorted nuts. Drawing inspiration from the beautiful works of art on display at Grand Lisboa Hotel for the spectacular Art Macao, the gift boxes are designed after the paintings of "Hibiscuses" by Wu Guanzhong and "Coin du Jardin" by Paul Gauguin. Chinese artist Wu Guanzhong is renowned for blending Eastern and Western artistic techniques in his work while French artist Paul Gauguin is renowned for works that influenced the likes of Pablo Picasso and Henri Matisse. The creative four-piece mooncakes with assorted nuts and the four-piece double egg yolk and lotus seed paste mooncakes are both priced at MOP $498 per box. The six-piece lava custard mini mooncakes are priced at MOP $410 per box.
Grand Lisboa Hotel Avenida de Lisboa, Macau, +853 2828 3838, www.grandlisboa.com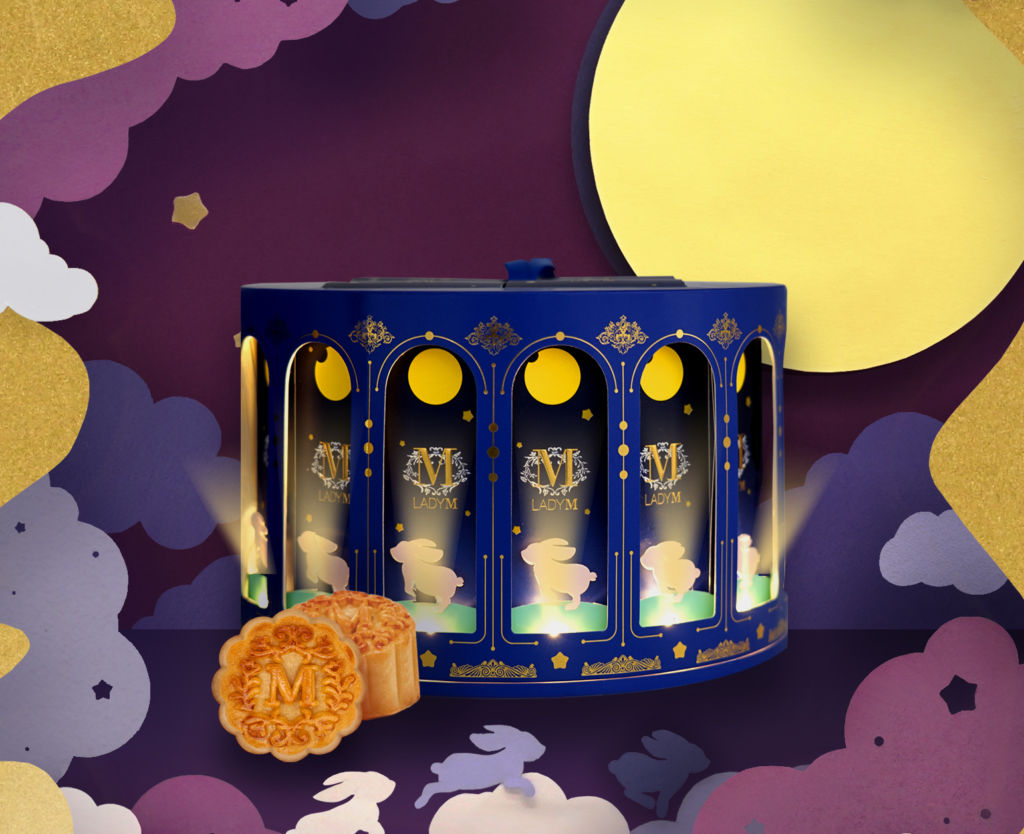 Lady M
Lady M presents the artisanal Lady M Zoetrope Mooncakes meticulously made by Michelin-starred Duddell's, bringing a feast for both eyes and palate. Resembling the starry night sky, every spin of the illuminated zoetrope rotates each lunar phase, accompanied by an adorable jade rabbit jumping towards the moon, a festive icon in traditional Chinese legend. You can also handwrite a heart-warming message to your beloved ones with the festive greeting card provided along with the zoetrope. In the heart of the zoetrope are eight cubed boxes, each housing a delectable mini cream custard mooncake handcrafted locally with the finest ingredients by Duddell's. It's priced at MOP $528 and simply an unforgettable gift to give and receive.
Lady M New York Sands Cotai Central Shop 2203b, Level 2, Shoppes at Cotai Central
Lady M New York at The Venetian Macao K02, Grand Canal Street, Level 3, Shoppes at The Venetian Macao, Estrada da Baia de Nossa Senhora da Esperança, Cotai, www.ladymhk.com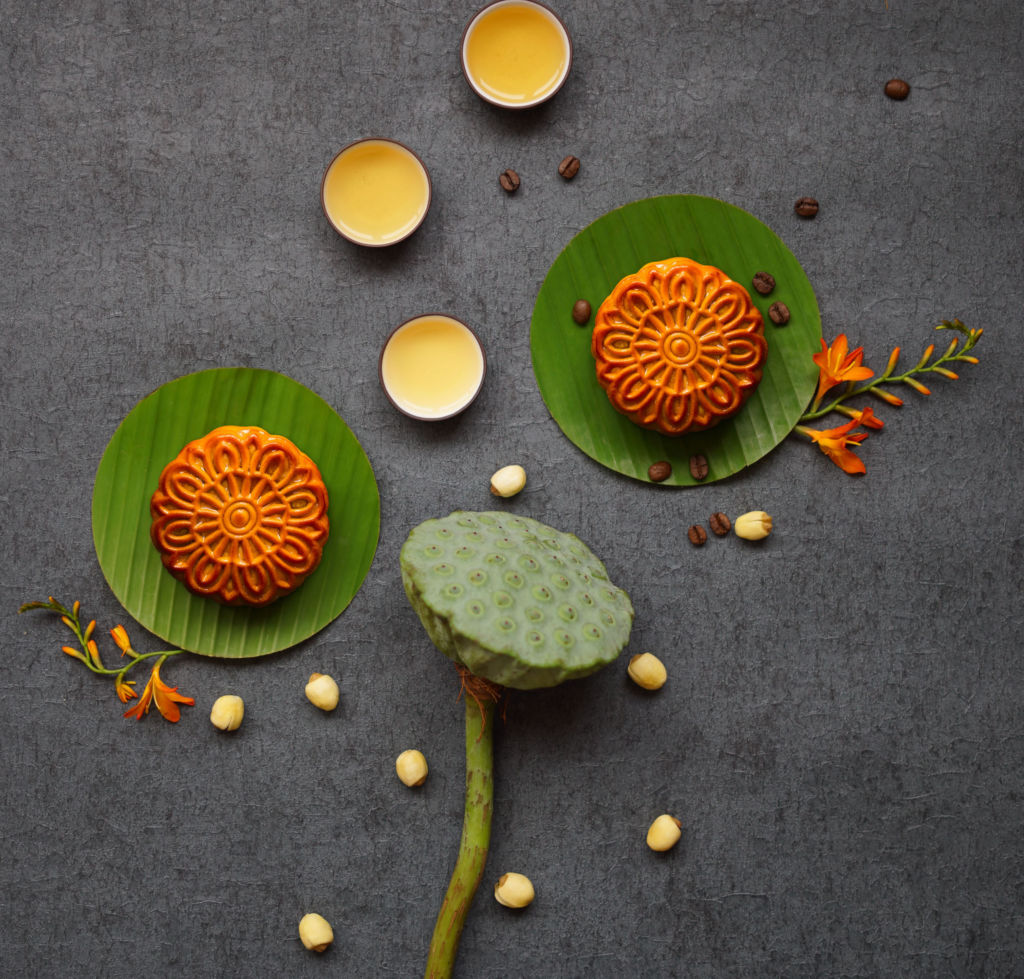 Grand Lapa Macau and Grand Coloane Resort
Grand Lapa Macau and Grand Coloane Resort's cakes and pastries are local favorites for a good reason. And this season of mooncakes, prepare to be impressed even more. You'll find golden-hued mooncakes created by the talented kitchen teams. Feast on mooncakes with lotus seed paste and double egg yolk or coffee mung bean paste and double egg yolk. Share this delightful joy with family and friends that symbolize the Mid-Autumn Festival. The mooncake gift box is priced at MOP $368 per box.
Grand Lapa Macau Avenida de Amizade, Macau, +853 2856 7888, www.grandlapa.com
Grand Coloane Resort 1918 Estrada de Hac Sa, Coloane, +853 8899 1127, www.grandcoloane.com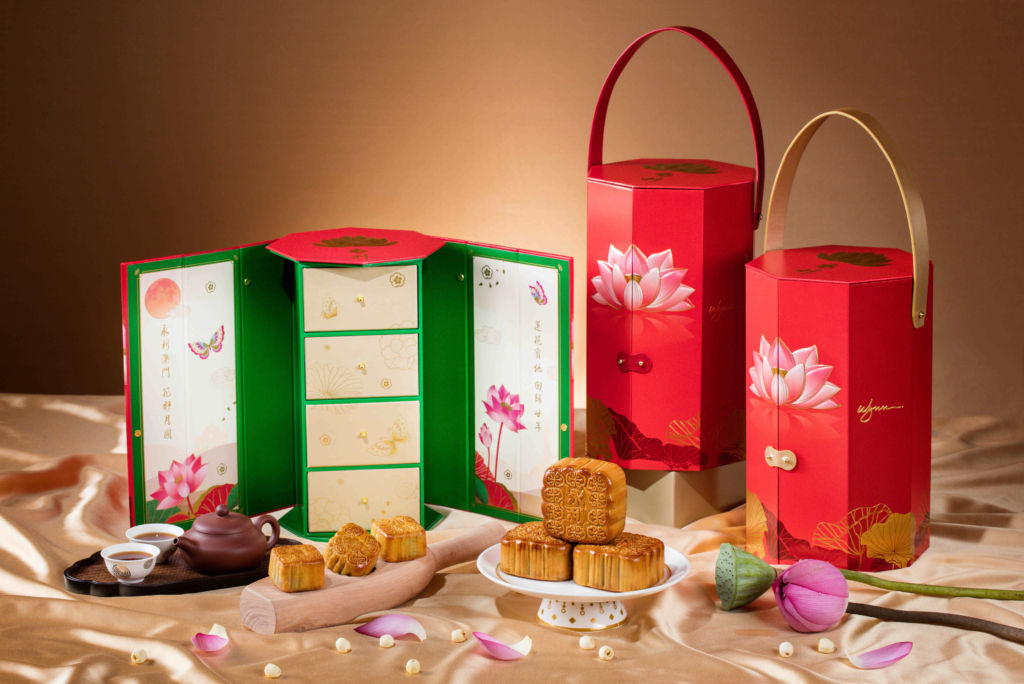 Wynn Palace
Wynn Palace Cotai pays tribute to the 20th anniversary of Macau's return to China with a specially designed mooncake gift box this year. The lotus design is incorporated as a symbol of Macau and represents the everlasting prosperity of the beautiful city. The mooncakes are encased in a strikingly festive red gift box that opens into an elegant green interior, a reflection of Macau's emblem. Guests may choose from three of Wynn's most traditionally popular mooncake varieties which include the four-yolk white lotus seed paste mooncakes, double-yolk white lotus seed paste mooncakes and the egg yolk white lotus seed paste mini mooncakes. Each mooncake is made from the highest quality of ingredients–silky smooth white lotus paste as well as savory and sweet egg yolk. The mooncake gift boxes will make the festival even more special and are priced from MOP $368 to MOP $498.
Wynn Palace Avenida Da Nave Desportiva, Cotai,+853 8889 3228, www.wynnpalace.com
Tags
Related Posts