If you've been living in Macau for a while then you'd be familiar with the local egg waffles but Western waffles are just as good. No matter the shape or form you prefer, what's not to love about waffles? The airy, slightly spongy texture and crispy surface simply topped with melted butter and sweet syrup are just perfect for brunch or afternoon tea. Have it with a scoop of ice cream for extra decadence! Best shared with your friends or perhaps on a first date, here are the best waffle places in Macau for your next catch up session.
Rooftop Macau
(See featured image above)
This little café in Taipa specializes in coffee beverages. However, it also has wholesome waffles with interesting flavors, including matcha red bean and avocado crab stick. Be sure to order one of each so you can taste both savory and sweet waffles! Rooftop is a great place to head to when looking for a quick food fix while sipping on coffee. They also have other beverages and a selection of daily cakes by the slice. Order these waffles for MOP $40 or have another and share it with a friend!
Rooftop Macau 49 Rua Correia Da Silva, Taipa Village, +853 6563 3133, www.instagram.com/rooftopmacau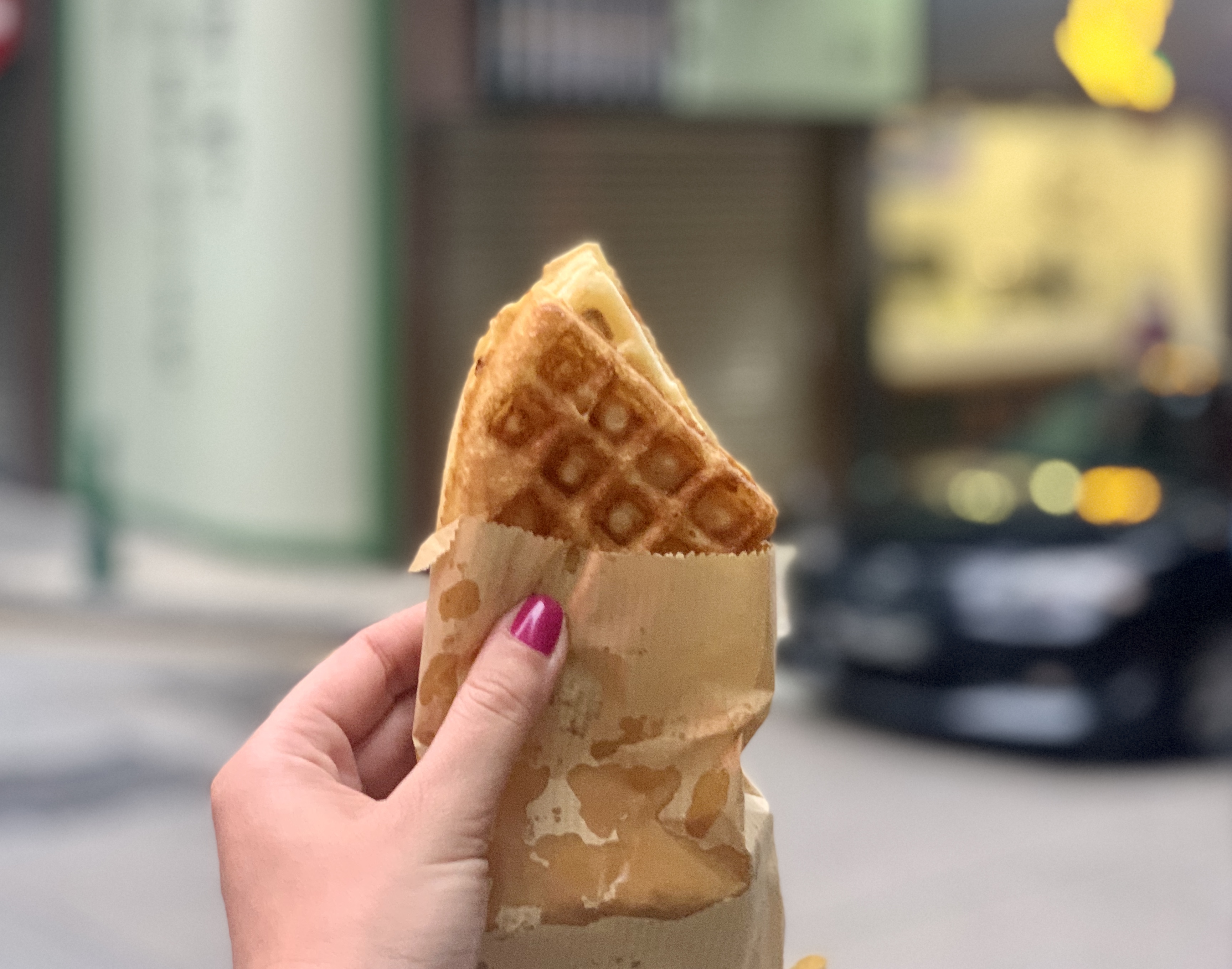 Hing Yi Waffle Stall
One of the most popular local snacks and one of the oldest stalls in Macau. Freshly made waffles are produced on the spot–warm and fluffy on the inside, golden and crunchy on the outside. There are three types of waffles on offer here–waffles drizzled with a generous amount of peanut butter sauce, condensed milk, banana waffles, and egg puffs. Easily one of our childhood favorites. Treat yourself to this delicacy for less than MOP $20, which you can get at two places.
Hing Yi Waffle Stall Pátio das Flores Alley, Macau
Travessa dos Anjos, Macau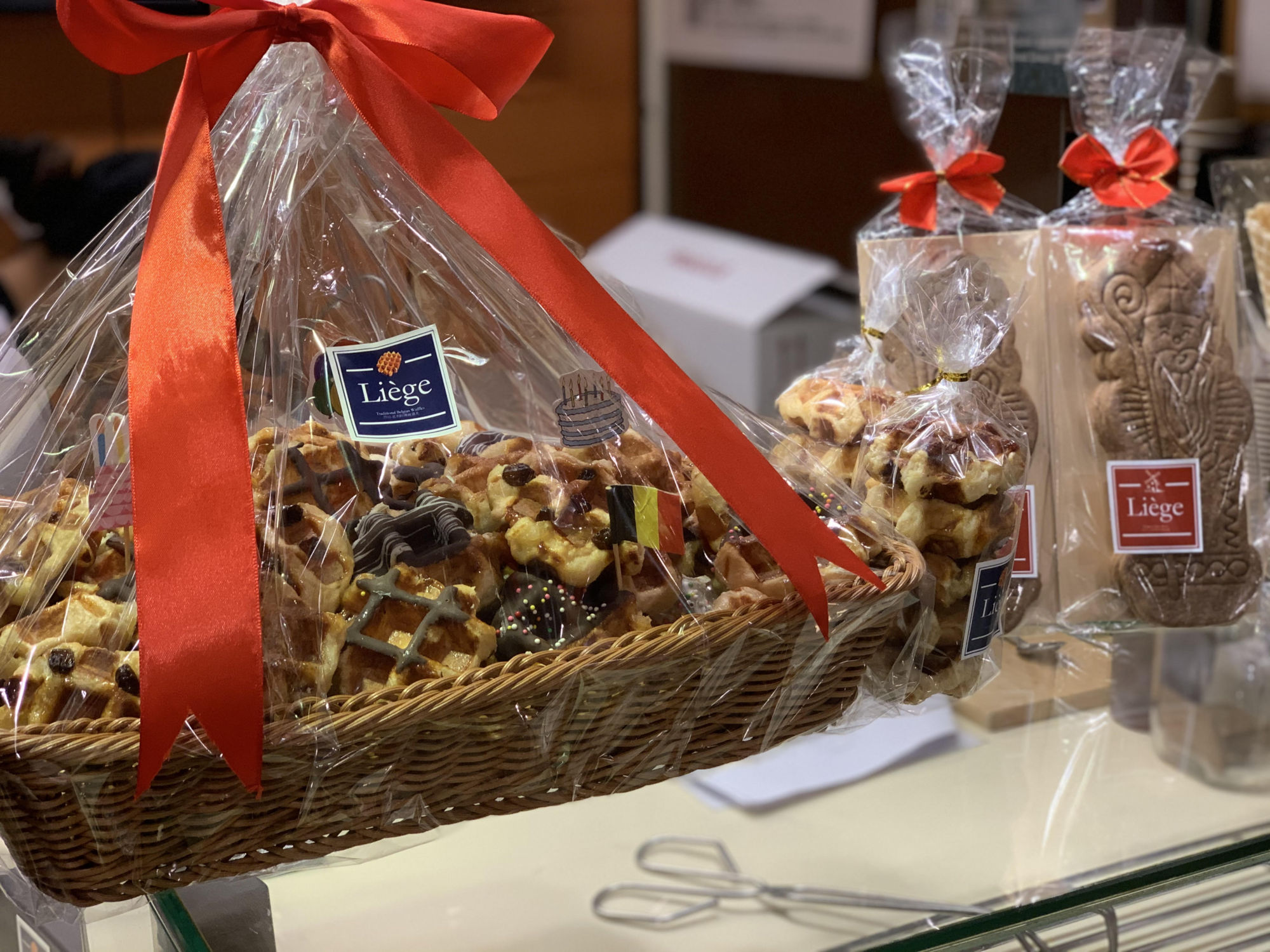 Liège
Located in ParknShop Taipa side and Broadway, they serve freshly made traditional Belgian waffles. We love having it drizzled with Nutella topped with a scoop of ice cream or even having it plain. Every month, they come up with a theme. Last March they had grandmother's day with chunky apple slices while in February, they celebrated Valentine's Day topping their waffles with cherries. We're excited about what they have to offer next month!
Liège @ParknShop Taipa Flower City (edf. Lei Tou), R. de Évora, Macau, +853 6693 7044
Liège @Sun Star Square Macau 1/F, Va Iong, Praca da Amizade No.6-52, Macau, +853 6693 7044
Liège @The Broadway Food Street Shop GRH014 Broadway Macau, Cotai, +853 6693 7044
Liège @Sands Cotai Central Level 2, STK14, Sands Cotai Central, Cotai, +853 6693 7044
Liège @The Parisian Macao Level 3, STK303, The Parisian Macao, Cotai, +853 6693 7044, www.facebook.com/LiegeWaffle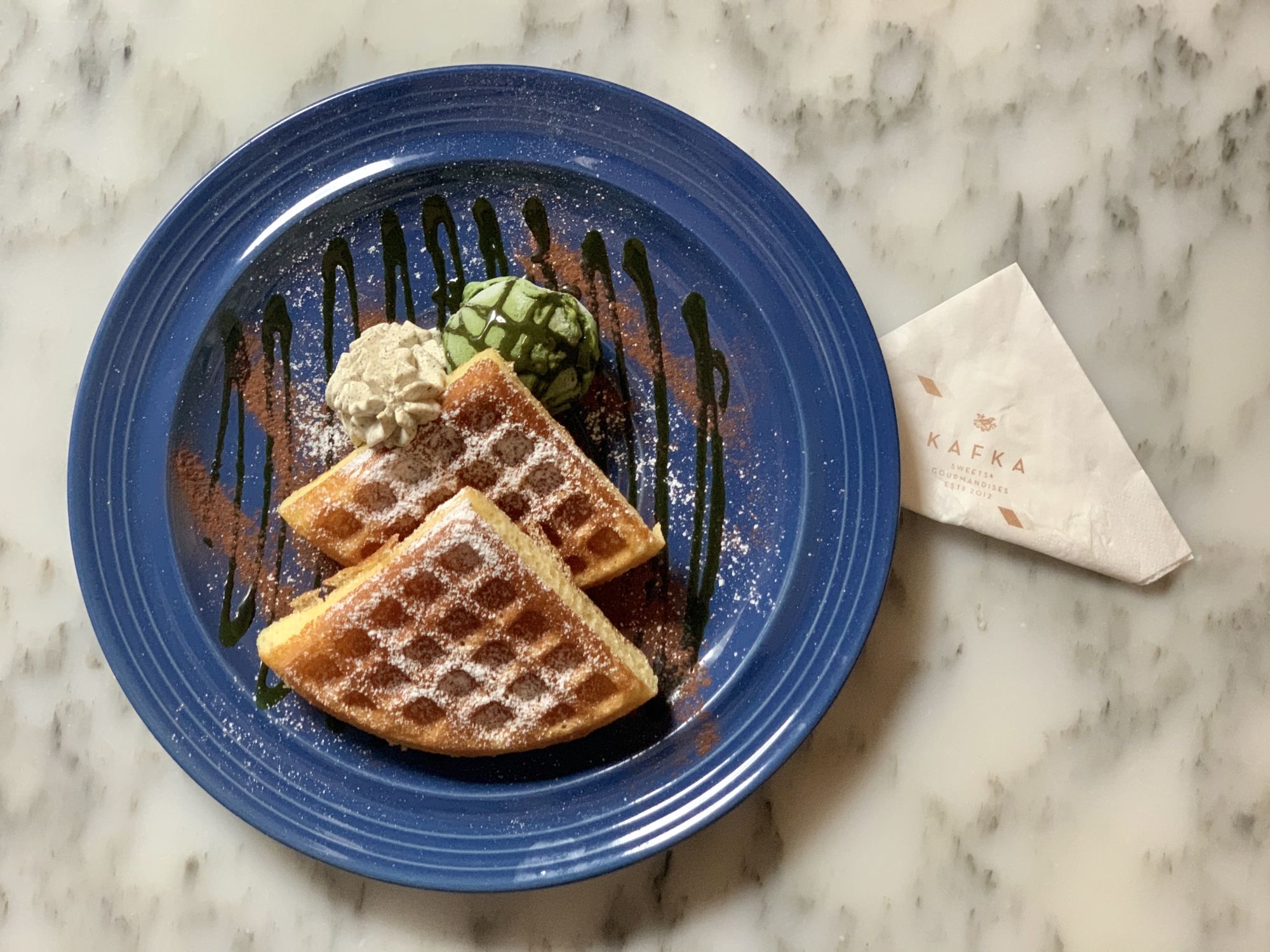 Kafka Sweets & Gourmandises
Taipa is teeming with hot spots everywhere and one of them is Kafka! Named after the renowned Russian writer, this restaurant serves flavorsome waffles–strawberry, matcha, caramel and banana with chocolate–so be sure to keep some space in your belly to have this treat. They also serve pasta, sweet bread toasts and specially crafted small cakes in the shape of animals and vegetables. Besides being tasty, the food here looks beautiful too, so bring your camera and shoot some great foodie photos! Each set of waffles costs MOP $57.
Kafka Sweets & Gourmandises 152 Rua de Braga, Taipa, +853 2882 0086, www.facebook.com/kafkasweets
TOFF
The Original Fresh Flavor (TOFF) is a cool and vintage style cafe with a laid-back feel, located near Lou Lim Ioc Garden. Their main focus is to create a different dining experience in Macau with their noodles served in a giant mason jar, coffee drinks, European herbal tea combinations, and creative Belgium waffles.
When it comes down to TOFF's waffles, possibilities are plentiful and tempting. Caramelized banana and chocolate waffles served along a scoop of Movenpick's chocolate ice cream (MOP $75), mixed berries waffles with a scoop of the famous brand's vanilla ice cream (MOP $75), caramel and sweet potato smash waffles plated with a scoop of that vanilla ice cream too (MOP $65), Macau style waffles, gloriously paired with peanut butter, butter, sugar and condensed milk (MOP $55) and the classic breakfast style egg salad with double cheddar and bacon waffles (MOP $65) are the main combos available. Besides these, you can customize your waffles depending on what takes your fancy by ordering a waffle and adding in your choice of topping: caramel chocolate, raspberry strawberry, blueberry, peanut butter, condensed milk, ice cream, fruit syrup, egg salad or sweet potato mash.
TOFF G/F D,72 Rua da Esperança, +853 2893 0014, www.facebook.com/toffcafe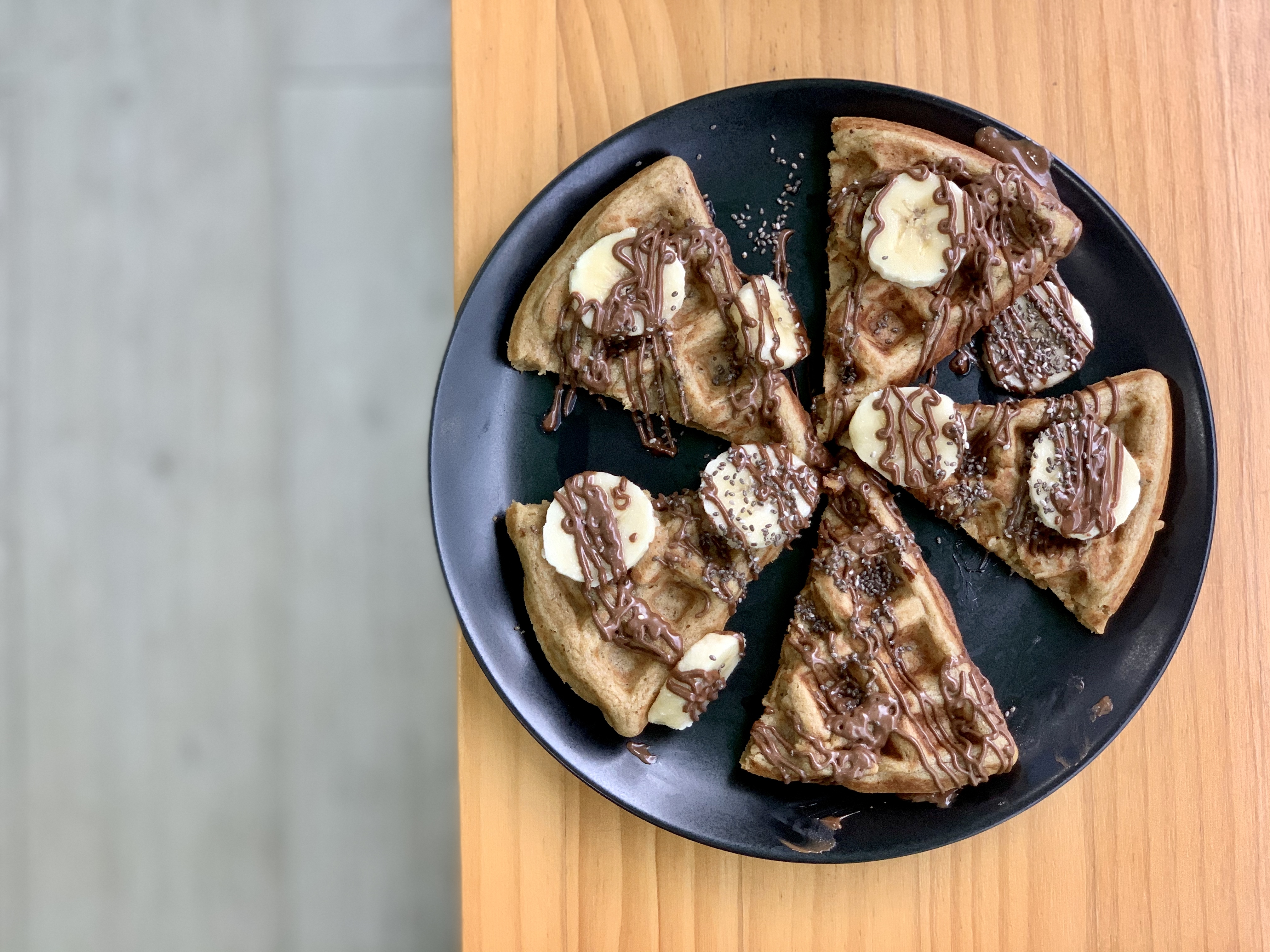 Healthy Habits
Healthy Habits might just be every health food enthusiast's haven and we understand why! Besides wholesome warm dishes, the freshest salads, homey hamburgers, great fruit, and coffee beverages, they also have unbelievable waffles made with peanut butter, homemade chocolate cream, and lots of other healthy ingredients such as almond milk, gluten-free oatmeal, apple cider vinegar, banana and chia seeds. We certainly loved these soft and warm waffles, perfect for dessert or simply when craving a sweet snack! It goes very well with one of their shakes, which are also made with non-lactose milk such as almond, oatmeal, or coconut. Each waffle batch costs MOP $78.
Healthy Habits 203 Avenida Comercial de Macau, R/C A Edifício La Bahia, Macau, +853 2859 3386, www.facebook.com/healthyhabitscafe
Tags
Related Posts