Macau is slowly becoming a gastronomic hub for all locals and tourists looking for cuisines from all over the world. Cantonese food is widespread in the region and this ensures that most would know about dim sum and yam cha. However, there's another side to food in Macau that consists of interesting foods like fish balls, Macau-style waffles and pungent durian ice cream–and that's street food! Street food is commonly simple foods that are very affordable. Here's a list of what and where in the city one can find the best street food.
Steamed Fish Balls and Veggies
(See featured image above)
Macau and Taipa are teeming with stalls selling skewers with fish balls, a variety of vegetables, meat, seafood and more, especially on the streets from Leal Senado to the Macau Cathedral. Like most of Macau street food, these skewers are really cheap, served hot and fresh and great to take away to enjoy on a nearby bench. You won't be able to miss this, even if your plans don't include the city center because there is always a stall like these when you least expect it! With an option of oyster, soy or curry sauce, these skewers can also be served plain.
Estabelecimento de Comidas Ka Lei Weng (咖喱榮) 6 Travessa da Sé, Macau
Restaurante Ka Lei Weng (咖哩榮魚旦牛雜) 10–12, Travessa de São Domingos, Macau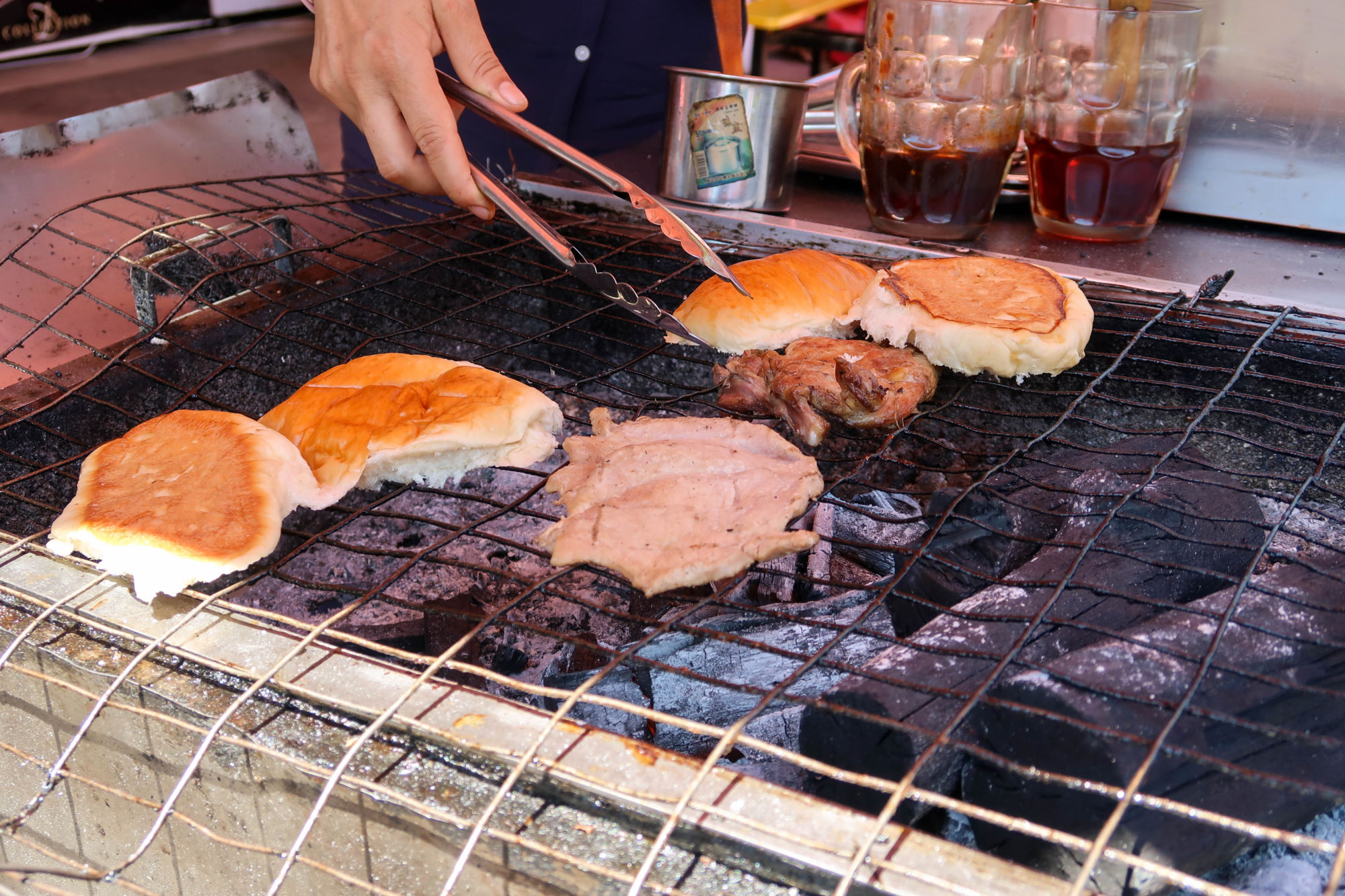 Pork Chop Bun
Opinions differ when it comes to this delicacy. Some say the best can be found at local restaurants, but we believe the true, traditional taste pork chop buns rests at the food stalls in front of Hác-Sa Beach. With the wonderful smell of the pork chops wafting throughout the whole area, these pork chop buns are best eaten hot off the grill. The meat is grilled then sandwiched in bread that's been crisped on the grill as well. The sauce from the pork chop absorbs into the soft bread and gives it a unique flavor, rarely found elsewhere.
Hac-Sá Beach Estrada de Hac Sá, Coloane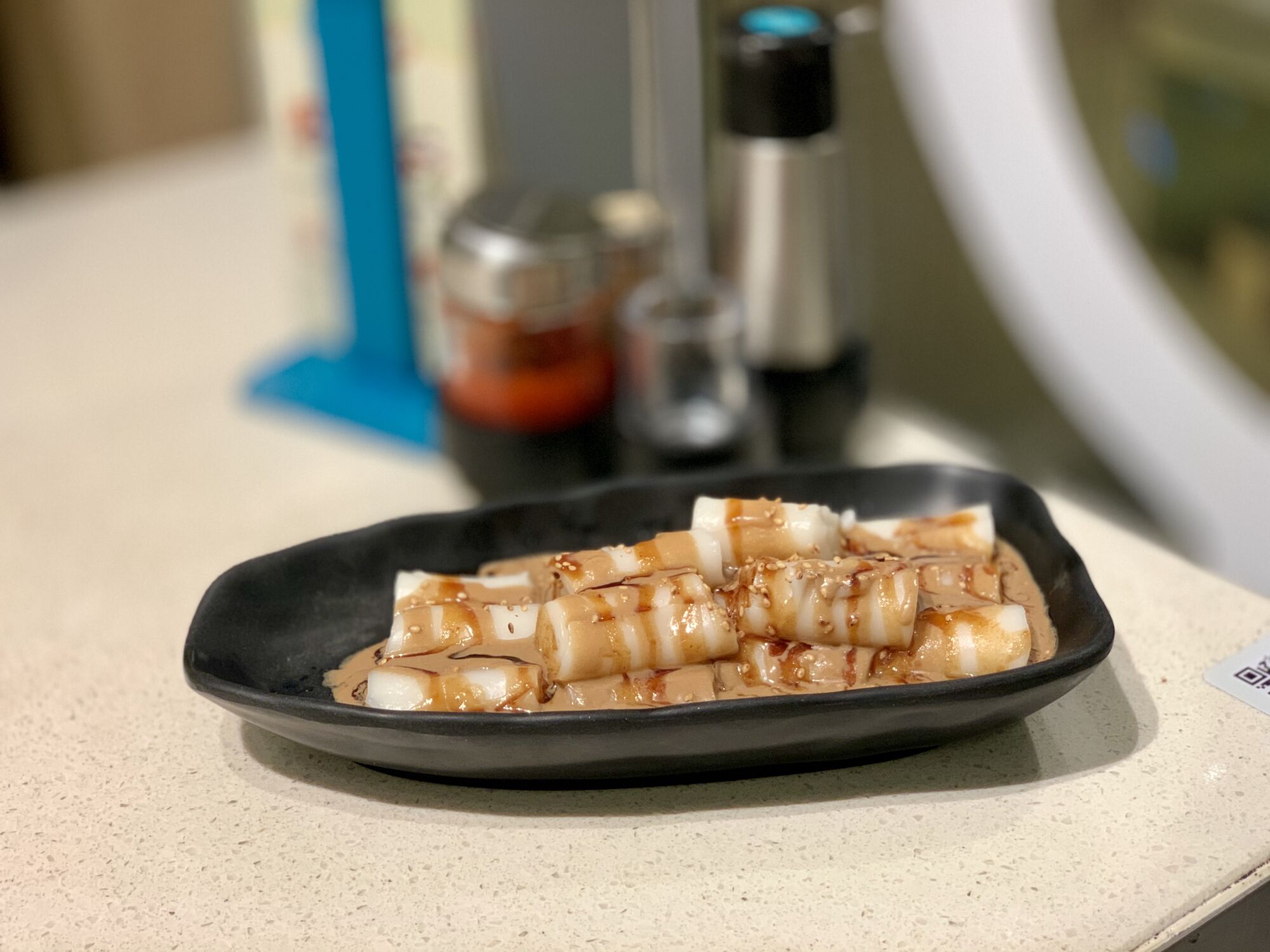 Chee Cheong Fun
There are several hidden-away food stalls all over Macau, but one of the busiest and most popular is the one resting right beside the Portuguese School, in the city center. With a constant cloud of steam coming from it, it has some of the best chee cheong fun in town when it comes to street food. Of course you can also have this tasty dish at restaurants, but the experience of dining outside is remarkable. Plus, it is a great night cap! Opened till late, this stall serves other yummy treats such as dumplings and if you're dining on a dime, this is the go-to spot in town. However, there are several other places where you can get this, namely Zen Dim Sum or, as matter of fact, any local yum cha restaurant.
Portuguese School Avenida do Infante Dom Henrique, Macau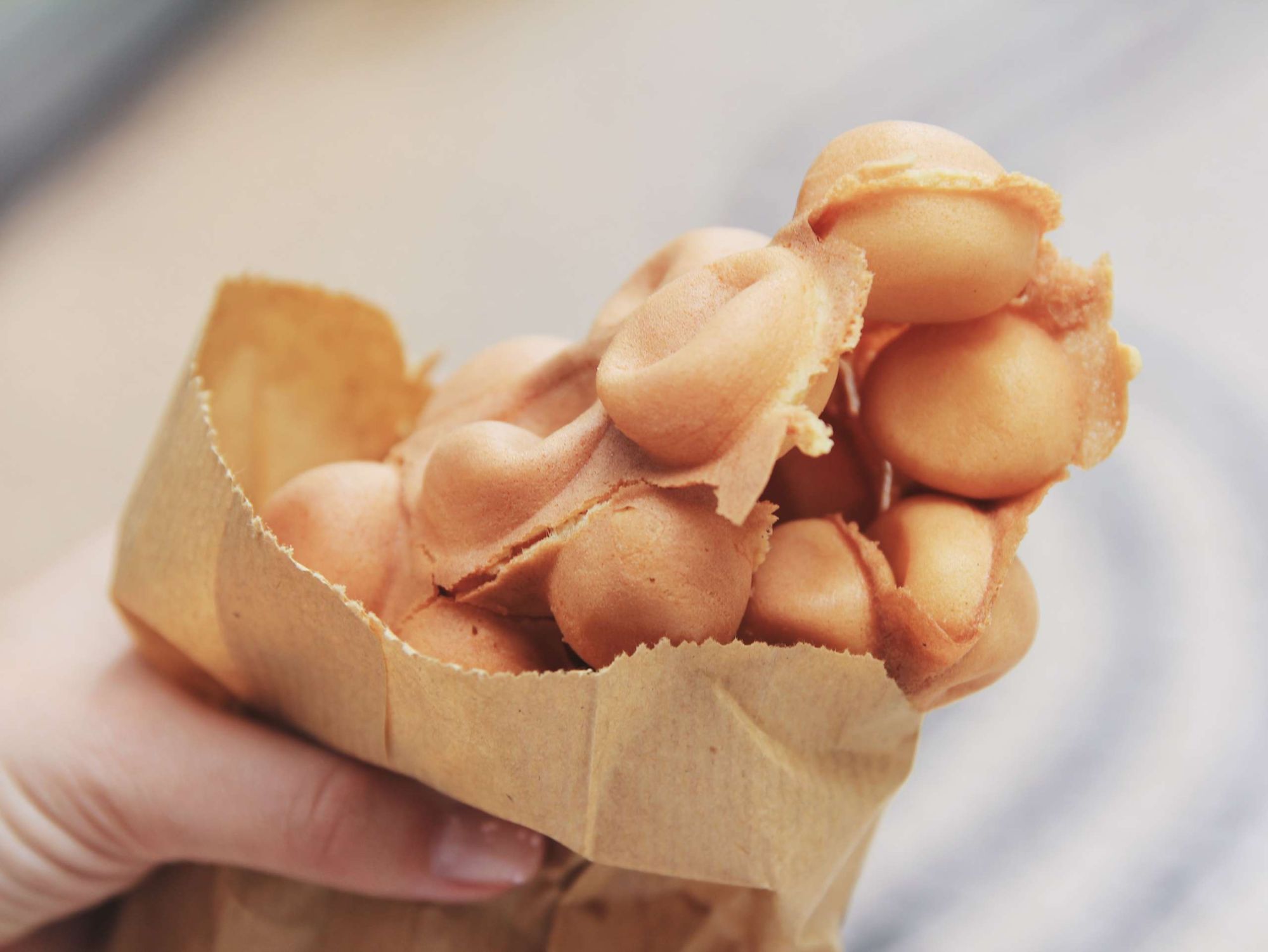 Macau-style waffle
Cheap, hearty and filling, this is the perfect snack after an afternoon of walking up and down the streets of Macau. Look for a small stall with plastic covers and busy people working behind it. For less than MOP $20, you get a hot, fresh from the pan waffle, which is then filled with condensed milk and peanut butter. Crisp on the outside and soft and sweet on the inside, these waffles are a great mid-afternoon snack. If you prefer less sweet waffles, we suggest for you to go for their egg waffles (shown in picture above) or banana waffles.
Hing Yi Waffle Stall Pátio das Flores Alley, Macau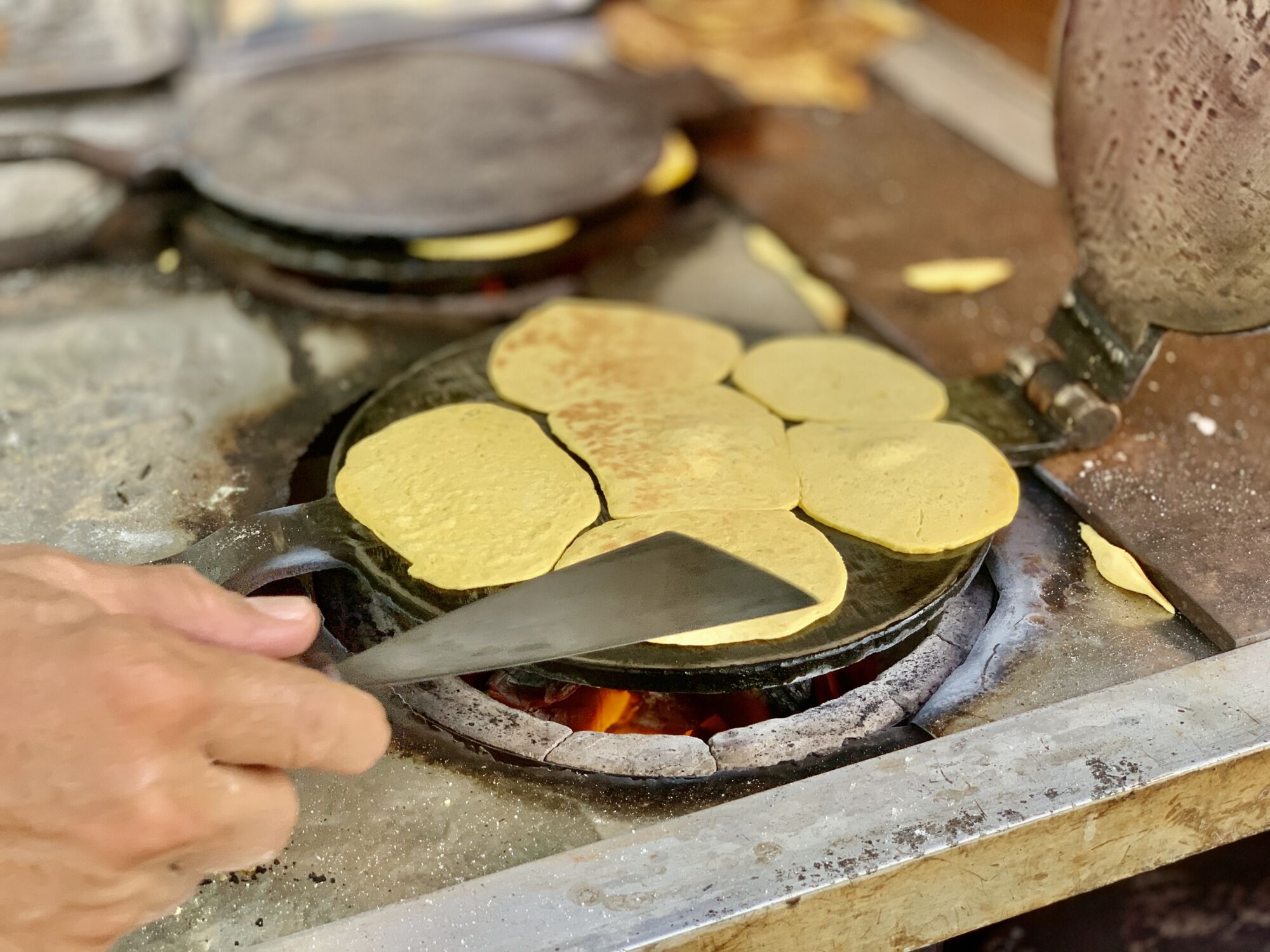 Senado Cookies
Freshly made out of a cart located under Senado Square's arcades, these cookies have been part of the city's history for decades now. A family business that strived locally and serves great, flavoursome cookies. However, don't expect them to taste just like any other international brand one: these are made from a homemade dough and with little sugar, making them a famous and sought-after treat for any given hour of the day, really. Made in a few minutes, you can even see how the man does them and carefully packs it before handing it to customers.
Cart in Senado Square (under the Holy House of Mercy arcades) Largo do Senado, Macau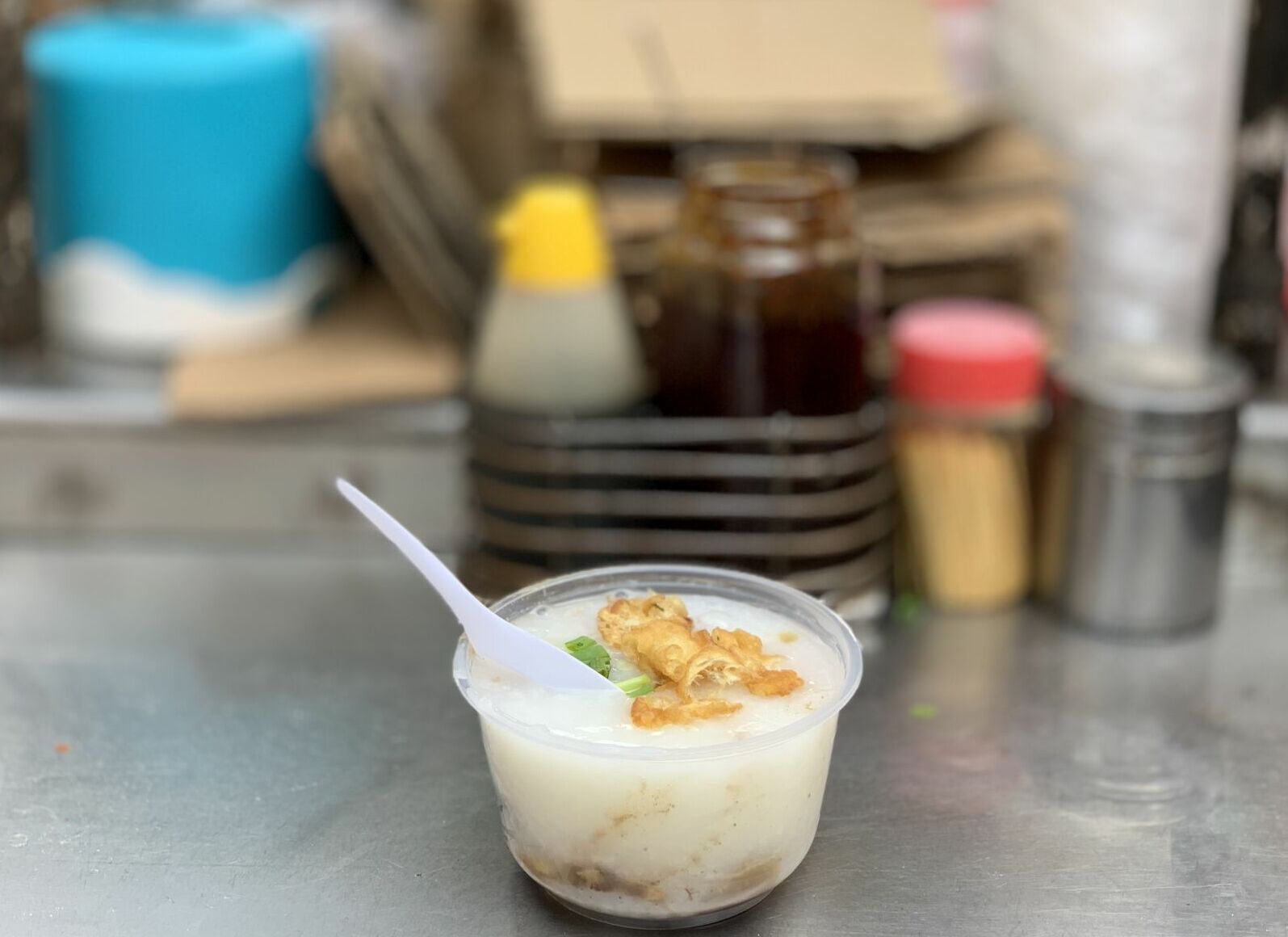 Pork Intestines Congee (紅街市牛雜檔 牛什檔)
People queue to get this delicacy while it's still steaming! Served from a cart "parked" on the back of Red Market, this congee with freshly boiled pig's intestines and these very typical fried crullers is a very sought-after meal in Macau. Besides being flavorsome and allegedly great to improve health, it's affordable (less than MOP $20 for an individual bowl) and a great way to sample the local cuisine. Congee is one of the most comfortable foods one can have during winter or when sick at home when all you want is a warm blanket and a full stomach. For those abit more daring, this is one a must try Macau street food on your next visit over.
Cart behind Red Market 5 R. Leste do Mercado Almirante Lacerda, Macau
Read more: Street Snacks in Red Market and Horta Costa Area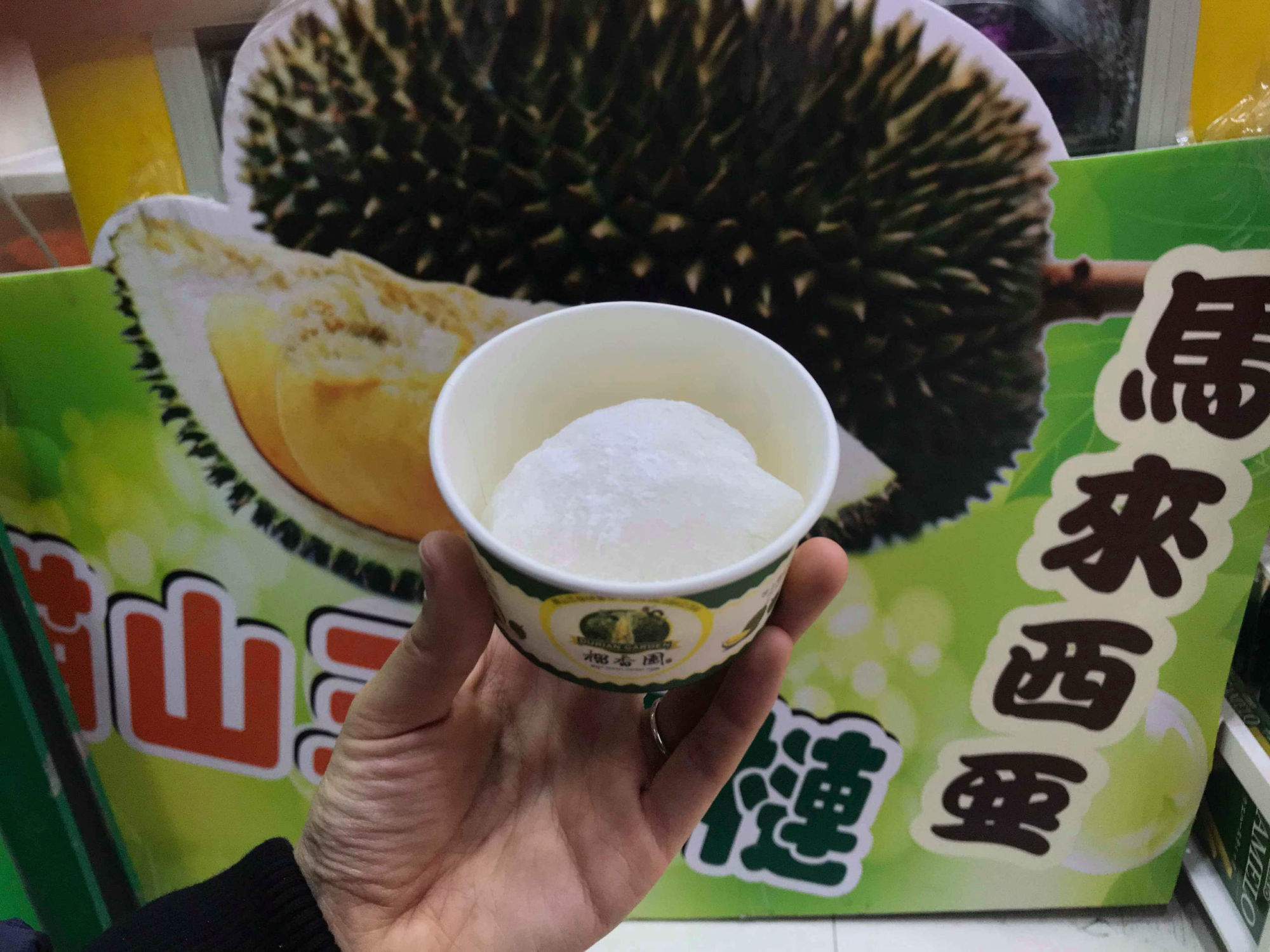 Durian Ice-Cream
Durian is an exotic fruit that grows in several countries in Asia and South-America, and is rarely found in the US or Europe. It is strong-flavoured and soft, and its smell can clear a room. In Macau, durian is incorporated into several other things like milkshakes, cakes and more. Arguably, its best by-product is durian ice cream which can be found at some of the well-known ice cream shops in town. Fans of this fruit would say that a little take-away shop in Taipa Village sells the real deal. Moist, soft and strongly scented, it's perfect especially on hot days. If mochi is a favorite of yours, walk a few steps further and check out Durian Garden that also sells durian ice cream encapsulated in soft and gelatinous mochi.
Gelatina Mok Yi Kei Rua do Cunha, Taipa Village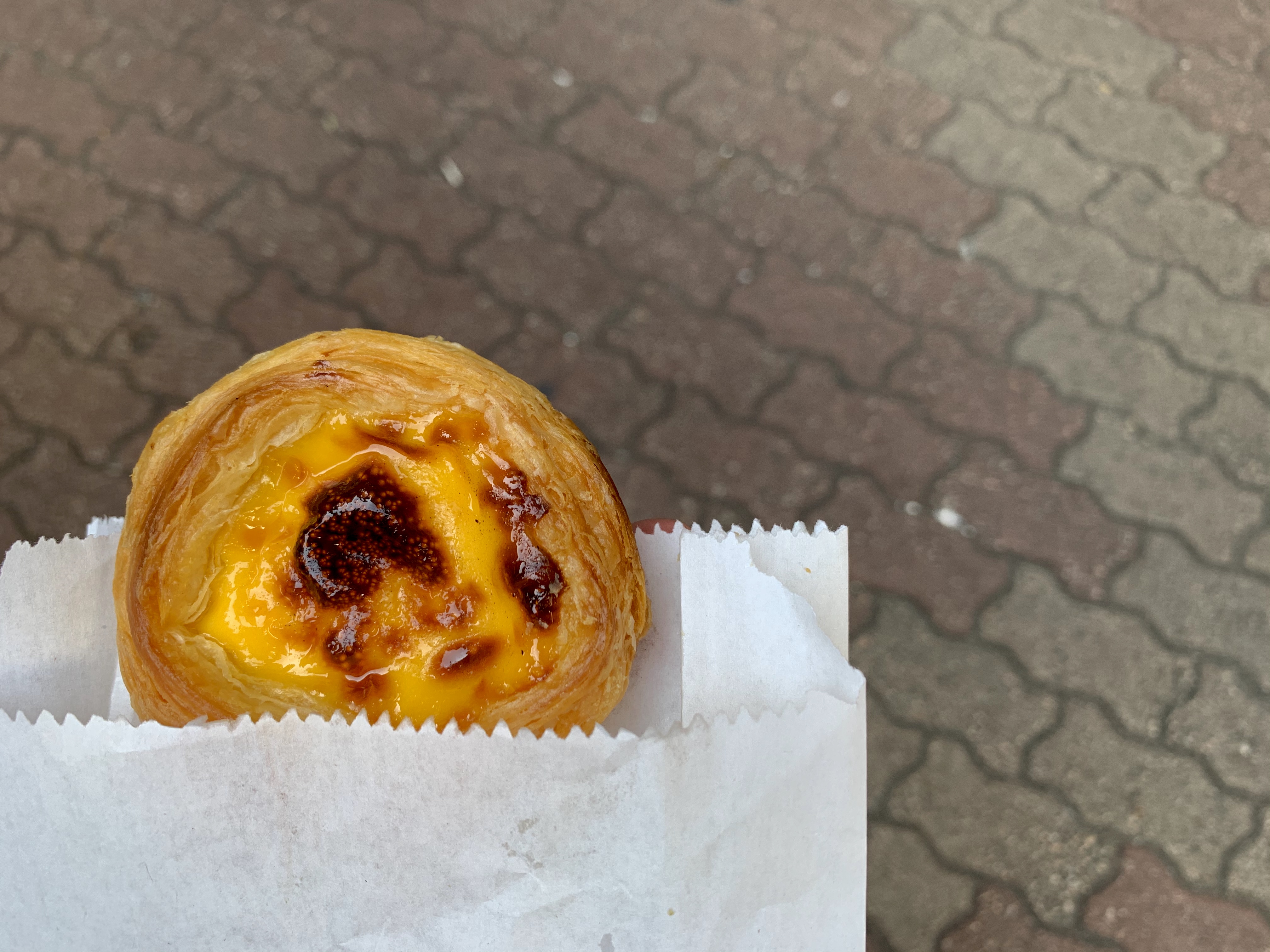 Egg Tarts
One of the most well-known desserts and in the world, it has Portuguese origins and has been transformed into something very local, tasty and not quite the same as the ones selling in Portugal. Although there are several spots selling these, most are restaurants and cafés. If you are looking for egg tarts while exploring the streets of Macau, head to Koi Kei Bakery and check out their sweet offerings. Take one away for a quick bite or perhaps grab half a dozen and share them with friends and family!
Koi Kei Bakery 23AA–23AB, Rua de S. Paulo, Macau, +853 2835 8230, www.koikei.com
Read more: Where to Find the Best Portuguese Egg Tarts in Macau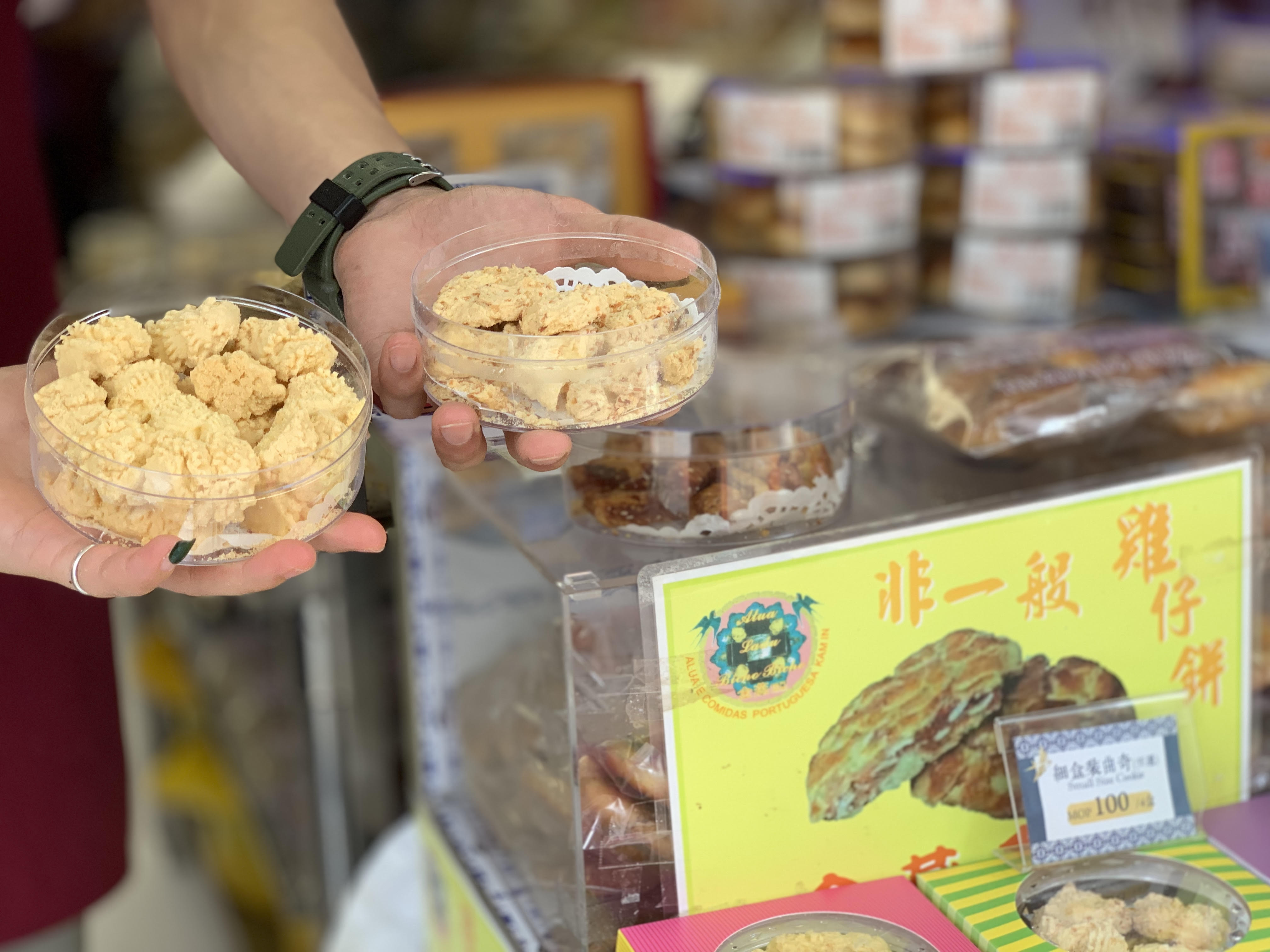 Almond Cookies
At Koi Kei Bakery, you'll find another Macau delicacy here and that's almond cookies. Take some to go and snack on them while strolling through the city or have them with a relaxing cup of tea or coffee at home. Whether you're a resident or tourist, these little cookies are simple, tasty and popular as souvenirs. The bakery has them in baskets outside so people can try them before buying.
Koi Kei Bakery 23AA–23AB, Rua de S. Paulo, Macau, +853 2835 8230, www.koikei.com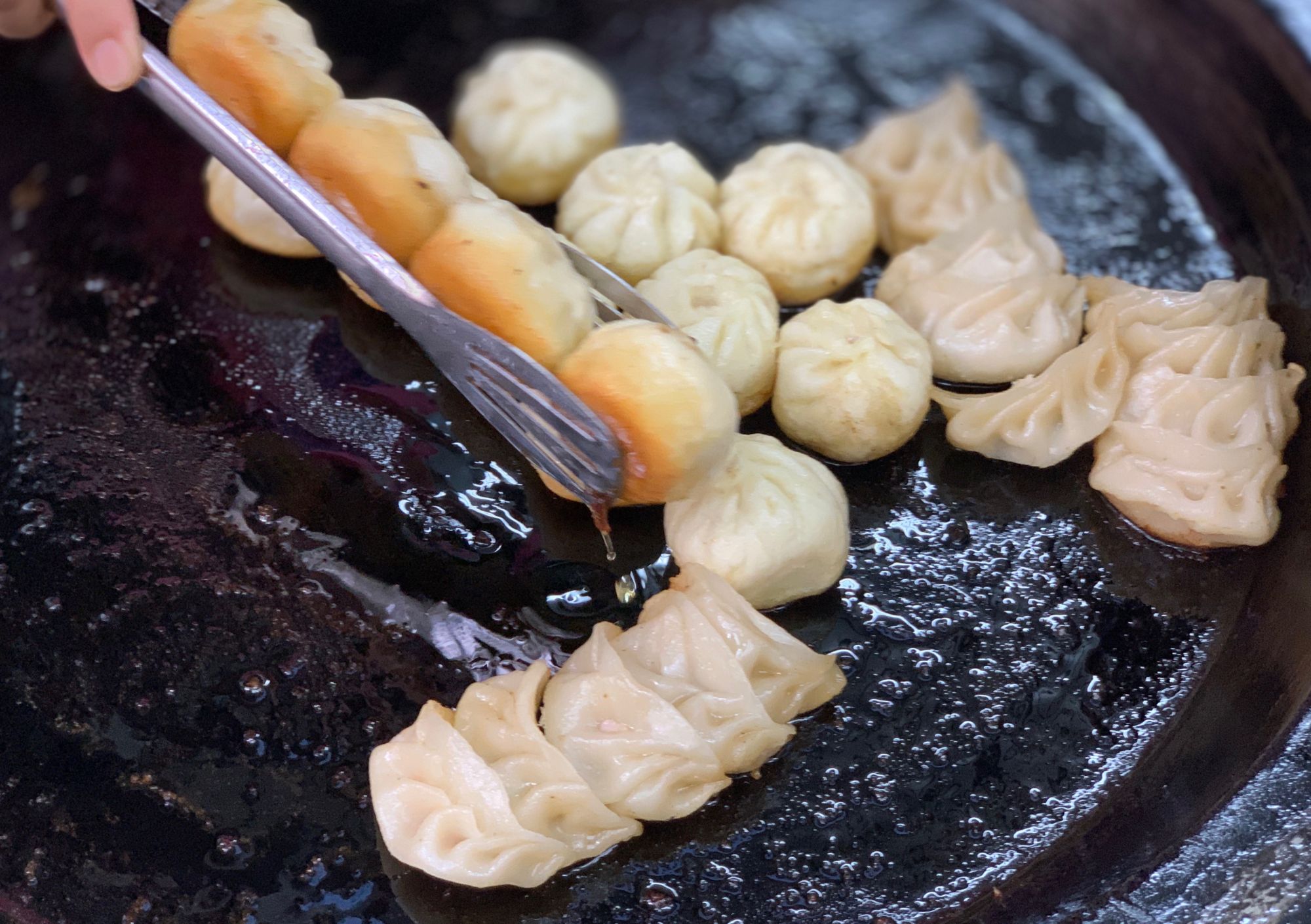 Fried Dumplings from Sio Seong Hoi
These are definitely a great savory treat while walking around the city center. Instead of booking a table at a fancy restaurant and having a sit down dim sum meal, have a taste of the real Macau by heading to this stall and try one of the best street foods in Macau. Tucked away in a small alley on the way to the Ruins of St. Paul, take away some dumplings and find a bench somewhere to enjoy them while they're piping hot! This stall is also popular with the locals who line up and take them away to have at home.
Sio Seong Hoi Stall 2 Beco da Palha, Macau
Tags
Related Posts