Are you desperate for a midday caffeine boost? If you're somewhere near the Camões Garden area, or around Kiang Wu Hospital just north of the Ruins of St. Paul's, then we've got you sorted out with our list of great coffee shops for that much-needed pick-me-up! This area has dozens of great places to visit, so while doing that, why not stop for a quick bite or gather with friends? Read on and find out more about trendy takeaways and comfort food places.
The Joy of Living Cafe
(See featured image above)
More than just an Instagram-worthy spot, The Joy of Living Cafe is a short 10-minute walk away from Camões Garden and it's just wonderful with their cute little designs, and photos are a must before you eat! In addition to desserts, a wide range of coffee drinks and other beverages on the menu are worth exploring. This is a great spot for sipping coffee, but also calming teas, soufflé pancakes, toasts, and sandwiches and even proper dishes of rice, pasta and salad!
Opening hours: Daily, 12:00pm–8:00pm
The Joy of Living Cafe 72–74 Estrada do Repouso, Chon Va Building, Macau, +853 6361 2723, www.facebook.com/joycafemacau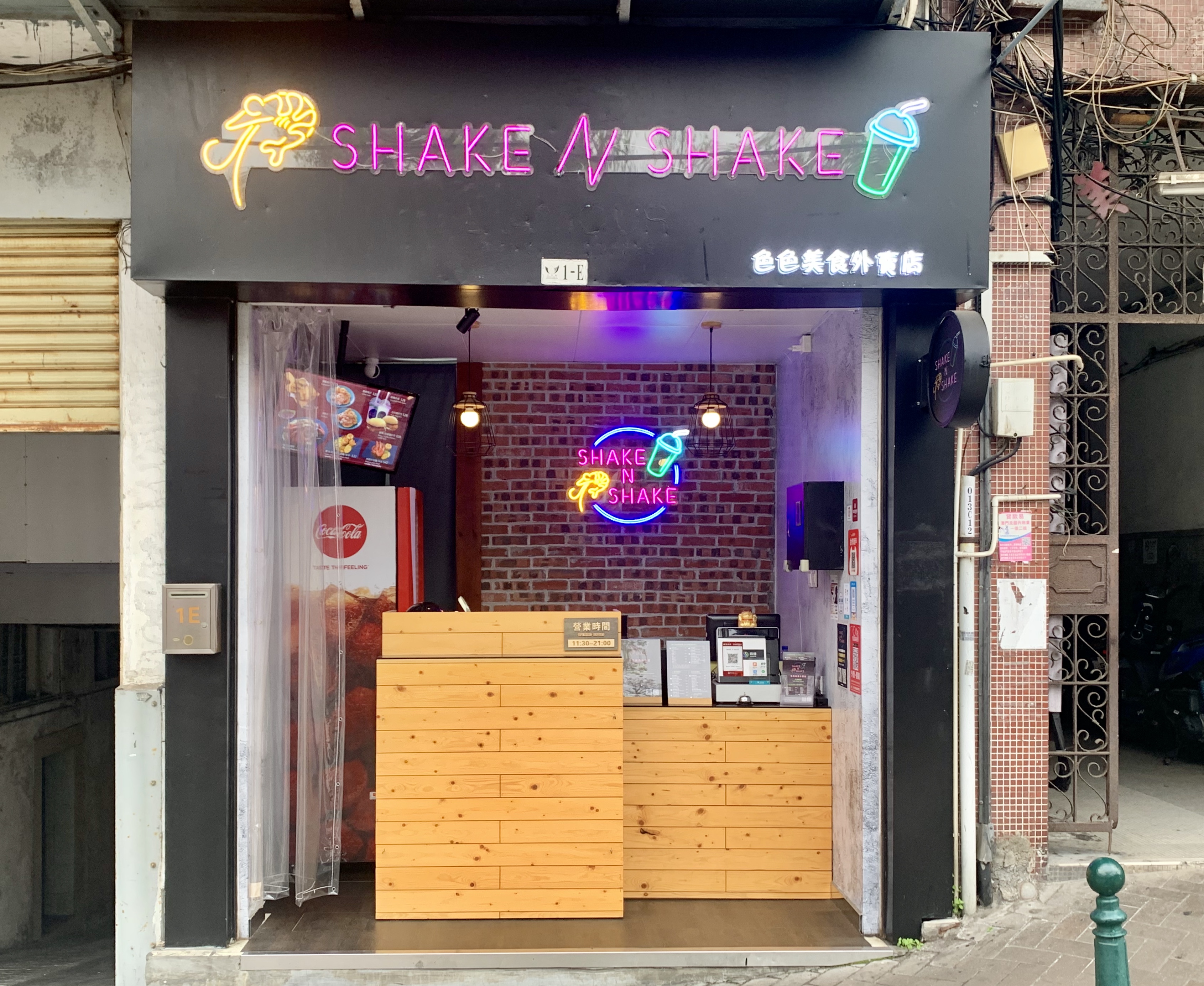 Shake N Shake
Shake N Shake is a tiny counter hidden on a street going up, right next to Camões Garden. With attractive American diner-style neon signs, its specialty is unmistakable; wholesome American food with a side of their signature drink–coconut milkshake! This joint serves up a special spicy Louisiana style cajun sauce and it's on seafood, chicken cutlet, deep-fried pork chop, zucchini and more.
They also have fried noodles and baked pork chop rice for those who might not be a fan of their cajun sauce. Why not try something different and just grab some food and drinks, while strolling around? This is a great choice for those in a rush or just looking for a quick but still flavorsome and interesting food fix. Food is available for takeaway as well, which you can order over the phone!
Opening hours: Mondays–Saturdays, 11:00am–9:00pm
Shake N Shake 1 Praça Luís de Camões, Macau, +863 6228 1333, www.facebook.com/Shake-N-Shake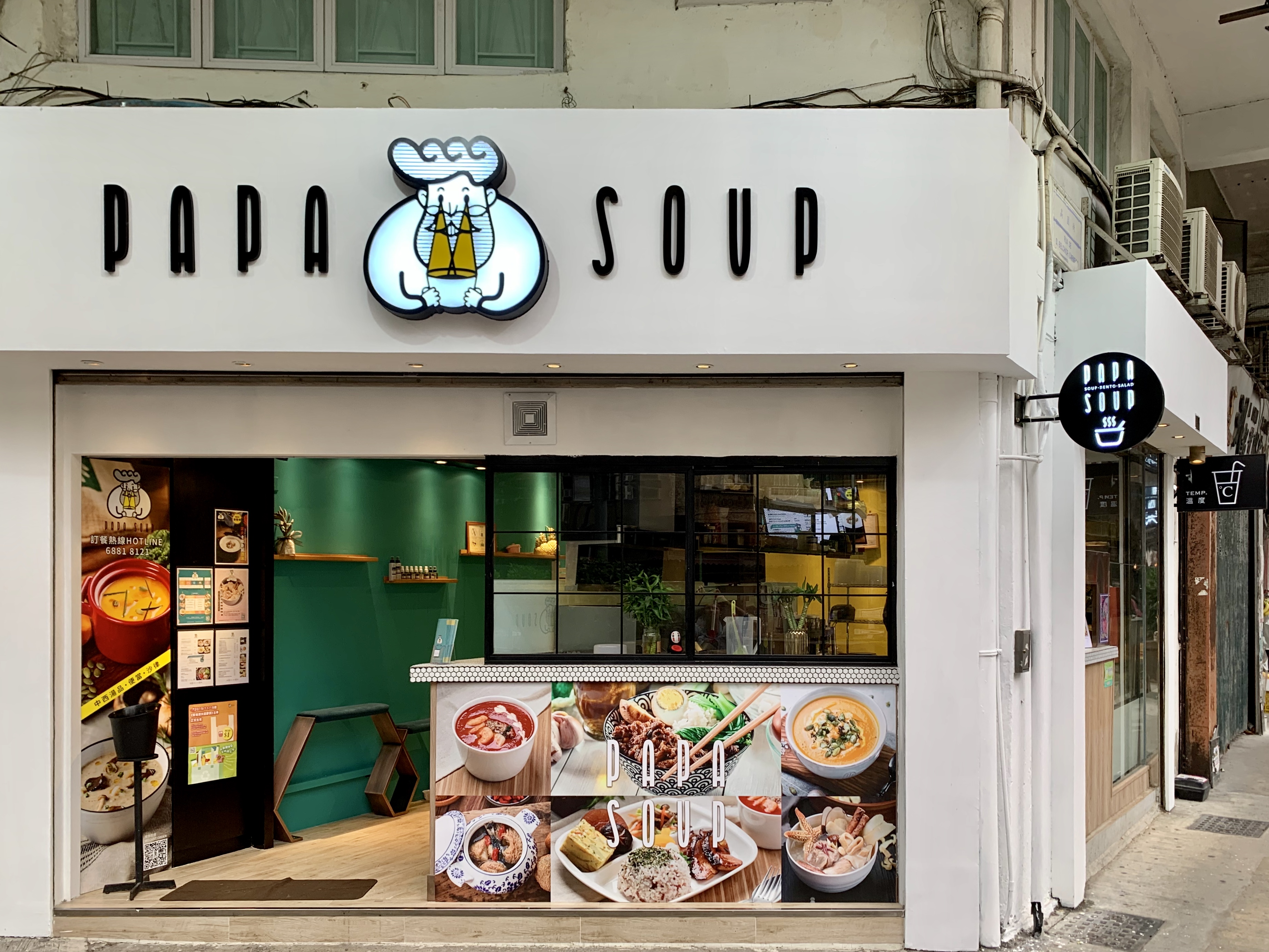 Papa Soup
Looking for something healthy yet filling? Papa Soup offers a wide menu that mainly includes soups, salads, and bento sets for less than MOP $60. This restaurant is conveniently located on a roundabout leading to Kiang Wu Hospital and St. Lazarus District which is just down the road.
Featuring a simple yet clean decor and a small seating area, it's a place to head with friends and family for a quick bite. Expecting to be well-fed and ready to take on the rest of the day. Papa Soup offers both Western and Chinese soups, with pumpkin, mushroom, or herbs as the main ingredients. Their motto is "the taste of home kitchen" and it's well adhered to for sure. One can also order via WeChat or by calling.
Papa Soup Rotunda do Almirante Costa Cabral, Macau, +853 6881 8121 or +853 2872 7529, www.facebook.com/PAPA-SOUP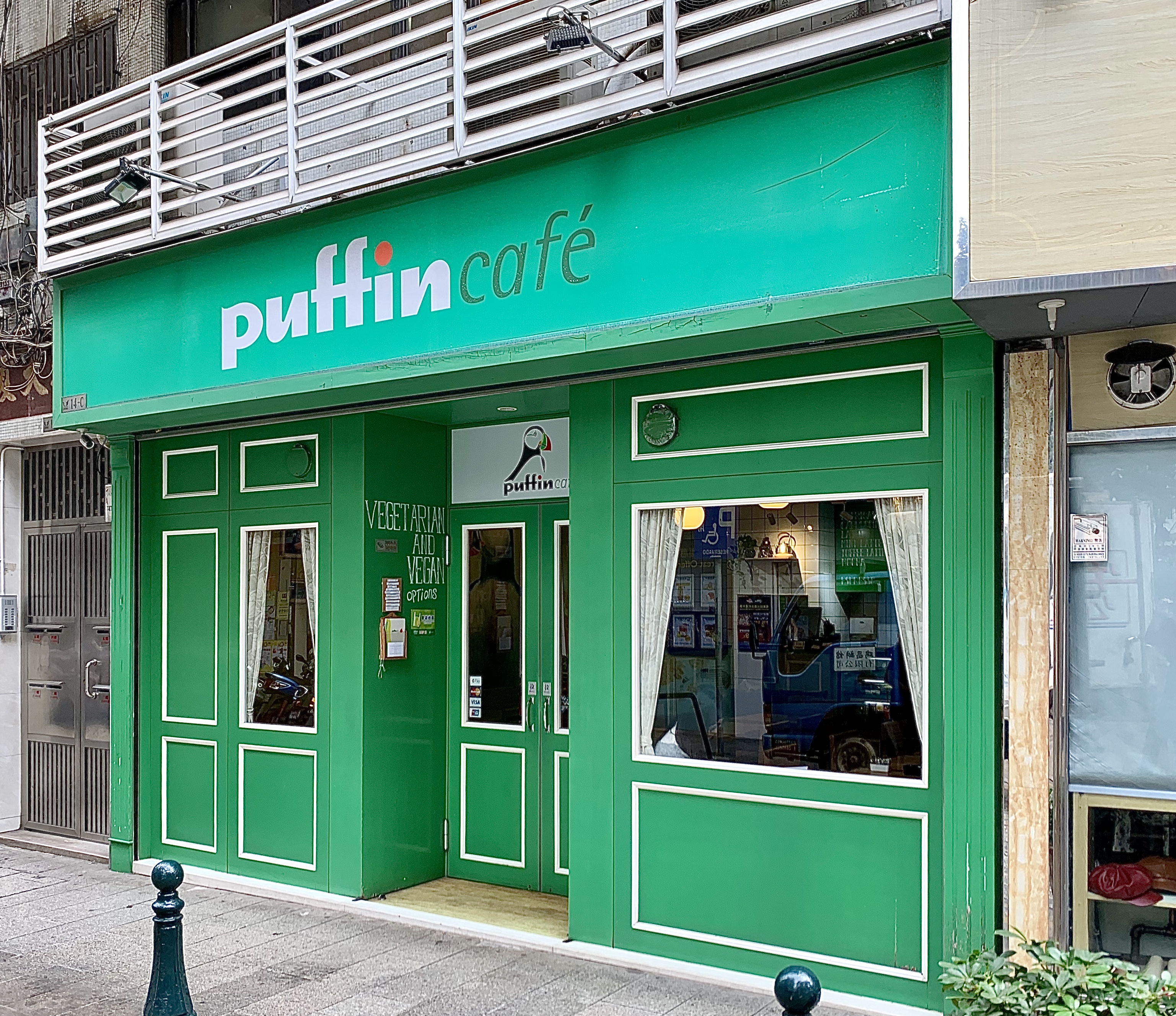 Puffin Café
This is one of the greatest deals when it comes to vegan and vegetarian dishes in Macau. Set in the street that leads from the Ruins of St. Paul's to Camões Garden, Puffin Café is a coffee shop with everything! From mains to desserts, snacks to healthy juices, this is the place to be when looking to give your body a bit more than fried food and other unhealthy nibbles.
Choose from their selection of burgers, wraps, pasta dishes and salads and we promise you won't be disappointed by any of them! Closed on Wednesdays, one should get there early if the plan is to have lunch since they're usually quite full all the time. Besides great food, this restaurants offers a nice atmosphere and modern decor.
Opening hours: Thursdays–Tuesdays, 11:00am–9:30pm
Puffin Café 16A Rua de Santo António, San Wan Building, Macau, +853 2883 6663, www.facebook.com/PuffinCafe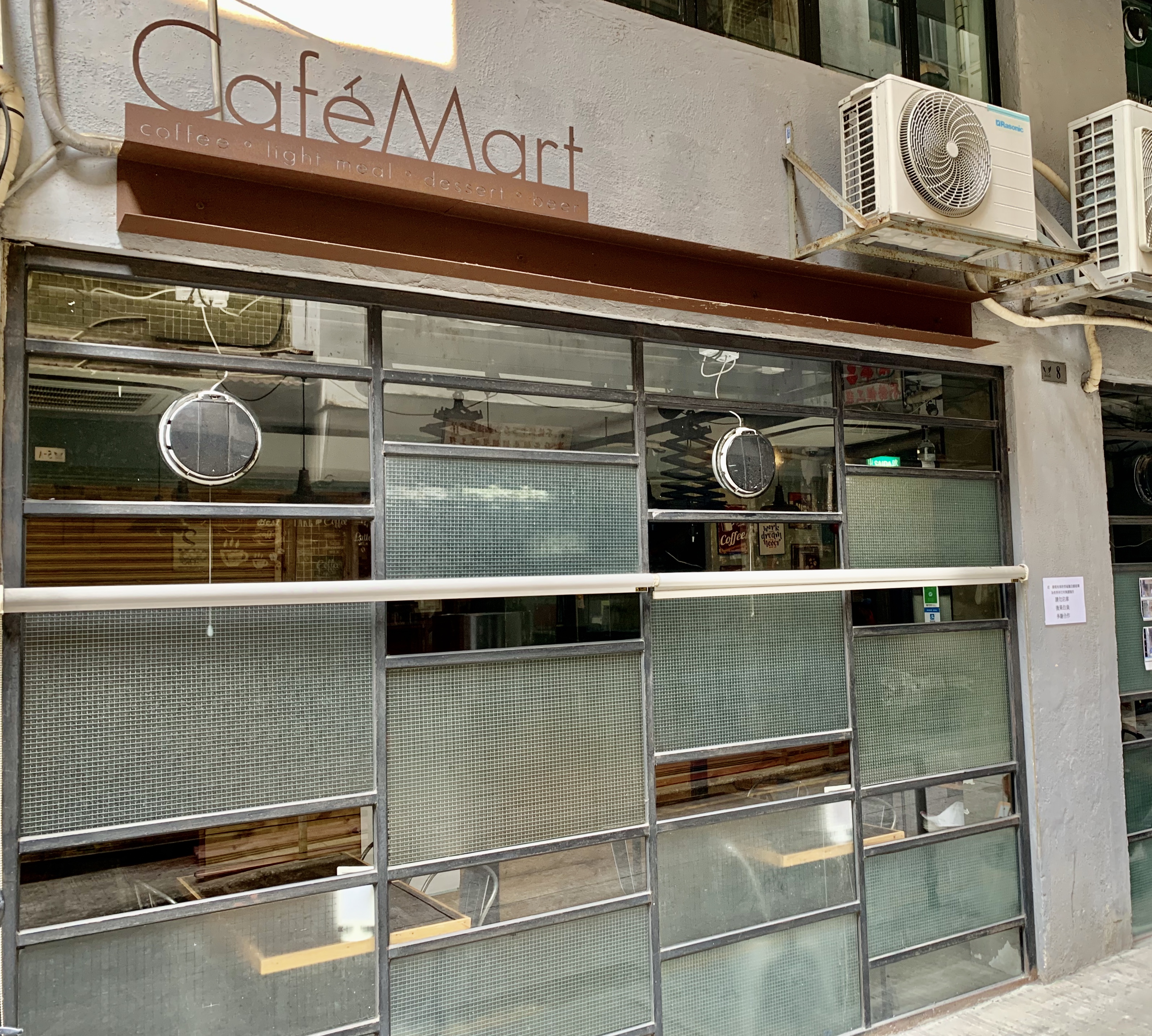 CafeMart
Are you craving Belgian waffles? Look no further because CafeMart has the solution for a perfect afternoon tea. A great spot in the neighborhood to unwind for post-work drinks, there's a good selection of beers and of course, coffee beverages. Why not head to this coffee shop, tucked away from the busy streets, hang out with friends and family, and relax for a bit?
This coffee shop is closer to Kiang Wu Hospital than to Camões Garden, but what's a 10-minutes walk when you're craving some sweets, snacks and great time with friends?
Opening hours: Wednesdays–Mondays, 12:00pm–9:00pm
CafeMart 3 Travessa do Ultramar, GF-C Hong Lok Building, Macau, +853 2852 3768, www.facebook.com/CafeMart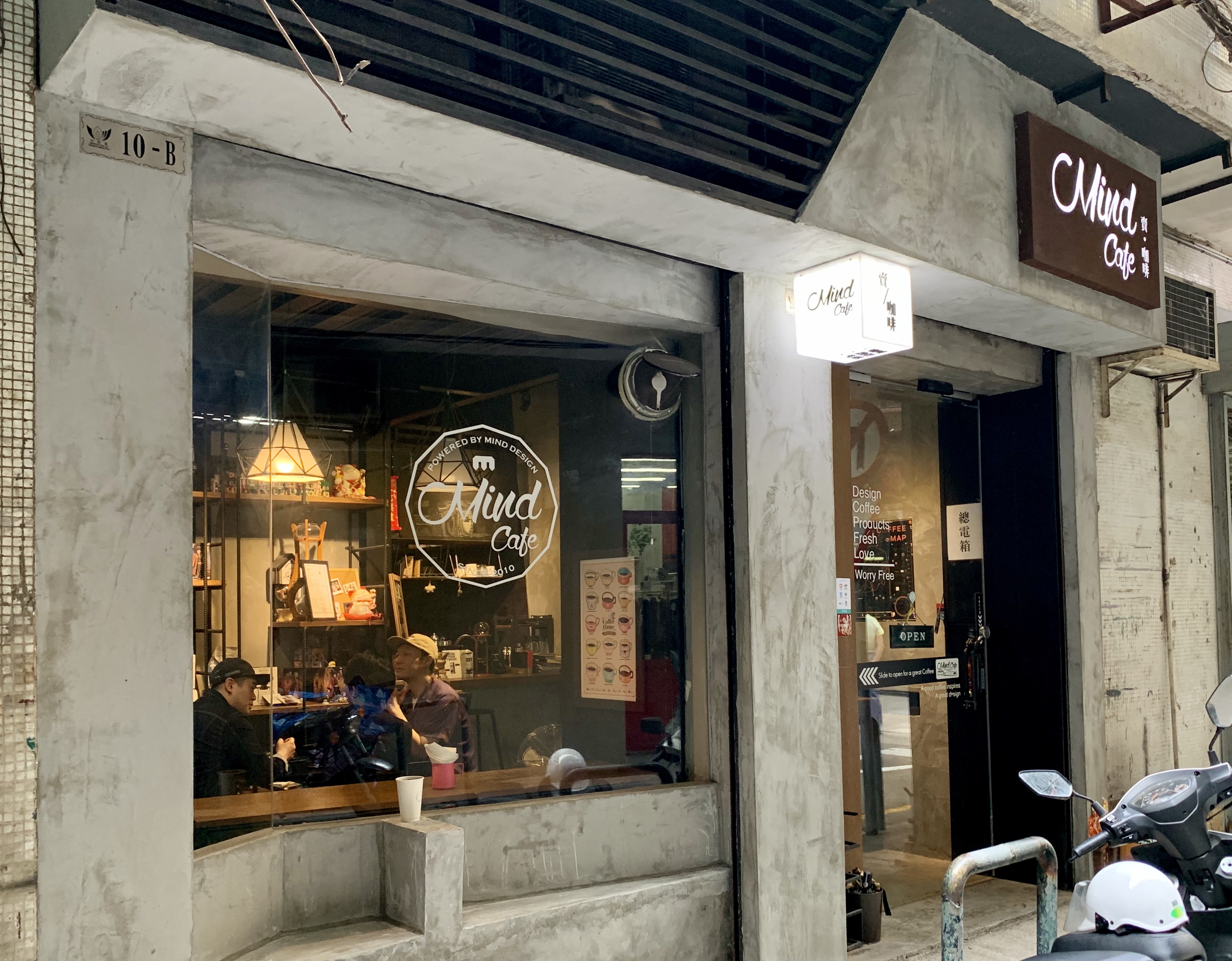 Mind Cafe
Great coffee with different types of roasts, Mind Cafe is a constant favorite–especially for their quirky cups and fancy glasses. The coffee-coke is a must-try and a double kick of caffeine if you need it (don't forget to take a video)! They are a bit difficult to find but it's totally worth the hunt. With the owner being an interior designer, the atmosphere of the cafe is really unique, with cameras displayed across the place. They also sell coffee beans from Taiwan, coffee pots, and other products too.
Opening hours: Daily, 12:30pm–7:30pm
Mind Cafe GF-AB Kiu Lok Building, 10 Rua do Ultramar, Macau, +853 6524 0396, www.facebook.com/Mind-Cafe
This article was originally written by Adrian Coronado in April 2017 and updated by Leonor Sá Machado in March 2020
Tags