Chef Andy Ng is a name to be reckoned with when it comes to Chinese cuisine in the region. The master of culinary arts joins Kam Lai Heen at Grand Lapa as Executive Chef and brings an impressive new menu of signature Cantonese dishes that simply captivates.
A man that's no stranger to hard work, resilience, and change, Chef Ng knows Macau's gastronomic scene like the back of his hand. He even led a three Michelin-starred restaurant in the city to achieve its second Michelin star under his leadership not to mention he once won the Master Chef Award at the Great Hong Kong Eating Adventure.
Steeped in elegance Kam Lai Heen's shades of gold and earth interiors welcomed our meeting with the energetic chef. As we settled down in our plush seat, we set ourselves to learn more of Chef Ng's highly talked about new dishes and his challenges in life.
Tell us a bit about yourself and your journey as a chef.
I was born in Hong Kong. And, I was just a teenager then when I first stepped into the kitchen and strongly felt that I belong there. I eventually learned the culinary skills having started from the bottom position of a kitchen team. When I was an apprentice, I was responsible for everything including cleaning up. That really shaped my knowledge and understanding about teamwork and the value of each member of a restaurant. I learned things little by little and made sure that it was engraved in my heart. During my younger years, I opted to under a chef with good skills even with a lower pay because I knew that learning was more important for me.
You have been a chef at a number of well-known restaurants as well as cooked in different countries around Asia. What is different about being a Chef in Macau?
There is a difference on great local ingredients in every country. For me, the specialty in Macau is seafood, especially sole fish. This kind of fish only grows between salt water and fresh water. And, the location of Macau provides a good environment for these aquatic species. Therefore, I used this fresh ingredient to cook a signature dish– the stir-fried sole fish with honey bean and bell peppers. You can savor the delicate taste of the fish itself complemented by the special sauce that I created. I was inspired by the pepper crab for this signature dish. However, I found the pepper sauce is too strong to cover the freshness of the fish so I used honey to balance the whole taste.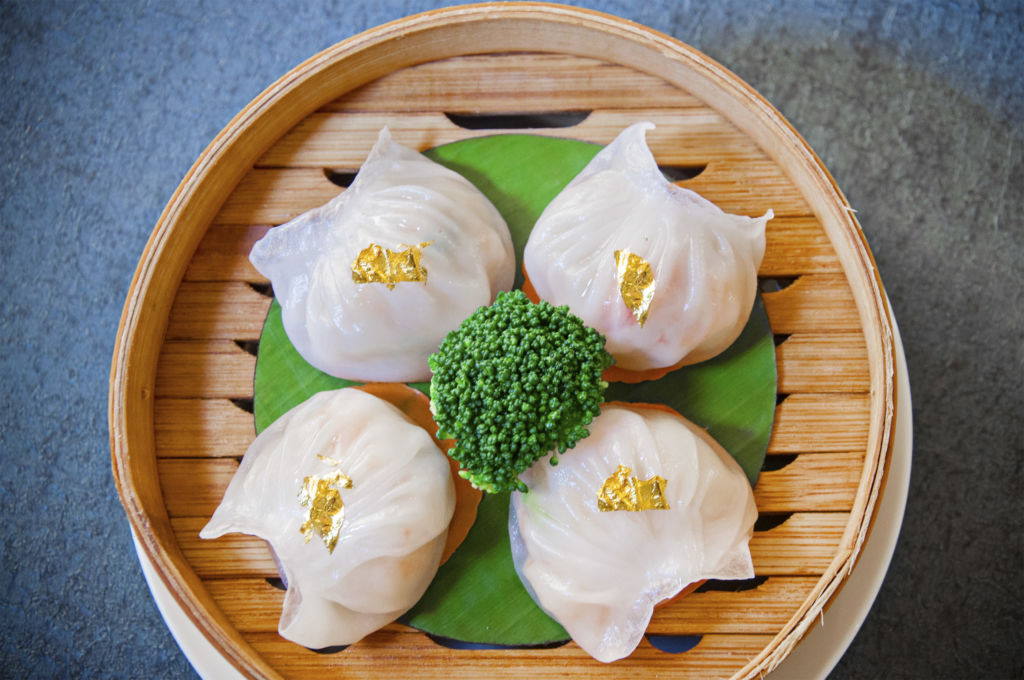 What can diners expect at Kam Lai Heen with your new menu and direction?
I'd like to highlight traditional Cantonese dishes with a modern twist. Guests can taste top quality dishes at very reasonable prices. I brought my culinary skills here as well as my rich experience from my journey as a chef. Most of all, I love cooking and that's my great passion. I want my guests here to feel my devotion to being a chef through the dishes I create and cook.
What is your favorite dish to prepare and why?
Andy's sweet and sour pork with pineapple. This modern twist has fresh pineapple and thin slices of tender pork wrapped in my homemade sweet and sour sauce, then deep-fried. A bite of the crispy pork wrapper gives way to an explosive combination of sweet and savory flavors.
If you could prepare one dish for someone, who would it be and why?
Stir-fried prawns with shrimp roe and pomelo skin. It is an old and traditional Cantonese dish in Hong Kong. Pomelo is not a valuable ingredient like lobster or abalone but it takes a long time and impressive mastery to prepare a dish with it. We use fine ingredients to cook the soup and let the pomelo skin soak all the flavor into itself. After all the steps, a simple pomelo skin becomes a delicacy.
How do you keep inspired personally and also as a chef?
I never stop learning or at least try to discover something new. I think learning is the best way to achieve better skills and a great attitude towards everything you have in your life. Even though I am a Chinese Chef, I don't mind exploring other cuisines and trying to innovate.
---
Kam Lai Heen Grand Lapa Macau, Avenida de Amizade, Macau, +853 2856 7888, www.grandlapa.com
Share
Tags
Related Posts