The first Indian restaurant awarded a Michelin star in Asia, The Golden Peacock is a legend on the Macau restaurant scene famous for its innovative cuisine with traditional roots. The recent Michelin Guide Hong Kong Macau 2020 committee announced the seventh consecutive star for this vibrant fine-dining spot at The Venetian Macao yet again proving its consistent quality and outstanding culinary achievements. We sat with the man behind the success, senior chef Justin Paul to talk about stars, spices, and traditions.
Congratulations on the seventh consecutive Michelin star award and the two-diamond rating at the Black Pearl Restaurant Guide! What is the secret of The Golden Peacock's success and popularity?
We are a very good hard-working team of fifteen professionals that come from different Indian regions and China. It's important, in my opinion. I can cook regional cuisine, but I think it's better to have the cooks from that specific region to make food more authentic. The Golden Peacock serves authentic Indian food with the best quality of ingredients!
How does a status like that impact your work and professional goals? 
We want to maintain the quality that we have now. I focus on being consistent and develop constantly, looking for new ingredients and creating new dishes.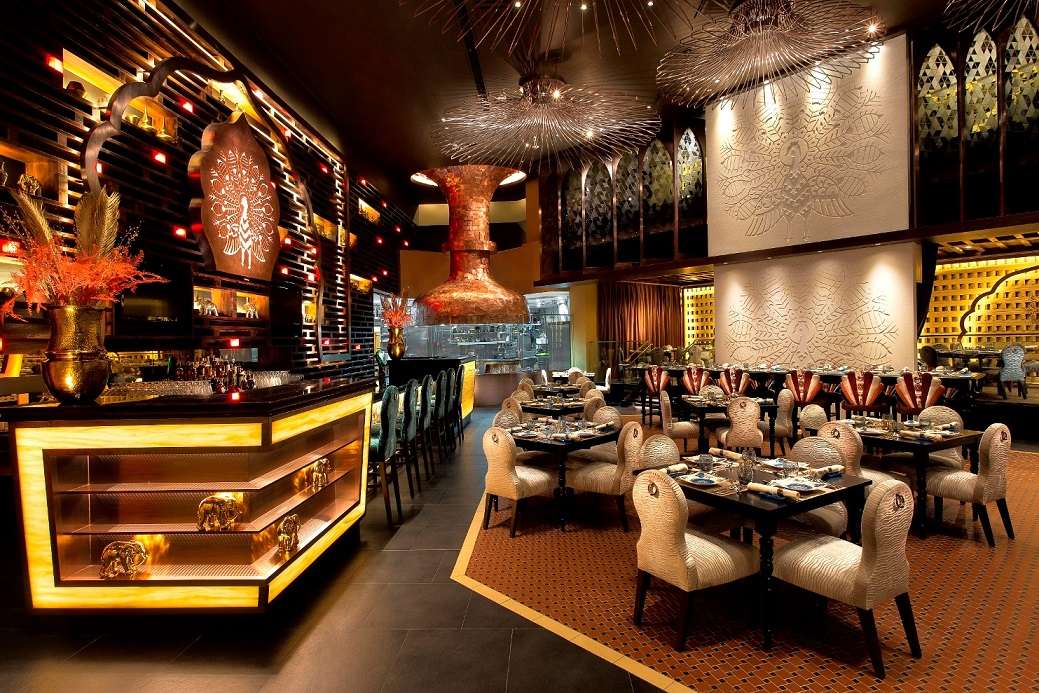 The Golden Peacock has also been recognized by The Black Pearl Restaurant Guide as a two diamond restaurant. Tell us a little about the award and its significance. Is the Black Pearl Degustation Menu popular among your guests?
These days, Black Pearl Restaurant Guide is a very prestigious award in China. Around 80% of our guests are Chinese and a lot of them are interested in the Black Pearl Degustation Menu. Last year, we had five to ten people ordering it daily. Lately, it's around 15 every day! Some guests wouldn't even check the a la carte menu and go straight to the Black Pearl Degustation Menu. 
We update this menu every year and normally use a lot of imported seafood such as blue lobster, mussels, prawns. I ask my Chinese friends and Chinese cooks in my team to try my creations and give some feedback. Then, I do the same with my Indian staff who gives me some comments to ensure that the dishes are still Indian. 
What do you think is more important in the culinary world, respecting the traditions or catering to the tastes of your audience?
The priority is to create and serve authentic Indian cuisine. Our dishes feature modern presentation and elements of fusion cuisine, but in the end, they are still Indian dishes. 
Tell us, what is it like to lead a team in a Michelin-star restaurant? What does your typical day look like?
I work 12 to 14 hours normally. On a regular day, I start around 11:00am to 11:30am and go straight to the kitchen to help my staff if I don't have to create anything new. I don't like to just passively observe and command, I need to participate.
If I need to work on a new dish, I prefer doing everything myself, from picking the ingredients, cutting and cooking. Then, I ask my team to try it. Afterward, I cook it one more time and teach them how to make it.
If I'm not very busy in the kitchen, I would go out to the guests and make sure they are enjoying their meal. I love hearing some feedback and not just compliments, but more specific comments and suggestions. I really don't mind some critique either. 
Seven consecutive years of one Michelin star award, how inspiring! What inspired you to become a chef? Do you have any gastronomic childhood memories? 
Both my parents cooked. Sometimes I would go to the kitchen when my father was there experimenting with different ingredients or cooking traditional recipes like fish curry. I helped him out, peeling or cutting vegetables. At times, I helped him during small family occasions and festivities too. I spent a lot of time with my father in the kitchen watching him and doing simple tasks. I didn't realize I wanted to become a chef at that time, but I felt that I could cook and I had some kind of talent.  
He was my inspiration. I remember he made fish curry with mango and I learned the whole recipe. Now, it's a signature dish on the menu that has remained unchanged for years. It is close to my heart.
What are the signature dishes at The Golden Peacock?
Our menu is a combination of traditional recipes and unique creations. Every year, we introduce a couple of new, unique recipes. However, the ones that are very popular among guests often remain on the menu for years. One of them is a starter, chicken tikka, called Kandari Murgh tikka. It is a colorful appetizer cooked with cumin, coriander, non-spicy chili, baby beetroot, pomegranate. We marinate chicken for 24 hours which makes it more tender and juicy. It is one of our bestsellers. 
Another signature dish is curried Scottish scallop soup, the recipe of which we haven't changed for the last couple of years. The cooking process takes long hours as well, around six to eight. It's kind of like tomato soup with Indian flavors. 
Quilon fish curry, the one I mentioned before, is a bestseller as well. The guests love Kashmiri rogan josh that we cook with Australian lamb shank too which is a slow-cooked dish.
As for desserts, it is lychee kulfi. It is an Indian frozen ice-cream with lychee puree, cardamom and Japanese milk. I tried some other types of milk to achieve a certain level of smoothness until I found that this milk works best.
Indian cuisine is very diverse and The Golden Peacock menu represents this diversity perfectly. You come from Kerala. Are there Kerala dishes on The Golden Peacock's menu?
Quilon fish curry with mango is one of them. It's based on a traditional Kerala recipe that you can find in small family-style restaurants in Kerala but it has our personal twist. Then, there is Malabar Chemmeen biryani with organic Dutch prawn. It has very a specific premium type of rice from Kerala that is very rare. It's called Wayanad rice. You can't buy it in Macau, and it is hard to find even in India. Some of our VIP guests even asked to put more rice and fewer prawns next time. This is how much they liked it!
Then, there is Kumarakom tiger prawn, a seafood main course. Kariveppila Kozhi with organic chicken is my creation, but it's inspired by Kerala traditions too. 
What are the latest trends in Indian cuisine?
In India, people from the north are now really fond of southern food and the other way around. There are southern cuisine restaurants opening in the north, and northern cuisine restaurants opening in the south. Snack and tapas is also a popular concept all over India nowadays. 
Outside India, the general trend is lighter dinners and small bites. But this trend can mostly be seen in the bars, not in the restaurants that much yet.
Do you feel that the Macau restaurant scene has changed since you arrived? 
Now, the variety of places, high-end and Michelin restaurants, new and regional cuisines is incredible. The market has become very diverse. 
Luckily, in this competitive market, we still manage to keep our guests. Some guests that came in 2013–when we just opened–is still coming to The Golden Peacock today. 
What is Sands Dining role in it?
Sands Resorts Macao's restaurant scene is getting bigger and new restaurants are coming. We are very ambitious to be one of Macau's main gastronomy destinations. We already have great restaurants with Italian, Portuguese, Chinese, and Japanese food, and more are about to be opened!
How does it feel to be one of the Sands Golden Chefs?
I love the concept of Sands Golden Chefs. We shot the campaign in China and the production was incredible. They managed to recreate kitchens with all the little details!
It was really fun. We even had a kung fu trainer on set to teach us some moves and poses. Now we have our faces on posters all over Macau.
What exciting plans you have for The Golden Peacock in 2020? 
Every year, we do special promotions to showcase regional cuisine. We prepare a tasting menu and add a la carte dishes as well. For every upcoming regional cuisine promotion, I go to the region and do my research, visit the old and newly opened restaurants. On that trip, I also get the ingredients we need. In 2020, we are planning to do this promotion as well in the first half of the year. 
In 2020, we'll keep looking for new ingredients all over the world, selecting only the best. At The Golden Peacock, we update our menu annually, changing 30 to 40% of the content. The new a la carte will be out in April.
---
Reservations at The Golden Peacock can be made by calling +853 8118 9696 or by emailing goldenpeac[email protected]. For more information, check their website
The Golden Peacock Shop 1037, Level 1, The Venetian Macao, Estrada da Baía de Nossa Senhora da Esperança, Cotai
Brought to you in partnership with Sands China Ltd.
Tags
Related Posts