With a repertoire that includes working with the best Michelin starred chefs in the world such as Bernard Loiseau and Alain Passard, Chef Mauro Colagreco recently received the three-star Michelin nod for his acclaimed restaurant, Mirazur located in Menton, Southern France. He is also the celebrity consultant chef of Grill 58, MGM Cotai, and is the man behind their mouth watering menu. We speak to Chef Mauro on his achievements, Argentinian roots and future plans.
Congratulations! You have just received your third​ Michelin star for Mirazur in France, how does it feel?
Well it was so emotional, and a very kind surprise for us. It happened in January while the restaurant was closed for some work and we opened two weeks ago in March so we're very excited by this amazing news. 
Can you tell our readers about your background and how you came to be a chef?
My background isn't very conventional because I started with a Bachelors degree in literature, then went on to study economic management at the University of Buenos Aires. After two years of university, I decided to stop my studies and started to cook. I started much later but when I stepped into a professional kitchen, I really felt like it was my calling. It was very special to me that I managed to find my real passion and then made haste and decided to start culinary school in Buenos Aires. Then, I travelled to France to continue my culinary education. 
In France, I started in La Rochelle, a very nice town on the west coast. It's one of the oldest ports in Europe and a very nice old town where I started in their culinary school. It normally takes three years but just after the first year, I started working at La Cote d'Or–a three Michelin star restaurant–for Chef Bernard Loiseau. After a few months, they asked me to come and work with him so I stopped studying and went straight to working–after all, the best place to practice is the kitchen! Later, after Bernard's tragic death in 2003, I decided to move to Paris to work with Alain Parsard and spent two years with him. In the beginning, I didn't speak any French but I learned it in the kitchen. It was a little challenging at first where I only spoke Spanish but now, I speak five languages!
You opened Mirazur in 2006, and it's been almost 13 amazing years. What is the best part of having your own restaurant and how do you keep yourself inspired?
The best part of having my own restaurant is that I have the freedom to do things they way I want. An example is the freedom to collaborate with other restaurants and thus, you'll be able to execute your vision. I always try to question my work and I'm never satisfied with my work but in a good way. I am very happy with my team but I will always ask myself, "How can we do better?" Additionally, I opened my restaurant in a place I had never been to before so I discover something new every single day! It's a special place between the mountains and the ocean with influence from different Mediterranean countries.
Is there a story behind the name of Mirazur?
Mirazur was the name of this very restaurant for 50 years but when I bought it, it had been closed for many years. When I saw the name, I thought, "Wow, it's like looking to the south" and I'm from the south so it seemed apt. I decided to keep the name but then I learned that it was not "looking to the south" but actually, to the sea. This is because "azores" in the local dialect means the Mediterranean sea.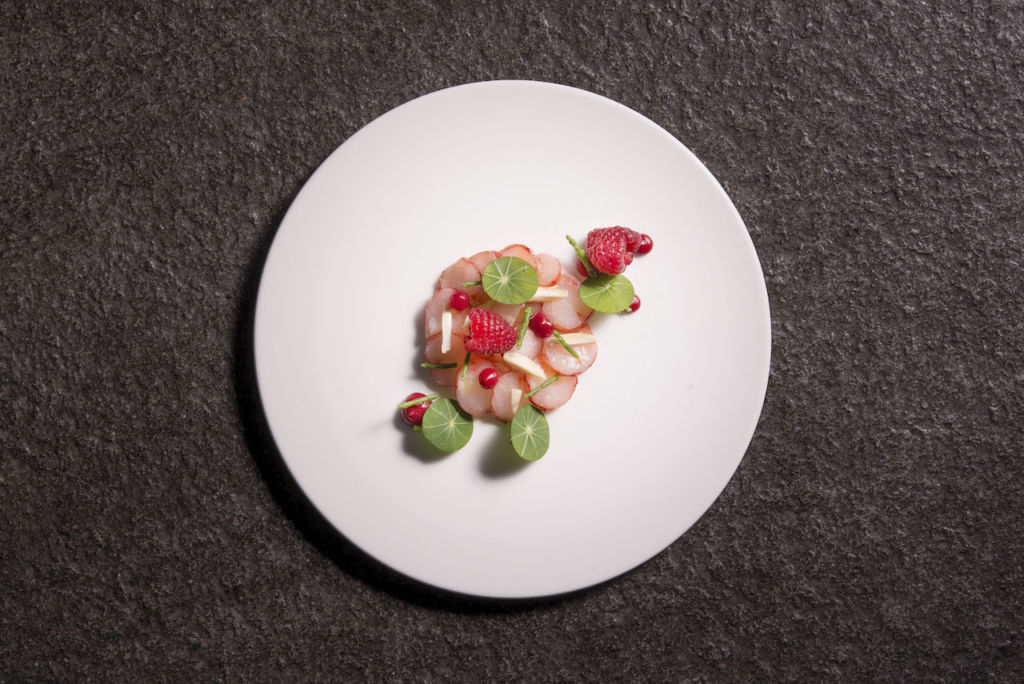 How would you describe your style of cooking?
My style of cooking is very personal. It's of course Mediterranean because in Mirazur we serve Mediterranean cuisine. In all my restaurants, there's a definite Mediterranean influence but also a bit of Argentinian more pronounced in Macau because Grill 58 is a steak house after all. The way I cook meats leans more towards Argentinian style as well. Every chef's style is personal and it's built upon their memories, travel and also background. 
What is your favourite ingredient to cook with and do you have a favourite dish you prepare?
It's a difficult question for a chef because we love a lot of ingredients, but I think tomatoes are my favourite because every time I hold a tomato, I remember my grandfather's garden. He grew tomatoes and I have this memory of picking them from the plant, eating them warm and the flavor has never left my memory. It's also a fruit but used like a vegetable so we can prepare it in many ways. I love cooking something very simple such as tomato sauce but it takes time. Tomatoes are a natural product which packs a lot of umami and one of the first dishes from Mirazur is tomato water in a martini glass, served with saffron oil and herbs. With every spoonful, you discover a world of different flavors.
You published a book late last year–can you share with us your motivation and ideas behind it? Have you always wanted to publish a book?
Perhaps the motivation is my literature background but my book has recipes instead of prose. We decided to write a book after 10 years of opening and thought hard about what we want to say, how we do it and what we think at Mirazur. The book pays homage to the beautiful landscape, amazing people, and our suppliers that makes Mirazur what it is.
You have a large following on social media. What role do you think social media plays in the role of a restaurant? And is it very important?
Today, social media is like a portfolio where you share your work and share with your community of followers. We, for example, try not push too much so I use my Instagram about once a week or 15 days. I never put too many photos of my personal life and instead use my platform to say something beneficial.
You have expanded to open restaurants in Paris, Beijing, Argentina and now Macau, where are you headed next and why?
We have quite a few now and the next one will open in Bangkok! In fact, I love Asia and find it a place where we can do everything without any barriers. The people are in the moment and have open minds to discover new cultures and flavors. It adds to the richness of our experience because coming here to learn, we realise that there's a completely different approach that isn't like any other country. I'm very excited for this next opening and it is in line with my vision to discover new cultures and challenges. I think having just one restaurant would be a little too boring for me, honestly.
Could you tell us more about your role as a consultant chef for MGM Cotai's Grill 58 restaurant?
At Mirazur, I try not to make anything Argentinian because I wanted to be known for my work and not my roots in the beginning. Grill 58 is a restaurant dedicated and focused on meats which is a great opportunity to introduce more of my roots. It was a nice challenge for me when I visited Macau for the first time which was four years ago. I felt that the city's dining scene had huge potential but I think in the last three years, it has become exceeded expectations by leaps and bounds! Personally, I feel so happy to be partnered with MGM Cotai because it is so beautiful.
How would you describe the dining experience in Grill 58? What can diners come to expect?
We have a selection of the finest meat in the world, aged in a fridge in Himalayan salt. There are also special Japanese, French, Australian and also Argentinian cuts! We have these cuts because I think they're the most regular and best in the market. Sometimes, we have extra special cuts from Argentina, Uruguay as well as Spain. People come here for amazing steaks but we also have a fantastic wine cellar and teppanyaki where we mix the western way of cooking with Asian methods and makes a beautiful mix of flavors. All meats are cooked on charcoal or teppanyaki, and depending on how you feel, perhaps a teppanyaki starter and then a juicy charcoal cooked steak as your main, or vice versa! We also have lots of seafood, fish and vegetarian dishes as well. 
Can you tell us more about the name because it's not very Argentinian.
It's actually the best temperature for serving meat! 58 degrees is the best temperature to serve meat and everything else is up to the individual's tastebuds. However, professionally, the best temperature to cook beef is 58 degrees as well.
Whats coming up for you this year?
I must say that four years ago when I came to Macau, I found the city's food and beverage scene so vibrant! Every famous chef wants to come here and the second year of Asia's 50 Best Restaurants was held here as well. I think Macau is a great option for the Asian region because it can compete with Hong Kong, Japan, and Shanghai to name a few. It has huge potential to be one of the culinary hubs and with the casinos' investment in this, there is support for this as well.
I'd also like to add that I'm so happy that in a few months, Danial, the Executive Chef here who has worked at Mirazur for seven years, is moving here. He worked tirelessly with us at the Nanjing opening then moved to Beijing and now here as one of my right hand men. I'm so very happy with the team who are so passionate about what they do and are proud of their work.
Anything else you'd like to add?
I am very happy with how we are now and the third Michelin star was just amazing news. Of course, now I take more time to spend with my family because I've got two boys aged five and nine. They don't always understand what I do and always ask where dad is when I travel. Sometimes, I take them with me and I think it's a great chance to let them discover the world and open their minds. The older one now eats everything and I'm so proud of him. The younger one ate everything until he was three and now he only eats meat but we're trying our best to incorporate vegetables too but at this age, it's a little challenging.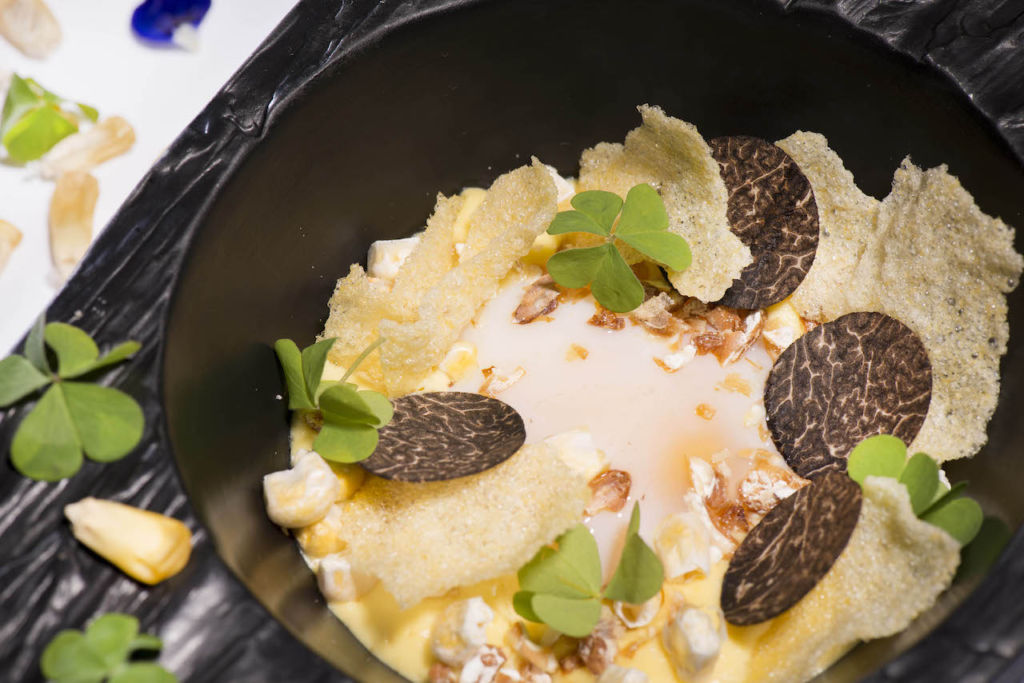 ---
For more information on Mirazur, check out their website here.
Grill 58 MGM COTAI, Avenida da Nave Desportiva, Cotai, Macau, +853 8806 2318, www.mgm.mo/en/cotai/dining/grill-58
Tags
Related Posts