Pizza is a common comfort food that can be found all over the world. In most cities, there's usually an Italian or Italian inspired restaurant with pizza on the menu. Usually paired with burgers or something sweet and fizzy, it's a casual go-to food that's popular with most people and perfect for catch up sessions with friends or even birthday celebrations! A caveat is that although ubiquitous, absolutely delicious and authentic pizza can be a little difficult to find even in Macau. No need to worry as we've done the legwork for you and selected the places we think are the best in town to get a slice of Italian comfort in your belly!
La Cucina Italiana
(See featured image above. Source: La Cucina Italiana Facebook page)
Tucked away in the charming neighborhood of Taipa Village, La Cucina Italiana is an institution of delicious food and ambiance. It offers diners heartwarming dishes but it's the pizza that stands out and holds the fort at this cozy restaurant. All the kids love the Margherita with mozzarella cheese and tomato sauce for a fuss-free eating style. The crisp dough and freshness of ingredients make for a simple flavor that hits all the right notes. We also love the Prosciutto e Funghi made of Italian Parma ham and mushroom and all the trimmings that transports us to the coastal villages of Italy.
Opening hours: Daily, 12:00pm–11:00pm
La Cucina Italiana Loja AD-AF, R/C, Wai Heng Kok, Chun Fok Village, Rua do Pai Kok No.6-12, Taipa, Macau, +853 2882 7818, www.facebook.com/LaCucinaMC
Honest Pizzeria
If you're looking for a healthier alternative, we suggest ordering their avocado chicken pizza on whole wheat crust topped with pecan nuts. Top off with an extra order of truffle fries and buffalo wings for something a little more substantial. We also love their truffle fries and tots served with guacamole and sour cream. Now that's what we call an honest cheat day!
Opening hours: Daily, 12:00pm–10:00pm
Honest Pizzeria 22 R. do Regedor, Taipa, +853 2857 6615, www.facebook.com/honestpizzataipa
La Gondola
With an outdoor terrace that has arguably one of the best views in town, La Gondola faces the ocean at Cheoc Van Beach. Their extensive menu will make your tummy grumble with choices ranging from meat, fish, pasta, desserts and of course, pizza! In fact, it may prove to be a little difficult to choose just one item from the menu. We did our best and went for the Portuguese pizza with lots of chorizo, topped generously with prosciutto that imparts such a lovely, savory flavor!
Opening hours: Daily, 11:00am–11:00pm
La Gondola 41 Escadaria da Praia de Cheoc Van, Coloane, +853 2888 0156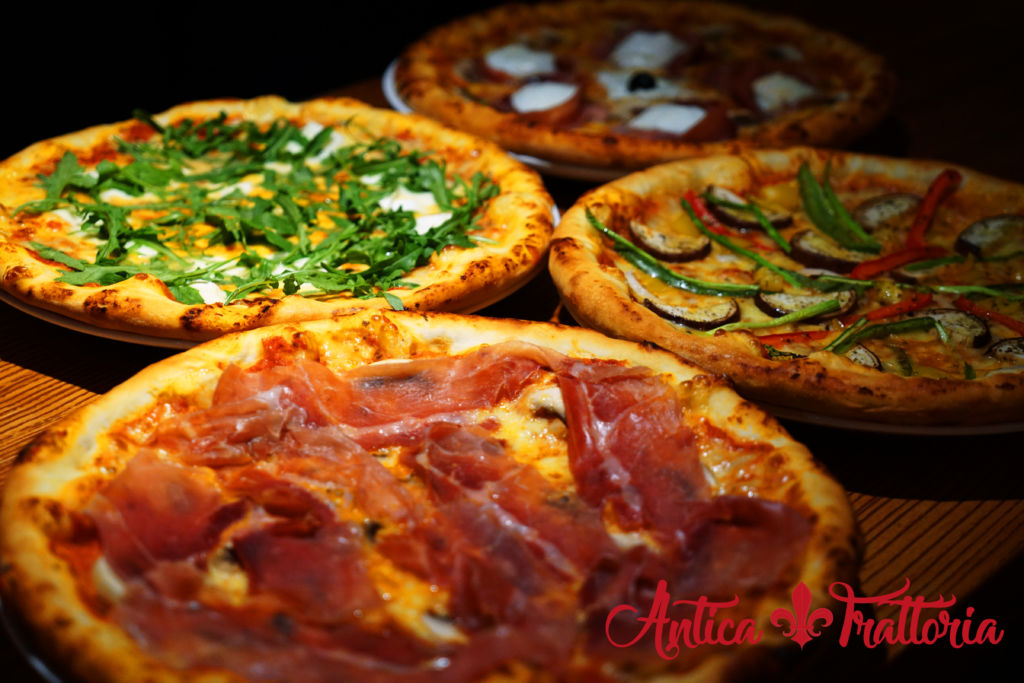 Antica Trattoria
You've not had pizza until you've tried one made in a traditional wood oven. Well, Antica Trattoria brings you that and much more! Their pizzas are exquisitely thin and full of tasty ingredients, including the usual cheese and tomato, but also many types and forms of meat paired with succulent veggies. The menu is wide and includes a selection of pastas, various desserts and wines. We highly recommend booking a table for more than four people and then share everything, including the pizza, indeed! If you're craving simple but yummy order the mozzarella and arugula, or take a deep dive into a meatball pizza if you're feeling particularly carnivorous.
Opening hours: Monday and Tuesday, 12:00pm–3:30pm, 6:30pm–00:00am; Wednesday–Sunday, 12:00pm–00:00am
Antica Trattoria 40–46 Edificio Vista Magnifica Court, Avenida Sir Anders Ljungstedt, Macau, +853 2875 5102, www.facebook.com/anticatrattoriamacau
Il Café
Il Café is the place to be when you're craving something homemade and hearty. Their pizzas will warm you up from inside out, made by caring chefs in a wood oven. The pizzas are perfectly portioned for one but if you're there with someone and want to share, it's best to order another. Made with fresh ingredients and simple combinations, pizzas here are perfect for family gatherings or catching up with your friends! We recommend either their four cheese or parma ham with arugula pizzas.
Opening hours: 8:00am–11:00pm
Il Café B 21 Nova Taipa Garden, 319 Rua De Seng Tou, Taipa, +853 2883 8372, www.facebook.com/Il-Cafe
Bella Taipa
On the menu are fresh salads, hearty mains with Mediterranean flavors, and naturally, pizza which is also a crowd favorite. They offer some curious and original combinations, like four cheese and figs, a vegetarian option with olives and peppers, among others. To start in grand style, go for their caprese salad (with burrata) and the parma ham platter. Order some wine to pair with your pizza and you're set for the night! Check their menu here and start drooling before getting seated.
Opening hours: daily, 12:00pm–12:00am
Bella Taipa 1 Rua dos Clérigos, Taipa Village, www.facebook.com/BellaTaipa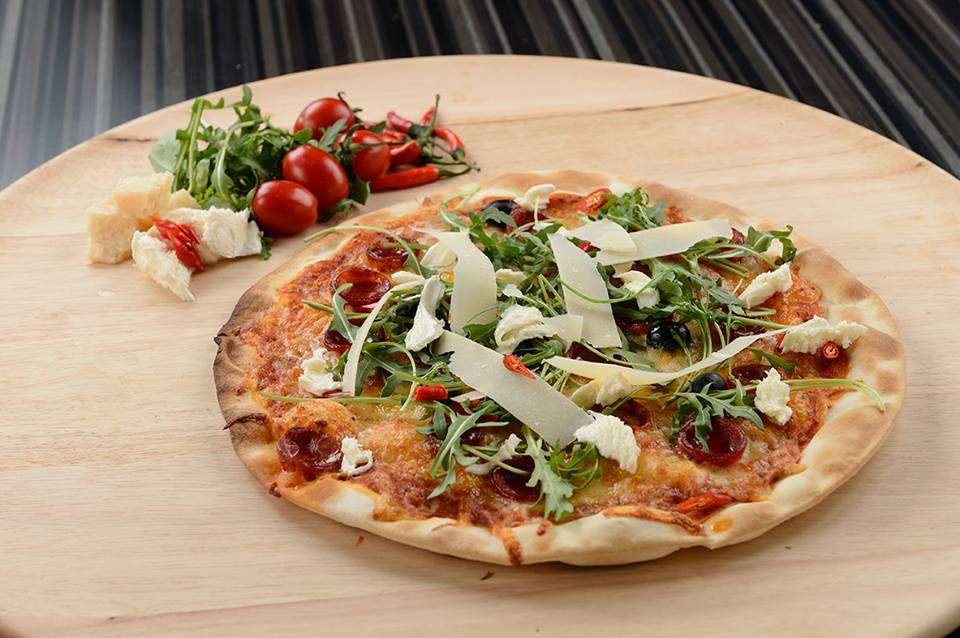 Pizza Point 
With a takeaway counter on Avenida Horta e Costa, it later opened as a restaurant in Hac Sa Wan (Areia Preta) and it's quite famous. If you are craving traditional Italian doughy delights, head there with friends or family and enjoy this area of Macau. It's been revamped over the years, so there are interesting contrasts of industrial buildings meshed with residential ones, lots of gardens and playgrounds, sports facilities and more. After having some pizza, why not go for a stroll and get to know this side of the city? We recommend their Pepperoni Fusion and Supreme! There are also vegetarian options as well as for people that don't eat meat. Try it out at the restaurant or call for a home delivery, either way, it's guaranteed to be good!
Opening hours: Tuesday–Sunday, 11:00am–10:00pm
Pizza Point (Takeaway only) G/F, 9A Av. de Horta e Costa, Macau, +853 28553100, +853 63260799 (WhatsApp), www.facebook.com/Pizza-Point-Macau
(Restaurant) Edifício Villa Mer G/F B, Pérola Oriental, Macau, +853 28553100
Padre Cafe e Cucina
Recently revamped with a change in management, this is one of the coolest spots around the St. Lawrence neighborhood. Although the shop is of small dimension, it's decorated with a fresh and modern touch! The menu is equally colorful with authentic Italian flavors which includes pastas but also pizzas! Go for a classic parma ham, cheese and arugula which is one of our favorites here and have it along with an ice tea or other refreshing beverage–there's loads to choose from! It's a shame that they're only open until right before dinner, but it's still an awesome place to grab a take away or visit for lunch.
Opening hours: Tuesday–Sunday, 11:00am–6:00pm
Padre Cafe e Cucina G/F, 39 Rua do Padre António, Sao Lourenço, Macau, +853 2896 6988, www.facebook.com/Padremacau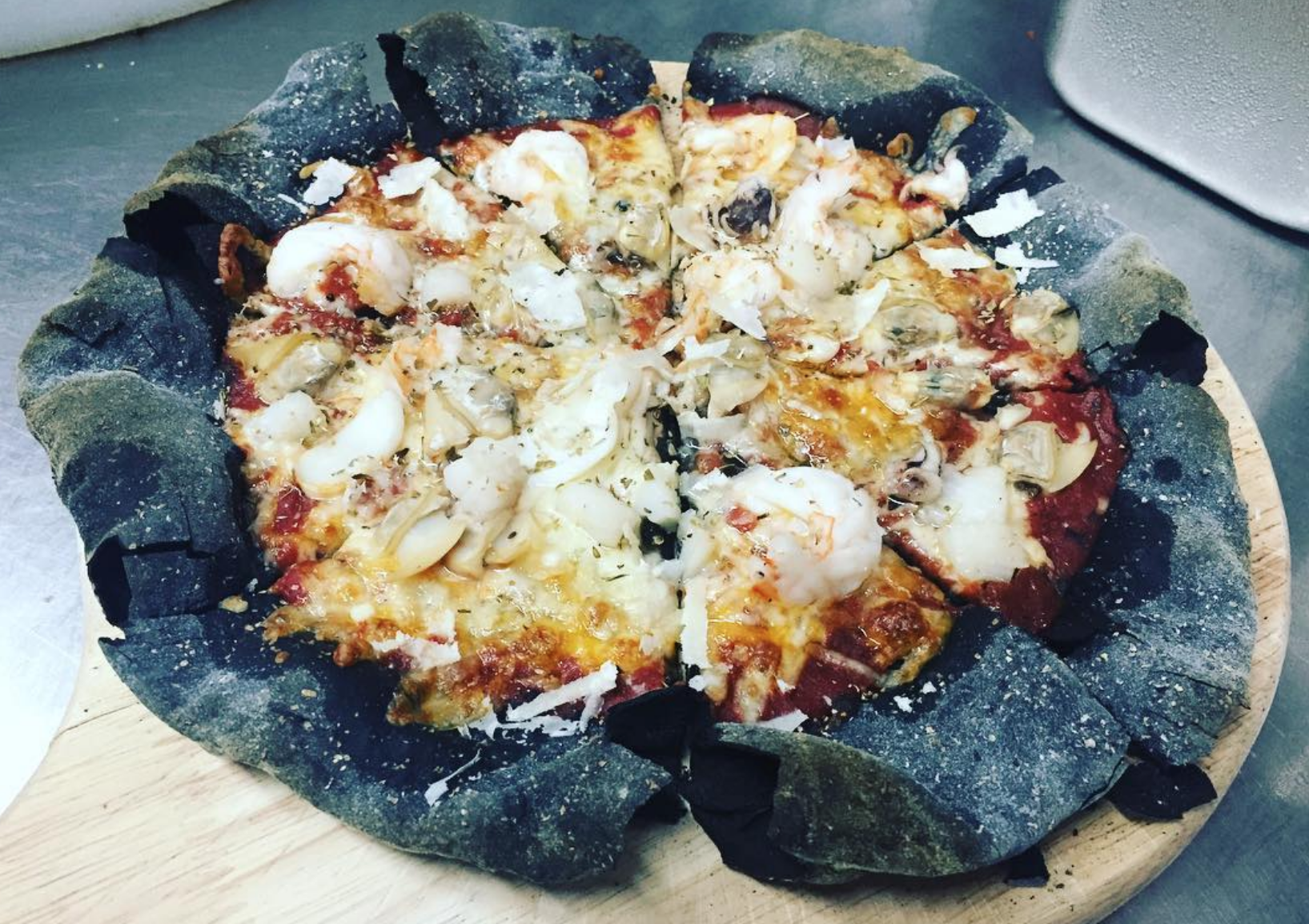 Via Notari
All four of their pizzas tastes amazing so don't be frightened off by the color of the pizza above as it's squid ink and in fact absolutely delightful! That said, we also recommend ordering some oysters, perusing the beer list (which is quite extensive) and choose two or three other Italian dishes, because it will surely be worth your while. The food is incredible and it shows because the restaurant is usually full so book in advance!
Opening hours: daily, 12:00pm–2:30pm, 6:00pm–11:30pm
Via Notari G/F, Block 3, Edificio Mei Keng Garden, 37 Rua de Bragança, Taipa, +853 2883 1303, www.facebook.com/ViaNotariMacau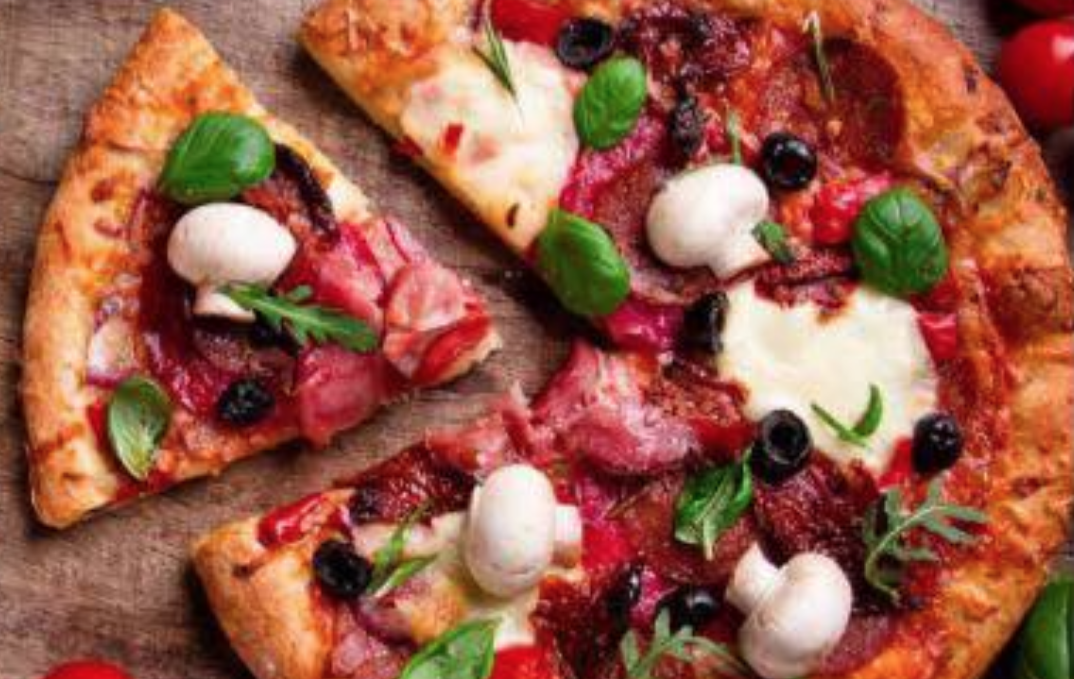 Taipa Café
Featuring thin crust pizzas with original and out-of-the-box combinations, this is the perfect spot for food sharing and wine sipping. With spacious seating inside and a table outdoors, people can choose to dine outdoors, depending on the occasion. You definitely need to go for the Waldorf with walnuts, apple, mozzarella, blue cheese and arugula, it's the perfect combination. Have it with one of their exquisite wines and a few oysters as a starter. Opened until late, it's a good option when looking for somewhere cozy to have cocktails and relax a bit past bed time.
Opening hours: Daily, 6:00pm–2:00am
Taipa Café Shop B, The Manhattan Rua de Nam Keng, Taipa Macau, www.facebook.com/Taipa-Cafe
Tags
Related Posts