A cha chaan teng is basically a neighborhood coffee house or cafe, and if you're feeling peckish, not to worry because there are some super delicious bites here! The simple food coupled with your favorite coffee, tea or ice lemon Coke, makes tea time a delight! There are a few must-try foods at any cha chaan teng and here they are.
Pork Chop Bun
(See featured image above)
This could be the number one street food in Macau. It is seasoned differently at various chah chaan tengs and some of them are secret family recipes handed down through generations. A good pork chop bun should be crispy on the outside but soft and juicy on the inside. Lots of places serve this, specially in Taipa Village, a haven for street and easygoing food, an ideal destination for all foodies and culinary connoisseurs out there.
Also read: Where to Find the Juiciest Pork Chop Bun in Macau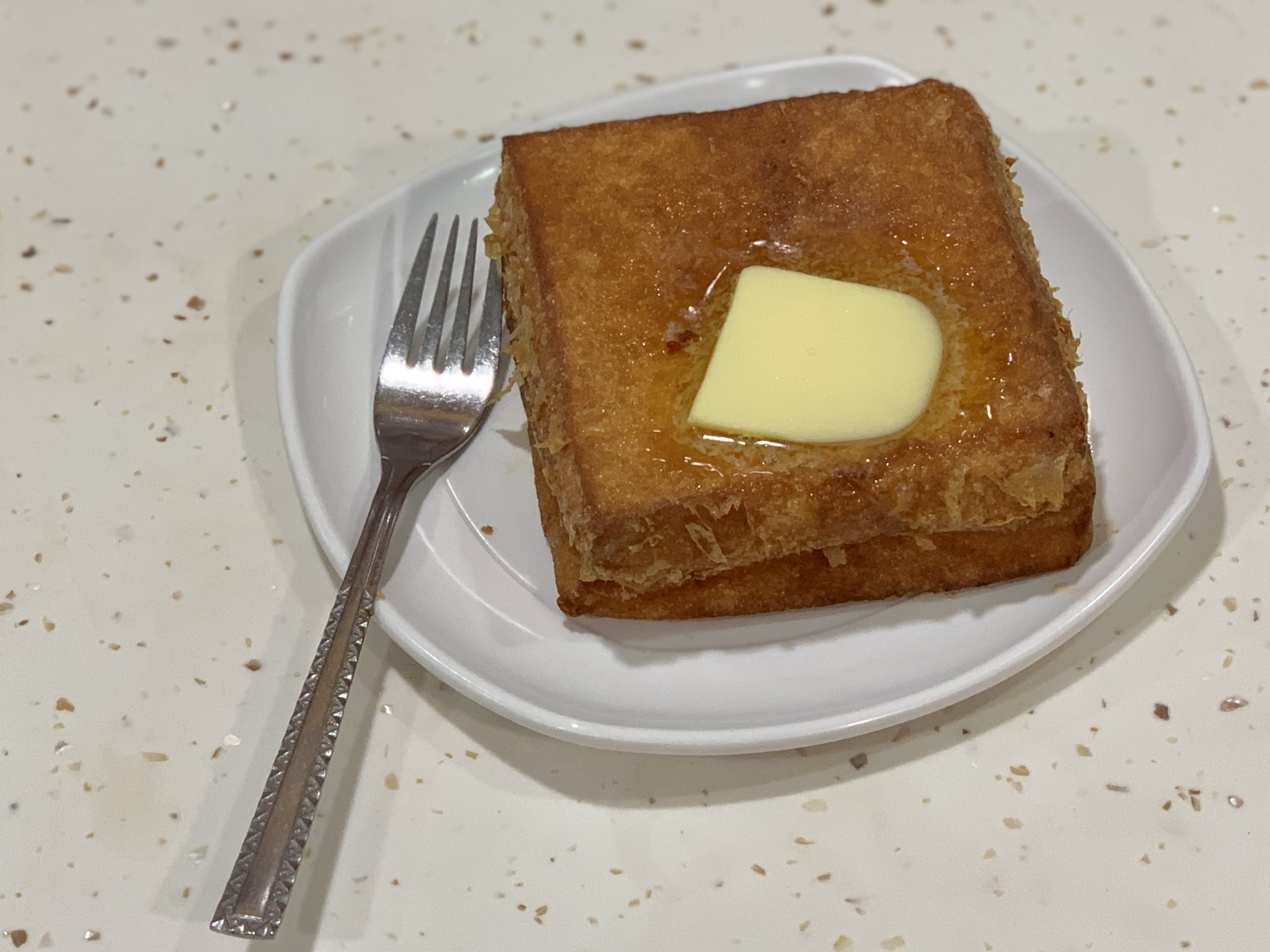 French Toast
The french toast you will find at a cha chaan teng is nothing like you've tasted elsewhere. Two slices of eggy toast sandwiched with delicious peanut butter in between. Just before it's served, a slice of butter is added. The best way to enjoy this gem is to poke holes on the surface of the bread, and then pour in a generous amount of honey or syrup. Better even: ask the chef to add some condensed milk–an incredibly popular ingredient in Macau and Hong Kong–and you might just be in for your next life craze. Sweet to the core, it's ideal for people looking to have their sugar levels up at the same time they nurture they stomach.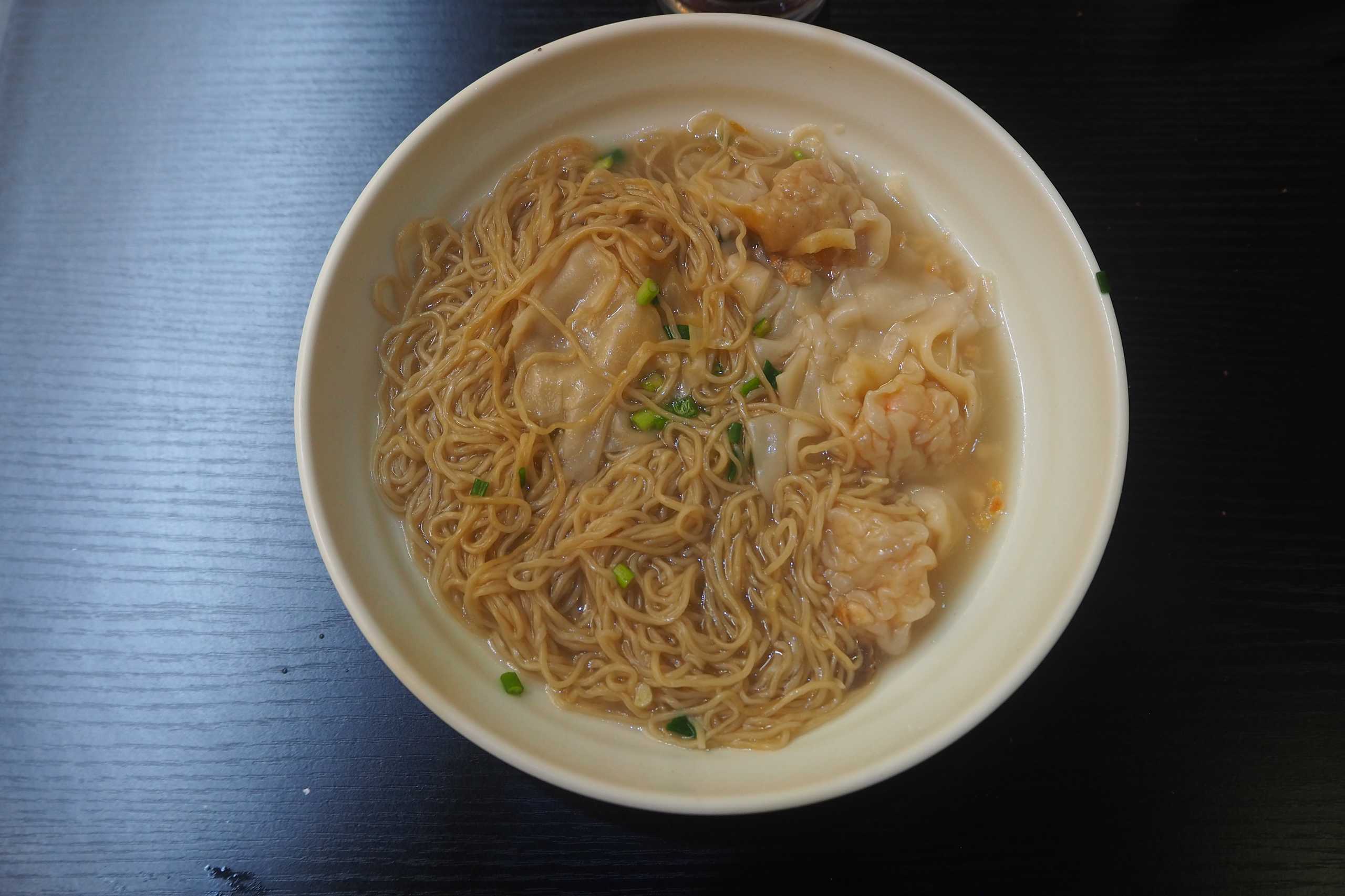 Wonton Noodles Soup
Not every joint in town serves this, but most popular ones certainly do. It's the case of Chu Kei, a brand with lots of branches all over town–Macau side and Taipa included. Wonton noodles soup is made, of course, with a very rich, yet lightly flavoured broth with a fish or vegetables base. Noodles are usually made with egg and flour, quite soft and mouthwatering. However, wontons are what make this dish special: wrapped inside a thin and delicate flour-based dough is a mix of cooked shrimp and herbs. These melt in your mouth at each bite and, when combined with the noodles and the broth on a spoonful, it makes the perfect dish for, well, any occasion, really.
Also read: Macau's Best Wonton Noodles for Under MOP $50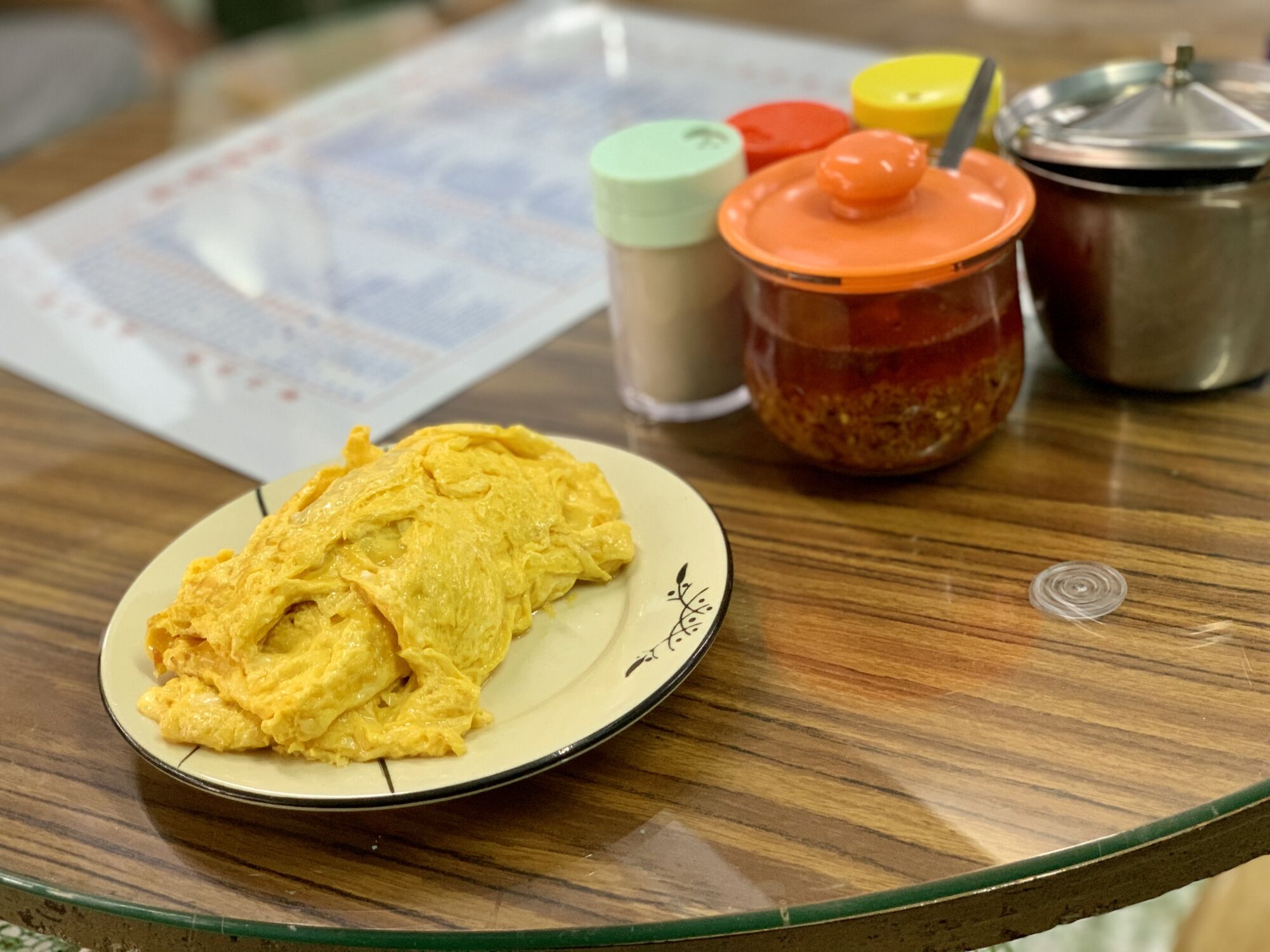 Omelette 
This is a must for all egg lovers in Macau. As one of the simplest and easiest foods ever, an omelette is a great thing to have in any given situation: be it breakfast time or lunch, a snack or dinner, this egg-based dish can include so many things that the only issue you'll have is choosing what to have it with. Usually served as a snack, we like having it with steamed rice on the side, which won't be difficult to find at a local eatery either. Omelettes are a very common thing on local restaurants; some have sausage, others cheese or ham. However, beware of ketchup, something chefs in Macau love putting on top of omelettes. Different spots will present different kinds, but it's either soft and puffy, or thin and crispy. You just have to find your favourite one.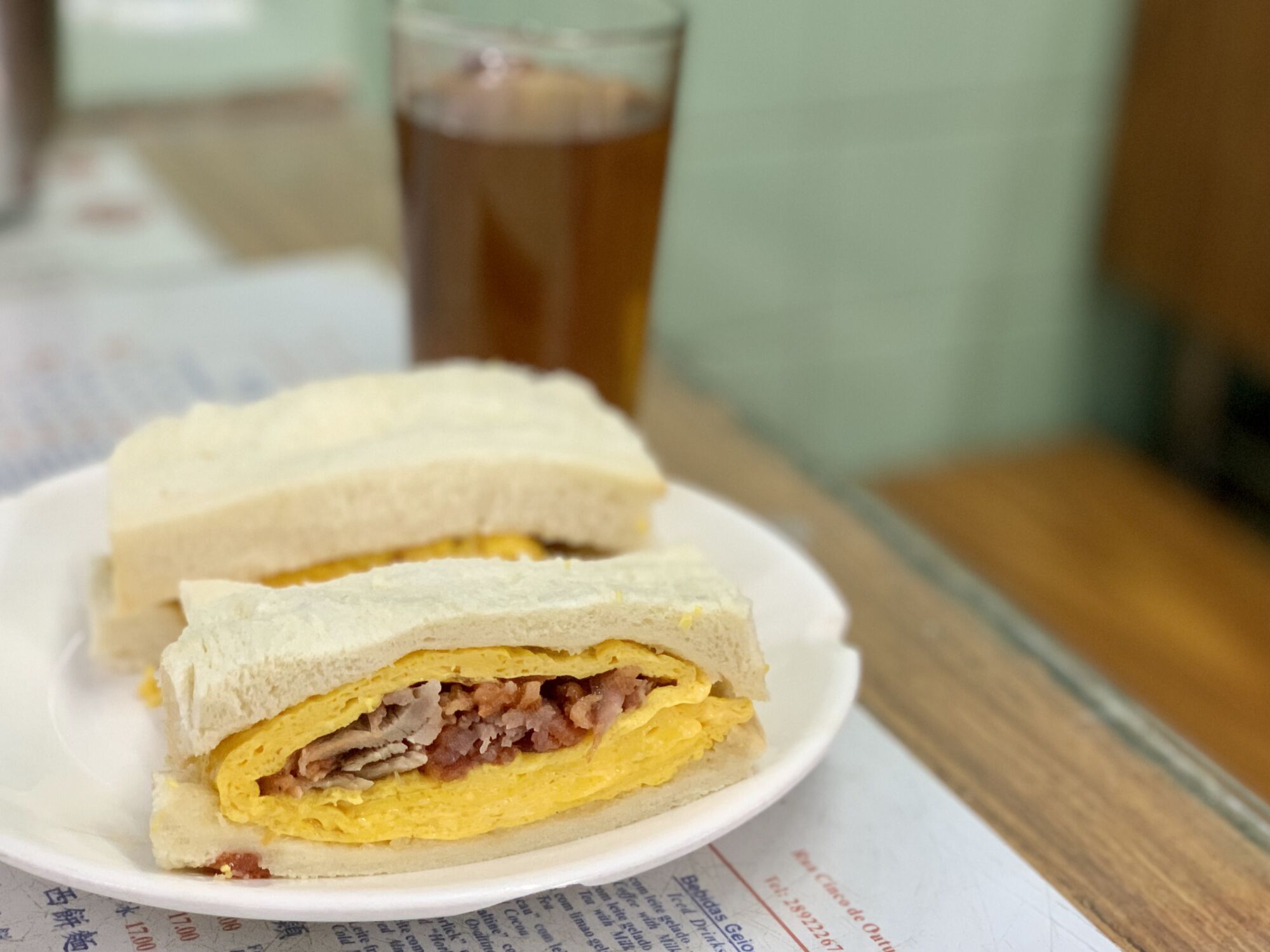 Egg, ham or cheese sandwich
Any sandwich, really. A very popular dish around the world, bread stuffed with some kind of delicious filling is a no-brainer: sometimes healthy, other times just fullfiling, sandwiches are great to have for breakfast, a snack or a full on meal. Every cha chaan teng has at least some kind of sandwich on their menu, so be sure to check them out if this is one of your favourite things to eat. At Nam Ping, for example, one of the most sought-after items is their egg sandwich, indeed. This dish is absolutely mouthwatering, but we don't think it's the egg alone: at Nam Ping, they stuff it with char siu, an incredibly tasty meat that's been barbecued and it's usually the king of every high-quality Cantonese restaurant.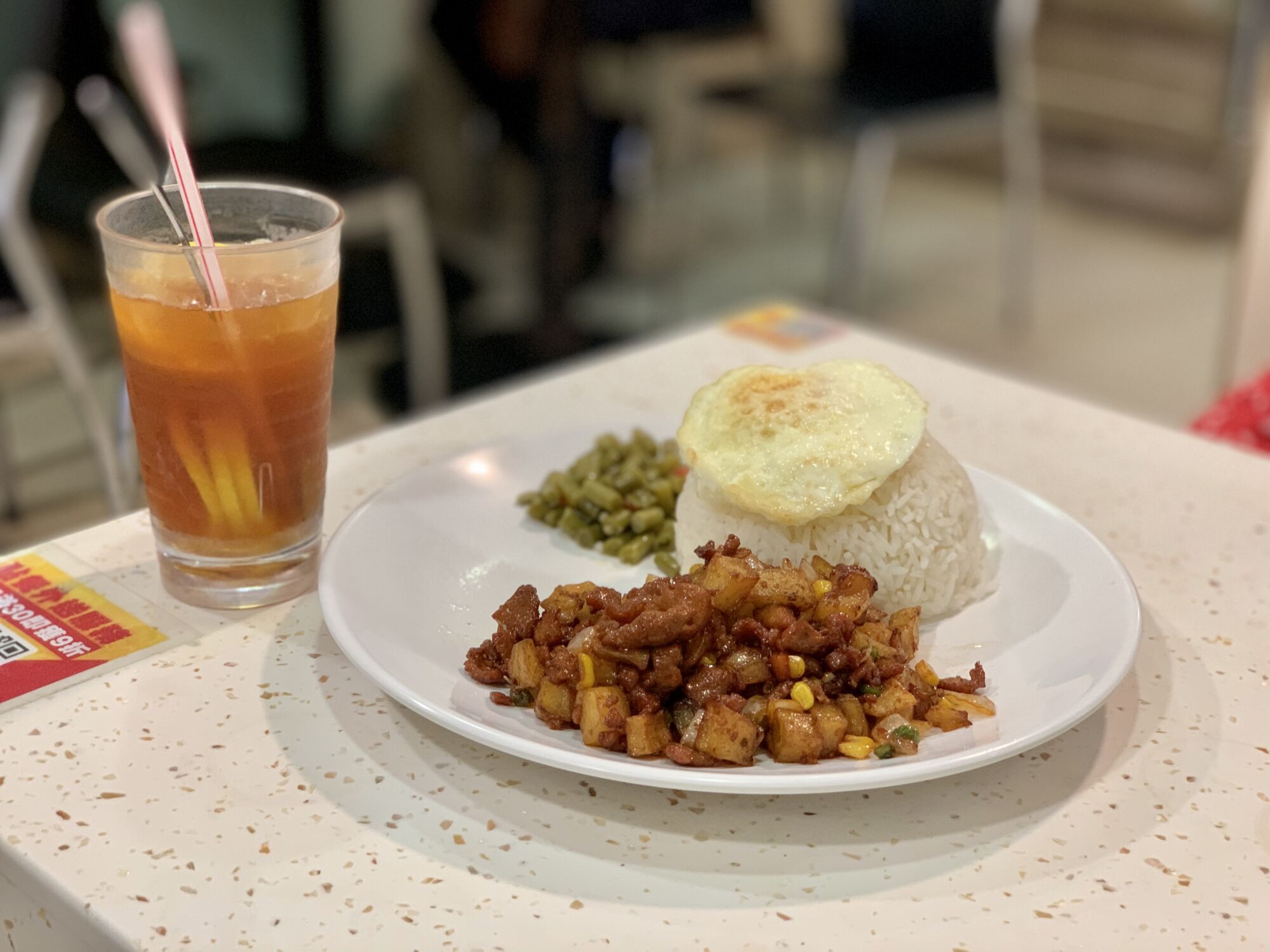 Minced meat with vegetables and steamed rice
Very similar to minchi, this delicacy is a very sought-after main for lunch and dinner–also takeaway. Lots of places serve it. It's kind of a comfort food: the meat, simply stir-fried with some sweet corn, carrot and maybe peas, has a strong flavour, while the side of steamed rice helps balancing the mix. You can also taste some onion and soy sauce, but it's usually crunchier than the Macanese minchi, which is softer and with a more sophisticated flavour. Perfect combination, right? We think so! Pair it with an iced lemon tea and you'll have an easygoing and great meal.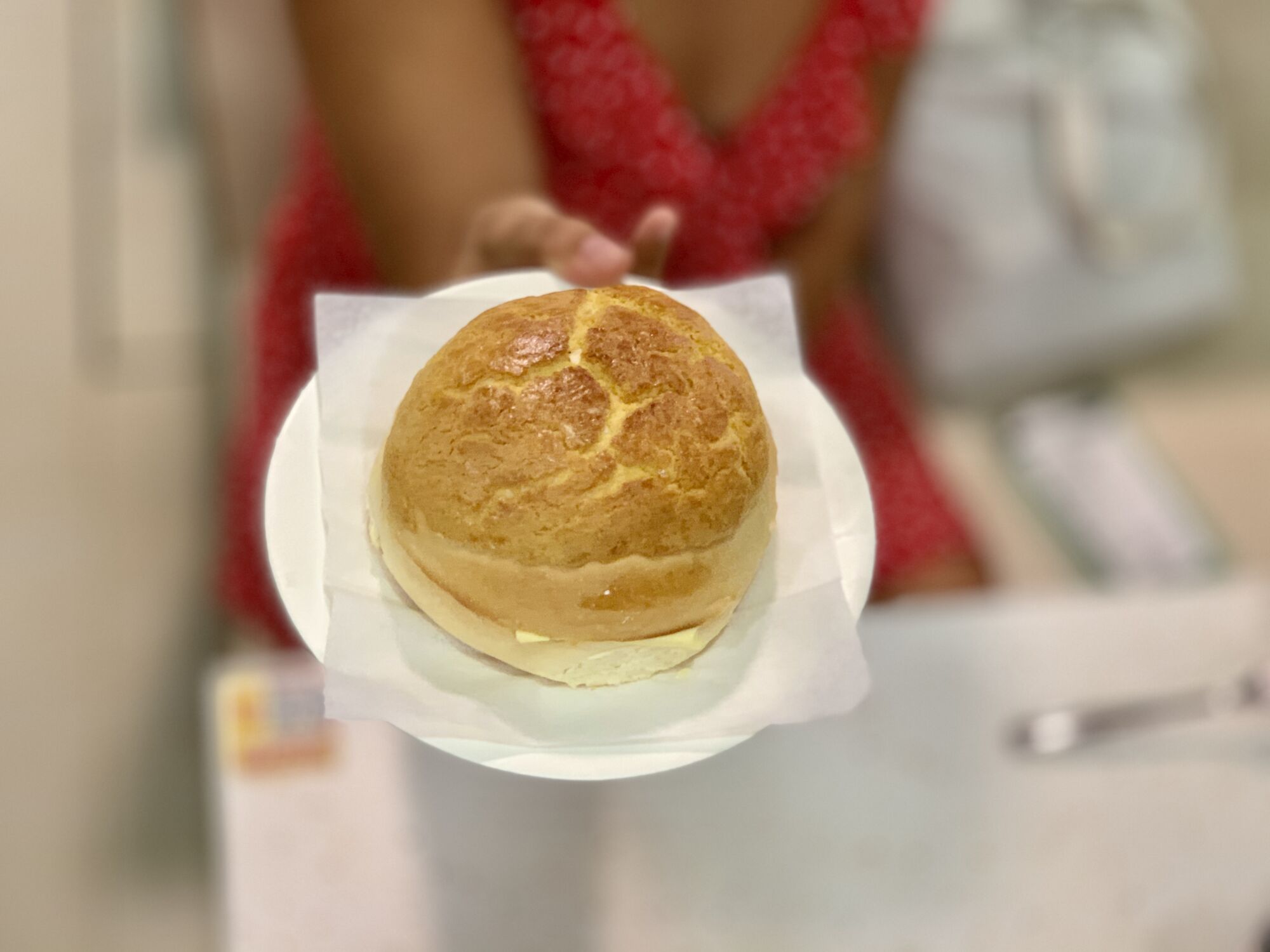 Bo Loh Yau
You can't talk about cha chaan tengs without mentioning this all-time favorite—bo loh yau, or pineapple bun with butter. It is a sweet bun cut into half, with a thick slice of butter in it. The top layer is made of dough that is similar to sugar cookies, which turns into golden-brown and cracks during the baking process. Hence the name pineapple came about because of its appearance. This definitely hits the spot especially for afternoon tea.
---
Some all-time favourite Cha Chaan Tengs
In addition to these favorites, most cha chaan tengs have a standard menu of various rice, noodle, and vegetable dishes. Here are some of our favorite chah chaan tengs, but do explore your local neighborhood to find the ones closest to home! There are numerous ones in the northern area of the peninsula, also the city centre, Taipa side and even some in Coloane.
Xinhongfa Cafe 55A Rua do Almirante Costa Cabral, Costa, Macau, +853 2853 0452; Opening hours: daily, 6:00am–6:00pm
On Kei (Sai Van) 30 A R. do Chunambeiro, G/F, Vo Court, Macau, +853 2856 7385 or +853 2838 7108; Opening hours: daily, 6:00am–6:00pm
Nam Ping 54 R. de Cinco de Outubro, Macau, +853 2892 2267; Opening hours: daily, 6:00am–6:00pm
Piu Kei 265 Rua de Bragança, Taipa, +853 2885 5184; Opening hours: daily, 7:00am–4:00am
Chu Kei 117 Rua dos Mercadores, Macau, +853 2857 4262; Opening hours: daily, 12:30pm–1:30am
Café Vong Kei 60 Rua Correia da Silva, Taipa Village, +853 2882 7033; Opening hours: 7:00am–6:00pm
Chou Kei 18 R. Gov. Tamagnini Barbosa, G/F, Taipa Village, +853 2838 1316 or +853 2895 2014; Opening hours: 7:00am–7:00pm
Hon Kee Cafe Merendas de Lai Chi Vun Park, Coloane, +853 2888 2310; Opening hours: 8:00am–6:00pm
This article was originally written by Avalyn Acland in 2016 and updated in August, 2020 by Leonor Sá Machado
Tags
Related Posts