Wontons are basically small round shrimp dumplings which can be deep-fried, steamed or boiled. The latter is the most common way to have them with noodles. If it comes with soup, the broth is usually clear and shrimp based with chives and garlic. Nothing is more satisfying than slurping down a piping hot bowl of wonton noodles on a cold day. Even better if it was easy on the wallet too! Here's a list of the best wonton noodles soup in Macau for no more than MOP $50 a bowl!
Estabelecimento de Comidas Chu Kei
(See featured image above)
This is, without a doubt, one of our favourite eateries in town, whatever the season! One of their main delicacies is wonton noodles in soup. Served in a bowl of hot steaming shrimp broth, it's always good and never, ever disappoints. Opened since 1954, they still use the owner's mother's original recipe making Chu Kei's wonton noodles a traditional staple. This is certainly a must-visit spot, not only for this soup. Their stir-fried noodles and congee are also delicacies worth trying. Also, there are lots of branches scattered around the city, there's no excuse to not try it!
Also read: Macau's Best Cheap Eats
Also read: Must-try Food at a Cha Chaan Teng
Opening hours: Daily, 7:00am–2:00am
Chu Kei 117 Rua dos Mercadores, Macau (Original branch), +853 2857 4262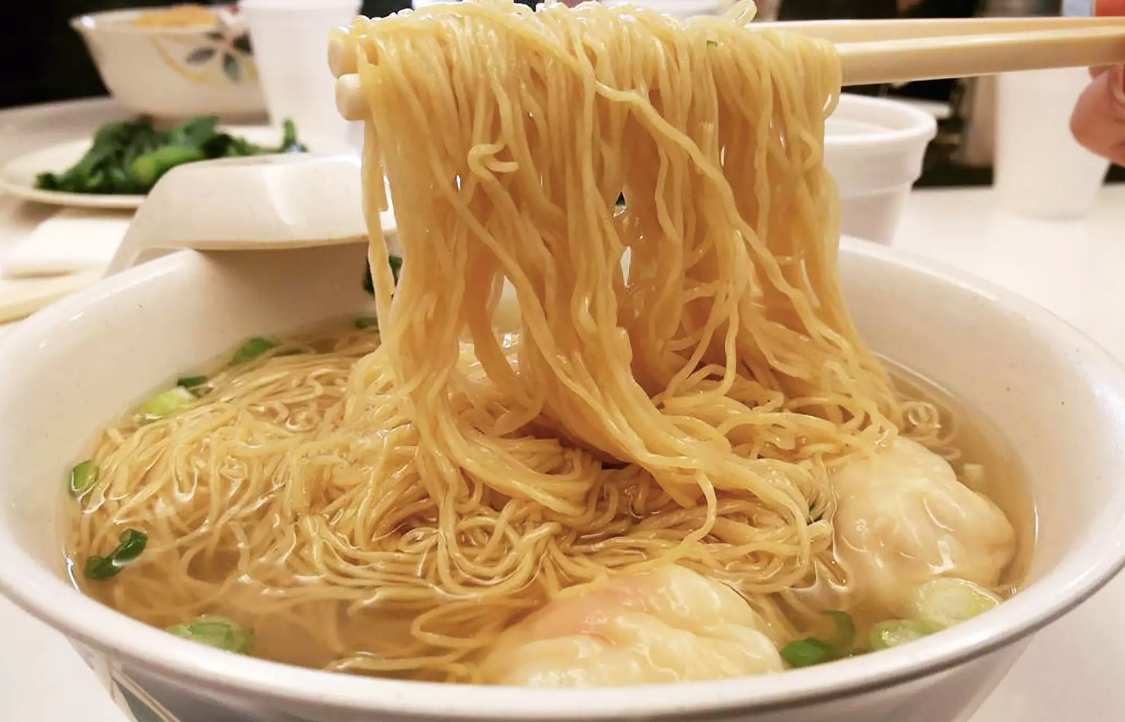 Wong Chi Kei
Opened in Macau SAR for more than 50 years, it's always full and has some of the best winter dishes in town. Their go-to winter dishes include wonton noodles soup and congee. There are several branches throughout the city, including Taipa Village. The watery broth goes perfectly well with the soft skin of the wonton dumplings. Combined with freshly cut chives and some chili–according to each person's taste–this is an unmissable marvel in Macau. For the night owls, Wong Chi Kei is open until late, which is awesome for those who are looking for something to warm their bellies during winter or after a night out.
Opening hours: Daily, 8:30am–11:00pm
Wong Chi Kei 17 Largo do Senado, Macau, +853 2833 1313
21 Rua do Cunha, Taipa, +853 2836 1373, www.taipavillagemacau.com
51 Rua Cinco de Outubro, Macau
RTC – Noodle & Congee
This restaurant is one of Grand Lisboa's best joints for 24-hour delicacies. From exquisite and expensive dishes to easy, light, and cheap ones, there's something for everyone. Revamped a few years ago, this ample spot now boasts a view of the casino area. Decorated tastefully with a clean kitchen and neat furniture, the wonton noodles soup here is a little different. The noodles and the wontons come separate from the broth so you can add the wontons in as you eat. This is great for those looking to have a different bite each time they dive into the soup. Noodle & Congee offers several other options of add-ons like dry noodles with no soup and other ingredients, such as crab.
Also read: 8 Food Joints For Late Night Dining in Macau
Opening hours: 24 hours
RTC – Noodle & Congee U2/F, Grand Lisboa Hotel, 2-4 Avenida de Lisboa, Macau, +853 8803 7755, www.grandlisboahotels.com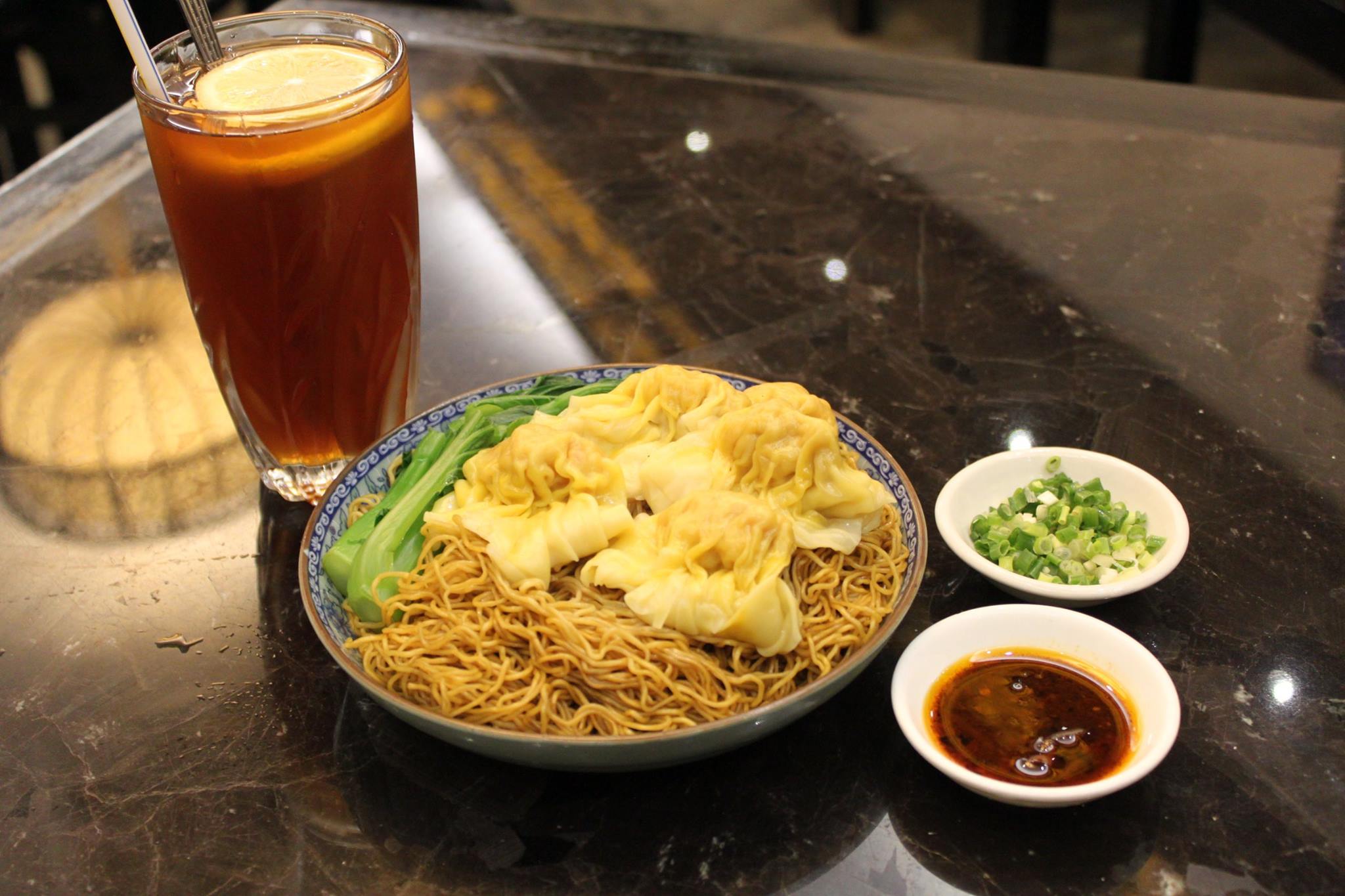 Piu Kei
Open till late, this is the perfect place for those staying close to Taipa Central Park. Set on a quiet street just behind Nova Taipa residences, Piu Kei has a few tables, but an extensive menu. Offering lots of local delicacies such as pig belly and intestine, steamed turnip and vegetables, and congee, one of the restaurant's specials is its wonton noodles soup. Not a fan of broth? You can opt not to have it! For takeaways, they pack everything in separate cases which prevents the noodles from getting soggy. Additionally, it's easy to just put it together once you reach home and unpack it. Browse through their Facebook page to find more amazing dishes.
Also read: Where to Get The Best Local-Style Noodles in Macau
Also read: Best Places for Congee in Macau
Opening hours: Daily, 7:00am–4:00am
Piu Kei 265 Rua de Bragança, Taipa, www.facebook.com/彪記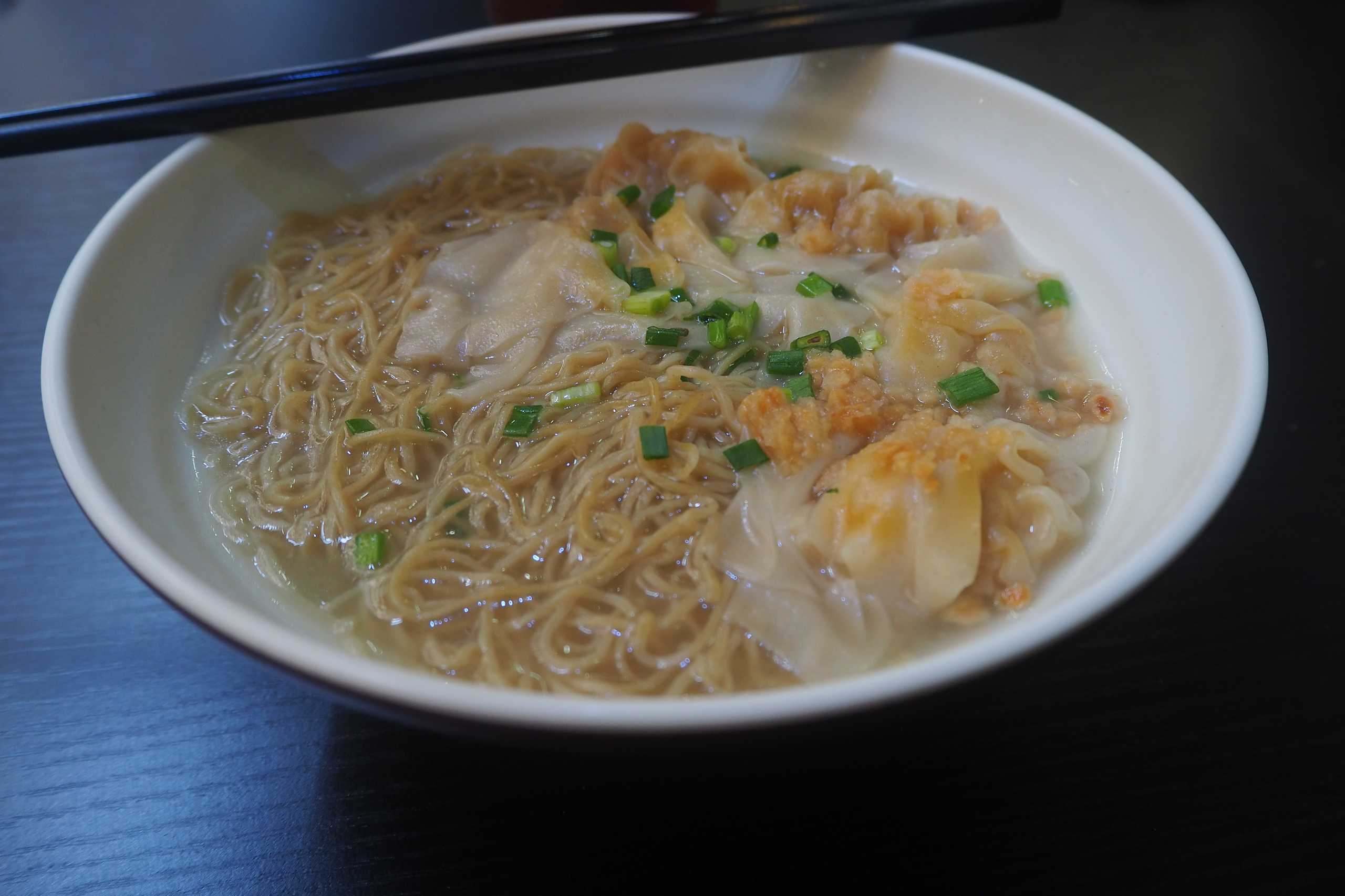 Estabelecimento de Comidas San Ngao Ioc Chai (新牛肉仔咖啡美食)
Set in a quiet street close to St. Lawrence's relaxed district, this simple and clean establishment has a thing for Coca-Cola. The place is quirkily decorated with Coca-Cola themed souvenirs and knickknacks! Unfortunately, no form of public transportation will leave you at its door. However, there are public buses coming from Barra (going to A-Ma Temple) that have stops nearby. Their wonton noodles soup has a different and refreshing taste, with a garlicky tone to it. Check their Facebook page for directions and further information on their menu.
Opening hours: Daily, 9:00am–10:00pm
San Ngao Ioc Chai (新牛肉仔咖啡美食) 6 Rua de Inácio Baptista, São Lourenço, Macau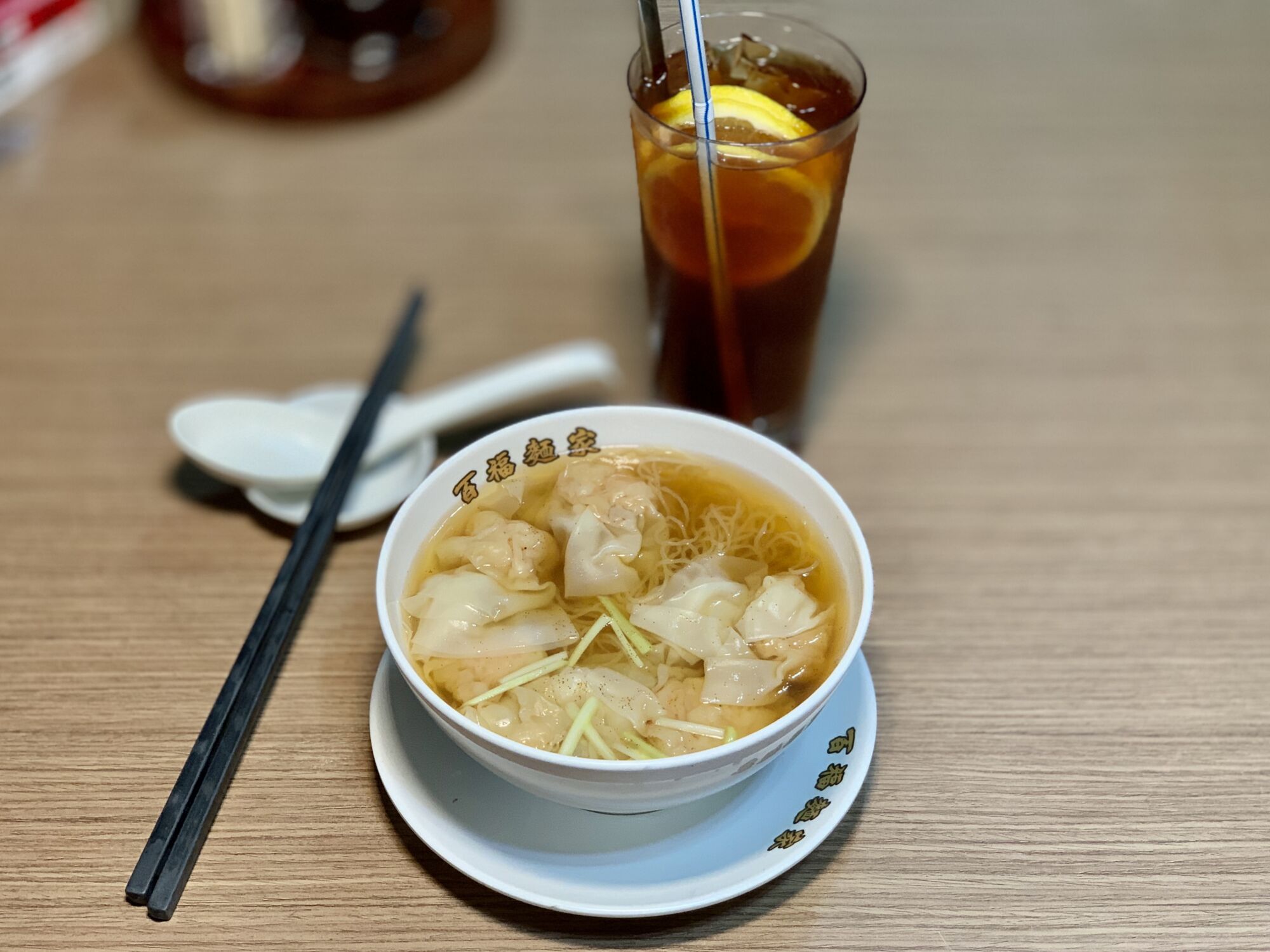 Pacapio – Good Fortune Noodles
Serving up noodle soup variations–with beef, chicken, seafood, amongst others–this is the to-go place for simple yet delicious wonton noodles. Served steaming hot, it's handed to you by the staff super quickly and, if you look around, almost everyone has ordered one as well: this is always a good sign. The menu speaks for itself: "must try" in capital letters, followed by the ingredients it contains. With a wonton mix of 70% tiger prawn and 30% pork meat, these are seasoned with dried flounder powder and cooked in a clear broth of flounder and pork bones. Locals love this place because the food is traditional and of good quality, but also affordable. Our lunch summed up to less than MOP $70 for a bowl of wonton "min" and an iced lemon tea–MOP $42 for the soup.
Pacapio – Good Fortune Noodles 41 Avenida Infante D. Henrique, Macau, +853 2871 2288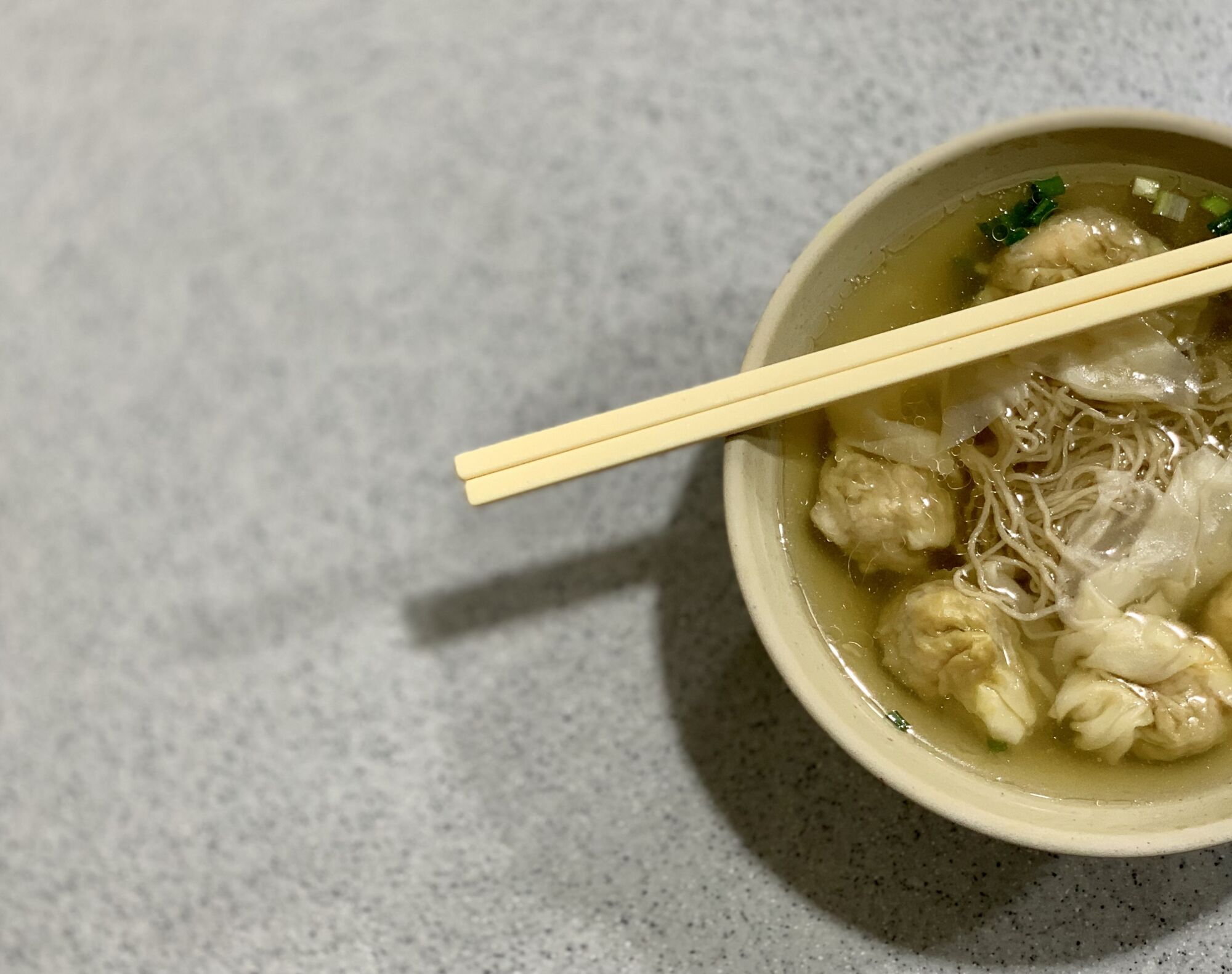 Lun Kei Sopa De Fitas 

聯記麵家
This local eatery was crowded during lunchtime. Our wonton noodles order was clearly homemade and very well-seasoned. With a strong shrimp taste, the freshly cut chives give this dish a smoothly spicy vibe plus a strong onion taste to it. Each bite of the wonton dumplings revealed real shrimp inside–which doesn't always happen. The crunchy feeling of the dumplings contrasted with the steam coming from the rich broth. This cute little place stands a two-minute walk away from popular Rua da Felicidade, so head there if you're in the mood for a hot and comforting bowl of these very Cantonese noodles. They also serve other kinds of Chinese-style noodle soups, plus congee. The best was that our meal was MOP $23.
Opening hours: Daily, 12:00pm–10:00pm
Lun Kei Sopa De Fitas 聯記麵家 G/F, 12 Travessa do Auto Novo, Macau, +853 2857 3187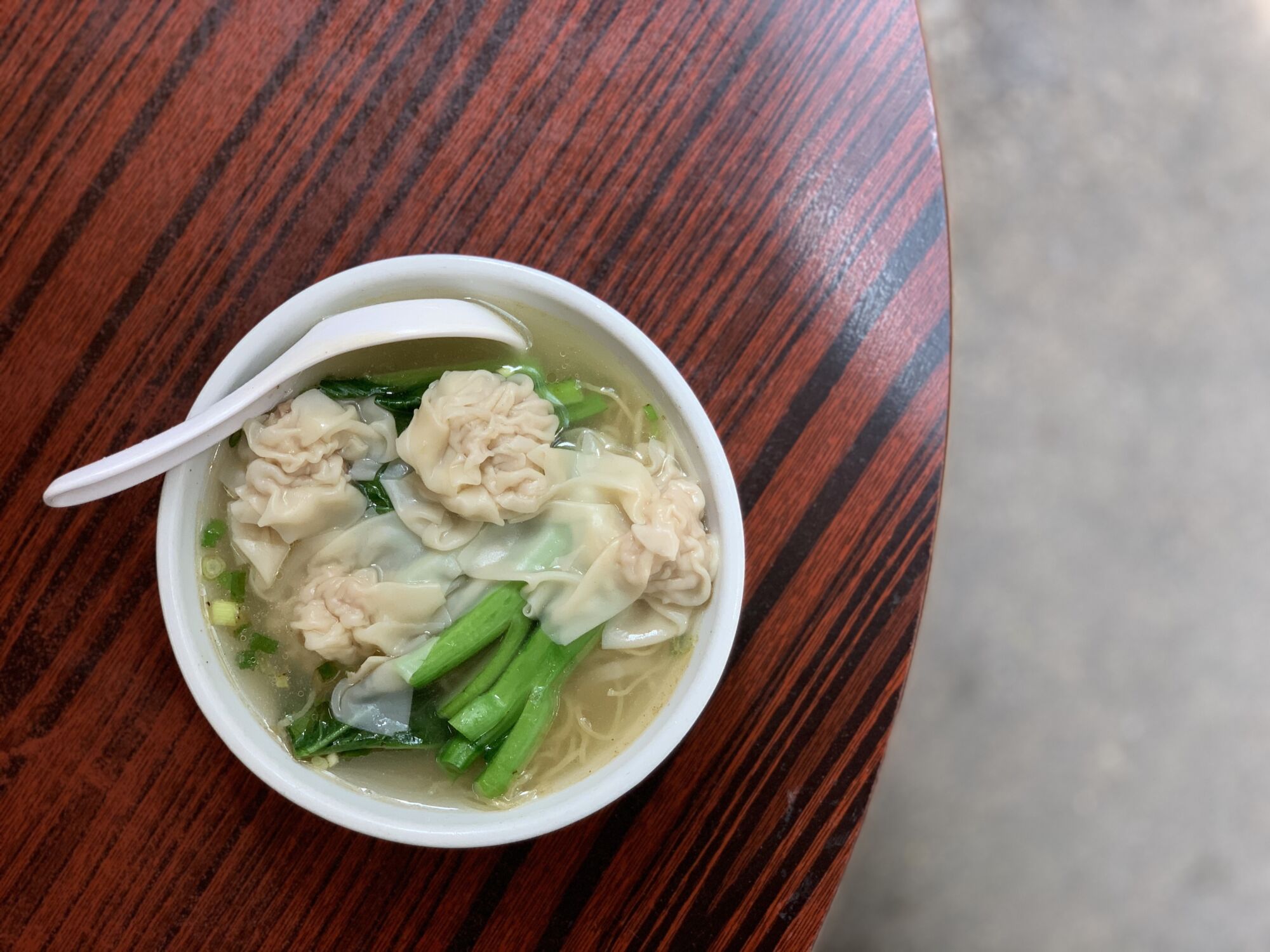 Leong Heng Kei
Making history (and food) in Macau for more than 80 years now, this local and outdoor eatery is located on a narrow street perpendicular to Rua de Cinco de Outubro, one of Macau's oldest streets and where Nam Ping also stands. The owner is a very friendly lady, eager to help out foreigners who have issues with ordering, as the menu is in Chinese; there's also English speaking staff. There are just three big tables set outdoor. The magic takes place on a moving kitchen. We saw the wontons and the noodles being stirred in the rich, clear broth and wondered if it tasted as good as it looked: it did. Tucked in a fresh and clear broth, the main flavor in the wontons is pork, although it also includes shrimp. Cooked for a short time, the noodles are chewy and go great with the crisp, fresh vegetables (choi sam) on top. Steaming hot, just great for any given winter day. At Leong Heng Kei, you'll just spend MOP $26 for this delicious dish.
Opening hours: Daily, 7:00am–7:30pm
Leong Heng Kei Intersection of Rua de Cinco de Outubro & Travessa dos Ovos, Macau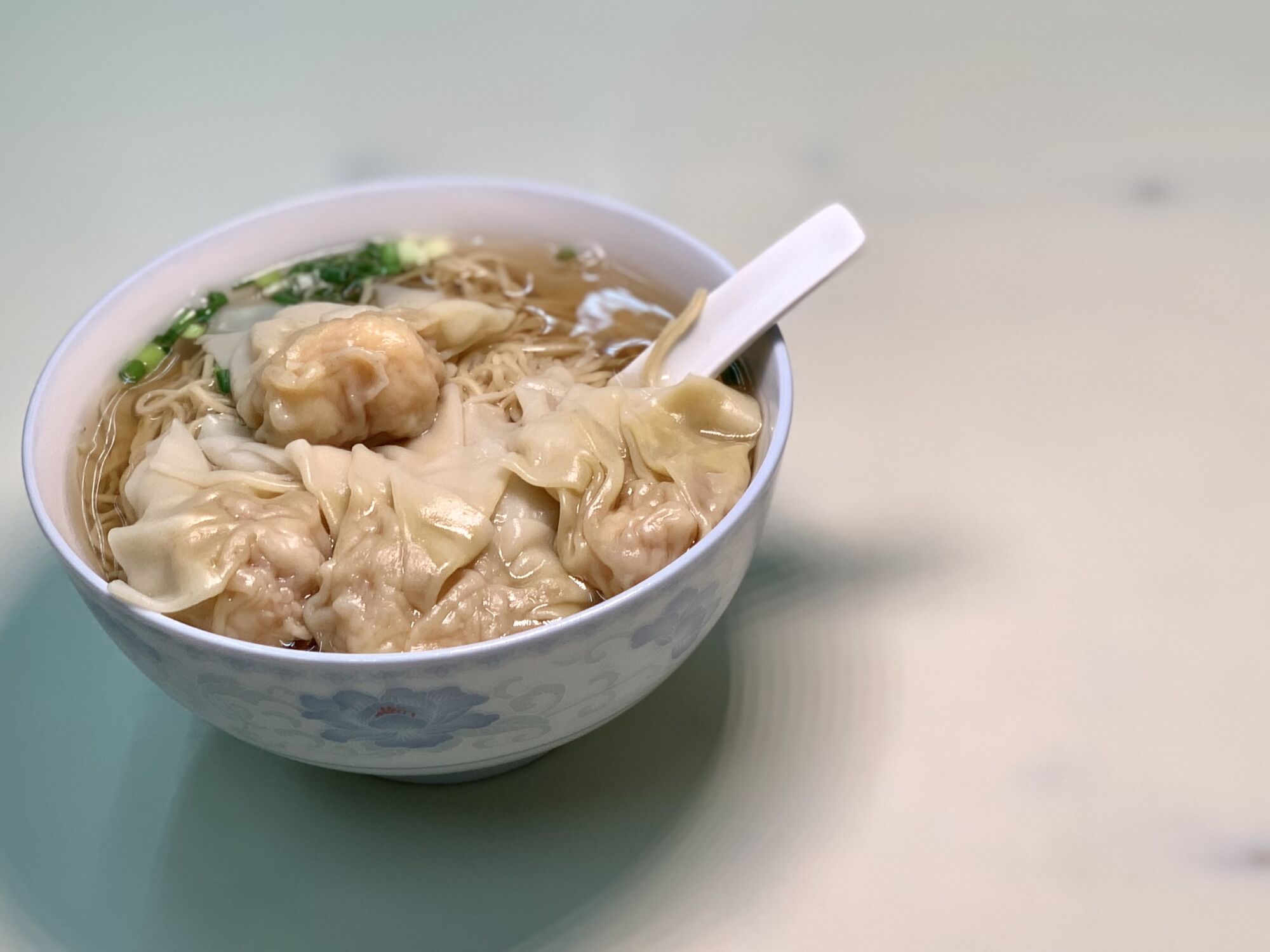 Cheong Kei
A very popular restaurant in Macau for dozens of years now, Cheong Kei is located in historic and now hip Rua da Felicidade, close to the Macanese spot, Fat Siu Lau. Wonton noodles soup is one of their signature dishes amongst the many on offer. These are simple, affordable, and traditionally made noodles. From the wonton dumplings' skin to the egg noodles themselves, softness is the keyword. The fresh chives are added after everything is put in the bowl and they even add more steaming hot broth midway if you want to. The restaurant is a local and welcoming spot where one can feel at ease and be certain to have a comfy and decent meal. Cheong Kei's wonton noodles cost MOP $33.
Opening hours: Daily, 11:30am–00:00am
Cheong Kei 68 Rua da Felicidade, Macau, +853 2857 4310
Also read: Rua da Felicidade: From Red-Light District to Hip Spot
Tags
Related Posts