If you feel the need to get away from the sensationalized and overly priced cafés or restaurants, Coloane Island is your best choice. It's known to be quieter and slower-paced in terms of lifestyle. A regular hotspot for tourists and locals alike, you can stop by Hac Sa Beach for a barbecue or head over to the old Coloane Village and explore the famous Lord Stows Bakery to indulge in a few delicious egg tarts. There's a hidden gem just ten minutes away from the bakery that deserves a truly special visit.
Just near Lai Chi Vun Village, you'll come across eerie abandoned shipyards right after trekking a slope. You'll spot a small café tucked along the way that's completely shaded by the trees. Hon Kee Café is basically a shack with simple wooden furniture around, it's well shaded and surprisingly comfortable so you can easily cool off from the summer heat and still enjoy your meal at the same time. Despite its old and nostalgic appearance, this café is rich in history and flavors. There are tons of picturesque spots with a vintage feel around for you to explore and maybe snap a few nice photos while you're there.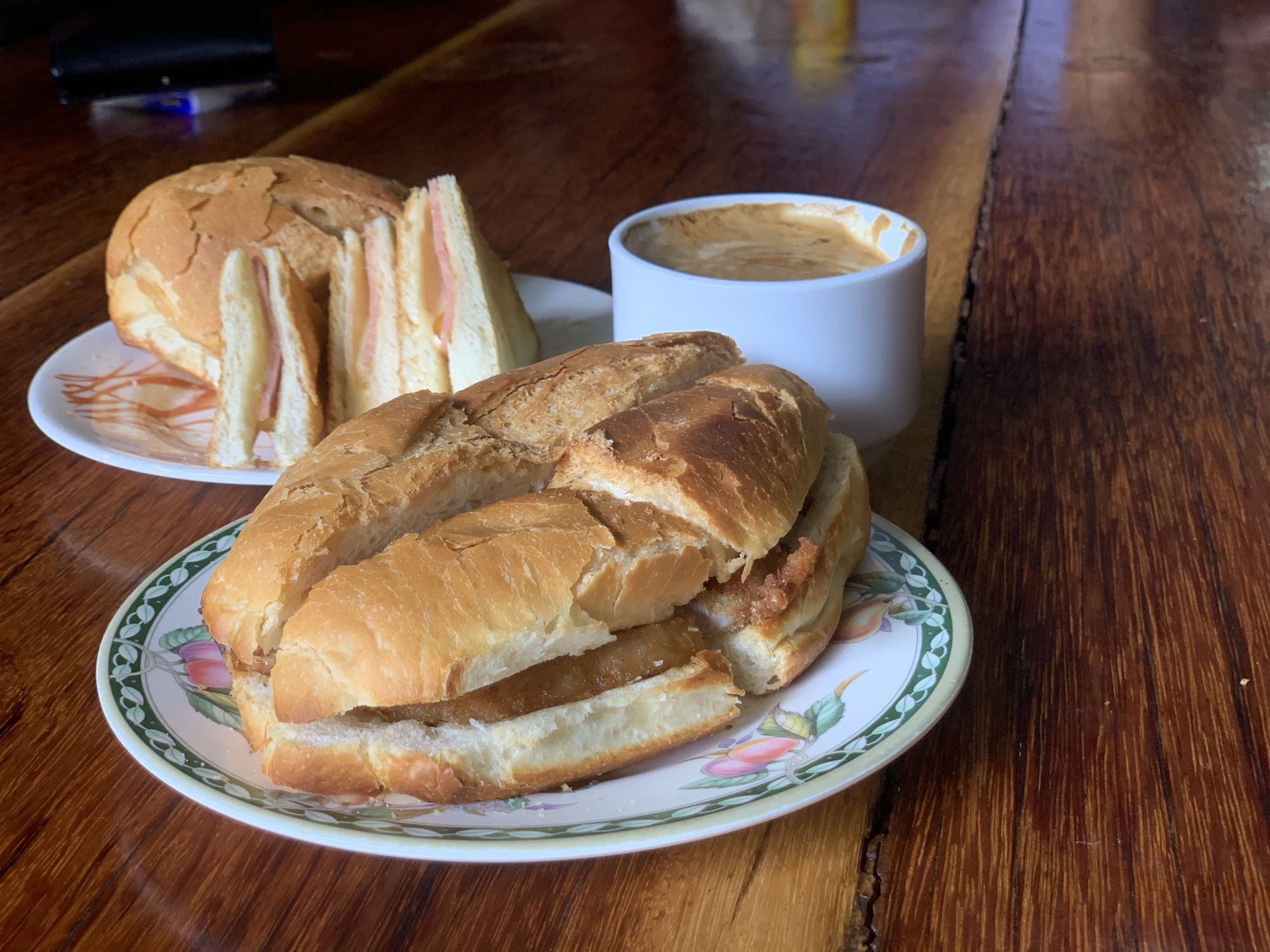 Hon Kee Cafe offers a very simple menu. You definitely can't miss out on the frothy, rich coffee, hand-whipped personally by the owner, and the famous kung fu coffee master himself, Ah Hon. Have a cup accompanied with toast dripping with cheese and butter, or have a bowl of instant noodles topped with a slice of caramelized spam for less than MOP $50 per meal. Ah Hon claims that he whips his coffee 400 times before serving! Next time you pass by Coloane Village, be sure to look out for Hon Kee Café, experience the authentic local experience, and witness Ah Hon's coffee whipping skills!
Also read: Best Breakfast Spots in Macau to Eat Like a Local

How to Get There
It can be a bit tricky to get there, so we've prepared a visual guide for you to keep track of your way! First, 15, 21A, 25, 26, or 26A to get to Est. do Campo/PSP 2 bus stop. Get out right in front of Coloane Prison and start walking contrary to the bus direction. You'll soon see an abandoned shipyard area on your left; keep going and turn left to Estrada de Lai Chi Vun. You'll see abandoned boats and some trucks, which means you're going the right way!
The restaurant is located 200 meters from this signboard. Next up is our last sign: Povoação de Lai Chi Vun is where this little Macau village starts. Just walk for three more minutes and you'll have Hon Kee Cafe on your right-hand side. Be aware that they have no credit or debit card machines, so bring enough cash. Payment through MPay is also available. Look for an empty seat, order something off their simple, yet flavorsome menu, and get stuck in!
Also read: Best Places to Find Authentic Milk Tea in Macau
This article was originally written by Joana San Jose in July 2016 and updated by Leonor Sá Machado in December 2019.
---
Opening hours: Thursday–Tuesday, 8:00am–6:00pm
Hon Kee Cafe Merendas de Lai Chi Vun Park, Coloane, +853 2888 2310
Tags
Related Posts