You must've noticed already that Macau still has a few places that thrive on selling traditional local food. Some have sadly closed down, mostly due to a new generation of young people not willing to take over and do the traditional work. However, we're keen on walking through this beautiful city of ours and discovering wonderful traditional gems! Food vendors could be seen all around town until well into the mid-90s and although this has been declining, some are still going strong.
Old but gold
You'll find them mostly close to Senado Square–more precisely at Rua dos Mercadores, but also Rua de Cinco de Outubro, a narrow alley where Hong Kung Temple stands, five minutes away from Sofitel Macau At Ponte 16. Some others are can be found along the alleys and avenues connecting Avenida Horta e Costa, leading to the Red Market.
There are some other businesses that even though started small and in the streets, are now accommodated inside a proper shop, letting people know all about Macau's history and traditions. It's happened with local waffles brands, milk tea made in Macau, dried meats, and tea. Notably, there's another locally renowned brand founded in 1986: Yau Kei, one of Macau's oldest and most popular candy shops!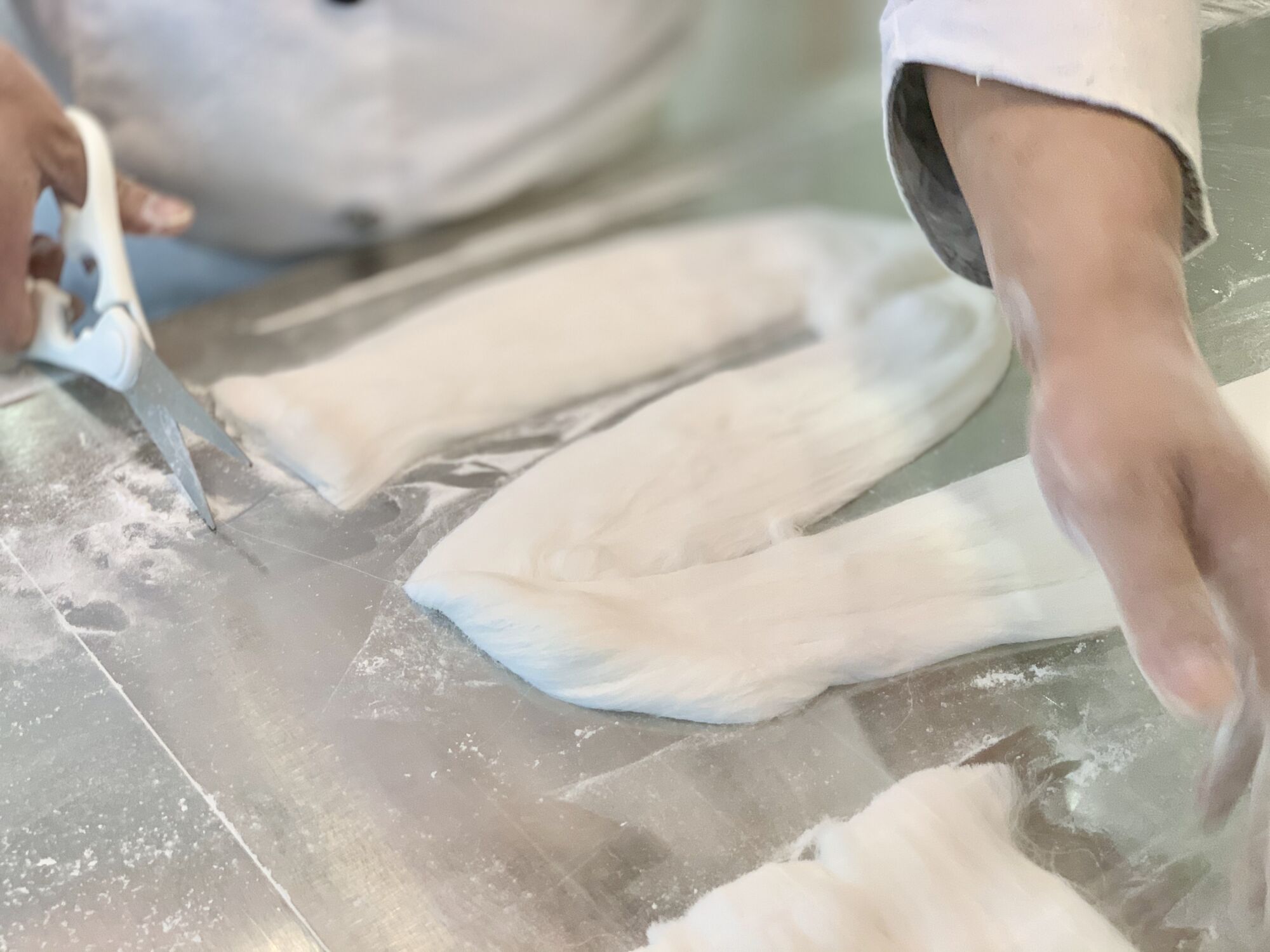 Sweetness in St. Lazarus District
Yau Kei–famous for its "dragon's beard candy"–was being sold out of a humble cart until it recently moved to a brick and mortar shop, with proper shelves and a window from where customers can see them making this sweet treat! It's called so because of how it looks: bright white, made of thin threads of sweetened dough, it kind of looks like an old man's beard or, as they prefer to call it, a dragon's beard.
The shop is located on one of Macau's hippest districts, St. Lazarus; it's the first door on the left side of the street right when you go up the stairs where Albergue SCM sits. If you're interested in knowing more about this cute neighborhood and what's there to do, check out our write up on it here.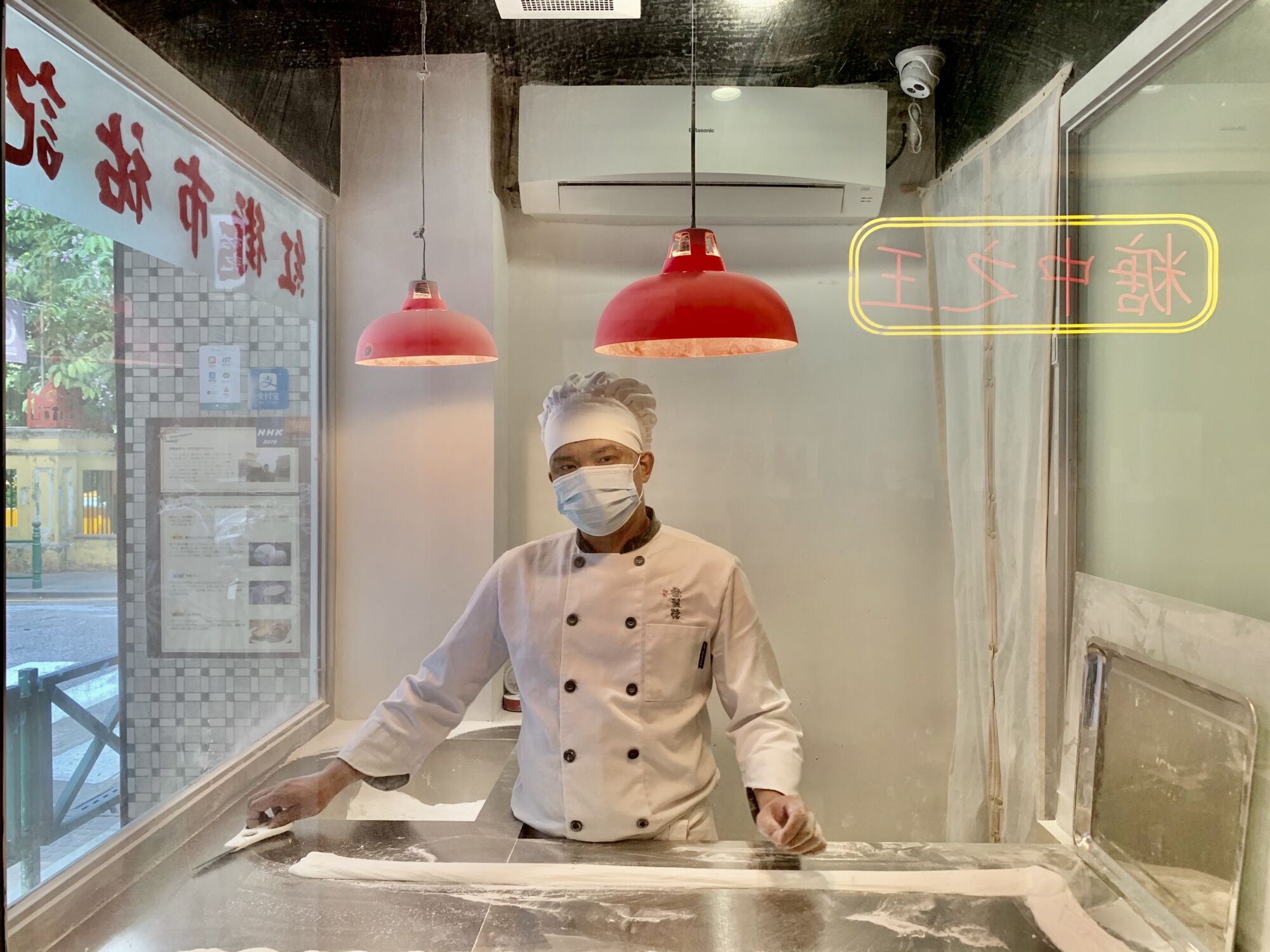 Passion for Tradition
The owner of the brand, surnamed Yuen, was originally selling it out of a cart on the street, usually set close to the Red Market, some 40 years ago, when he started his business. Keeping the tradition of handmade dragon's beard candy alive has been a challenge. Later on, he moved his store to the Three Lamps District.
Now that he has retired, he has passed his skills on to his son, Kenny Yuen, who continues his legacy. Luckily, we can still get to try this traditional delicacy in town. "In 2011, I decided to learn from my dad how to make dragon's beard candy. At first, I didn't plan to take over his business, but I decided to do so after my dad retired because I wanted to keep his passion alive." Kenny Yuen shares.
Thriving through Innovation
You may watch how he makes the candy from scratch in a demonstration glass room at his shop. Freshly handmade candy, which makes it easy to show your appreciation for the work and passion he puts into making this delicacy. This sweet snack is made with sesame seeds and crushed peanuts.
It allows for different senses to kick in: the candy's exterior is dry and super flaky, which might feel unusual, but very flavorsome. The family has also created two new flavors: one uses durian flesh and the other has ice cream inside the dragon's beard candy! These are served cold and a sweet treat for Macau summer days. Patrons can choose between tofu or chocolate ice cream for the filling!
Head there to support a traditional Macau business which maintains its high standards, while having a sweet local snack and snapping some cool vintage-like photos! You can also pre-order the candy by calling them.
Also read: Macau's Best Ice Cream Spots
---
How much: MOP $28 (box of six dragon's beard traditional candies), MOP $15 (box of two durian-flavored dragon beard's candy), MOP $35 (two pieces of ice-cream)
Opening hours: Wednesday–Monday, 11:00am–7:00pm
Yau Kei Dragon's Beard Candy 25-B Calçada da Igreja de São Lázaro, Macau, +853 65889928, www.facebook.com/yaukeidragonbeardcandy, www.instagram.com/yaukeicandy
This article was originally written by Annie Anastacia in 2016 and updated by Leonor Sá Machado in June 2020.
Tags
Related Posts