Whoever said breakfast is the most important meal of the day, most certainly never had a full on brunch, with seafood, wine and cocktails! Macau is a city full of incredible eateries and luxury spots to dine at in style, and brunch is definitely a must! Start early in the afternoon with some close friends surrounded by lots of food and a naughty tipple or two. Read on and find out our selection for Macau's best boozy brunches.
Gourmet Tour Sunday Brunch with Papinee at The Manor
(See featured image above)
The Manor together with the Papinee brand takes families on a gourmet tour around the world. Get to know Jak, the St. Regis-inspired reindeer and his friends while indulging in a lavish Sunday brunch featuring seafood, succulent cuts of prime meat, live teppanyaki and lots of pass-around signature dishes. We recommend starting your brunch with some seafood on ice. With freshly shucked oysters from five regions of France, The Manor is one of Macau's best spots for oysters. After enjoying all the fresh seafood in the bar, take a tour and observe all the rooms with a myriad of dishes. The Manor's best feature is the diversity of cuisines represented. There are American specialties like lobster rolls, beef sliders, clam chowder; Japanese sushi, sashimi, and yakitori; Sichuan signature dishes and more.
To finish, a selection of decadent desserts to satisfy grown-ups and children is displayed on the Verandah. Among them, are delicate raspberry macaroons and mini-donuts. This is priced at MOP $528 per adult and includes unlimited non-alcoholic champagne, fruit punches and cold-infused tea. There is also a 50% discount for children under 12 years and complimentary dining for three year olds and below! Additionally, every kid gets a gift, a cookie decorating kit from Jak.
Operating hours: Sundays, 12:00pm–3:30pm
The Manor 1/F The St. Regis Macao, Cotai Central, Estrada Do Istmo, S/N, Cotai, +853 2882 8898, [email protected]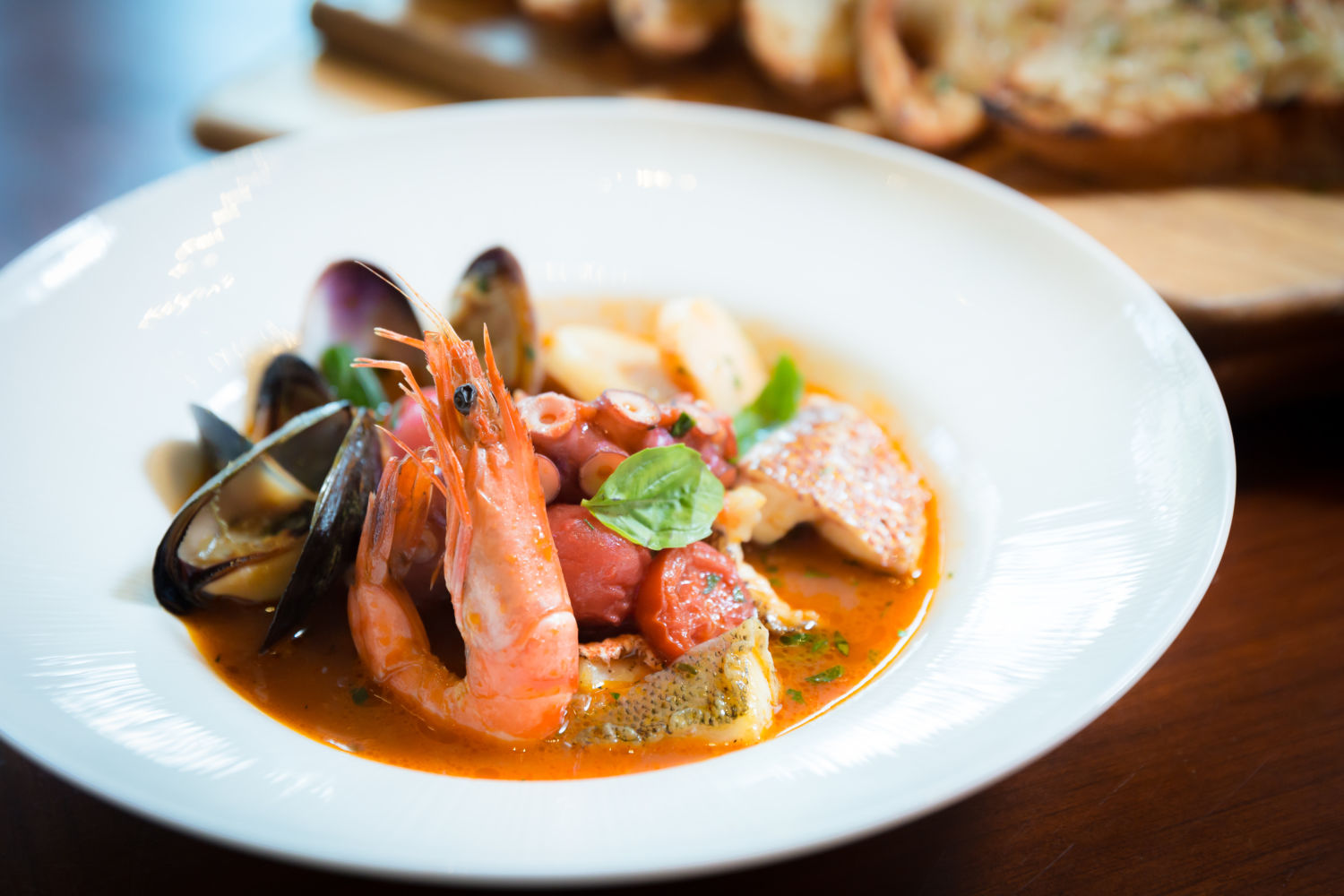 Saturday Brunch Extravaganza at Portofino Restaurant
Start your weekend with a delicious and exquisite gastronomic trip. With live cooking stations and dessert spreads ideal for friends and family to savor, you also enjoy a wide range of entertainment and activities for a fun-filled Saturday. Presented as a colorful Italian and Mediterranean marketplace full of the freshest produce, this Saturday Brunch Extravaganza promises not to disappoint.
There are six individual stalls offering fresh seafood, Italian cold cuts, salad bar, salmon, soup, seared goose liver, fragrant grilled meats, authentic pizza and pasta, risotto and desserts. Seafood highlights include lobster, shrimp, live oyster shucking, king crab legs, baby abalone, half-shell scallops, and razor clams. The Portofino's antipasti selection is mindblowing and features a large table of fish crudo, from several types of salmon to stronger-flavored fishes like red snapper.
Make your way to the live grill stall and taste that rotisserie chicken, some bone-in ribeye and freshly grilled octopus. Live cooking stations at Portofino offer some of their best brunch dishes. For instance, the seafood risotto cooked right in front of you! Rich seafood sauce with a generous portion of lobster, shrimps, mussels, and scallops is an absolute must-try. Don't pass by the pan-seared goose liver with red-wine figs, a delicacy that is hard to forget.
The Saturday Brunch Extravaganza also includes a selection of Italian artisan cheeses and a whole room full of fantastic desserts. Be careful with the fresh berries zabaglione because once you try it, it's just hard to stop!
If you want to work off the calories, you can also head to their pool afterwards! Brunch costs MOP $488 per adult and MOP $245 per child (aged 3 to 12), with additional MOP $100 for free-flow of selected wines and MOP $100 more for the pool entrance.
Operating hours: Saturdays, 11:00am–1:00pm and 1:30pm–3:30pm
Portofino at The Venetian Casino Level 1, Shop 1039, Estrada da Baia de Nossa Senhora da Esperança, Taipa, +853 8118 9950 or email, [email protected]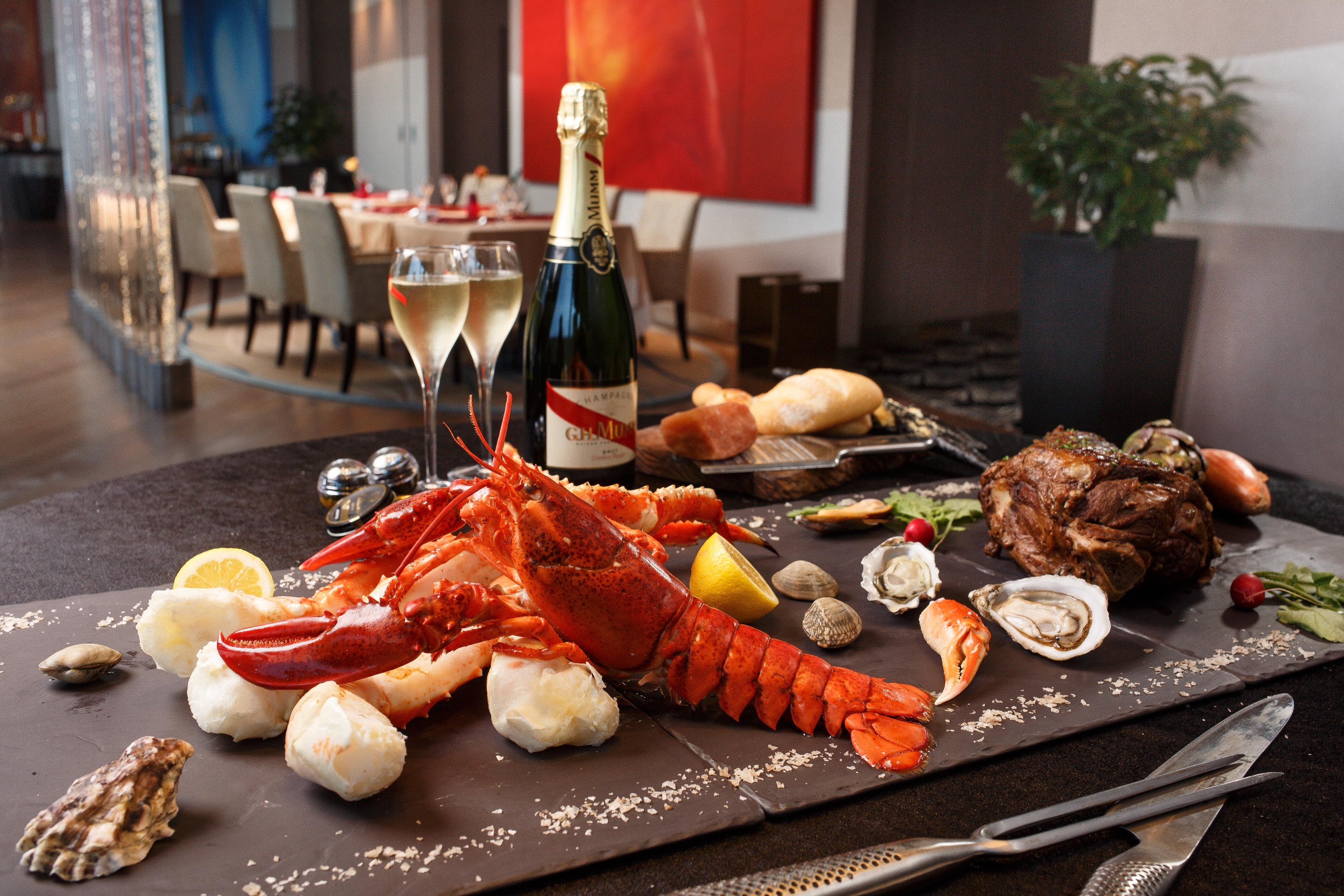 Champagne Brunch at Belon
Belon's Sunday brunch has been a favourite among the Macau locals for years. Located on the 31st floor, Banyan Tree Macau inside Galaxy Macau, it has not only some of the best views in town but also, one of the best brunch offerings! Belon got its name after Brittany's famous oyster delicacy and their brunch offers–you guessed it, a wide range of oysters to try! The spectacular free flow G.H. Mumm Champagne is delicious and pairs well with their fresh seafood offerings (including oysters, smoked salmon, lobster claws, fish eggs). There are many different live cooking stations as well, offering something for everyone.
The offerings also include seasonal greens and condiments, a Caesar's salad bowl, several fresh pastas and sauces, tons of cold cuts and cheese and some of the most exquisite foods you'll find in Macau. There are also some Asian delights such as dumplings, noodles, BBQ, grilled meat and much more. The dessert offerings alone deserve their own paragraph, so we'll just say to make sure you save some room. Service is on point as with everything else you experience at Banyan Tree Macau.
Indulge yourself and try this exclusive treat for MOP $798 per adult and MOP $238 per child. Bring family and friends and join the fun. We recommend booking a table near the window for brunch with a great view!
Operating hours: Sundays, 11:30am–3:00pm
Belon Banyan Tree Macau, Galaxy Macau, Estrada da Baia de Nossa Senhora da Esperanca, Cotai, +853 8883 6090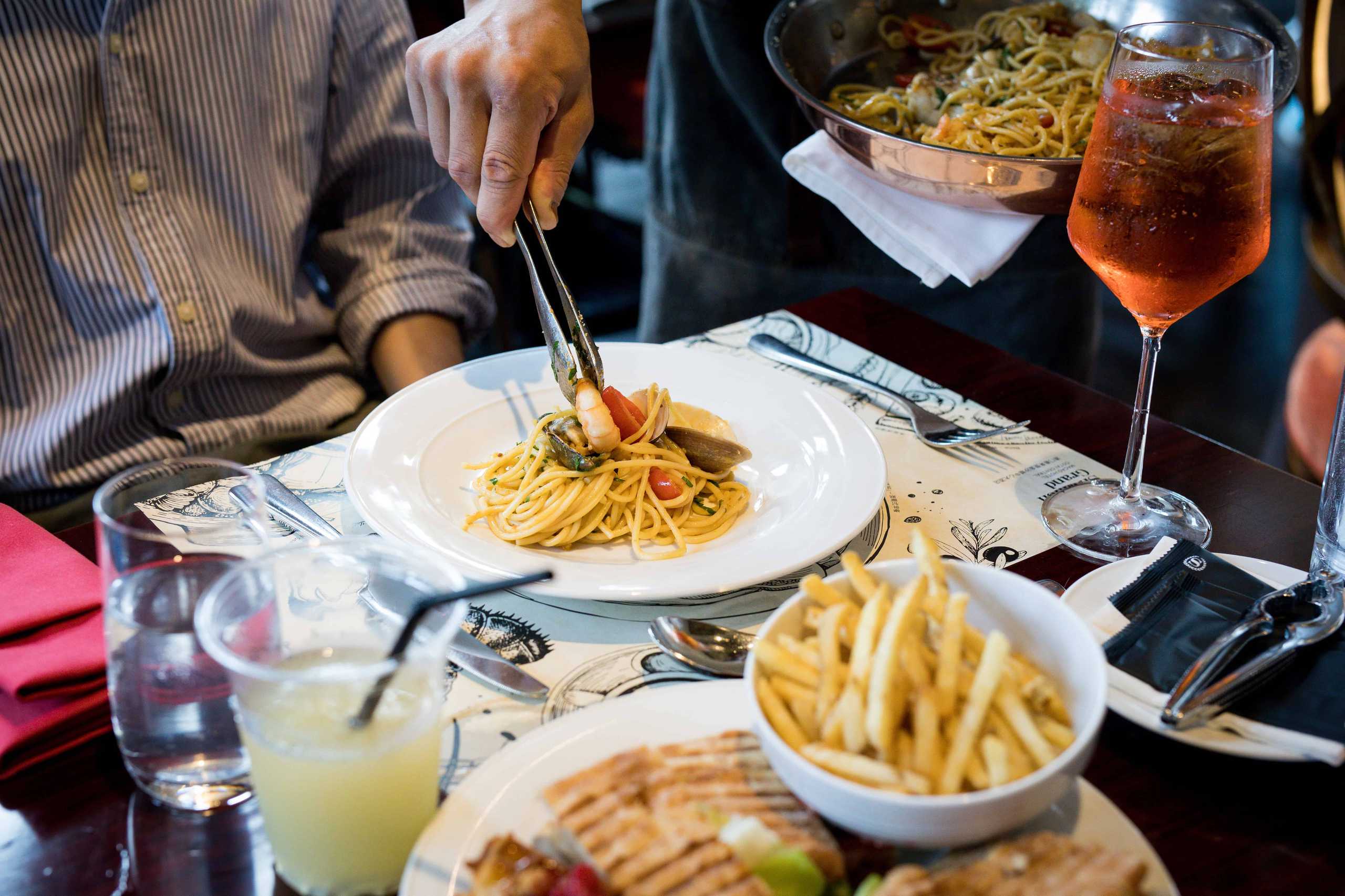 The Great Big Bene Sunday Brunch
Sundays at Bene are something to look forward to during the week. If you are a fan of Italian treats, this is the right place for you. The selection and options here are beyond impressive. Start off with some prosciutto di parma, tuna carpaccio and eggs benedict with sautéed mushrooms, parma ham, black truffle and parmigiana hollandaise. Alongside the food stations and buffet counters, servers also deliver hot dishes such as freshly cooked seafood linguine ,braised beef in red wine, chicken cacciatora and many more!
While there's a huge variety of hot dishes on offer here, one that's not to be missed is Bene's pasta. Their spaghetti aglio olio is made simply with fresh spaghetti and humble ingredients, cooked to perfection. Another dish that is a must have is the New Zealand lamb chops, complimented with fragrant herbs and accompanied with grilled vegetables.
For something sweet to top off a good meal, head over to the "Sweet Escape" room which is a separate room dedicated exclusively to desserts and juices! We highly suggest their tiramisu because no matter how well you make it at home, the Italians will always do it better and this is definitely the case here. The limoncello and ricotta cake is one that's perfect for those who enjoy a little tartness in the sweet and soft sponge cake.
With a free-flow of beverages, including Prosecco, Aperol Spritz, beer, juices, margarita slush, lemonade and refreshing infused water, The Great Big Bene Sunday Brunch is available for MOP $478 for adults and MOP $100 for the little ones.
Operating hours: Sundays, 12:00pm–3:00pm
Bene Level 1, Sheraton Grand Macao Hotel, Cotai Central, Estrada do Istmo. s/n, Cotai, +853 8113 1200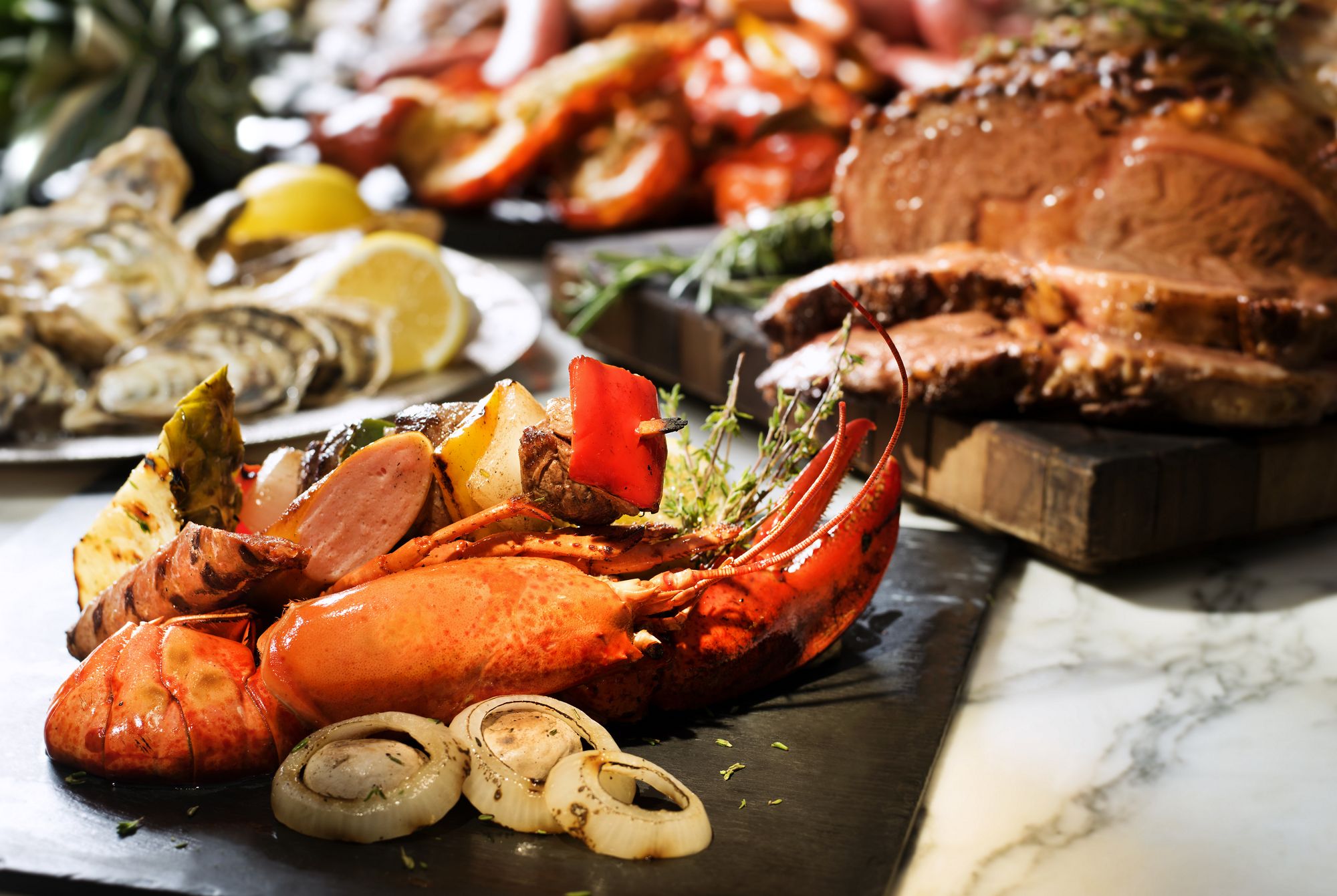 French Sunday Brunch at The Ritz-Carlton, Macau
France really does have a way of inspiring people, right? Well, that is precisely what The Ritz-Carlton, Macau thought when creating this French Brunch, served on Sundays at The Ritz-Carlton Café. Inspired by farmer's markets in France, their Sunday Brunch brings you tasty dishes made with seasonal French ingredients.
Enjoy a buffet with fresh seafood, live stations featuring steak, thyme roasted lamb and plenty more. There's also mussels, shrimps, and clams–all suitably accompanied by a variety of sauces ranging from classic mayonnaise to a piquant vinegar with shallots. The massive bowl of fresh oysters on ice takes centre stage and is most definitely not to be missed! Another delectable dish not to be missed is the savory baked lobster which you might need to wait a little bit for due to its popularity.
This includes fresh cocktails and, for an additional price, free flow of Barons de Rothschild, Cuvée Ritz Brut Champagne or Perrier-Jouët Grand Brut Champagne, Duval-Leroy Brut Rosé Prestige Premier Cru, Clarendelle Bordeaux Wine, house wine, juices, coffee, tea and selected soft drinks. Prices range from MOP $498 to MOP $888 depending on your choice of beverages.
Operating hours: Sundays, 11:30am–2:30pm
The Ritz-Carlton Café The Ritz-Carlton, Macau, Galaxy Macau, Estrada da Baía de Nossa Senhora da Esperança, Cotai, +853 8886 6712, [email protected]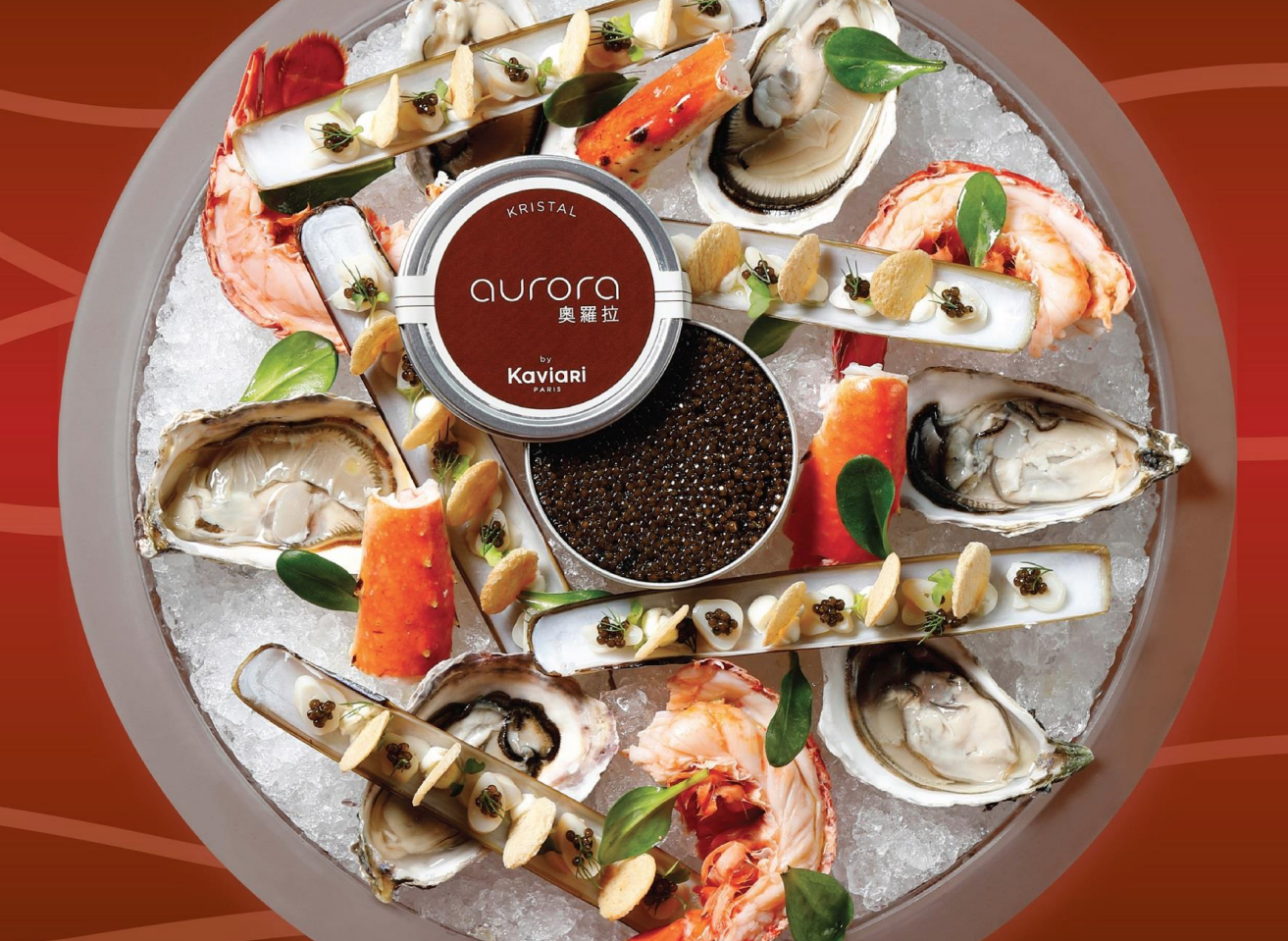 Mediterranean Melody Brunch at Aurora
The Aurora brunch is a sharing concept but main course dishes are served individually for people to choose. Aurora's brunch is a free-flow of food delicacies, including caviar, seafood, hot dishes such as sea bass, Waygu beef Wellington, grilled foie gras and much more. This lavish menu is priced at MOP $688 per person and it's free for children under 12 years old! Champagne pairing is available for an additional MOP $128, which is perfect for those wanting two or three glasses with their seafood and mains.
Operating hours: Sundays, 12:00–3:00pm
Aurora Hotel Altira, Avenida de Kwong Tung, Taipa, +853 2886 8868, www.altiramacau.com/aurora
Tags
Related Posts