If variety is the spice of life, then Macau is where it's at when it comes to culinary choice. You'll always find glorious food everywhere in this city. But there's one outstanding cuisine that always gets us going no matter what, and that's Italian. Thankfully, our city has some great Italian offerings. So read on to find the best tastes of Italy at what we think are Macau's best Italian restaurants.
Casa Don Alfonso
(see featured image above)
You might know Casa Don Alfonso for its reputation in the art of exceptional Southern Italian dining. This venue at Grand Lisboa Macau is no different. When you walk in, you will feel the vibes of the Amalfi coast, chic and classy. Expect five-star service from start to finish at this restaurant.
Browse through a menu meticulously crafted with signature dishes such as seafood risotto and white pizza with parma ham and arugula. Taste delectable desserts like deep-fried bananas and chocolate bignè with vanilla ice cream and Neapolitan puff pastry stuffed with cinnamon cream and sour cherry.
This restaurant is also famous for the most authentic Napolitano pizza in Macau, cooked in a stone oven heated up to 1,000 degrees! Casa Don Alfonso's delicious pizza by itself can be the only reason to come back again and again.
Casa Don Alfonso 3/F, Grand Lisboa Macau, Avenida de Lisboa, Macau, +853 8803 7772, www.grandlisboahotels.com
Also read: Where to Have the Best Pasta in Macau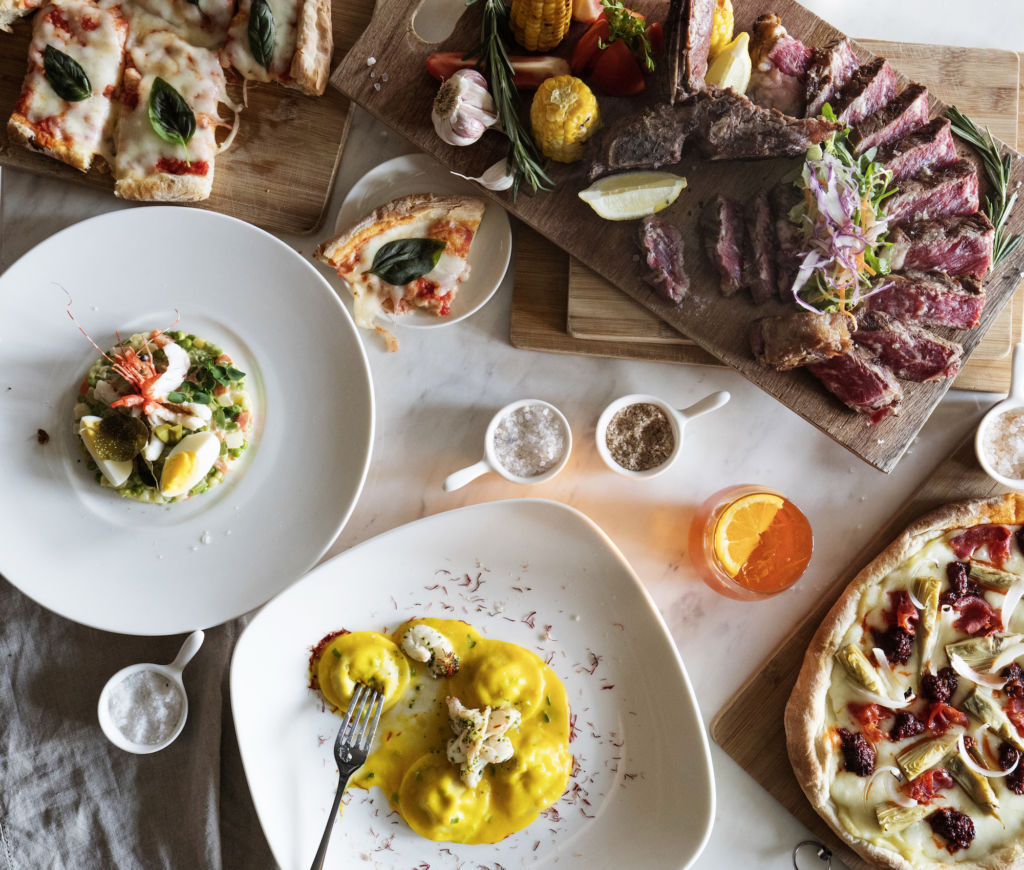 Caffé B Macau
Located next to Nam Van Lake, this place is one of our best-kept secrets here at the Macau Lifestyle headquarters. When it comes to delicious and satisfying Italian food, Caffé B is our go-to restaurant for fail-proof dishes that warm the heart and bellies. This stylish restaurant has a great ambiance and is excellent for family-friendly gatherings, romantic dates, and all kinds of occasions.
You can opt to dine at the top floor area decked out with crisp white tablecloths or the ground floor with sleek interiors and a laid-back feel vibe for lunch or dinner. Indulge your taste buds with tasty Italian classics, from freshly baked pizzas and homemade pasta to grilled steaks on the à la carte menu. Explore the creatively curated set lunches and dinners with fantastic options. Caffé B's captivating charm and cuisine keep us coming back for more. One of the best parts is that you can walk in from the street, no hotel or casino passing!
Caffé B Lake View Mansion Block 1, 744-G-H Avenida Panoramica do Lago Nam Van, Macau, +853 2838 6886, www.facebook.com/caffebmacau
Also read: Tutto Bene: Must-Try Italian Dishes at Caffé B Macau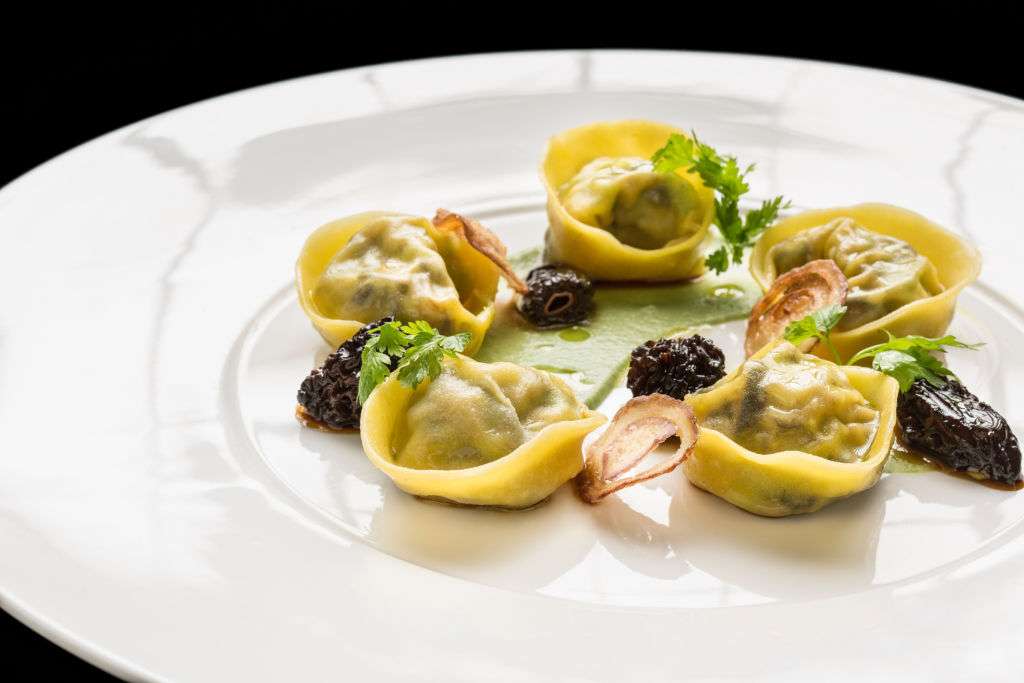 Terrazza Italian Restaurant
Terrazza at Galaxy Hotel stays true to Italian values through time-honored dishes such as Italian-style roasted suckling pig and Paccheri pasta with spicy soft pork sauce and bell pepper puree. Savor expertly crafted Italian flavors curated by a talented kitchen team at this top eatery.
Bask in the stunning design of the restaurant surrounded by large chandeliers and earth-colored interiors, evoking a formal yet peaceful ambiance that complements the outstanding dining experience. Be sure to check out the impressive wine cart at Terrazza. When you are on it, elevate the experience by ordering some cold cuts like prosciutto, salami, and mortadella. Arguably, Terrazza offers the best selection of Italian cured meats in town.
Additionally, Macallan Whisky Bar & Lounge next door is the perfect stop before or after your Italian feast.
Terrazza Italian Restaurant 201, 2F, Galaxy Macau, Estrada da Baia de Nossa Senhora da Esperanca, Cotai, +853 8883 2221, www.galaxymacau.com
Also read: Your Next Gathering: Authentic Italian Delights from Terrazza Italian Restaurant at Galaxy Macau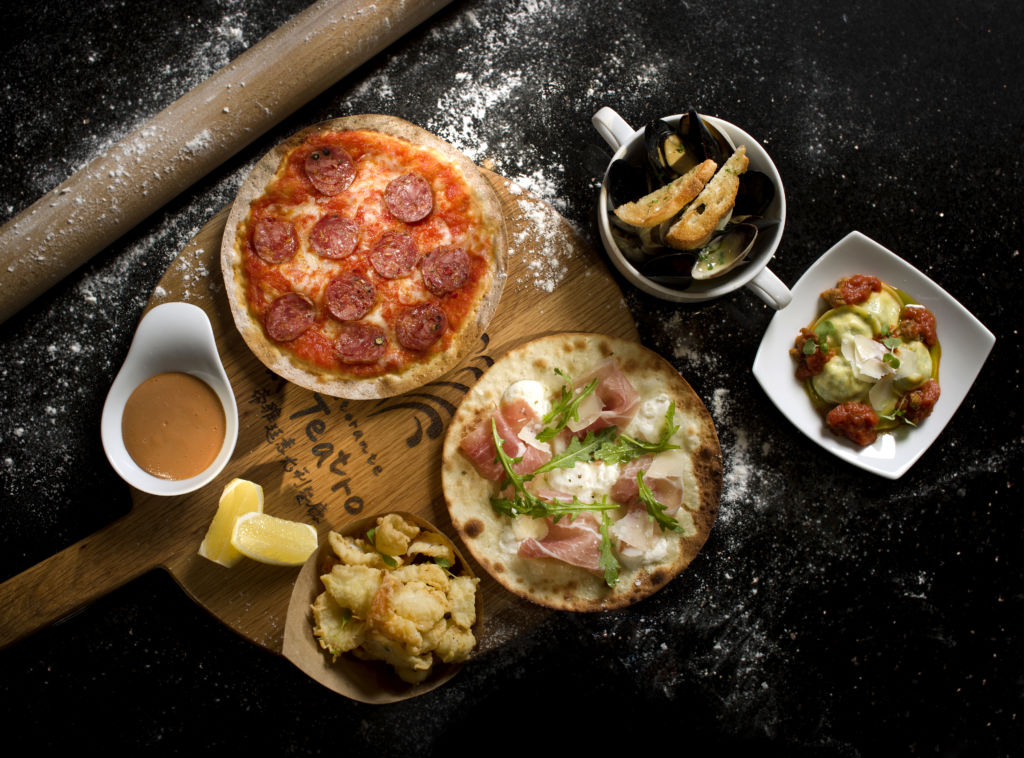 Ristorante Il Teatro
Wynn Macau's Ristorante Il Teatro focuses on Italian traditions and comfort food with elegant presentation. Choose from top-notch pasta, freshly caught fish, and incredible pizzas. To ensure the most authentic Italian experience, the culinary team here carefully sources fresh seasonal ingredients. The juiciest lemons from Amalfi, Sicilian octopus, Japanese king crab, and more flavorsome food come from worldwide to become delicious creations that will amuse the restaurant's guests.
Moreover, Il Teatro is a sure winner for first dates and special celebrations with its gorgeous ambiance and stunning design. When booking a table, make sure to ask for one near the panoramic windows. This way, you will get the front-row view of the hotel's performance lake and its nightly fountain show.
Ristorante Il Teatro Wynn Macau, R. Cidade de Sintra, Macau, +853 8986 3663, www.wynnmacau.com
Also read: Best Private Dining Rooms in Macau

Pronto 
A special occasion, date, or willingness to spend a fortune doesn't occur daily. Sometimes we just want to satisfy our Italian cravings and go back to our business. Then, restaurants like Pronto are exactly what we need. A casual spot at Wynn Palace offers Italian flavors at an affordable price, quick service, and alfresco sitting.
Pronto's menu features all-time classics such as lasagna bolognese and pasta vongole. Besides, it's one of the best Italian restaurants in Macau to enjoy pizza made in a proper wood-fired oven. Make it an authentic Italian experience and dine at the alfresco terrace in the sunshine and warm breeze.
Pronto Wynn Palace, Avenida​ ​Da​ ​Nave​ ​Desportiva,​ ​Cotai, +853 8889 3663, www.wynnpalace.com/pronto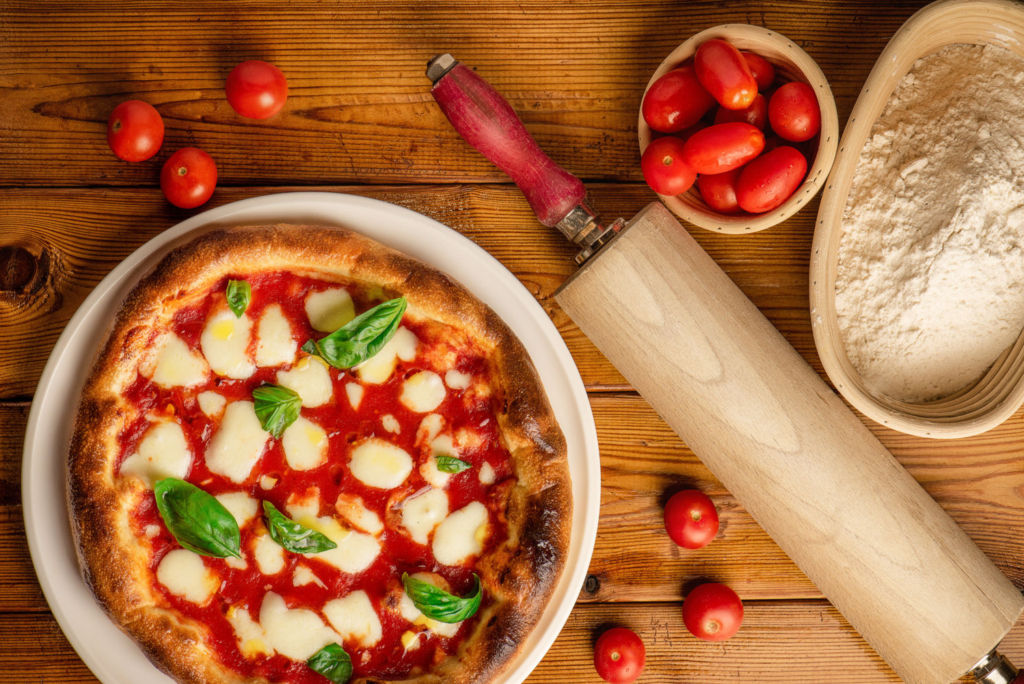 Rossi Trattoria
Rossi Trattoria is an authentic country-style Italian trattoria located at Studio City Macau, serving comforting rustic-style Italian staples. Sporting a cozy, elegant yet laid-back vibe, this trattoria is ideal for sharing authentic Italian food with family and friends.
Helmed by young and passionate Italian Chef Rodolfo Serritelli, Rossi Trattoria presents guests with delectable traditional dishes prepared with the freshest Italian ingredients. Chef Serritelli's signature dishes are the epitome of rustic Italian food. We especially love the semolina bread bruschetta with tomato, buffalo mozzarella cream, and basil, the hand-rolled spiral pasta with lobster in a spicy tomato sauce, and the classic Italian tiramisu. Notably, chefs make pasta from scratch here.
The pizzas at Rossi Trattoria are also to die for, with its dough made out of a combination of five flours made entirely from Italian grains, water, olive oil, and salt and using a slow-fermentation method. The pizza's consistency is perfectly balanced, simultaneously light and crispy.
Rossi Trattoria Shop 1079, Level 1, The Boulevard at Studio City Macau, Estrada do Istmo, Cotai, +853 8865 6662, www.studiocity-macau.com/rosi-trattoria
Also read: Thin Crust or Classic: Best Pizza Restaurants in Macau

8½ Otto e Mezzo Bombana
8½ Otto e Mezzo Bombana at Galaxy Macau is a one-star Michelin restaurant that attracts real gourmands who flock to this dining hot spot for exquisite Italian food and attentive service. Not only is it an elegant dining space, but the super-rich flavors of its offerings also ensure that guests are captivated with all their senses.
Seduce your taste buds with homemade tagliolini with butter, parmesan, and Alba white truffle or the scampi carpaccio and Hokkaido king crab with fennel emulsion, Amalfi lemon, and river Beluga caviar. Fill your belly up with the Mayura M9 sirloin and short ribs with charred artichokes, red wine, and plum sauce or the Aveyron lamb with eggplant roll, bell pepper, and natural jus. The menu is diverse but not overwhelmingly, with each dish crafted to perfection.
We suggest arriving a little bit before dinner to enjoy an aperitif at the gorgeous central bar.
*Temporarily closed until further notice
8½ Otto e Mezzo Bombana 1031, 1F, Galaxy Macau, Estrada da Bai de Senhora de Esperanca, Cotai, +853 8886 2169
This article was originally written by Apple Salangsang in November 2018 and updated by Sara Santos Silva in November 2019 and Ksenia Kuzmina in July 2021.
Tags
Related Posts