One of the hospitality havens in the city, MGM MACAU has so much to offer. So much that you might find yourself a little lost in the abundance of options trying to choose where to go out for dinner or lunch. Which restaurant should I book? Which dishes should I order? Don't let the variety of options scare you off and make you stay home munching on instant noodles. We visited some of our favorite restaurants at MGM MACAU to taste their best offers and decide which ones are the must-try dishes that you don't want to miss.
● ROSSIO ●
Sure, there is no shortage of Portuguese restaurants in Macau. But how many of them are located at a magnificent atrium with a colossal contemporary art piece, an eight-meter tall cylindrical aquarium, iconic cobblestone, and Portuguese architecture? Rossio is the only one we know! But most importantly, it offers authentic Portuguese and Macanese cuisine prepared by Portuguese chef de cuisine Ricardo Oliveira. Whether you come for a light meal at lunchtime with colleagues or to celebrate a special occasion with your loved ones over a home-style dinner, Rossio will satisfy your gastronomy needs and impress you with hospitality and service. Let the sangria flow and don't miss out on these delicious creations that chef Ricardo recommends. Chef Adam Mathis, Director of Culinary at MGM Macau says: "At Rossio, our team draws inspirations from old home recipes of traditional Portuguese and Macanese cuisines, but we add a touch of refinement to some of the dishes. Different from other MGM's renowned restaurants, Rossio is a place for Portuguese and Macanese to enjoy the comfort food that reminds them of home. For those with different palates, we also have new approaches for them to try out." Check it for yourself!
BAKED PORK CHOP RICE
(See featured image above)
Forget about your diet for a day because you can't enjoy baked pork chop rice while feeling guilty for extra calories. Popular in Hong Kong and Macau, this comfort dish is a temptation impossible to resist. The Macanese version served at Rossio features pork chop fried to perfection and smothered in rich tomato sauce on a bed of Chinese egg fried rice. All that is covered by a gooey blanket of mozzarella cheese. You wouldn't want to say no to this, would you? In the worst-case scenario, just add 30 minutes more on the elliptical on your next training.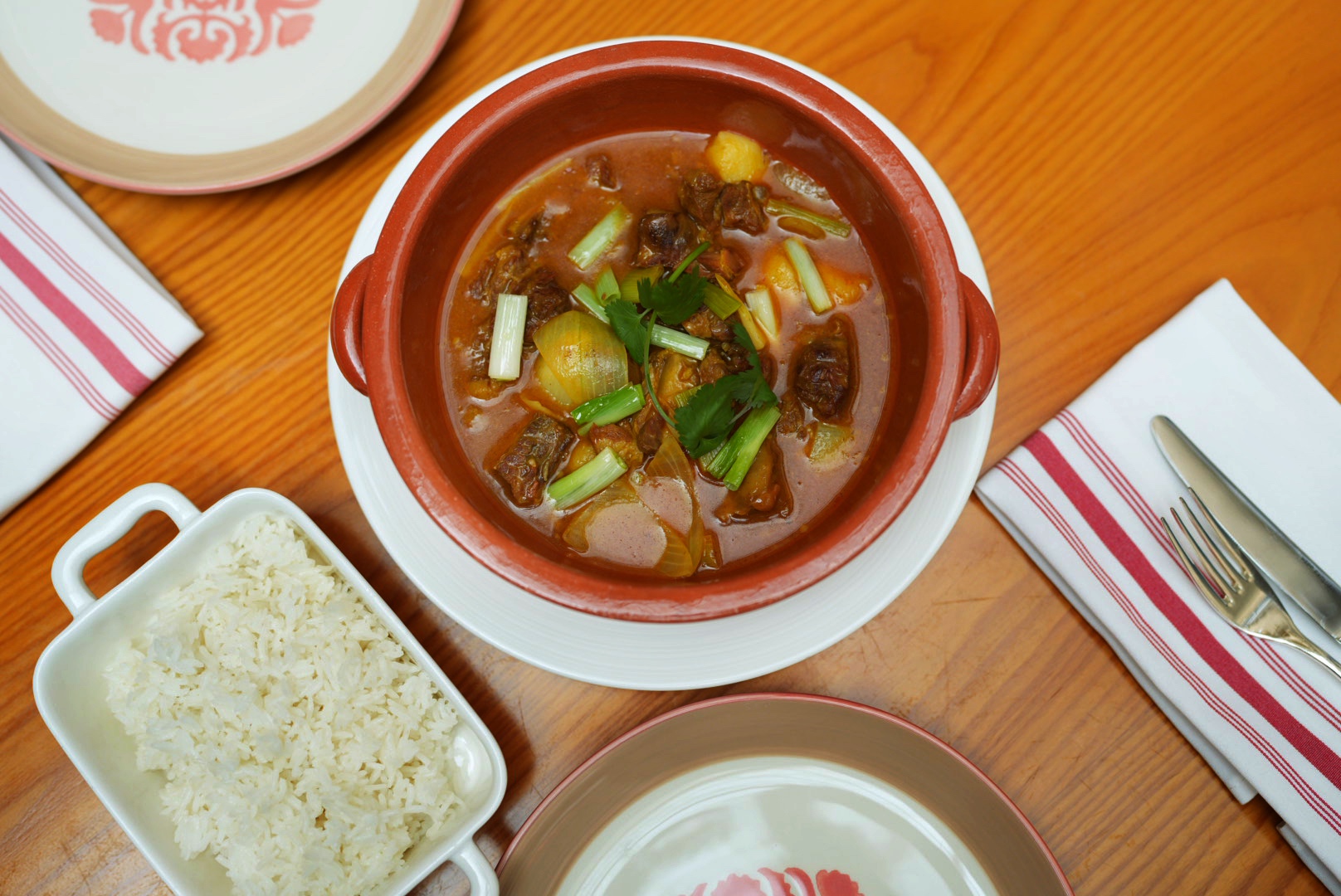 BEEF BRISKET CURRY WITH RICE 
When at Rossio with friends or family, do it the local way–order several dishes to share. Beef Brisket Curry with Rice would be a perfect option for that. Stewed in creamy curry sauce to the point of melting in your mouth, flavorful meat with diced potatoes and juicy tomatoes is that kind of comfort dish you could eat at a Macanese home. Some rice on the side makes it a great companion to the fragrant stew. Should you wish to elevate your experience, pick a glass of full-bodied Portuguese tintofrom a decent collection of wines that will complement the food best. 
Also read: The History of Macanese Cuisine in Macau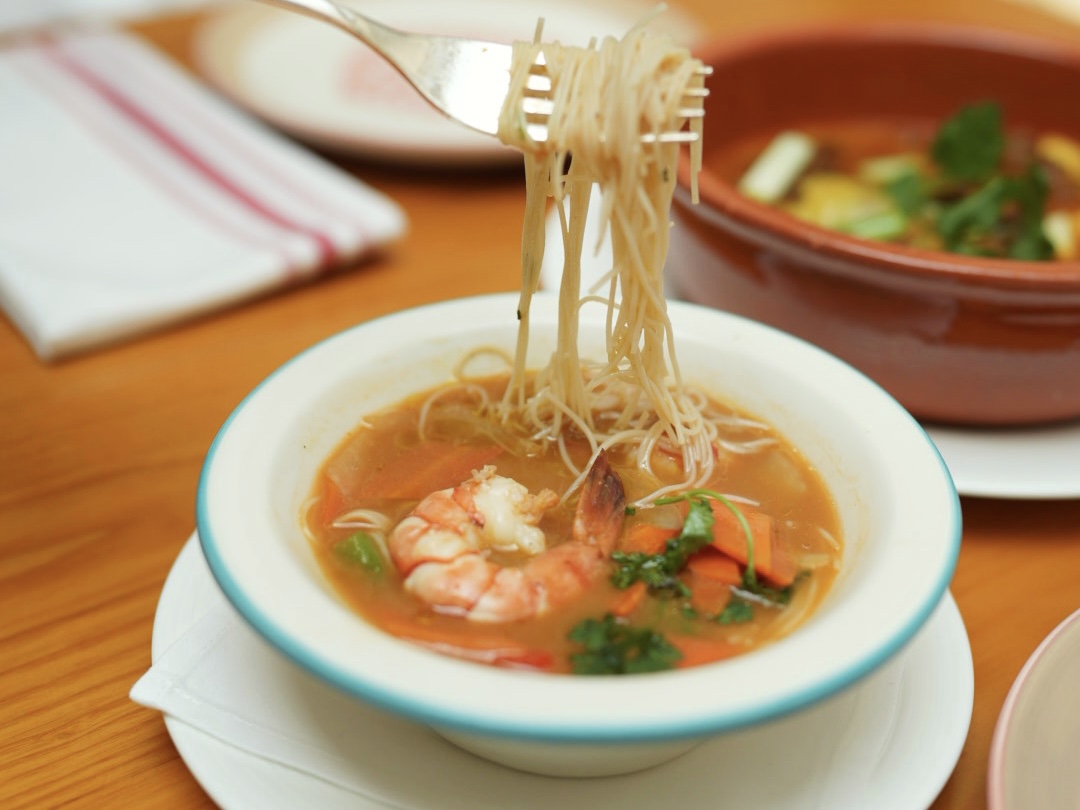 PRAWN LACASSA
Possibly the first-ever fusion cuisine in the world, Macanese cuisine absorbed some of the Portuguese, Chinese, Goan, Mozambique, Malay and even British culinary traditions. One of the must-try dishes at MGM MACAU with a heavy Malaccan influence is Prawn Lacassa. Doesn't it sound like some other Asian soup? If you thought of laksa, you are on the right path to solving the culinary riddle. Shrimp lacassa is believed to be an interpretation of laksa, Malacca's Peranakan spicy noodle soup. The broth is based on locally produced shrimp paste (made of crushed and fermented shrimp). Then, there are some veggies, shrimp, and rice vermicelli. Lacassa is great for lunch when you want to have something satisfying yet not too heavy.
Also read: Soup It Up: Macau's Hearty Soups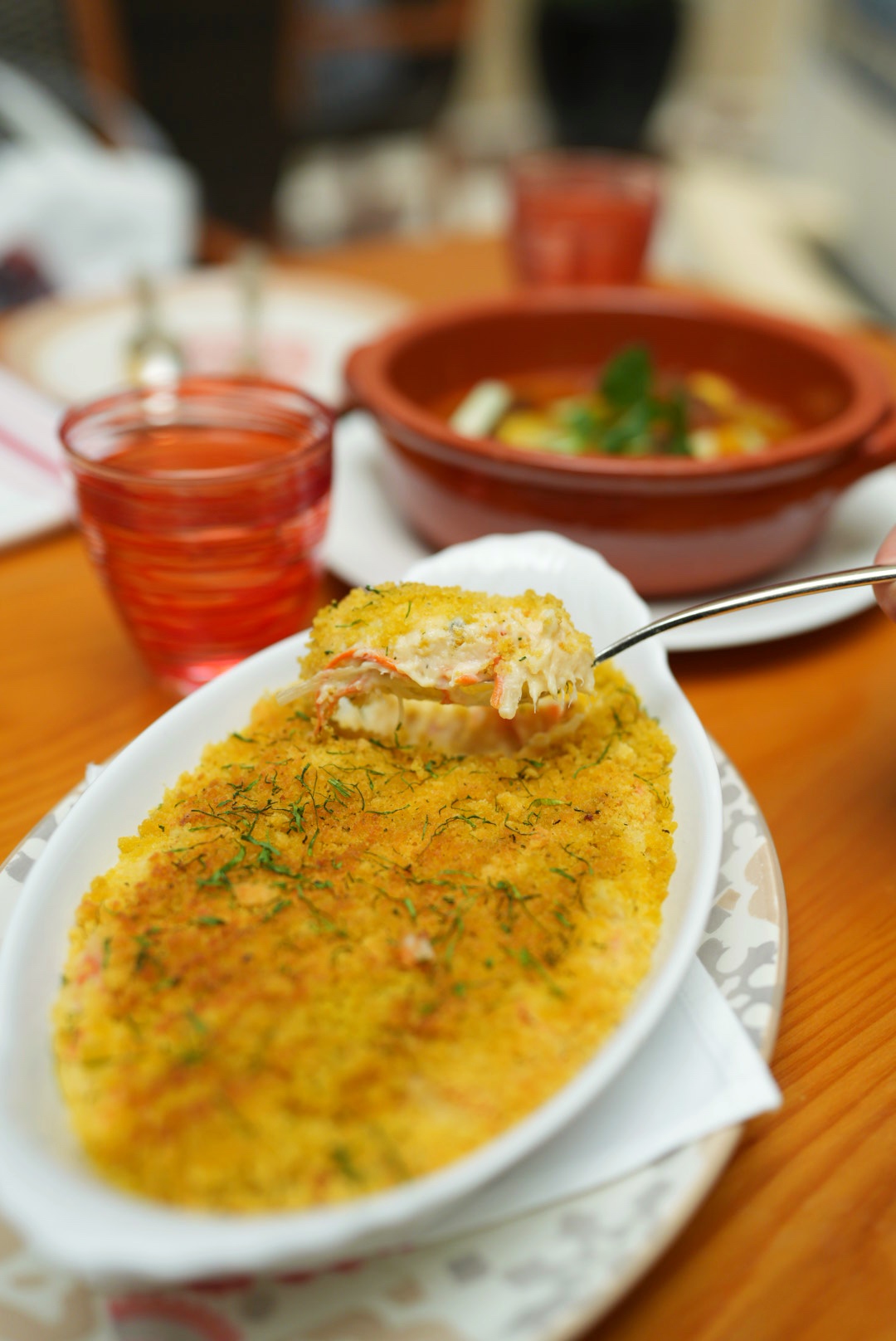 COD GRATIN
Dried cod, salted cod, cod stew, poached cod, fried cod–cooked in various ways, cod is a key element of Portuguese cuisine. From contemporary chefs to home cooks, every Portuguese who knows what is what in a kitchen, has several recipes with this Atlantic fish in their cookbook. At Rossio, try the Cod Gratin, a home-style dish hot from the oven. With layers of fish, prawns, shredded carrot, and leek in a rich cream sauce, topped with cornbread crumbs, the cod gratin is creamy on the inside and crunchy on the top. This heavenly combination of textures and flavors can only get better with a glass of chilled Portuguese white wine.
Rossio MGM MACAU, Avenida Dr. Sun Yat Sen, Nape, Macau, +853 8802 2372, www.mgm.mo/rossio
● NORTH BY SQUARE EIGHT ●
Imagine yourself on the food street of historic Tianjin, surrounded by food stalls tempting you with aromas of Northern Chinese street food. Or picture yourself at a crowded Beijing eatery slurping on some freshly made noodles. Then pack that image and place it inside a trendy restaurant in bustling Macau. That's how you get North by Square Eight, a place that combines a contemporary design, five-star service, and reasonably priced, authentic food from Central and Northern China.
"At North, we are delighted to bring a wide selection of Northern China's authentic street food to Macau's 5-Star Hotel and feast our guests with their favorites under one roof," as Executive Chef Louie Vong describes it.
North's interior is inspired by Beijing's courtyard houses, aka siheyuans, with mesmerizing contemporary artwork, scarlet furniture, and stunning ceramics artistically lined up on the shelves. The open kitchen is entertainment of its own. While you wait for MGM MACAU's must-try dishes from our list, admire the ancient craft of making hand-pulled noodles demonstrated by the North's chefs. From gigantic portions of noodles served in large porcelain bowls to iconic street food delights, North brings you on an exciting culinary journey.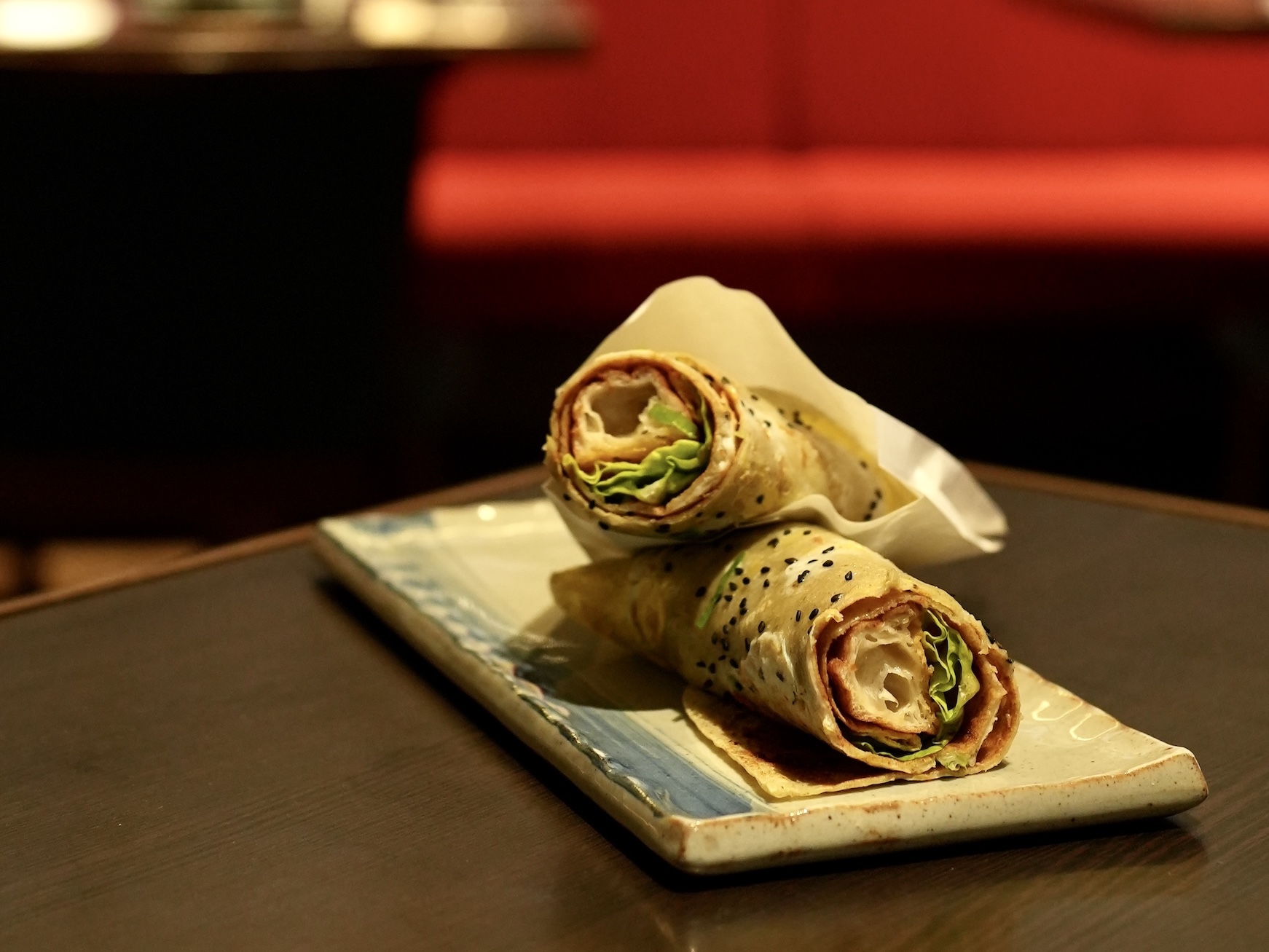 JIAN BING GUO ZI
One of the must-try dishes at MGM MACAU's North by Square Eight is Jian Bing Guo Zi, popular street food from Tianjin. Often eaten at breakfast,  it is a pancake roll with egg, diced scallion, deep-fried dough, crispy-fried wonton sheet, and shredded lettuce with savory bean paste. This savory snack might seem like nothing special at first glance, but its contrast of flavors and textures is what makes it so delicious and hard to resist.
Also read: Snacks on the Go: Sandwiches, Kebabs & Beyond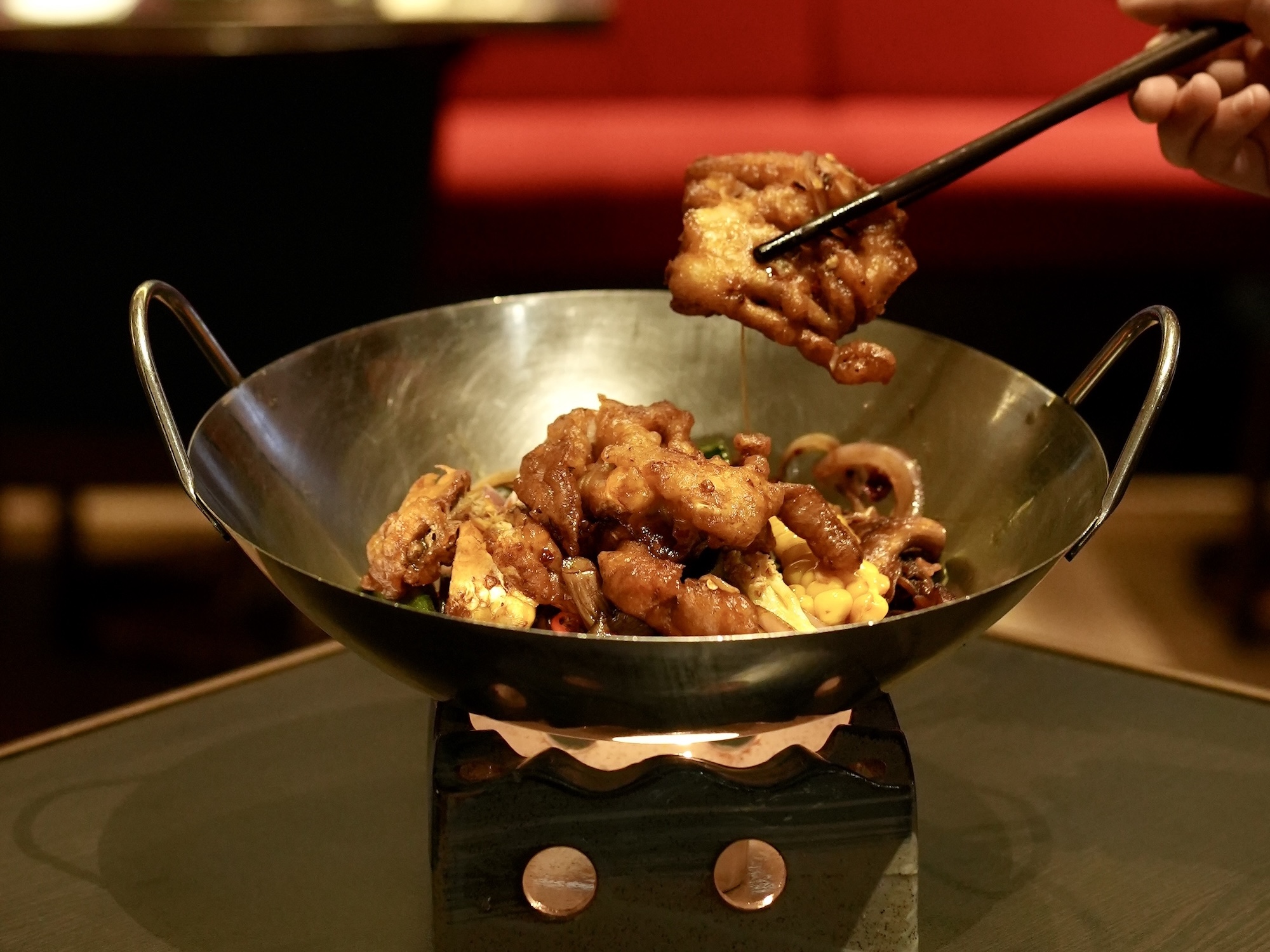 SPICY WOK-FRIED SOFT SHELL CRAB
When craving something spicy, give North's Spicy Wok-fried Soft Shell Crab a try. First, the locally sourced soft shell crab is cooked with chili pepper, garlic, and vegetables. Then, the chef wok-fries the ingredients until they are dried. This dry wok-fried cooking technique skill is popular in Northern Chinese cuisine and means that vegetables and meat are fried in a wok to drive off most of the moisture and achieve a pleasant, slightly chewy texture. This aromatic spicy dish is great for sharing and goes so well with a refreshing beer to cool off the heat. Alternatively, pair it with some Chinese tea to wash your meal down.
North by Square Eight MGM MACAU, Avenida Dr. Sun Yat Sen, Macau, +853 8802 2388, www.mgm.mo/north
● SOUTH BY SQUARE EIGHT ●
If you've spent some time in Macau or Hong Kong, the chances of coming across the concept of cha chaan teng are high. Offering affordable and fast dining, this traditional Cantonese type of cafe originated in Hong Kong and became popular in two neighboring SARs after the Second World War.
While South by Square Eight is in the middle of five-star MGM MACAU, it still manages to deliver those authentic vibes of a Hong Kong cha chaan teng. In the words of Chef Louie Vong: "At South, we offer a huge variety of delicious and original Cantonese café (Cha Chaan Teng) dishes 24 hours a day, seven days a week."
Stop by for a quick breakfast before heading to work, take your colleagues for lunch, or invite your family for a cozy dinner. South is an ideal restaurant for casual dining that won't burn a hole in your wallet. If you are not sure what to order, here are a couple of recommendations from our team and the chef.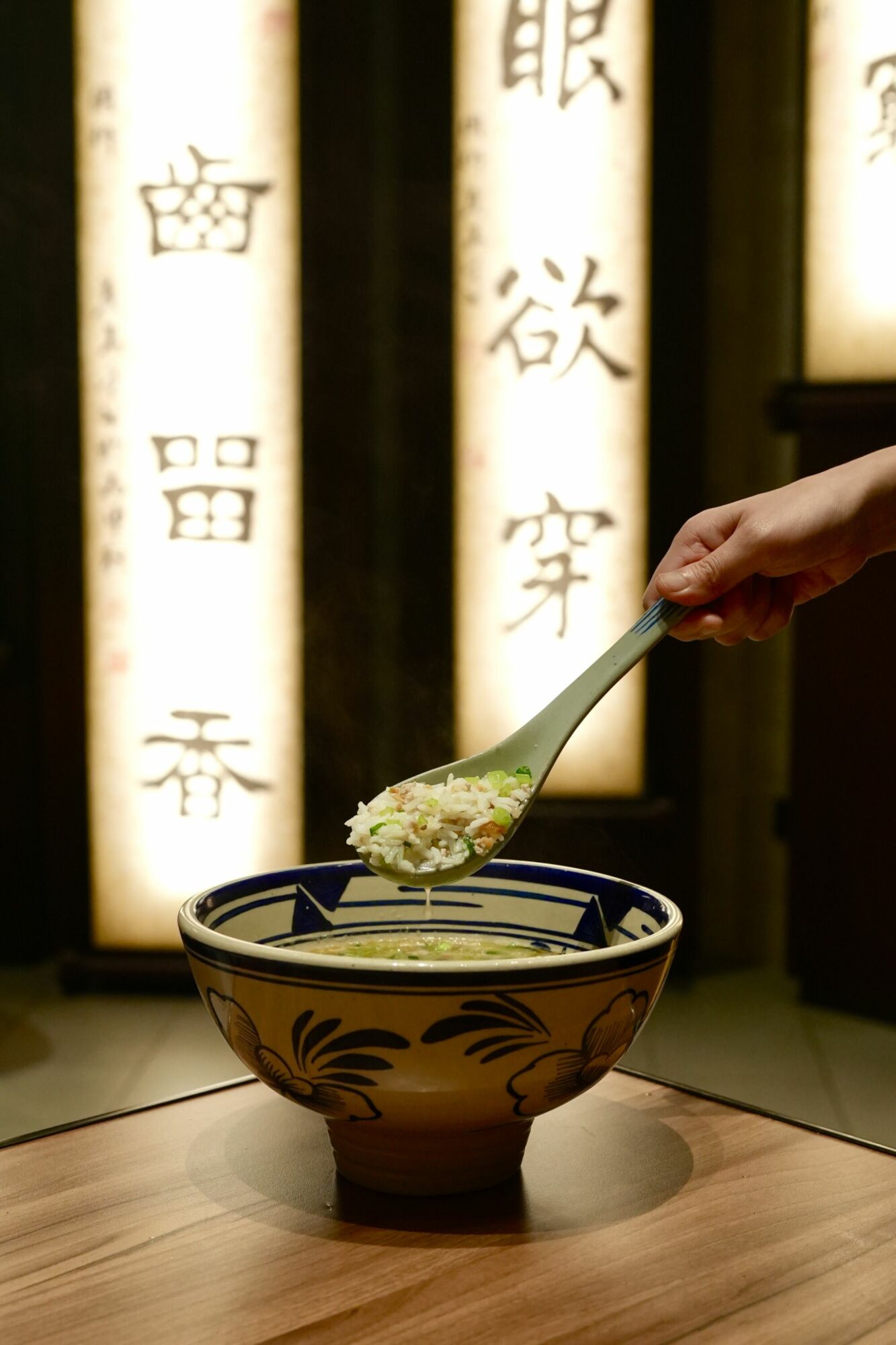 CHICKEN SOUP RICE WITH MINCED PORK AND DRIED FISH
We do love exquisite dishes with sophisticated presentations from time to time, but how about something as comforting as chicken soup? South's Chicken Soup Rice with Minced Pork and Dried Fish brings flavors from the sea and land together in one slurpy bowl. A popular dish among Chaozhou people, it somewhat resembles a Cantonese porridge–less creamy but not less satisfying. If you like to add a kick and highlight the flavors, pour in a bit of spiced vinegar.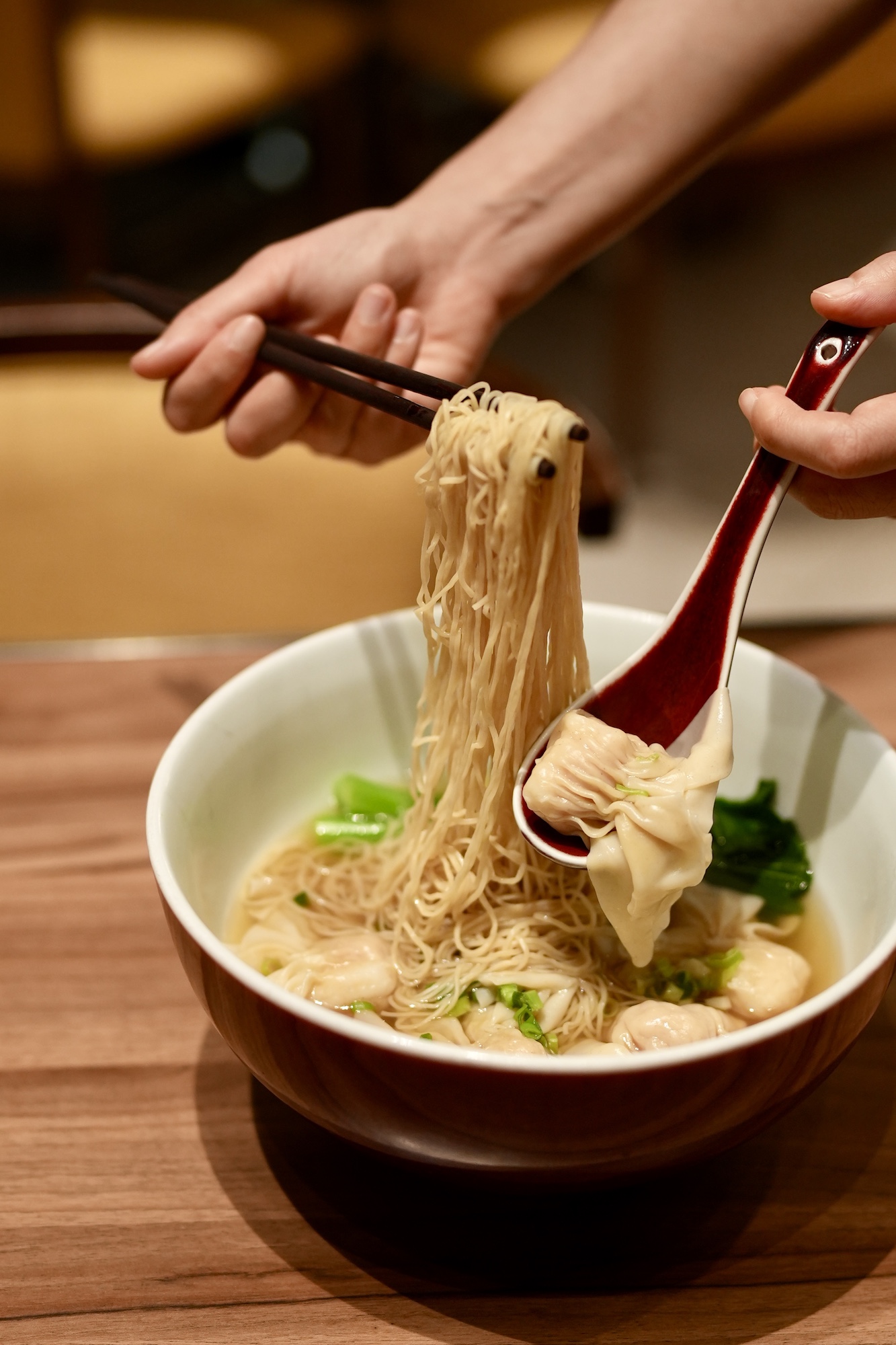 SHRIMP AND PORK WONTONS WITH EGG NOODLE SOUP
"More soup?" you might ask. Hasn't your grandma ever told you that a bowl of hot soup can melt your blues away? It sure can, if it's Shrimp and Pork Wontons with Egg Noodle Soup from South by Square Eight. This hearty soup with carefully selected fresh ingredients is made from scratch by local chefs. You can even watch them working their magic in the kitchen since it's open for the patrons to observe.
The fusion of wonton's succulent pork filling, delicate seafood, and rich chicken broth paired with delicate seafood makes this soup a crowd-pleaser. No wonder this dish is often featured at most Cantonese eateries. When you feel a little under the weather, this soup makes a delicious home-style remedy, especially with a cup of hot herbal tea.
South by Square Eight MGM MACAU, Avenida Dr. Sun Yat Sen, Macau, +853 8802 2389, www.mgm.mo/south
Also read: Where to Get The Best Local-Style Noodles in Macau
Brought to you in partnership with MGM MACAU
Tags
Related Posts