As the melting pot of cultures and traditions Macau is, it is not hard to find food from almost any country in the world. A humble burger? A club sandwich? You can order it in hotel lobby bars all over town. But why opt for the dishes you are so used to when you can treat your palate to different types of snacks that you can have on the go–sandwiches from Vietnam, China, and toast from Singapore! For those looking for something unique, here is a list of interesting snacks, perfect if you're on the go in Macau.
Rou Jia Mo at North by Square Eight
(See featured image)
From the province that gave the world the legendary terracotta warriors, meet rou jia mo. This street food from the Shaanxi looks straightforward and tastes delicious. However, making it is far from easy. To achieve that rich flavor of meat, cooks spend hours stewing it in soup with more than 20 various seasonings and spices.
In most of the street food stalls, you will find rou jia mo with pork. In Muslim neighborhoods, cooks would use beef, and in Northwestern China, lamb is more common. When craving this "Asian hamburger," head to one of the eateries that focus on Northern Chinese cuisine. At North by Square Eight, rou jia mo comes with marinated minced pork and baked buns, and it's as yummy as you can imagine!
North by Square Eight MGM Macau, Avenida Dr. Sun Yat Sen, Macau, +853 8802 2388, www.mgm.mo
Also read: Best Places for Noodles in Macau Casinos

Kaya Toast at Nanyang Kopi
Every tourist who has ever been to Singapore probably started the day with a typical Singaporean breakfast served at a kopitiam (a local coffee shop), a cup of kopi (thick, strong coffee), a soft-boiled egg, and kaya toast. Two slices of warm toast bread with the crust cut and the filling of butter and kaya, where kaya is coconut jam that consists of coconut milk, sugar, and eggs. It sounds like nothing special, but this humble snack is so satisfying. What is more, it represents the Singaporean mix of cultures–they say kaya jam came from Portugal, while Hainanese immigrants were the ones who created the kaya toast itself.
Nanyang Kopi Shop E-G, Caravel Hotel, 96-126 Rua do Guimaraes, +853 6555 8714, www.facebook.com/nanyangkopi

Tiger Bite Duck at Tiger Bite
You will never stay hungry in Taipa Village. If anything, you will probably have a hard time settling on a place to dine from the abundance of options here. From authentic eateries with history to modern establishments serving international cuisine, Taipa Village's gastronomic scene can satisfy any palate. If you're in a hurry, stop by Tiger Bite, a small takeaway shop steps away from OTT. Instead of classic cheeseburgers with conventional ingredients, this home of the Asian hamburger blends Western and Asian flavors, resulting in finger-licking good creations. The two most sought-after bites are Tiger Bite Pig with crispy suckling pig and Tiger Bite Duck. The latter is an absolute must-try, a combination of glazed brioche buns, pan-fried tender duck confit with black truffle, crispy cheese, arugula, and a generous portion of sumptuous sauce that makes the burger super juicy.
Tiger Bite 2 Rua Dos Negociantes Villa Da Taipa, +853 2853 3079, www.taipavillagemacau.com/directory/tiger-bite

Bánh Mì at Bánh Mì Tik 
If you think about it, wheat is not such a popular grain in South-East Asia. Not to mention, the baguette is not precisely Vietnamese bread. Back in the colonial times, when the presence of French cuisine was only noticeable among expats, products like cold cuts and bread were a privilege unavailable to the Vietnamese. However, after World War I, prices for European produce dropped and became affordable for the local population that could now enjoy sandwiches with butter, cheese, and cold cuts. 
Yet, it wasn't until after World War II that báhn mì was born. The southern Vietnamese turned a French-style sandwich into a blend of local and European flavors, a Vietnamese national treasure that anyone could afford. Today this crispy baguette with meat, veggies, herbs, chili, and mayonnaise is still prevalent in Vietnam and arguably, one of the most famous Asian sandwiches worldwide. There are several spots in Macau to savor a decent bánh mì. If we had to choose one, it would be Bánh Mì Tik, a sister establishment of Pho Tik. Both are experts in delivering authentic Vietnamese flavors plus, they don't charge much for them!
Bánh Mì Tik 15 Praça de Ponte e Horta, Macau, +853 2853 0039,  www.facebook.com/Banhmitik
Also read: Best Vietnamese Eateries in Macau

Pork chop bun at Hac Sa Beach BBQ stalls
Unlike some other dishes on our list, pork chop bun is as simple as it gets–it is bread with pork chop, no extras. Nevertheless, it doesn't make us love it less than more elaborate nibbles. The secret of a good pork chop bun is high-quality pork, soft bread, and a cook who has the know-how to keep the meat succulent. That's why one of the most recommended spots to savor this humble sandwich is Hac Sá beach's BBQ stalls. Local masters of the grill have been doing their job for decades, thus, perfecting it to the point of grilling with eyes closed. A smoky flavor, grilled buns, the sea breeze, and extremely cheap ice-cold beer in the nearby shops make pork chop bun an ideal snack for a weekend afternoon at the beach.
Hac Sa Beach Estrada de Hac Sá, Coloane
Also read: Where to Find the Juiciest Pork Chop Bun in Macau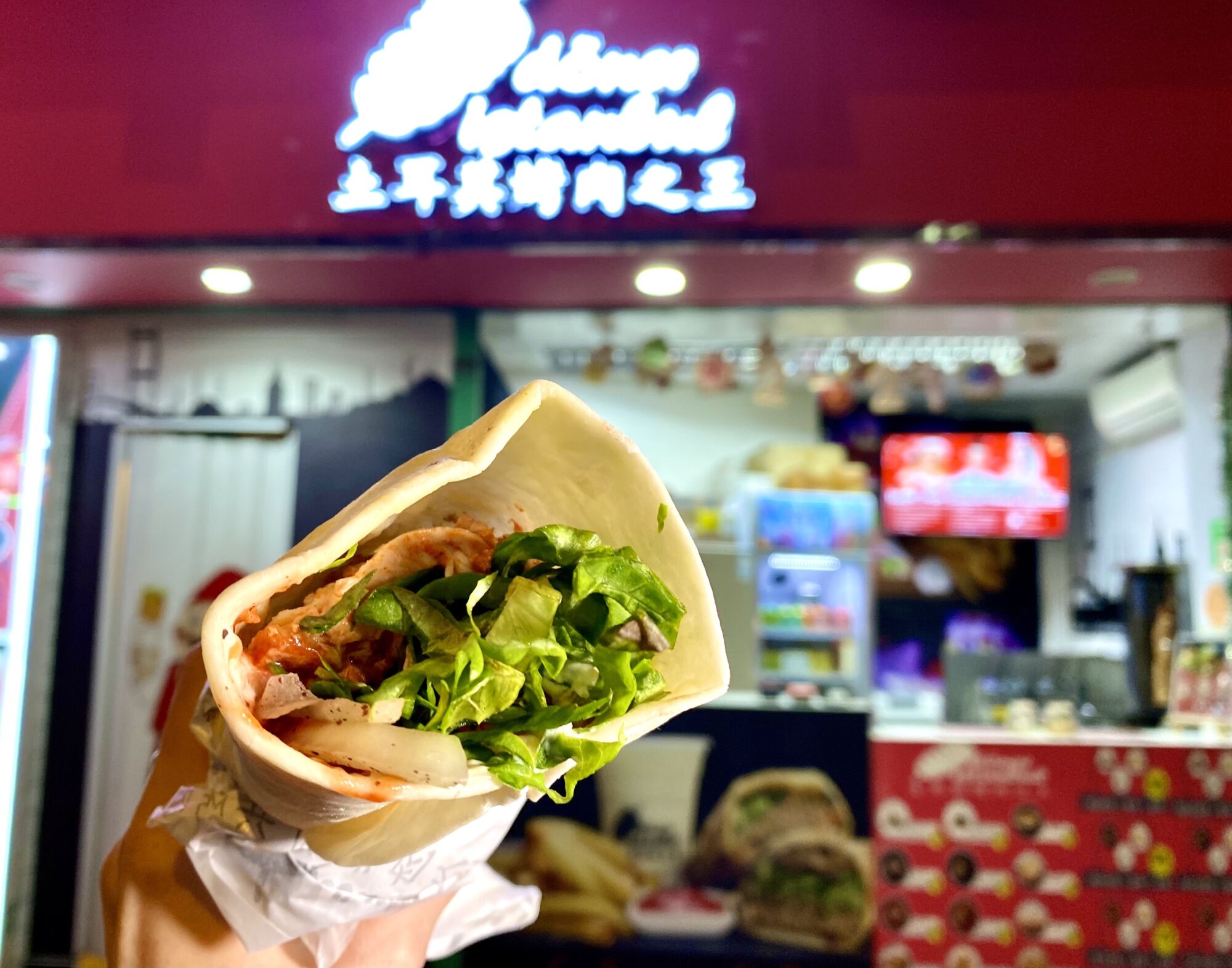 Chicken Kebab at Döner Istanbul
Situated between Europe and Asia, Turkey embodies a vibrant blend of Western and Eastern cultures and, of course, flavors. It has soaked up Ottoman, Greek, Middle Eastern, and Balkan culinary traditions, becoming one of the world's most diverse cuisines. The king of comfort food among various Turkish dishes, a champion of after-party cravings is the döner kebab. Basically, kebab is a pita or flatbread stuffed with thin shavings of meat, slowly roasted on a vertical rotisserie, plus fresh veggies, and sauce, absolutely perfect if you're on the go.
For a decent and reasonably priced kabab, head to one of the Döner Istanbul shops. Moreover, they have a delivery service so when you found yourself starving at home, hit them up for a freshly made juicy kebab.
Döner Istanbul 57 Avenida de Kwong Tung, Taipa, +853 6652 4589, www.facebook.com/doneristanbull
Also read: Where to Get the Best Muslim-Friendly Food in Macau

Pulled pork vindaloo bao at Goa Nights 
Goa Nights at Taipa Village is a place that never disappoints. When it comes to atmosphere, service, cocktails, or food, you can always be confident to have a 100% pleasant experience. Their menu features traditional Indian dishes, as well as food with a twist. Among them is pulled pork vindaloo bao, a Chinese-Indian fusion food, a kind of Asian hamburger. The filling is pork vindaloo, Goan meat marinated in garlic and vinegar, then slow-cooked with spices. At Goa Nights, this succulent and spicy pork soaked in a rich sauce is tucked inside a Chinese steamed bun, bao, with a little bit of cilantro and fresh onion. Perfection!
Goa Nights 118 Rua Correia da Silva, Taipa, Macau, +853 2856 7819, goanights.com
Also read: Best Indian Restaurants in Macau
Tags
Related Posts